In the modern world, efficiency is a main priority for all businesses, but it is even more important to those who run a small operation on a reduced scale. Learning to leverage your growth allows you to optimize the performance of every single resource to get the biggest bang for your bucks. So, if you're interested in becoming a more efficient business, then simply read on to uncover some of the best steps that you can follow today!
Leverage your growth
You may think the only way to grow your business is to find the money you need to hire staff, buy equipment and facilities, and purchase inventory. But, there's another way to grow more quickly with less investment — leverage your growth by making your resources do double duty.
OK, so how do you do that?
The common approach is to think about renting versus buying. Sure, over time, renting is often more expensive but it's very cost-effective in the short run. This is a common strategy employed by businesses that work with others to form an efficient supply chain where each cog in the wheel builds part of the finished product. Not only does this strategy shift some of the expenses necessary to other firms but it allows each business to specialize in a particular piece. The result is a lower cost for finished goods, which makes customers happy, and higher profits for companies that don't have to purchase all the equipment necessary for the production process.
Alternatively, businesses use contract manufacturing that places the burden of purchasing equipment on the contractor. When you leverage your growth with contract manufacturing, you not only save the high cost associated with purchasing equipment, you insulate yourself from changes in the environment. If demand for your product falls off, for instance, you can cancel your contract by paying a small fee. Conversely, if demand increases, you add another manufacturer to your stable, making you very responsive to the environment.
This type of leverage isn't the only one possible. It also doesn't translate well in industries outside manufacturing. So, let's explore how you can leverage your growth if you're not a manufacturer or don't have high costs for equipment.
Outsourcing is your friend
As a small business, you face an array of different tasks, which makes you uncompetitive with other, larger companies that have the time, equipment, and skills to complete the job more effectively and efficiently in less time. For instance, you may not have a dedicated social media manager as a small digital marketing agency. That means your staff gets stressed out with different work priorities and must transition from one digital marketing task to the next seamlessly. This staff shortage limits the amount of work you can accomplish, which limits the number of clients you take on, which limits your billing and profits. It's hard to grow with staff limitations.
Leverage your growth by contracting versus hiring staff, utilizing technology to its fullest, and building service relationships. This type of leverage, or outsourcing, isn't new either. For years small businesses outsourced their accounting, payroll, and other operational practices to outside firms rather than hiring expensive employees who they don't need on a full-time basis. But, let's look at some ways to outsource other types of work to outside firms.
Marketing outsourcing
Think about outsourcing your marketing by using Fiverr or another platform to hire folks working in the gig economy. Or, unless you're a digital marketing agency, consider hiring a firm specializing in digital marketing. Not only does this eliminate the cost of wages and benefits, but reduces the cost of digital marketing tools needed to accomplish your goals, such as marketing automation software, analytic tools, and others. Below, see a comparison of the costs involved in hiring an agency versus an internal department to handle digital marketing for your firm.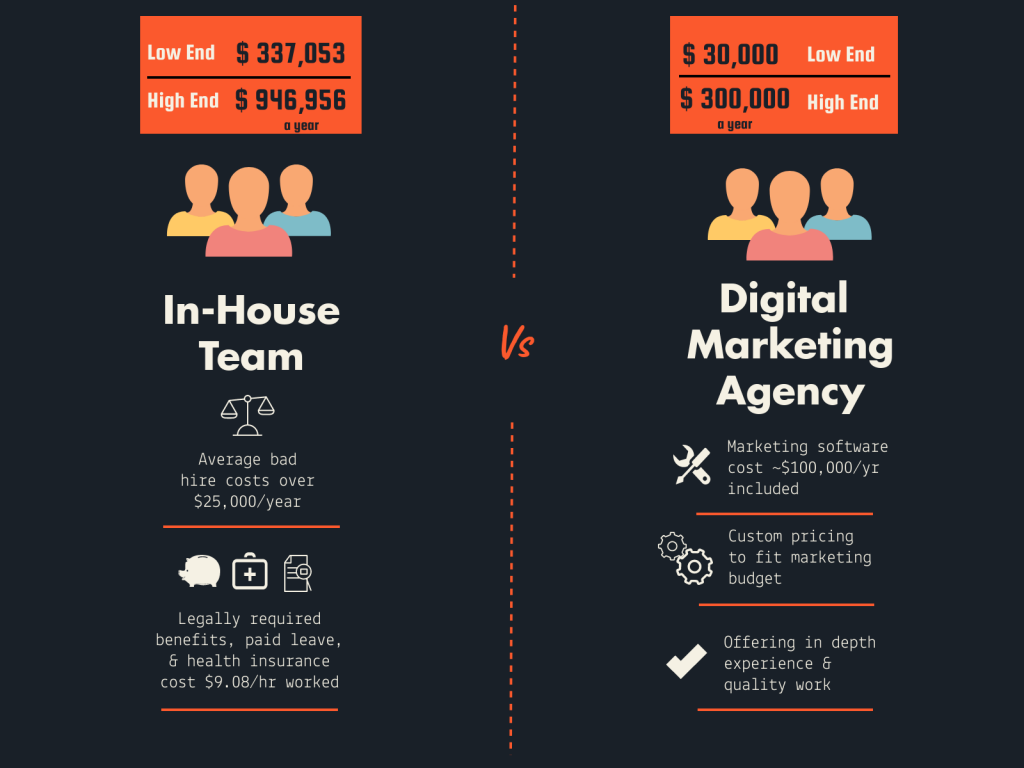 Plus, hiring an agency specializing in digital marketing likely means you're hiring highly educated folks with vast experience in digital marketing to transform your marketing efforts to produce higher returns on your investment.
Technology outsourcing
You don't need to fear outsourcing when you manage a small team, as you simply may not have enough staff to cover all of the tasks that need to get done, and such an option is an easy way to fill in the gaps. And, technology changes all the time. Whether you consider IT security and tailored data solutions to protect the integrity and usability of your data or web development and SEO to improve your digital presence, these options reduce your costs and increase productivity so you can grow.
Outsourcing your customer service is another technology to consider. Today's chatbots, for instance, work 24/7, never call in sick, and don't take holidays or weekends off. With proper training, many users won't even know they're not chatting with an actual human. Complex problems can also easily transfer to your human customer service team to ensure customer satisfaction.
IoT
Speaking of using technology to leverage your growth, IoT devices are a godsend. Add a sensor to your equipment or buy IoT-enabled devices and you have less downtime, lower maintenance costs, and few repair costs as the device notifies you when it needs something. IoT also allows you to optimize performance by getting the most from your device.
I can remember years ago (many years) going with my uncle who worked as a lineman for the electric company. His job entailed driving the electrical lines looking for problems so the company could send out a repair team before the line went down with, for instance, a blown transformer. He was expensive and he might miss a needed repair as he didn't traverse all the lines every day. That's even more expensive, especially, as happened a few years ago, your equipment failure caused a massive fire.
Contracting with providers
Hiring an agency to leverage your growth shouldn't strike fear in your heart. The key is to do your research and ask the right questions. For instance, when hiring a digital marketing agency, ask for references and follow up to determine that the agency fulfilled the expectations of its clients. Ask the right questions, such as how effectively the company was at driving conversions, not just clicks to your website. Make sure you gain access to all your digital properties, such as websites and social media, to make the transition easier if you change contractors or move the operation in house at a later point.
Set performance objectives and tie compensation to meeting those goals. For instance, build in a cancelation clause if the contractor doesn't meet your goals by a certain time. However, give the program enough time to produce results, such as 6 months if you're tracking conversion.
Review the contractor's performance at regular intervals and set meetings to discuss these results with the contractor.
Conclusion
Leveraging your growth was never easier than it is today with the vast opportunities offered by the gig economy and agencies specializing in a variety of business operations. IoT also reduces the need for employees with constant monitoring.
Need marketing help to support business growth?
We welcome the opportunity to show you how we can make your marketing SIZZLE with our data-driven, results-oriented marketing strategies.  Sign up for our FREE newsletter, get our FREE guide to creating an awesome website, or contact us for more information on hiring us.
Hausman and Associates, the publisher of MKT Maven, is a full-service marketing agency operating at the intersection of marketing and digital media. Check out our full range of services.