I got this great course in affiliate marketing as a guest post. Check it out!!!
Affiliate Marketing Course Outline
Introduction
Lesson 1: Getting Started in Affiliate Marketing
Lesson 2: Building Trust with Your Content
Lesson 3: Choosing the Right Affiliate Product
Lesson 4: Writing Converting Products Reviews
Lesson 5: Getting Traffic and Selling
Introduction
Affiliate marketing is a relationship among the advertiser (normally a company selling products or services), a publisher (a blog with a good amount of traffic) and consumers (who visit the blog for information related to the products and services they need).
Affiliate marketing is one way to make money from your blog, and, if you are monetizing your blog with PPC ads (Adsense) or banner ads, then you need to consider affiliate marketing as well.
Affiliate marketing is very profitable for bloggers because it is easier to make sales when you have a trusting relationship with your visitors.
This is something that blogs are good at; you will be sharing valuable and informative content to your visitors and helping them solve the niche's problems.
In this affiliate marketing training, I am going to show you how to run a successful affiliate marketing campaign for any product you choose to promote.
Lesson 1: Getting Started in Affiliate Marketing
Let's start this affiliate marketing training by showing you how to get started and the actionable steps you need to take.
Affiliate marketing is known to have a low entry barrier, meaning that anyone can easily turn his blog into a money-making machine.
If you don't have a blog yet, then you could start by:
Buying a domain name (costs $10 a year)
Buying a web hosting account (costs approx $50 a year)
Installing WordPress (costs $0)
Domain
Before buying a domain name figure out if you will dedicate your blog to a single product or multiple products .
Bloggers who want to sell just one product need to include the product's name in the domain name (like ProductXReview.com).
But if you promote various products in your niche, you should include the niche's keyword in your domain name. The latter is certainly a better affiliate marketing model to follow.
It is worth noting that some web hosting companies provide you with a free domain name for the first year. So check your desired web host first before independently buying a domain name.
Hosting
Your web hosting account stores or your blog's pages (content, comments…etc), so buying a reliable web hosting account is a must.
You need to look for a web hosting company with high uptime because it means your website will be available 24/7 with no outages.
For bloggers, it is better to avoid more generic web hosting companies and opt for a web host that specializes in hosting blogs.
Traffic Planet Hosting or any other (search Google for "WordPress web hosting") provides better service for blogs.
Install WordPress
Installing WordPress on your web hosting account (for those generic web hosting accounts) is still easy and can be done with even one click.
WordPress is the most frequently used blogging platform out there. There are many tools and plugins that add functionality to your affiliate marketing campaign.
It is also downloaded for free, so you won't have to worry about extra costs.
Lesson 2: Building Trust with Your Content
Like any affiliate marketing training will tell you, "Content is the king" and it certainly applies to affiliate blogs.
writing content on regular basis is an important part of affiliate marketing. It helps to build trust and show your knowledge to your readers.
Content marketing leads to higher affiliate sales because people will not buy a product from you unless they know you are expert enough to judge it and give it your vote of confidence.
With that said, you need to only write posts that are relevant to your niche.
If you have trouble finding content ideas for your target market searches, then you could use Google's suggestion tool for that.
Head over to Google.com and type in your niche keyword plus A, B,C, and up to Z.
From the results you get, build a list of 12 blog post ideas and publish them over the course of a month.
It is best also that you don't fill your blog with product reviews at first; you need to write content that aims to help your visitors.
If your visitors feel you are out to solve their niche problems and provide sound advice, they come back to read more frequently.
And every time they return to your blog, they so trust exists.  Once you have strong traffic, you start promoting your products.
By installing Google Analytics on your blog you find out if you successfully wrote informative content and built trust with your readers.
The returning visitors' value in your Google Analytics account helps you find out how many people frequently visit your blog and trust you.
Once you exceed the 10% mark on the green area (returning visitors) it is a healthy indication of a successful blog.
Lesson 3: Choosing the Right Affiliate Products
Finding affiliate products is the topic of many affiliate marketing programs.
It is a skill that requires balancing between a high-paying product and its reputation. Those two come in tandem.
You can't expect every high-paying affiliate product to bring you more sales than a less paying one. It all boils down to how well it sells.
The goal of affiliate bloggers is to maximize revenue by balancing high-paying affiliate products with those selling well.
Affiliate commission represents the percentage of the sale coming back to you. They usually range from 4% up to 75% commission from the actual product price.
There are 2 ways to find profitable affiliate products:
From affiliate networks
From niche's gurus
Affiliate networks
Affiliate networks are companies that host many products across all niches. They create affiliate links for you and handle payments.
To become an affiliate for any product, you need to sign up for its affiliate network (for free).
Any product will tell you which affiliate network they subscribe to and they most likely give you instruction (on their website) on how to generate your affiliate link for the product.
In this affiliate marketing training I am going to show you how to find products on Clickbank; a leading affiliate network.
Go to Clickbank's products marketplace and browse through your niche's category
Clickbank lists products along with the net commission you earn from promoting the product.
The prices you see above are not the product's prices, they are in fact the commission that you will make per sale.
Following niche gurus is another way to find affiliate products.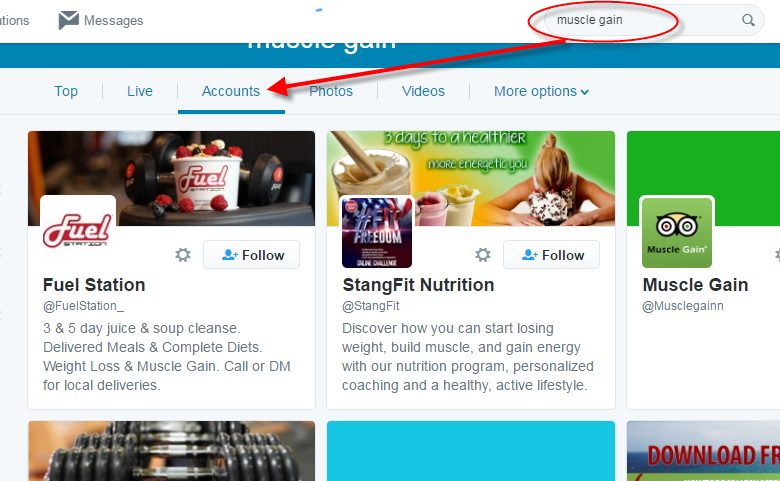 Those gurus tend to launch new products every few months and promoting their products is much easier than promoting products of other unknown authors.
Their name alone carries a huge weight, and most of them make millions of dollars in the first launch week alone. The majority of these sales come through affiliates.
You need to track those gurus to find if they are launching a product.
Follow them on social media or sign up for their email list on their website.
One way to find those gurus in the first place is to head over to Twitter.com and type in your niche keyword.
Find the ones with a high number of followers and those will be your gurus.
Lesson 4: Write Converting Product Reviews
Product reviews need to be well written in order to generate high sales conversion rates.
The most important elements to any good review page are:
Listing the product's benefits
Adding screenshots of the product
Adding videos
Adding special discounts
Find information on the product's benefits and features by visiting the product's sales page.
Reading the sales copy you extract benefits from sentences, not just those in bullet points.
Find relevant images on the sales page to use on your review page as screenshots.
And, if you have access to the product itself, you create unique product shots.
Adding videos is also very vital for a converting review page. In affiliate marketing, you need such content because it brings your readers closer to the product.
Some videos are not listed on the product's sales page because the users of the product create them.
To find those videos, go to YouTube.com and type in the product's name, and add the relevant videos to your review page.
What differentiates a good affiliate marketer from an average one is the ability to convince the product owner to give you a special discount coupon.
Reach out to the product owner through his contact page and introduce yourself as an affiliate marketer.
Tell him how you plan to promote his product and ask him if he could give you an exclusive coupon code for a discount.
Even discounts as low as 5% can really help you sell the product on your blog because people prefer to buy anything cheaper.
Lesson 5: Getting Traffic and Selling
This is the last step you should do on your blog, because if you get started with it and your blog isn't ready to convert affiliate offers, then you won't make many sales.
You want to bring traffic to your blog through SEO and social media websites.
Start by submitting your blog to various blog and RSS directories, they will help you with SEO and some traffic.
Blogflux.com
Blogged.com
BlogCatalog.com
Blogarama.com
Also, comment on other niche-relevant blogs to get your name out and build a reputation in the niche.
Selling is a result of all the above lessons, if you did everything right then sales will eventually come naturally.
You could further improve your affiliate marketing skills by finishing any of the affiliate marketing training offered or keep learning from affiliate marketing blogs.
But affiliate marketing courses usually offer a step-by-step guide on how to excel at each aspect of affiliate marketing.
And they keep you organized, which is a must if you want to avoid getting overwhelmed and confused.
This is a guest post by Ibrahim Dahy. It likely contains affiliate links and I make no express representation as to the quality or value of these products.
Need marketing help to support business growth?
We welcome the opportunity to show you how we can make your marketing SIZZLE with our data-driven, results-oriented marketing strategies.  Sign up for our FREE newsletter, get our FREE guide to creating an awesome website, or contact us for more information on hiring us.
Hausman and Associates, the publisher of MKT Maven, is a full-service marketing agency operating at the intersection of marketing and digital media. Check out our full range of services.