Any successful and thriving business offers a unique selling proposition (USP) that differentiates them from their competitors. USP ranges from the quality of your service to the products you offer or from superior customer service to innovation. You must protect your USP from copycats and ensure you maintain your USP across all aspects of your business.
What is a USP?
According to Wordstream, a leading digital marketing property, a USP is:
Simply put, your unique selling proposition is what makes your business different from everyone else in your market. A strong unique selling proposition can help you attract and retain customers and reduce client churn.
Many businesses find it challenging to identify their USP, while others incorrectly identify their USP based on internal perceptions rather than those of their target market. I once did a series of focus groups for a local brewery. When the marketing director learned that consumers hated their signature beer, rather than engaging in ways to find a product the market would find exceptional, the client tried to attack members of the focus group — almost going through the one-way glass to argue that they were wrong.
Without a clear USP in the minds of your target market(s), you'll fail. Maybe not today, maybe not tomorrow, but failure is in your future because you didn't provide your customers with a reason to prefer your brands over those produced by your competition.
Establishing your USP
Some USPs are better than others since some USPs are easily copied, reducing your advantage over the competition. Price, unless you offer a low price due to lower costs, is a bad USP that's easily copied until all the brands in the niche are losing money. Hence, unless you have an innovative strategy that allows you to reduce your costs, forget pricing as a USP.
When building your USP into your marketing strategy, consider what actions provide a USP in the first place. For that, check out the image below.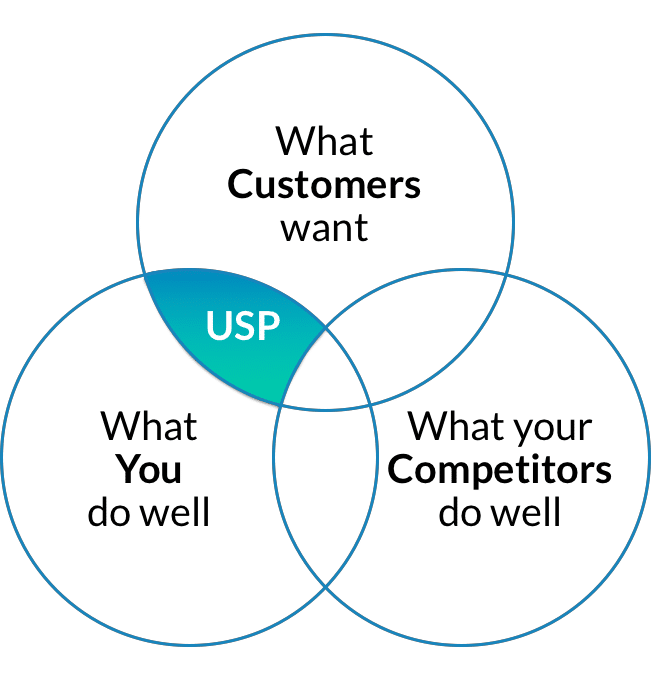 Note that a USP comes from the intersection of what customers want and what you do well after eliminating what your competitors do well. This is the essence of a USP.
Let's take a look at some familiar brands and how they created their USP.
Amazon
Amazon's USP comes from its early investment in warehouses and material handling equipment around the country. This investment allowed Amazon to quickly deliver products to customers, often within a day. Fast delivery appeals to many online shoppers as consumers, by their nature, aren't happy with deferred gratification.
Amazon turned this desire for fast delivery into a $17.8 billion opportunity by charging $119 to prime customers for free, fast delivery, along with a few other benefits.
Copying this strategy isn't easy and it isn't cheap. You need a huge investment in logistics to come close to Amazon in terms of fast delivery at a low cost.
Walmart's effort to copy Amazon in providing free, fast delivery may work, since they already have the infrastructure to compete with Amazon including 1000s of retail stores closer to many customers than Amazon warehouses, a loyal customer base, and their offering is cheaper. Also, there's room in this market for a few competitors, especially given that Walmart's customer base is somewhat different from Amazon's. But, Amazon's USP eliminates many competitors who otherwise want to steal their market.
W.W. Grainger
Lest you think USP only works in consumer markets, let's look at WW Grainger, a provider of small tools and related items to businesses.
Grainger turned the business tool market on its head years ago by taking over your tool crib operations. As a small business, this might not matter, but large businesses go through tons (literally) of tools every month. Workers misplace tools all the time, tools break, or someone needs a different tool than they already have. Rather than wait for their provider to bring over a new tool or maintaining an internal inventory of products (called a tool crib) resulting in higher costs, Grainger took charge of your tool crib. Now, Grainger owns the tools in your internal stock until you or your employees "buy" the tool from the onsite tool crib. Grainger even offers vending machines in smaller operations to allow authorized employees to purchase a needed tool from Grainger.
Grainger now becomes your preferred tool vendor, generating profits for the business while reducing Grainger's costs to operate physical locations. The company reduces the cost of maintaining an inventory of tools while eliminating downtime when a needed tool isn't readily available. A win-win for everyone.
Protect your USP
Things change over time and you must adapt to these changes by either implementing new strategies and technologies or changing your USP.
Don't fear change, embrace it
USPs are not set in stone. If you lead the market with an innovative approach to sales and your profits soar, competitors soon follow suit and your USP loses its uniqueness.
When moving online, you reach new customers, and therefore your business strategies must adapt to the new customer expectations and increased competition you find online. When reformulating your marketing plan, don't be afraid to ask the question; is my USP still relevant?
If not, adjust your USP without completely throwing it out. For instance, if your USP is the convenience of your store to neighborhood customers, that won't work online. However, you may still target local sales online with targeted geographic marketing, or you could focus on convenience and ensure the timeline between order and delivery is incredibly short.
A great example of a company that initially failed in this respect comes from IBM. Once the world leader in computer hardware, IBM lagged behind other computer businesses in adapting to the personal computer market. In part, this probably resulted, at least in part, from their focus on mainframe computers, servers, and dumb terminals. Temerity in straying from their core business meant lost opportunities for IBM. A company once highly respected found itself struggling in a market that saw a huge shift from its core product to personal computers.
As luck would have it, IBM saved their bacon by investing in the software needed to run computers, especially data analysis software, like SPSS and Data Miner. As the world changed again, IBM was more nimble, probably learning from past failures, and now leads in artificial intelligence/ machine learning as well as next-generation computers such as those needed for quantum computing.
So, how do you protect your USP, especially with a major shift such as introducing online business operations? That's the question we'll answer today.
Keep it personal
If you are a small business, then you likely have a direct relationship with your customer base that contributes to your USP. You're a trusted member of a community and customers respect your advice or guidance when purchasing a product or a service.
Moving online doesn't mean you have to lose that personal touch, especially if it is a cornerstone of your brand's identity. Protect your USP by translating what you do right in your brick-and-mortar operations to virtual ones by writing blogs or streaming online advice videos about how to use your products. Stay active in social media by listening and responding as well as keeping your social media persona. For instance, California Tortilla runs a Facebook page filled with interactions, even asking followers for advice on changing the company's logo. The marketer running the strategy uses her voice as if she's speaking directly to followers.
Click4Assistance VideoChat lists some of the benefits of installing video chat software on your website. Video chat allows you to communicate face-to-face with customers remotely and gives them the assurance of a person on the other side dealing with their issues.
Maintain your standards
For example, if your USP is fast delivery and you used a fleet of company-owned vehicles when you were a local business, you must adapt to the wider distribution required for online sales. As your market expands, you must choose a different distribution strategy that may rely on outsourcing your logistics. For instance, sellers using the Amazon platform, often pay Amazon for fulfillment rather than suffering the time lags involved in fulfilling online orders themselves.
Conclusion
A final note, remember the internet is a global marketplace. You face a new host of competitors, including global competition with lower labor costs. It is important to stay up-to-date with the latest developments in technology so your USP doesn't become outdated, resulting in poor sales and, potentially, the death of your business.
Need marketing help to support business growth?
We welcome the opportunity to show you how we can make your marketing SIZZLE with our data-driven, results-oriented marketing strategies.  Sign up for our FREE newsletter, get our FREE guide to creating an awesome website, or contact us for more information on hiring us.
Hausman and Associates, the publisher of MKT Maven, is a full-service marketing agency operating at the intersection of marketing and digital media. Check out our full range of services.