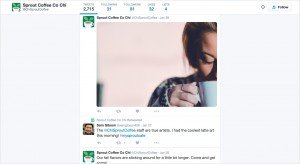 If a picture paints a 1000 words, then images are crucial for success. No wonder, according to Social Media Examiner, images garnered an 87% engagement rate compared with other content that only got 4% or less. And, adding an image to Tweets increased RT rate by 37%. Yet, poor image sizing leads to a bunch of awkward and even downright embarrassing problems. Poor image sizing damages your brand and fails to deliver the intended message to your audience.
This week, Sprout Social (the social media automation tool used here at Market Maven) announced the launch of Landscape to fix these problems with image sizing.
Image sizing tools
With Landscape from Sprout Social, social media managers have a new tool to help create images for their platforms by using a single image quickly and easily resized to fit whatever they need.
Here's a synopsis from their press release:
Sprout developed Landscape to address a longstanding need for a comprehensive social-image resizing tool that makes managing social easier. From cover photos to individual posts, the networks frequently change their dimension requirements, and artwork is often awkwardly cropped, distortions abound and crucial content can be left behind once a file has been uploaded.

Landscape by Sprout Social provides a seamless solution—with a foolproof preview—ensuring that every image meets each network's specifications so that the integrity or meaning of visual information is not changed or compromised in any way.
I put Landscape to the test today on an image I created for a post on Facebook. Landscape did a pretty good job of transforming the image into the right size for the 3 social platforms I chose — Facebook, Twitter, and Google+ (the G+ one was a little wonky — it cut out most of my name). The rest of the sizes worked perfectly and all 3 were downloaded in a zip file.
With just a few clicks, I was able to drag the frame to ensure my image would appear just the way I wanted it and sized to fit my needs on each platform. Now, I'm not entirely sure, but it seems Sprout Social hasn't completely finished with all planned options since some options are currently grayed out, but once those options are functional, I think Landscape will work perfectly for image sizing across a broad range of needs. Of course, it may be that the size of my original dictated some of my options. (BTW, if you can help with the Beach Time, I'd sure appreciate the break.)
Image sizing and creation options
Of course, you still have to get the original image the way you want it from somewhere.
Here are some options:
A number of new products to handle the problem of wonky images popped up over the last couple of years. Canva lets you craft custom images using thousands of graphical elements plus your own uploaded images. Each image is sized appropriately for a particular purpose — be that a Facebook post, a Tweet, an Instagram, a blog image, or any one of a number of other sizes, plus custom sizing. I love Canva, but you have to create an image for each need and images don't always resize for posting across multiple social networks. I commonly use Canva for Infographics. Canva is free unless you use premium elements, which cost $1 each. There are thousands of free elements, but I do use premium elements frequently.
Pablo, from Buffer (my favorite source of digital marketing knowledge and a great tool for social media automation), offers some design options. They're focused on modifying images by blurring them and changing contrast so you can add your own message on top. They do allow for a few size and shape options, but not a lot of flexibility in sizing. I find Pablo useful for crafting blog images, especially the banner image with the post title. Pablo is totally free.
An old standby is Adobe Photoshop, which is incredibly powerful, but not that user-friendly (they've added a bunch of training videos to make it easier to learn and the help function is really great at providing answers to specific questions you might encounter while using Photoshop). Once you get the hang of it, you can resize and create images fairly easily. Plus all that power gives you unlimited options for combining, cropping, editing, and creating images that really pop. Options allow the blurring and contrast features offered by Pablo, but it's a heck of a lot easier to just to that in Pablo if that's all you need.
I use Photoshop when I need a custom look where I control the images, sizes, and colors. For instance, I used it to create my logo and a new header image. Photoshop is great because it offers total flexibility and you can easily manipulate any image so you can remove just a piece of the image or add something seamlessly to the image while matching the color exactly.
If you like the image I used above — Beach Time — that was crafted using Bitstrips, which is free unless you use premium features. I love it for creating cartoon images, like my avatar, and comic strips. See, here's the cartoon me!
What do you think????
Speaking of cartoons, if you're more interested in video, Powtoons offers a nice, low-priced option. Powtoons lets you create video from different elements, text, and music. It's great when you want something a little quirky and approachable rather than the more polished video you'd create using Final Cut Pro. It's free as long as you don't mind their logo on everything and they offer very affordable packages that remove the logo and includes additional options for images and music. Powtoons lets you stand out from the crowd without spending a lot of money.
Need marketing help to support business growth?
We welcome the opportunity to show you how we can make your marketing SIZZLE with our data-driven, results-oriented marketing strategies.  Sign up for our FREE newsletter, get the 1st chapter of our book on digital marketing analytics – FREE, or contact us for more information on hiring us.
Hausman and Associates, the publisher of MKT Maven, is a full-service marketing agency operating at the intersection of marketing and digital media. Check out our full range of services.