Your logo is an important part of your brand marketing. Sure, the logo doesn't DO anything. It isn't part of your product and it doesn't deliver value to customers but your logo is like your name; it implies a host of meanings to consumers in your marketplace. Your logo implies your values, what you stand for, the cumulative goodwill earned by your brand over time,  and sums up all the advertising messages that you produced over time. Keep your logo fresh to ensure you always fit your values and market.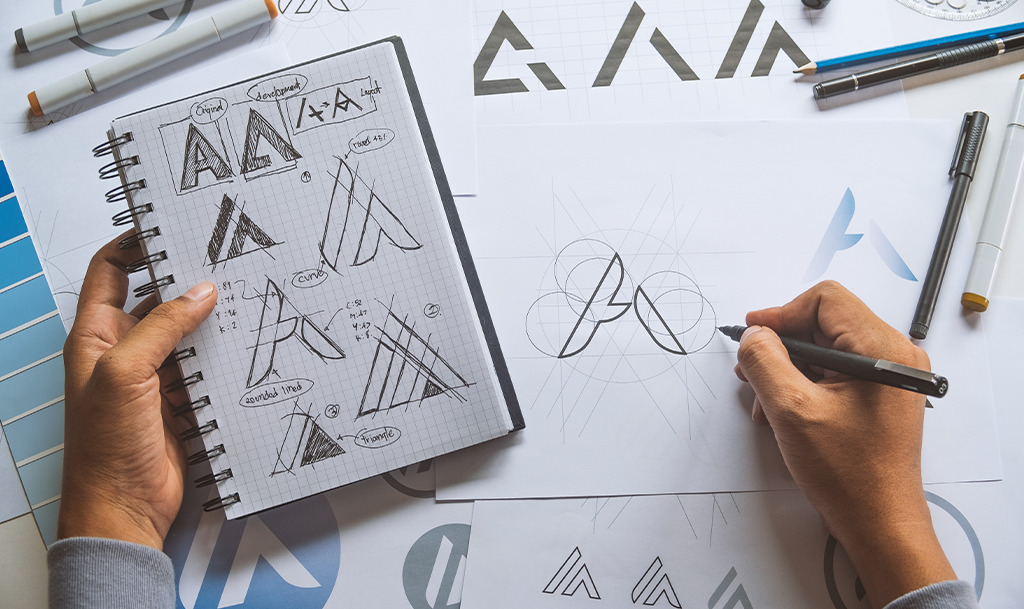 Don't just go by what I say, here's what a design expert says about the importance of your logo:
A well-designed logo builds trust by validating your professionalism and get's people to stick around.

It tells potential clients who you are, what you do, and how that benefits them. It communicates to people with no prior knowledge or experience with your business that you do great work. … Create a strong logo to stand out to consumers, ensure they remember your brand, and cultivate positive associations with you. Logos have a deep symbolic association connected to people's memories and emotions. [source]
And, just like your mother always told you, you only have a few seconds to make a good first impression.
Designing a logo
You want your logo to look great and evoke positive sentiments about your brand. Most of that positive sentiment comes from your messaging around the brand but a nice logo certainly helps build and expand that image over multiple messages. A huge aspect of a company's perception is the logo. If a logo is looking pretty, it can entice people pretty quickly. It's amazing what our eyes can do. You also want your logo to look unique so using proprietary fonts and colors can help. Many larger companies trademark their colors and fonts, such as John Deere green, so no one else can use them. You should trademark your logo, as well, to ensure you protect it against all comers.
Your logo should look professional so, unless you're a graphic designer, consider hiring out your logo design. Using a service like 99 designs or another gig platform might solve your logo problems. I would suggest getting several designers to craft a logo based on a thorough understanding of your values, your target market, and your competition. Then, use the best option as your logo moving forward. Remember, this is a major decision since it's really challenging to change your logo midstream and it's definitely something you can't do very frequently. You can also find options where you can design logo online free.
Keep your logo fresh
Of course, your product, marketing, and other factors surrounding your business change over time and, sometimes, your logo needs to change with the times. I mean, take a look at how Starbucks changed its logo over the years.
The first change came about when Starbucks wanted to emphasize their commitment to a greener planet and sustainable sourcing while the second change occurred when they expanded their market into non-English speaking countries. When it comes to the way companies evolve over time and keep their logo fresh, the big firms tend to have more success as they can afford better marketing advice and a larger budget to spread the word about the logo change. Despite this, Starbucks faced a bit of backlash over its most recent logo change. There are plenty of reasons why you might want to freshen up your logo – starting with the fact that your market changed and you want to align your logo with the changed market.
Changing your logo or even your brand to avoid negative publicity is never a good idea. In today's world where everyone looks for interesting tidbits to share on social media and where negative goes viral faster than positive, someone's bound to find out and the virality will ruin your efforts.
Over time, however, a logo's pull can fade. When this happens, you need to make changes in order to freshen things up. The biggest and most successful companies often get this move right. Here are a few reasons why they succeed at the challenging task of keeping their brands fresh:
They don't overdo it
They don't try to overcomplicate a design in order to make it look overly flashy or extravagant. A simple logo that is evocative of the brand and memorable is always preferable to something intricate and detailed. Big brands just want something that's nice on the eyes. If you follow the evolution of brands trying to keep their brand fresh, you see that, in most cases, they reduce the complexity and, often, eliminate the words to reach more audiences.
They ask stakeholders for opinions
Whenever a logo or badge isn't received well, it's usually because they've gone ahead with changes without involving customers, clients, fans, or anyone who has a significant stake in the business, project, or team. For instance, when California Tortilla wanted to change its logo, they hired a designer to come up with 3 options. The company shared the options on its social platforms; asking followers to vote for their favorite. Eventually, the company decided against making a change because followers preferred the existing logo. Of course, if there's some compelling reason for the change, such as highlighting changing values, you should make the change by adopting the logo that got the most votes.
In most cases, changes are minimal
When changes are made, a firm very rarely overhauls its ideas and starts from scratch. The firm typically makes a small change that feels like a huge one. You can keep your logo fresh by making small, subtle changes over time until you achieve your end goal rather than making massive changes at once.
Successful logo evolution
Below, you can see a few huge-name companies that made subtle changes to their logos over time in a small progression of almost imperceptible changes. The graphic may help you understand the kind of moves that need to be made.


Infographic designed by: Timeless Logo Design
Conclusion
Keep your logo fresh to reflect your changing values, market, and product but don't overdo it.
Make small changes over time rather than a massive change instantly.
Consistency matters, so limit the frequency of logo changes.
KISS — keep it simple, stupid.
Need marketing help to support business growth?
We welcome the opportunity to show you how we can make your marketing SIZZLE with our data-driven, results-oriented marketing strategies.  Sign up for our FREE newsletter, get our FREE guide to creating an awesome website, or contact us for more information on hiring us.
Hausman and Associates, the publisher of MKT Maven, is a full-service marketing agency operating at the intersection of marketing and digital media. Check out our full range of services.