As a business owner, you wear many hats and have conflicting goals you must balance to keep your business on track to success. Sometimes, you feel pulled in one direction by the immediate demands of your organization. At other times, you struggle to find sufficient work to pay the bills. This is the perennial problem with all businesses but small businesses struggle especially hard to balance the long-term goals necessary to grow and sustain the business over the long run with short-term goals that keep the lights on and workers paid. If you feel your business hasn't reached that balance, it's time to get your business back on track, so keep reading if you would like to find out more ways to find your business balance.
There's always more work in a small business than there are hours in the day. Strong leaders know how to set priorities for their staff that balance the needs of the company and help keep it on track to success. But, even the best leaders sometimes struggle to balance the long-term with immediate needs. For instance, a consulting business often asks its sales staff to do double duty as account executives to manage the project once the client signs the contract. Managing a large project takes time and, more than that, it takes planning that can't happen when the staff member is constantly pulled away for phone calls with prospective customers or fulfilling promises made during sales calls, like preparing custom proposals. I've seen this happen in the consulting businesses I worked for. As a result, revenue followed a cyclical pattern as new business came in to fill the coffers then revenue dropped off as the sales person shifted to his/her role as project manager. Until the salesperson had the project running on autopilot, he/she was unable to sell new business and existing leads grew cold; forcing the salesperson to start from scratch again with a new batch of prospects. This isn't a recipe for staying on track to success.
Stay on track to success
Have a plan
If you want to stay on track to success, you must formulate a plan that gets you there. Imagine taking off for a trip without a map to guide you and just taking random roads. Sure, it might be fun and you might see some real gems along the way, but you'll never get where you wanted to be. Also, the temptation to take side trips to see every new thing you see in the distance means you veer far from your original intentions. If you're particularly hedonistic, this might make a fun vacation but it's a terrible way to run a business if you want to succeed.
Instead, you need a well-researched and well-thought-out plan starting with your mission statement.
A mission statement is defined as an action-based statement that declares the purpose of an organization and how they serve their customers. This sometimes includes a description of the company, what it does, and its objectives. A mission statement is a short summary of your company's purpose. [source]
Crafting a mission statement isn't easy and requires a significant amount of thought and some research to find a unique position that sets you apart from other businesses in your industry. However, crafting a mission statement that's too narrow limits your ability to grow over time as the culture and technology change. Introduced by Theodore Levitt of Harvard University, the concept of marketing myopia encapsulates this problem.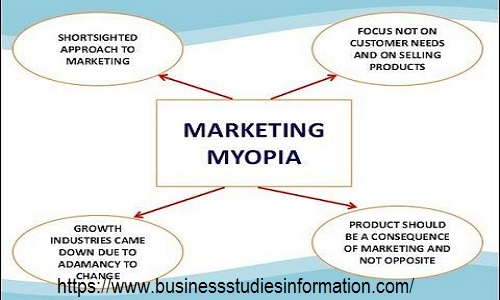 The railroads are a great example of marketing myopia. They viewed themselves as transportation vehicle to move people from place to place. They failed to recognize the threat offered by passenger vehicles and, as cars became more ubiquitous, people preferred the flexibility they offered and eschewed train travel. Because the railroads saw their mission as moving people, they went bankrupt before the federal government bailed them out to become vehicles to transport goods. Now, almost everything you touch traveled by rail for at least part of its journey to your home or office.
You can find additional information about formulating the rest of your plan on these pages.
Set priorities
Action plans contained within your overall business plan help you understand how to allocate scarce resources like capital (including human capital), time, and other resources. Completing action plans highlights the need to set priorities since you can't complete everything you can consider doing with limitations of physical inputs, most especially time. You can only spend time (or money) once so you must choose to invest in the projects with the highest payback. By projecting revenue from each project, you're in a better position to set priorities., especially if financial projections use net present value to identify financial rewards that extend into the future for many years.
Project management software is a great help when it comes to budgeting time and other resources. By creating PERT charts, you can see at a glance how each project is progressing and make adjustments to your priorities to keep each project on track to success.
Hire the right people
The right people is a very broad term that encompasses both hiring people with the right skills for the job (both technical skills and softer skills like communication and teamwork) and hiring people who are enthusiastic and willing to work hard. Of course, hiring well is only the first step. You must also keep your talent and motivate them to do their best.
Unfortunately, the skills needed to start a successful business often don't transition well to running a successful business for the simple reason that managing people becomes the most important job for an entrepreneur when the business is past the initial growth phase and entrepreneurs thrive in the first phase, which involves creating and running a business by themselves or with a small team.
Apple co-founder Steve Jobs is an excellent example of this concept. He was instrumental in designing and building the early Apple computers. Yet, he was a terrible manager and nearly everyone who ever worked for him will vouch for this. Eventually, Apple dismissed him from the company. Other entrepreneurs, such as Mark Zuckerberg of Facebook and Bill Gates of Microsoft, stepped away from the day-to-day management of their companies to focus on strategic aspects of the business. This is a good model for entrepreneurs to delegate over time.
Get your teams working together
One of the very first things that you need to do is get your teams working together. There needs to be good communication throughout the teams so that all of the departments of your business work in harmony to create the best service possible for your business. In order to do this, we recommend planning some team-building days, getting people to mingle and form connections within the company that they may not have had before.
The more easy interaction that there is between the teams, the better this is going to be for your business. It ensures that the process moves faster and more efficiently than before, boosting your results.
Team meetings are the bread and butter of team collaboration but they're a gigantic waste of time in many cases. Instead, send an email when you don't need input but only wish to share information, use collaboration tools when it's important for teams to view the progress made by other members to better plan for their own efforts, and keep meetings for brainstorming sessions when such meetings are most productive.
Outsource to leverage your team
You should also take the time to hire the services that you need to propel your business forward. The last thing that you need is to ignore a critical task, resulting in services that don't meet the needs of your customers. By hiring firms that specialize in specific business functions, you free your team to handle the projects that make your firm special. We call this outsourcing.
Outsourcing is a great tool for gaining access to specific, highly trained workers, especially when your needs don't extend to hiring an internal worker of the same skill. For instance, rather than hiring a part-time accountant, you might consider outsourcing to one of the many accounting firms to handle all of the finances for your company. Or, you may want to look into hiring an IT firm to ensure that all of your computer systems are protected.
Outsourcing also spreads the cost of tools of the trade across multiple firms. For instance, hiring a digital marketing firm spreads the cost of expensive content automation and analytics software across multiple clients, as you can see below.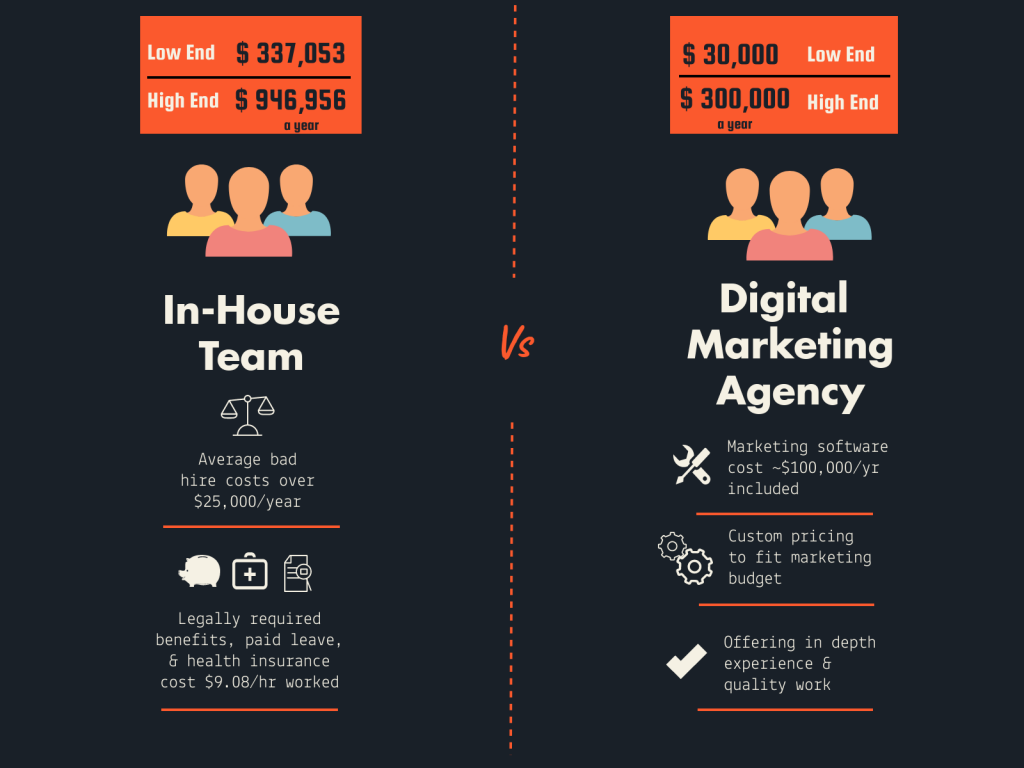 Work to improve efficiency
The final thing that we are going to mention is the fact that you should be working on the overall efficiency of the business. Running obsolete technology, for instance, not only puts your business at risk from cybercrime but it also runs slowly which slows down your operation and may not run the most efficient business software. An out-of-date plant may require a single manufacturing process to move back and forth across the facility to employ different machinery necessary to complete production. Manually processing rather than using automated systems also means you lose time and time is money.
If you have any other ideas that you can think of to improve efficiency, start looking to implement them sooner rather than later.
Conclusion
We hope that you have found this article helpful, and now see some of the things that you can do in order to get your business back on track. If you manage to do this, you will be able to achieve better results than what you are currently seeing. Your business deserves the absolute best, and you need to get it back on track in order to see this. We wish you the very best of luck and hope that you see better results sooner rather than later.
Need marketing help to support business growth?
We welcome the opportunity to show you how we can make your marketing SIZZLE with our data-driven, results-oriented marketing strategies.  Sign up for our FREE newsletter, get our FREE guide to creating an awesome website, or contact us for more information on hiring us.
Hausman and Associates, the publisher of MKT Maven, is a full-service marketing agency operating at the intersection of marketing and digital media. Check out our full range of services.