If you're running a small business, you'll likely start out on your own or with a small team to keep expenses down. But as time passes, your small business needs more staff to complete tasks required for your business as it grows. For example, you may need more staff to handle the increased orders you receive as you reach a wider audience or gain increased customer loyalty. You may want a more professional, full-featured website that requires a developer, copywriter, photographer, as well as an SEO specialist to fuel business growth. As your business grows and has more resources, you might also find yourself in a position to hire specialists to handle tasks such as marketing, finance, purchasing, and new product development that were previously handled by generalists. These specialists come at a cost but also offer substantial cost savings because they bring their experience and expertise to bear on your problems. You may now wonder if your small business is ready to add staff and which positions you should prioritize. Sure, this may cost money, but hiring specialized staff may help generate more money such as extending your market reach, purchasing more efficiently, and fulfilling orders in a timely manner. Here are some tips to help you determine if your small business is ready to add staff.
Are you ready to add staff?
This question is often make or break for your small business as the cost of staff continues to climb in an economy where there's a serious shortage of workers. It's a seller's market with each prospective employee facing multiple jobs rather than a company receiving many applications for each job opening. Because of this, average worker wages grew by 4.4% year over year. The great resignation meant workers who felt trapped in jobs they didn't like or ones where they felt unappreciated, quit in droves for greener pastures. In the beginning, it might make sense to just commit to working longer hours and doing jobs you might not like in order to keep your expenses low.
Here are some considerations to determine if you're ready to add staff.
Do you need full-time help?
Has your business developed to a stage where sales are stable but your daily workload is unmanageable with your existing staff? Or, do you want more control over the folks you hire so your priorities are their priorities and you have more protection of your intellectual property  Then, it might be time to commit to hiring staff. The individuals you hire are totally committed to your project during negotiated hours in exchange for a contract detailing their work tasks, financial compensation, and other benefits. Make sure to read a study on workplace diversity, equity, and inclusion to ensure that your hiring practice is fair and that you create a varied and well-connected workforce. You may want to use a recruitment company to help with this entire process as you face legal requirements that can force you to pay large awards if you don't follow all the state, federal, and local rules surrounding hiring. Many of these same rules also restrict promotion, as well.
While there are exceptions, hiring workers means a full-time job. Not only that, but you also need to figure out the cost of benefits in calculating whether you can afford to add staff. Sure, you can limit the benefits you offer to only those government-mandated costs such as social security/ medicare, workers' compensation insurance, and unemployment insurance. Depending on the size of your workforce, you may also face additional government-mandated costs. But, in many professions, you are at a distinct disadvantage in hiring unless you offer medical/ dental, retirement, and vacation benefits. All this can add up to a hefty bill on top of salaries.
There are lots of options if you don't feel your needs justify hiring full-time employees. Let's discuss a few of them.
Outsourcing
Are you a start-up? Do you need to get a few tasks done in order to start making sales, but are unable to carry out these tasks yourself? In this situation, you may benefit more from using freelancers or agencies than from hiring staff. At this point in your business venture, you probably can't commit to the responsibilities and expenses of becoming an employer. You may not have the budget, guaranteed future sales, and sustainable growth to justify committing to paying employees a salary and benefits, which can amount to nearly 30% of total compensation paid to workers. In this scenario, it might make sense to hire an agency or a 3rd party, such as a contract manufacturing operation rather than hire staff. Below, you see a comparison of the costs associated with hiring an employee to do digital marketing versus hiring an agency.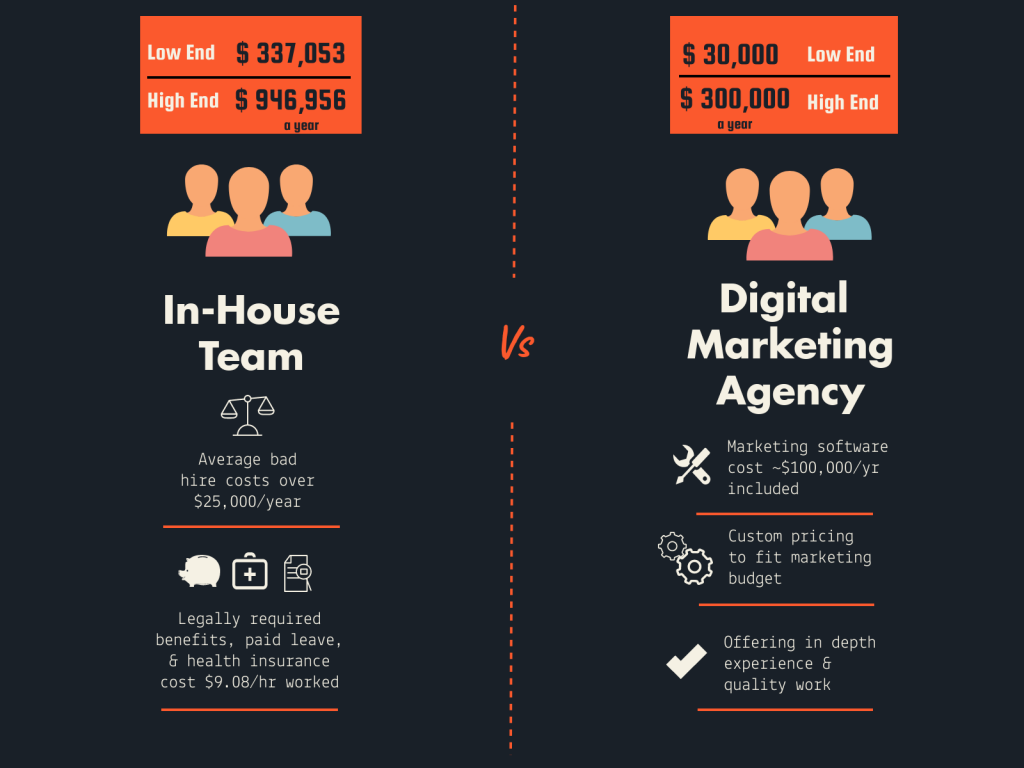 In addition, hiring an agency or firm with specialized skills means gaining vast expertise and experience that costs a lot of money when you want to hire folks with similar skills. Hiring also means you incur associated costs such as buying equipment, software, and other expensive tools of the trade versus sharing the costs of these tools with other clients.
Freelancers are a good option when you only need sporadic help with some tasks. For instance, you might hire a developer to help create a more professional website or a designer to do a package for your product. Once the job is done, you don't need the keep paying the freelancer. There are many places where you can find folks with the right skills to get your job done, such as Fiverr.
Add partners
Another strategy for increasing your work capacity while adding expertise is to bring on partners to the firm. This is an especially good strategy for small businesses that likely face explosive growth potential.
In exchange for contributing their skills, experience, and expertise, partners obtain a portion of the outstanding stock in the company rather than a salary commensurate with their skills. You don't want to overuse this strategy or you'll find yourself with too little stock to compensate for your efforts as the founder. You also want to use this strategy sparingly so you only share ownership with folks who bring needed skills to the organization.
Expansion
As your business grows, you face the need for ever more specialized staff. For instance, rather than hiring a bookkeeper at a relatively low cost, you may find you need an accountant at a much higher rate to prepare tax forms, as well as financial statements that meet the needs of potential investors and loan officers. Instead of handling production, you may find you need an operations manager so you can focus on managing the overall business.
Just make sure that, as you expand, you bring in some sort of managerial hierarchy, as this will keep your teams organized and well managed. Managers should not only be organized and understand what is required of their team, but they should also be positive, uplifting, and fair for the sake of office and workplace happiness and satisfaction. One of the biggest dangers founders make as their business expands is that it takes a different set of skills to manage people and grow the business than it did in the early days when you were consumed with the day-to-day survival of the business.
Conclusion
Whichever strategy you decide is best for your business, it's important to understand when you're ready to add staff and accept the value of freelancers or team members in regard to your profits is an important decision. Take your time choosing the right time when you're ready to add staff and  the right type of staff is right at any given time.
Need marketing help to support business growth?
We welcome the opportunity to show you how we can make your marketing SIZZLE with our data-driven, results-oriented marketing strategies.  Sign up for our FREE newsletter, get our FREE guide to creating an awesome website, or contact us for more information on hiring us.
Hausman and Associates, the publisher of MKT Maven, is a full-service marketing agency operating at the intersection of marketing and digital media. Check out our full range of services.