For many businesses, implementing a digital marketing strategy is daunting. Part of the issue is the variety of digital marketing options out there. We all know about social media but businesses must consider the many other aspects of digital marketing out there, from SEO to blog content and email marketing to paid advertisements. Is digital marketing worth the cost in terms of money, time, and effort when faced with the plethora of options available?
In today's post, we try to answer that question by highlighting 6 reasons that support digital marketing worth. Want to learn more? Let's get started.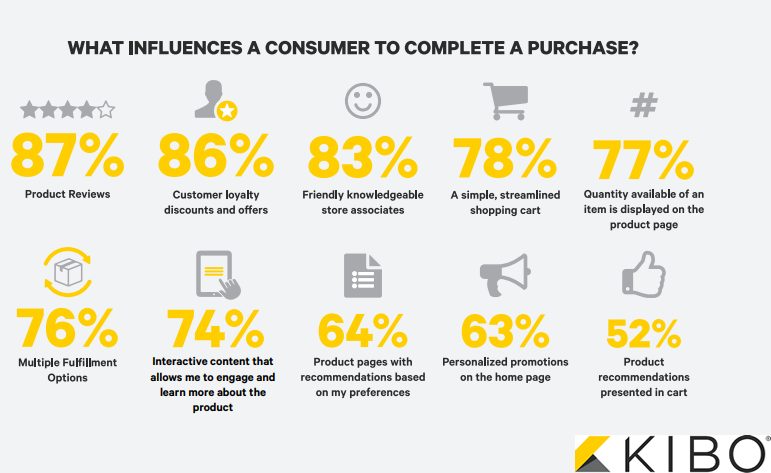 The image above lists the impact of various factors on consumer decision-making. Check out the image and you can easily see the impact of various digital marketing strategies. You can assess digital marketing worth expressed in the graphic by the percentage of respondents who mentioned that a particular factor impacted their decision to purchase a product. You see the value of this strategy in terms of easily accessed product reviews (87% of consumers report this factor impacts their purchase decision), a streamlined shopping cart (78% impact), and interactive content to engage and inform (74% impact). Additionally, a number of other factors impacting purchase decisions also happen or could happen if implemented as part of a digital marketing strategy.
Digital marketing worth
Why is digital marketing worth your investment?
Before I jump into answering this question, let me share a bit of supporting information that supports the vast opportunity for businesses that use digital marketing strategies and the way companies of all sizes devote resources to digital marketing.
The percentage of a firm's marketing budget spent on digital marketing grew over the last few years to approximately 50%
Digital marketing is no longer considered an option for modern businesses, even small local businesses by most experts
The growth of digital users is vast and encompasses nearly every corner of the world. Much of this growth comes from mobile users
Users spend a huge amount of time online every day
1. You can save money
Compared to other marketing methods, advertising online can save your business a lot of money. Paid advertisements are cheaper than advertising on most traditional media platforms and many digital marketing strategies cost nothing. For instance, social media incurs no real cost (although you must devote time to this strategy) while the cost of a website is as low as about $150/year. Frankly, if that cost is too high, you really don't belong in business.
SEO (search engine optimization) relies upon strategies that take some time but you can do great SEO without incurring a cost. Also, if you put your heart into most digital marketing tactics, you can do a lot of the work yourself. However, it makes practical sense to hire some digital marketing experts if you really want to take your business to the next level. They take care of everything for you so that you can focus your energy on running your business and, by sharing the cost of expensive software tools, hiring an expert is sometimes cheaper than implementing digital marketing strategies yourself, as you can see below.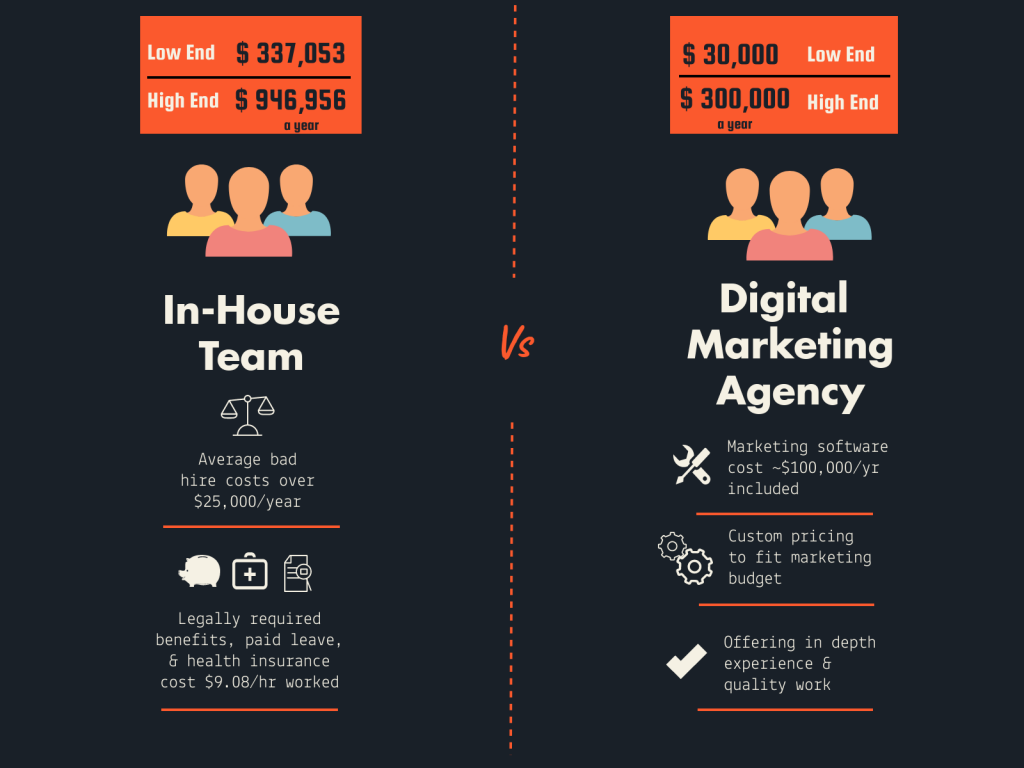 2. Digital marketing increases engagement
Digital marketing is a safe choice for small and large businesses the strategy increases engagement on social platforms. Not only does engagement contribute to SEO but engagement amplifies your marketing message to reach a new, diverse audience.
Nowadays, with everything being done online from paying bills to shopping to newsgathering, it makes sense to increase engagement as a way to reach a larger audience. By creating content that is unique and interesting, you build up a strong following, all while contributing to your brand presence. It really is a win-win.
3. You build stronger customer relationships
Since digital marketing allows you to communicate with others through your content, it's a great way to improve customer service too. You can answer questions, solve problems (ie. offering explainer videos), and handle customer service requests with an effective digital marketing program. By providing customer service in an open manner, you show you are trustworthy, loyal, and reliable; which translates into higher sales, more recommendations, and a more positive brand image.
Think about digital marketing as a customer research tool, as well. Use your customer relationships to generate a more nuanced understanding of your customers and prospects that allows you to better serve them. Analyzing user comments highlights unmet needs, gaps in customer service, and how users view your brand compared to that of your competition. Thus, you can create new products to meet the needs uncovered, plug wholes in your customer service before they damage your brand, and target marketing communication toward your USP (unique selling proposition), as identified by users.
4. It's easier for advertising to target a specific audience
Unlike other forms of advertising, digital marketing allows you to laser-focus on a specific target market. For instance, a TV commercial might reach millions of viewers (at a very significant cost) but many of those reached aren't interested in your brand. Unless you reach users with the need, money, authority, and desire to buy your product, you're wasting your money and time.
Using digital marketing, you directly connect to the individuals who are most likely to buy your products. A few ways that this is done include:
Location targeting – geofencing ensures your advertising only reaches folks in your target location.
Demographic and psychographic targeting – using keyword phrases and social targeting, you reach users offering opportunities for your brand based on their online behaviors. In search, the opportunity is amplified, since search queries often indicate an immediate need for a product like yours.
Affinity Audiences – affinity audiences represent potential sales based on the totality of their behaviors, including lifestyle indicators, online habits, and passions.
Similar Audiences – if you find success with a particular audience, similar audiences are also likely to represent value to the organization. This is an option in both social and search advertising.
Remarketing Audiences – remarketing is a valuable tool for converting visitors to your site. After visiting your site, visitors see your advertising on social or in display advertising. Visitors also see your links first in search results when using search ads.
Targeting the right audience means the money you invest isn't wasted.
5. You can monitor results accurately
It's hard to track how effective a billboard is since you can't determine with accuracy who viewed your billboard and whether those folks then purchased a product. You make guesses as to the impact of traditional advertising by comparing results pre and post-campaign as a surrogate for actual metrics. However, this method results in a lot of misinterpretation.
Measuring the results of a digital marketing campaign is very different, as key metrics show up in your analysis. For instance, Google Analytics tracks the source of visits through to conversion. Using tags, you can effectively track the source of each conversion to the campaign generating the visit, as well as using multi-channel attribution modeling to apportion credit to the various sources involved in a conversion.
Armed with this information and effectively testing campaigns, you optimize your ROI (return on investment).
6. Stand out from your competition.
Finally, the last reason why digital marketing is worth the cost is that it helps you stand out from your competition. By being unique, you can encourage viral posts that boost your business above the rest. Yes, it might be easier said than done, but with hard work and a great plan, the results are worth it.
Conclusion
And that's it! Do you know of any other reasons that you would add to this list? I'd love to hear from you. Just post something in the comments below.
Need marketing help to support business growth?
We welcome the opportunity to show you how we can make your marketing SIZZLE with our data-driven, results-oriented marketing strategies.  Sign up for our FREE newsletter, get our FREE guide to creating an awesome website, or contact us for more information on hiring us.
Hausman and Associates, the publisher of MKT Maven, is a full-service marketing agency operating at the intersection of marketing and digital media. Check out our full range of services.