Some website owners will go to any length to increase the performance of their website, including employing unethical SEO practices, often called Black Hat SEO. The question remains, however. Is black hat SEO bad or just unethical?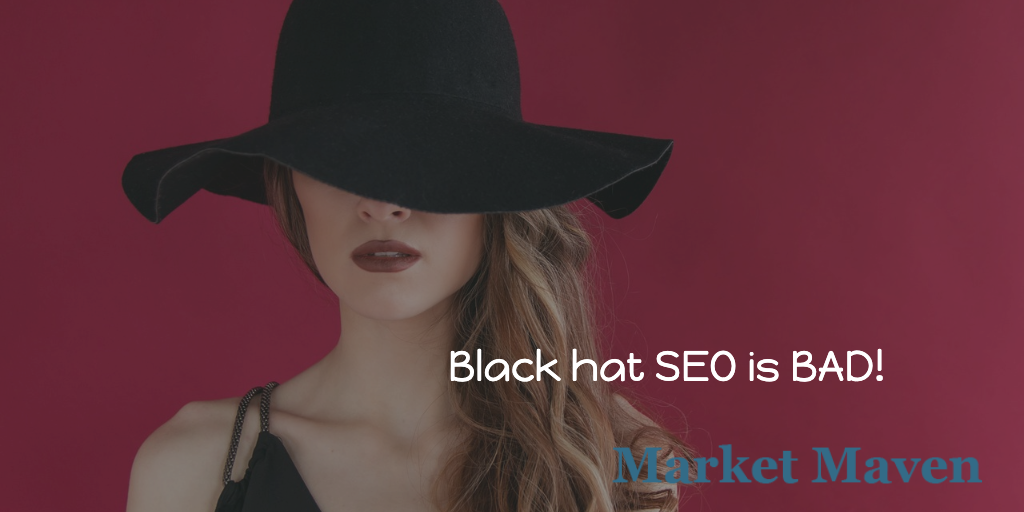 The answer is the black hat SEO is bad. While using black hat SEO might result in temporary improvement of your performance in search, in the long run using these tactics causes serious damage to your website rank and may even result in finding your site de-listed, which means it doesn't appear in search at all. A bigger issue is that black hat SEO often results in a poor user experience, which defeat
Black hat SEO is bad
Even while some website owners willingly or unknowingly use black hat SEO approaches in order to manipulate the system to gain more traffic. Sometimes it's a simple matter that the owner doesn't understand that what they're doing can damage their search performance because they either don't keep up with changes in what's considered ethical SEO or because they learned from one of the old-timers who got away with black hat SEO back in their time.
For instance, when I first got started with my website back in 2009, the mentor guiding me through the process criticized me for not using my keyword enough in my content. He told me it didn't matter whether the content was valuable or even made sense to a human as long as you included as many keywords in your content as possible. I was more interested in appearing professional and demonstrating my expertise to prospective clients so I continued to ignore his advice. Sure enough, soon after that Google updated its search algorithm to greatly reduce the rank of this type of content. While other websites scrambled to update their content to conform with Google's algorithm change, I was sitting pretty. That was a great lesson — always go with your gut when you think you're getting bad advice.
The role of the Google algorithm
Much of a website's traffic comes through search engines – 93% of traffic, according to one source but everything I could find supports the general statement. Google remains the biggest player in search, with over 92% of all queries entered on their platform. Thus, when most experts talk about SEO, they're focused on the Google algorithm that ranks all public website content.
The Google algorithm consists of a large number of factors that determine the rank of a piece of content when a user enters a query. Rank is critical, since your rank vastly impacts your website's performance, as you can see below.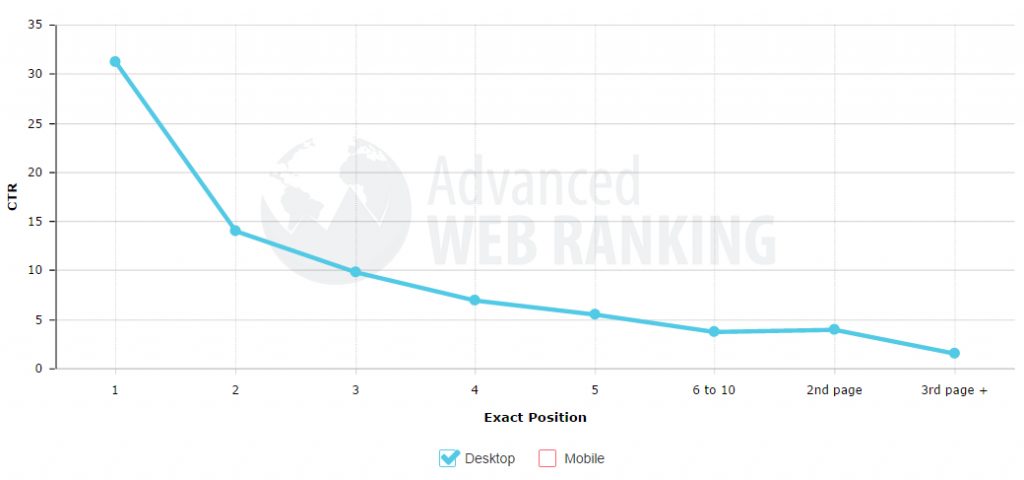 If your content falls below the top-ranked websites, you get very little traffic.
SEO
SEO or search engine optimization involves conforming your content to the current Google algorithm. While the algorithm changes constantly, with major changes every year or so, the general rationale anchoring the algorithm is providing users the best search results to address their query. So, that should be your goal in creating content and your website. Providing valuable content on a consistent basis is your best strategy to optimize your digital performance. As you can see below, the more content you create, the more customers you convert. Publishing less than once a week is pretty much a waste of time and effort.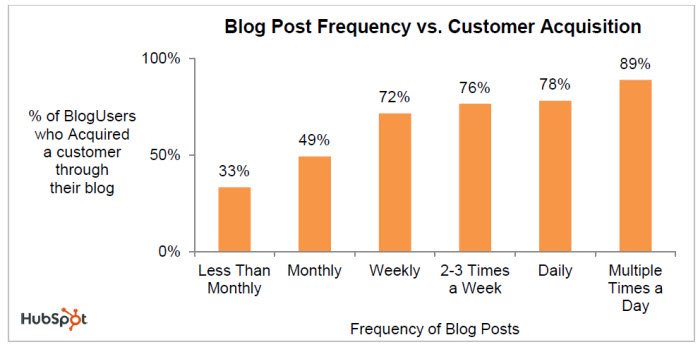 Rank in search is based on the perceived quality of your content (mostly based on social proof such as backlinks) and the close relationship of your keywords to user intent as reflected by their query — you identify keywords (actually phrases rather than single words) as part of your SEO efforts or Google will infer them based on your content. Each piece of content gets ranked although the overall characteristics of your website also impact the rank for every piece of content posted.
SEO tactics to avoid
Given the goal of any search engine is to make users happy by providing the best content to address their query, black hat SEO is bad because it attempts to evade the search engine's primary directive.
As you joyfully plunge into your efforts to improve the performance of your website, it is easy to find yourself in uncharted territory when it comes to search engine optimization.
If this occurs, it is possible that you're not aware that you're doing something unethical until after your site gets penalized. You will wake up one morning to discover that your website slid closer to the bottom of the search results and traffic to your site dropped significantly overnight. Unless you fix the problem, likely by re-creating hundreds of web pages that violate the search engine's new ranking criteria, you'll likely see your results continue to decline over time. That's why your first task every day should involve assessing your website performance using a tool such as Google Analytics.
Using obsolete information about SEO best practices and mistaking it for current guidance, as well as employing SEO methods that come from a shady source, are the most prevalent ways for a site owner to find themselves in that predicament. If you are at all confused or worried about your existing SEO techniques, it's worth consulting a professional SEO agency to get your site back on track.
In this article, we spell out some of the black hat SEO techniques you need to avoid.
Keyword abuse or keyword stuffing
Good SEO begins with thorough keyword research to determine appropriate target keywords for your content based on what you have to offer and your target market. However, what you do with those keyword phrases (since modern keywords continue to get longer as more users employ voice devices such as Alexa and Siri to power their search) is extremely important. Some website owners, in a desperate attempt to increase traffic, stuff keywords into their material anywhere and everywhere they can think of, including some unexpected areas.
Publishing material that has several versions of your keywords is a surefire method to make it less digestible for humans (which damages the user experience and costs you sales), and it also doesn't help your performance with modern search engines.
The practice of cramming as many keyword phrases as possible into your content is known as keyword stuffing, and it used to be effective. It was common to see content that was a string of keyword phrases and variations that made no sense to anyone. For a short period of time, Google interpreted a high keyword density as evidence that a website was related to the search terms in question. Now, there's an upper limit to the number of times you can use a keyword without incurring a penalty.
Article spinning
It is possible to get away with article spinning by copying information from a high-ranking page making modifications and republishing it as yours, especially if you draw insights from several different websites. The worst offenders just use a machine to automate the task, and the output is considered duplicate content. Republishing content is black hat SEO and you may see a drop in your website traffic.
The same goes for spinning your own content. Sure, updating an out-of-date piece of content is a great strategy but get rid of the old content. Similarly, you can take a post that performed well and build on that idea to generate new content. For instance, dig into a different aspect of the concept or provide an overview of how the concept fits with other concepts. Just make it unique.
The goal, whether accomplished manually or through the use of an automated approach, is to modify the material just enough to convince search engines' duplicate content detection algorithm that it's new. AI-powered content creations systems, as well as easywriter software, can help with your needs to create fresh, new content on a consistent basis.
Cloaking
Cloaking is one of several categories of black hat SEO designed to fool search engines and visitors with different content. Cloaking involves spoofing a page so the user so they see different content than the search engine. Similar strategies use a font size of 0, a font color that blends into the background, or other strategies to make content visible to search engines invisible to visitors.
Conclusion
You should publish material that is deserving of a high search engine rating. If you follow that easy rule, you will please your visitors while also providing search engines with the information they are searching for as well.
Need marketing help to support business growth?
We welcome the opportunity to show you how we can make your marketing SIZZLE with our data-driven, results-oriented marketing strategies.  Sign up for our FREE newsletter, get our FREE guide to creating an awesome website, or contact us for more information on hiring us.
Hausman and Associates, the publisher of MKT Maven, is a full-service marketing agency operating at the intersection of marketing and digital media. Check out our full range of services.