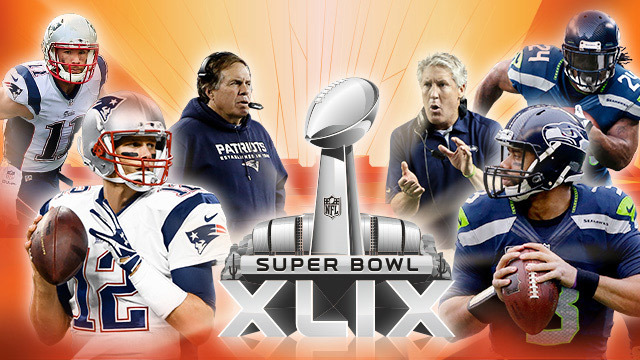 Super Bowl advertising. Yes or no?
On Sunday, when the Seahawks face the Patriots (will deflate-gate be an issue???) advertising will cost $4.5 million per 30 seconds, according to Yahoo, a 12% hike over last year's prices. Of course, what advertisers pay varies greatly depending on a variety of factors, but $4.5 million is still a LOT of money.
So, can your firm afford to do Super Bowl Advertising or should it simply be a pass this year?
Why use Super Bowl advertising?
Eyeballs.
The Super Bowl gathers more eyeballs in one place than any other event in human history. Last year, 111.5 million people (223 million eyeballs) watched the Super Bowl — a game that ranked as one of the biggest blowouts in Super Bowl history. Where else can you reach over 100 million people?
Super Bowl advertising builds buzz around your brand. For instance, the Apple "1984" commercial launching the Macintosh Computer is credited with saving the brand.
Other brands haven't had the same luck, which explains why some brands are pulling out of Super Bowl advertising this year and many are cutting back. GoDaddy even pulled their ad scheduled to air on Sunday after criticism from animal lovers — although they've committed to replacing the ad with something less objectionable rather than lose the chance to continue their march toward being a household name in domain registration.
Of course, advertising in the Super Bowl isn't just Super Bowl advertising anymore. Instead, brands use the entire month to preview their ads, posting teasers online, in print, on movie trailers, and other media to build buzz for their Super Bowl Ads. In fact, the surprise is gone. By the time the game airs on Sunday, only the game itself remains unseen.
Why not spend on Super Bowl advertising?
Some big brands have just said, "No" to Super Bowl advertising this year. Automakers are dropping off with only a few choosing to air Super Bowl ads, compared with 11 brands advertising in last year's Super Bowl; making up 25% of all the ad spend last year. Other notable brands missing from this year's Super Bowl ad lineup (according to Time Magazine) including Dannon (the official yogurt of the Super Bowl — which begs the question of why there is an official yogurt of the Super Bowl). Coke and GoDaddy each dropped their Super Bowl buy to 1 ad rather than their normal 2.
Of course, some newcomers, enticed by promises they'll rise above their relative obscurity, are filling the void. Among them, Loctite, Wix (the website building platform), and Mophie (the smartphone case manufacturer). It's an open question of whether they'll see a return from their gamble or fail as did Groupon when they made the foray into Super Bowl advertising.
What makes a Super Bowl ad successful?
Spending $4.5 million for a single Super Bowl ad isn't for the faint of heart — or small businesses. The risks are enormous — just ask GoDaddy, who paid for some of the least popular Super Bowl commercials in recent years and are scrambling to replace this year's scheduled ad.
In fact, just as the rewards are enormous, so are the risks. Just ask advertisers who paid for some of the worst ads in Super Bowl history, according to the New York Post:
Ameriquest – whose ad in 2006 showed an unlucky female passenger who ended up in her seatmate's lap. Moral: don't piss off 1/2 of your audience.
Bud Light — in 2007 Budweiser spend good money showing a clown walking into a bar on his hands. While it's an interesting joke first line — a clown walks into a bar — it fell flat. Moral: pretest.
General Motors — 2007 just wasn't a good year for big brands advertising on the Super Bowl. General Motors showed a robot after losing his job on the assembly line. Moral: even robots have feelings.
Sales Genie — showed an animated commercial featuring Kung Fu Panda. It showed Asians as stupid and unsophisticated. Moral: don't piss off any demographic, even if they're not a big part of your audience.
Sobe — ballet and athletes just don't mix. It doesn't matter how you animate their partners. Moral: confusing the audience doesn't work well.
Doritos — don't use a ninja to protect your stash. It doesn't work.
Groupon — adding to their list of mistakes, Groupon followed up with a Tibetan-themed failure. Moral: see 1 and 4. Some folks just don't learn from the mistakes of other advertisers.
Coke — mixing cowboys, camels, and showgirls?????
GoDaddy — following its pattern of failed Super Bowl commercials, GoDaddy aired a spot in last year's game featuring Jersey Shoreesque folks running for a tanning salon. Moral: GoDaddy should stick to domain registration.
Bud Light — never one to shy away from past failures, Budweiser aired a commercial in last year's game that was simply a snoozer. Moral: folks have to visit the bathroom sometime. Make sure it isn't during your commercial.
Other don'ts for your Super Bowl advertising:
avoid nudity. Even Victoria (Secret) produced a tame commercial for this year's game
test — you never know what works until you test. Spending $4.5 million on a commercial that falls flat or pisses folks off is a hugely bad investment.
don't push the envelope too far. Ask GoDaddy.
Looking at AdAge's growing list of who's airing Super Bowl commercials this year (and who's not), you'll see some trends in this year's Super Bowl creative strategies, especially related to brands' use of social media.
Social media integration — a number of brands used contests to create social media buzz about their Super Bowl commercials. Some, like Carnival, asked consumers to vote for their favorite commercial on social networks and will air the winning commercial during the Super Bowl. Others, like Doritos, asked consumers to create their own commercials and will air the winner. Will social media ever make Super Bowl advertising obsolete? My guess is yes — but I personally think it's time for traditional media to move over and make way for social media. Budget priorities have to shift. But, if you ask Pepsi, you'll likely get a different answer. They replaced Super Bowl advertising 5 years ago with a social media and social good campaign. They didn't repeat. Not sure if it was strictly a business decision or executives covering their own #$% — whoever got fired for budgeting for Super Bowl advertising? Anyone with access to the metrics, please jump in here with your take on Pepsi's decision.
Pre- and post-game release to social media. A number of big brands, including Pepsi and Lexus released their ads early to capitalize on Super Bowl hype and will likely continue after the game by releasing them to YouTube.
Other brands, taking a page from the Apple Macintosh playbook, are keeping their creative secret until unveiled at the big game hoping to capitalize on surprise and maximize emotional reactions.
Here's a cool infographic about success factors for Super Bowl advertising:
Need marketing help to support business growth?
We welcome the opportunity to show you how we can make your marketing SIZZLE with our data-driven, results-oriented marketing strategies.  Sign up for our FREE newsletter, get our FREE guide to creating an awesome website, or contact us for more information on hiring us.
Hausman and Associates, the publisher of MKT Maven, is a full-service marketing agency operating at the intersection of marketing and digital media. Check out our full range of services.