The Internet economy is bright — very bright according to Saul Klein of Index Ventures. But, are investors getting returns like Facebook and Google when they invest in tech? Or are they missing some of the secret sauce that makes these investments almost bullet-proof?
Returns like Facebook and Google
Look at recent investments by Facebook and Google — Instagram (by Facebook) and YouTube (by Google).
Facebook paid $1 billion to acquire Instagram in 2012 – not a paltry sum. Begun in 2010 by a couple of Stanford grads, the app today boasts over 200 million users with more than 75 million logging on each day, including both the Obamas, the Royal family, and most celebrities.
What did Facebook see on Instagram? The fast-growing users base on dedicated users fit Facebook's business model and the photo-sharing over Facebook (and other social networks) created synergy, but maybe the thing that drew Facebook to buy Instagram was because they were afraid of Instagram — afraid users would desert Facebook for Instagram … afraid users wouldn't want to split time between the 2 apps and would choose Instagram … afraid Instagram solved a problem — sharing photos — that made Facebook obsolete. Just as General Motors acquired Oldsmobile, Cadillac, Chevrolet (once competitors) to eliminate the competition, Facebook did the same with Instagram.
Google's purchase of YouTube for $1.65 billion 4 years earlier made it the most expensive acquisition by Google to date — topping what they paid for all acquisitions the year before. Again, the purchase was a strategic fit for Google, which grew from its search roots to become a major player in many aspects of life for its target demographic. Following the successful strategy of Apple Computers, Google seeks to be everything to this target market from search to wearables to automation (self-driving cars, for example), to communication and productivity, to every aspect of innovation (life extension, for instance). Buying YouTube meant not only acquiring more folks in this target demographic, but convincing them to spend more time with Google properties and, through its single sign-on, making it easier to bundle everything a consumer needs into one package. Acquisition of YouTube also provides synergy — making Google's chief money-maker — Google Ads — even more valuable and driving more businesses to the advertising platform (which also operates on YouTube).
No wonder Google sowed up 70% of search!
A good question is what Facebook and Google see that eludes other investors? And, how can other tech investors get returns like Facebook and Google?
Investor barriers
According to Saul Klein, investors today are investing like investors of 20 – 30 years ago — not understanding the ecosystem changed forever with the rise of the Internet economy.
According to Klein:
The Internet isn't really a technology, it's a belief system[Tweet "The Internet isn't really a technology, it's a belief system"]
And, e-commerce companies, software, and online travel outperform the traditional markets (creating tangible products) where investors traditionally focused their resources. With the exception of smart devices, these markets just don't perform that well anymore.
And, Klein isn't alone. The prestigious Boston Consulting Group (which created the infamous BCG matrix taught to generations of marketing students) estimates the growth potential for the internet economy at $4.2 trillion. In their report, BCG analysts say:
By 2016, there will be 3 billion Internet users globally—almost half the world's population. The Internet economy will reach $4.2 trillion in the G-20 economies. If it were a national economy, the Internet economy would rank in the world's top five, behind only the U.S., China, Japan, and India, and ahead of Germany. Across the G-20, it already amounted to 4.1 percent of GDP, or $2.3 trillion, in 2010.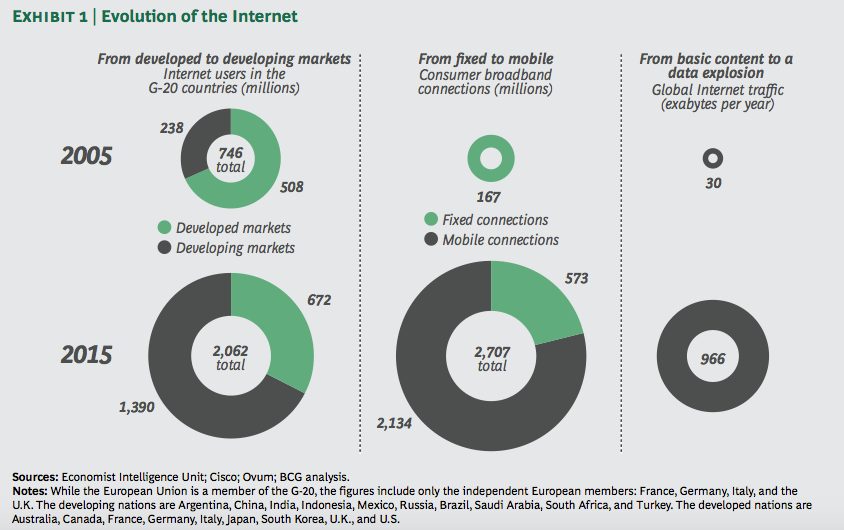 Because Internet growth is exponential, not linear, opportunities in the Internet economy far exceed those available through any other opportunity — which also fueled not only the growth of Facebook and Google but their acquisitions of Instagram and YouTube. Take a look at how the Internet economy is shaping up next year in this chart from the BCG report
And, they expect continued growth means the economic impact of the Internet economy will double in just 6 short years — between 2010 and 2016. Beyond 2016, exponential growth continues — shortening the time it takes for economic impact to double.
Developed markets in the US, Western Europe, and much of Asia (including a surprisingly strong showing by South Korea) lead the way in the digital economy in terms of BCG's e-intensity, which assesses a countries Internet infrastructure, online expenditures, and online engagement online, but newcomers in Latin America, China, and the Middle East (except Israel, which maps to Western Europe in e-intensity), are leap-frogging directly into social the way they leap-frogged directly into mobile rather than land-based telephones.
Research versus buying online
We probably already knew this — or at least suspected it. The amount of money spent online is really tiny despite years when gurus predicted this would be the year when online sales (desktop and mobile) would take off. But, don't underestimate the importance of online marketing and retailing. A large percentage of consumers do their research online, then buy what they want in the store — the brick and mortar kind. Mixed channels — using 2 or more channels — are common, especially in the US, where almost twice as much stuff is purchased in a brick and mortar (after researching online) as is purchased online.
Multichannel retailing goes the other way, too. With companies like Best Buy complaining about customers taking up time (and time IS money) shopping in the stores, then buying online. Shoppers even shop the price of an item right in the store before making a purchase. If they find a TV or Blu-ray for less on Amazon, there goes the sale.
Of course, not all research is intentional. We get recommendations from our friends all the time on social networks. It's also common for folks to ask their friends for recommendations before buying. I recently had a friend ask whether to buy a Sleep Number or Tempurpedic mattress to replace his existing foam mattress. We trust our friends because they don't have any hidden agendas — they give it to us straight. This, of course, explains the true power of social media.
Not to mention all the brands building their image through social channels. Branding sends subtle messages about the positioning of the product and its suitability that have a subconscious influence on the brands we choose in both online and offline settings.
Even though a small number of purchases actually occur online (about 4.3% of GDP according to BCG), the power of the Internet in influencing offline purchases is enormous.
So, what does it all mean?
I'm glad you asked. The Internet economy impacts much of how we market businesses today. Like Klein said, it's a belief system supported by technology, not technology.
As an investor
You should probably think like Facebook and Google — investing in the Internet economy by building synergies with existing business and stopping competitors by gobbling them up. Stop investing the old way and supporting startups who are doing things the old way. Today, that probably means stop looking for the next Facebook or Google and, instead, look for firms like Instagram and YouTube who expand the internet economy.
Two suggestions — the Internet of things and email substitutes.
As a marketer
The Internet economy presents great opportunities, but also great challenges. Learn to harness the power of the Internet economy by putting on a different set of glasses than the ones you've used to view the world so far.
If you're not online (and mobile-friendly), you've missed the boat. A digital presence is just the price of admission now. And, don't go creating an app unless you provide some enhanced capability over your website. Just make your website mobile-friendly. The high cost of keeping your app at the top in the app store is too high to do anything different.
Joining today's Internet economy means becoming part of the new ecosystem — an ecosystem that's consumer-driven, not like the one we all grew up in.
As a consumer
The Internet economy offers great opportunities to increase your buying power and get things that truly make your life better. Demand more from brands — make them earn your $$$$ every day. When they do something wrong, vote with your dollars to drive them out of business. If they offer greater opportunity, give them a try and tell your friends if it works out. We certainly need that more than sharing another cat video!
Need marketing help to support business growth?
We welcome the opportunity to show you how we can make your marketing SIZZLE with our data-driven, results-oriented marketing strategies.  Sign up for our FREE newsletter, get our FREE guide to creating an awesome website, or contact us for more information on hiring us.
Hausman and Associates, the publisher of MKT Maven, is a full-service marketing agency operating at the intersection of marketing and digital media. Check out our full range of services.