For those with international businesses, we applaud you! The UK saw a fresh spurt of entrepreneurs willing to take a global leap by buying or starting a business overseas. While many expanded their UK business into international business, many are actively part of the import-export field, taking UK products worldwide. For most enterprises run overseas, having an international marketing strategy focused on digital is critical since the Internet inherently reaches all parts of the globe equally well. Like all marketing strategies, digital marketing helps connect with a worldwide target audience and improves the brand image and recognition beyond your local market.
International marketing challenges
While international marketing shares many of the same challenges faced when marketing domestically (represented by the marketing mix shown above), some unique challenges exist in this space. To ensure we're all on the same page, let's introduce a piece of vocabulary. Home country refers to where your main business exists, such as the UK or US. A host country is a country where you open (or want to open) a new market for your products (both goods and services).
Often, when you think about international marketing, things like language and physical distance come to mind. However, these challenges are easily overcome when compared to other challenges your face.
In terms of physical distance, visas and even immigration might pose a problem as you move people permanently or temporarily to a different country. While it might seem a daunting task, immigration lawyers such as Immigration Lawyers in Leeds can help with all the paperwork, from work and visitor visas to ensuring you have the correct travel insurance for your work. Some countries are very strict in their enforcement of immigration. For instance, I once went to Mexico to interview managers only to discover no one would talk to me without the proper documentation allowing me to work in Mexico while others would only allow me to meet in a separate room designated for international meetings. Weird, huh?
Language is another one of those challenges made to seem more critical than it is because there are translation firms available to help with all your language issues whether you need to translate your brand name or communicate verbally with folks in a host country.
An often overlooked area of international marketing deals with more fundamental issues including culture and legal system differences. These pose significant threats to your success as cultural mistakes are much more serious and require a more nuanced approach than simply hiring a translator. Legal issues might result in having your shipments seized or making it difficult to move profits back to your home country. Working with a local firm in the host country is the best way to avoid these costly mistakes.
That includes your international marketing efforts where your message may not reach consumers in the host country in a way that motivates them toward making a purchase. With the rise of digital marketing that reaches the entire world, these problems are magnified. That's why Starbucks recently changed its logo by removing its name to make it resonate well in their international markets.
As with any business, international marketing requires you to ensure you have a solid go-to-market strategy. Understanding the audience and ensuring the content is highly relevant to that market is the name of the game. Practical, relevant content will increase the conversion and click-through rates, leading to higher traffic.
Let us look at some digital marketing tips for international markets
Identify your target audience:
International buyer values, attitudes, and behaviors in a host country may differ greatly from the ones you see in your home country. What may work in your home country may not work in another country and you may need different messaging for different countries. Most large businesses develop multiple websites and serve up the appropriate site based on the location from which the site was accessed or by asking visitors to identify their location prior to entering the full website. Other businesses count on the fact that certain consumers groups span across different countries. For instance, if you look at the graphic below, you see the percentages vary across countries but the existence of these consumer groups cross country borders.
Regardless of your ultimate approach to targeting, conduct research in the specific host country and region to build a deeper understanding of your market. You might consider hiring a local digital marketing agency to help with the research and to build buyer personas like the one below for your target market(s). Understanding buyer personas, their buying patterns, and behaviors help prepare a focused digital marketing strategy. Since the entire reason for planning a strategy is increasing customer interaction and interest, having the data and analysis on the target audience is crucial.
Consider local customs and traditions:
The cultural, religious, and traditional values of the audience determine the types of products they want and the best marketing messaging to motivate them to choose your brand. If you don't respect the local customs, values, and traditions, your brand and its products may face public outcry and even legal challenges in more fundamental regions. This is especially true in theocracies although younger consumers are willing to pay more for brands that live the values shared by consumers
Similarly, you understand local mannerisms, holidays, festivals, habits, and more, it is easier for you to ensure success in your international venture. For instance, some countries, such as Greece, basically shut down for the Christmas season while in Israel, you have the overlap between Muslim, Christian, and Jewish holidays to consider in planning staffing, product, etc. Understanding these differences and helping people celebrate them with your marketing ad campaigns, events, and strategies help with brand identification and solidarity.
Once you have all the information, you must ensure the digital marketing campaigns, paid ads, holiday events, religious festivals, and others are included in the strategy. Making ads, short videos, written content, GIFs, memes, and more for the local audience and including the brand and its products helps drive immense user traffic to your webpage. It may also lead to additional conversion rates, resulting in an increase in revenue.
Competitor analysis:
No digital marketing strategy is complete without understanding competitors in the market. You need to do more than simply list your competition, however, You need to understand their current marketing strategy, their strengths and weaknesses, and how you stack up against them.
Remember, as a foreign company, your business may face additional challenges, since some locals prefer buying from domestic brands and companies. Entering the market as a foreign company may prove challenging in these situations and countries may even impose tariffs and quotas to limit your access to their domestic markets. To break this stereotype, you must understand the digital marketing strategies that the competition uses, how they use them, and what's working.
Forecasting your business opportunity using the competitions' trends and patterns might help increase the efficiency of your strategy. Tracking economic trends, understanding the buyer's behavioral patterns, as well as other internal and external business factors help build a targeted digital marketing plan to similarly increase your chances of success.
Search engine optimization (SEO):
SEO is a critical factor in both international and domestic digital marketing since most consumers choose search engines to help them find the products they want, as you can see in the graphic below.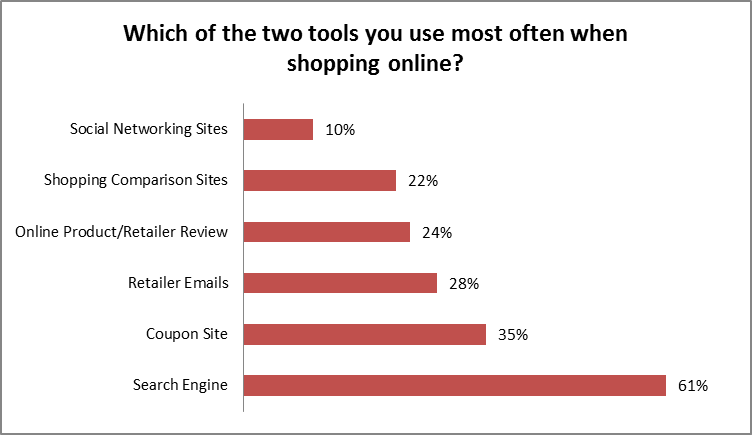 SEO depends on providing users the best information possible since those factors comprise the algorithm search engines use to rank your content. Showing up on the first page, preferably in the top position, drives more traffic to your site and represents a key performance indicator of success.
Among the most critical factors used to determine rank are:
valuable content on a consistent basis
keywords that match user intent
backlinks
domain authority
security
mobile-friendliness
user experience
social proof, such as visits from social, time on site, bounce rate, etc
site speed
Conclusion
International marketing is challenging but maybe not for the reasons you thought. I hope this post helps you identify ways you can use digital marketing, insights from international business, and traditional marketing concepts to optimize your performance.
Need marketing help to support business growth?
We welcome the opportunity to show you how we can make your marketing SIZZLE with our data-driven, results-oriented marketing strategies.  Sign up for our FREE newsletter, get our FREE guide to creating an awesome website, or contact us for more information on hiring us.
Hausman and Associates, the publisher of MKT Maven, is a full-service marketing agency operating at the intersection of marketing and digital media. Check out our full range of services.