Building a presence on Instagram is important, not just because it's one of the largest social media websites in the world but also because the almost exclusively visual content creates a splash not available for a text-based social platform. Yet, Instagram marketing remains a mystery for many businesses, especially given the way Instagram disallows links to your website content within a post. So, today, we share our Instagram marketing for dummies post containing advice to get the novice started and help more seasoned users get more from the platform.
As you can see from the image above, Instagram really rocks the social media world, performing much better than anticipated. Sure, the platform may lose some luster in a world where TikTok seems to dominate discussions of social media but the platform still draws vast numbers of users every day. As of April 2021, Instagram boasted over a billion active users; 2/3 of which are younger than 35.
But how are brands supposed to take full advantage of Instagram and squeeze out all the app has to offer? That's the topic to which we turn in this post. In Instagram marketing for dummies, you'll learn the right strategies and how to implement them for success.
Instagram marketing for dummies
Only create high-quality content
If you use Instagram for marketing, try to avoid falling into the trap of spamming out as much content as you can. Most users don't want quantity, they want quality content. So anything you produce should offer some kind of added value to your target market.
Creating great content is hard, so check out the advice in the graphic above for general ideas about creating content on Instagram marketing for dummies. But a good place to start is to browse the types of content your competitors use and how the userbase interacts with the posts. How much engagement (likes, comments, and shares) do their posts receive? Which posts receive the most engagement? Also, take a look at the hashtags they use. Don't be fooled by the number of followers they have, as this vanity metric doesn't correlate strongly with performance.
Often, in scanning posts from your competition, you'll find something that jumps out at you and captures your interest. If you find posts like this, think of ways to incorporate them into your own outreach along with using posts identified using the process outlined above. After all, if it caught your attention, the chances are that it engenders a similar effect on your customers.
Hashtags are your friend
No post about Instagram marketing for dummies is complete without a discussion of hashtags. Successful Instagram marketing involves using a combination of highly-searched hashtags and ones unique to your brand.
Some users follow certain hashtags, so using these hashtags help you reach a larger audience interested in products like the ones you sell. Hashtags also help build community and provide other information about your brand, such as location, niche, and special events, such as sales.
You can include up to 30 hashtags per post (10 for Instagram stories) but that doesn't mean you SHOULD add this many hashtags. Instead, Hootsuite recommends adding between 1 and 3 per post, although you can start with 11 or so and winnow the number down to just a few based on your results.
Consider influencer marketing
Influencer marketing is wildly successful right now. Companies find that influencers offer dramatically higher ROI than traditional marketing and better than Instagram marketing strategies without influencers. And influencer marketing also leads to higher sales in the long term.
The trick here is to find micro-influencers offering low prices (free even) and high engagement rates. Influencers are trusted by their followers that recommendations impact willingness to buy among their followers. Successfully employing micro-influencers, therefore, can supercharge your enterprise and raise awareness among your target audience dramatically.
Be careful in hiring influencers as perceptions that you bought their services can diminish the return you receive. Follow influencers for some time to ensure their posts appear authentic, as this impacts the purchase intentions of their followers.
If you're struggling to find influencers, you can hire the services of matchmakers. These professionals actively help connect you with influencers in your niche who might promote your products and services naturally, without the recommendations feeling forced or bought.
You can even send them a business email using Social Scrape.
Start running Instagram ads
When you create Instagram account profiles, notice that you have a bunch of options for running ads on the platform, too. You can also create Instagram ads through Facebook since the two social platforms are owned by the same company. This option is particularly important for businesses running parallel ads on both platforms. While Instagram ads are popular, there are still plenty of opportunities for small brands to create big impressions through advertising. Instagram ads also allow you to add a link to your website from your post.
Check out the image above to see how to use Instagram ads to remarket to folks who visited your website, a particularly impactful type of advertising. Although not isolated to Instagram ads, remarketing is a very successful option for most businesses.
Whenever you run an Instagram ad, start by identifying your goals, as this impacts the type of ad best for your situation. Generally speaking, brands on the platform want to do one of two things: either, drive sales, or build brand awareness. Which option you choose heavily dictates the direction your advertising takes. Brands looking to build awareness focus on what their brand means and why it is great. And those wanting to sell products concentrate more on the products themselves and the type of benefits offered by the product.
Automate posting
Most businesses know they are more likely to succeed on Instagram if they post in a consistent manner based on an optimal schedule. Experts suggest that Instagram performs best if you post once or twice a day (every day) and below you can see the best times to post on the platform. However, actually dragging yourself to your account and arranging your posts manually every day (especially ones before 7 am) is a massive hassle and not a particularly good way to spend your time.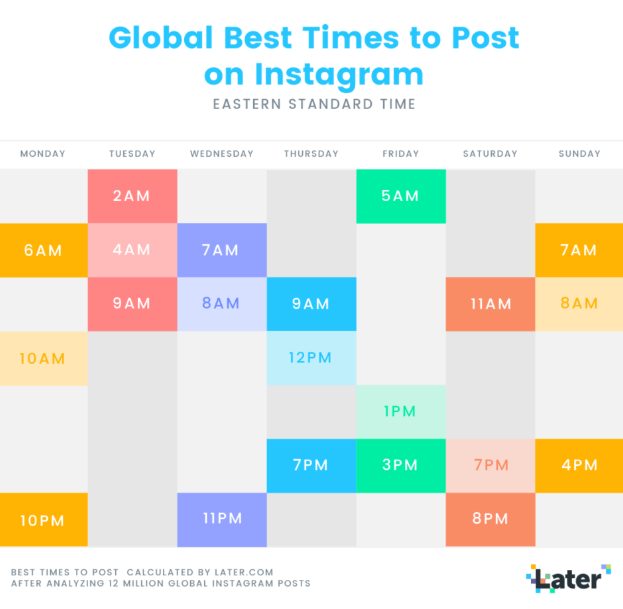 The best approach is to do what the pros do: create your content in batches then schedule it to go out using software like Hootsuite or Buffer, for small businesses. Enterprise software handles the same task with more finesse at a higher cost.
Batching the activity helps you make more efficient use of your time. You can create a month's worth of content with just a morning's work and then use a tool like the ones above to simply release it according to your schedule – maybe twice a day.
Remember, however, that your posts aren't set and forget. Instead, monitor to ensure posts go out according to schedule and update posts already scheduled if you encounter internal or external factors that make change advantageous. For instance, after the terrorist attacks in NY, sending out happy fluff in your post is insensitive and might generate negative attitudes toward your brand.
Encourage sharing
The pros also invest a lot of their energy into encouraging sharing.
How do they do this, you might ask? Well, it all comes down to collecting data. Pros keep close tabs on the kind of content that encourages sharing and they double down on that. The more sharing they can facilitate, the larger their brand grows.
It's a good idea to review as many existing pieces of content as possible to give you an idea of why users share them. Sometimes, you'll find a common theme. Other times, it's not quite as clear-cut why a post was successful. But you can experiment around it to see what works in the future based on what you learn by monitoring performance. Great returns may benefit from the content itself, the way you presented it, or something to do with the Instagram algorithm.
Conclusion
In summary, even if your business is new to Instagram, you don't have to spend years researching how it works. Just follow what the pros do and you'll soon find that you're experiencing reasonable levels of success.
Need marketing help to support business growth?
We welcome the opportunity to show you how we can make your marketing SIZZLE with our data-driven, results-oriented marketing strategies.  Sign up for our FREE newsletter, get our FREE guide to creating an awesome website, or contact us for more information on hiring us.
Hausman and Associates, the publisher of MKT Maven, is a full-service marketing agency operating at the intersection of marketing and digital media. Check out our full range of services.