Have a great idea?  Do you see yourself as the next Mark Zuckerberg (Facebook), Biz Stone (Twitter), or Steven Jobs (Apple) with a multi-billion dollar company?  Innovation not only creates wealth for individuals, but it also fuels the economy — most employment comes from innovative companies. Yet, nearly ALL innovative products fail.  In fact, Zuckerberg, Stone, and Jobs represent the 5-15% of innovations that actually survive.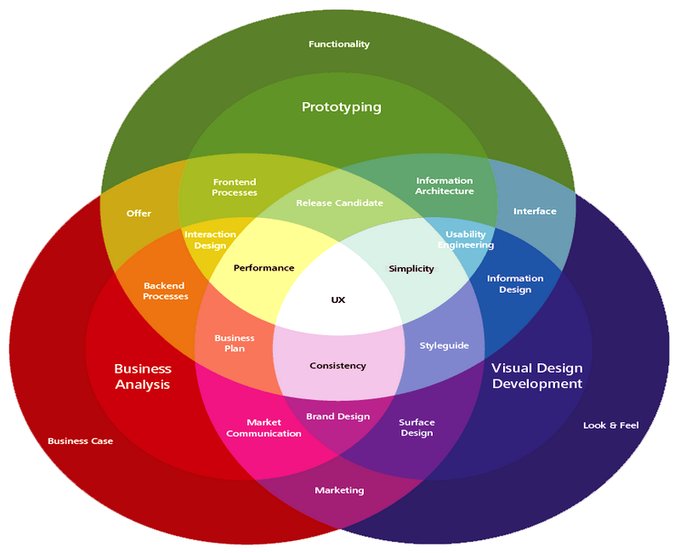 Why do so many innovative products fail?
A number of factors contribute to innovation failure — lack of funding, operational problems, and bad timing.  But, by far, the biggest reason for innovation failure is …….. bad new product development.
New product development process
Product development is a process. If you don't go through the process effectively and completely, your chances of success dwindle. Sure, we've all heard stories of founders who build their business plans on the back of a cocktail napkin but those are the exception, not the rule. And, most of these didn't involve dynamically new products but variations on the products the founders worked with for years before jotting a few notes on that napkin.
The multiple steps in the new product development process are necessary but not entirely linear. Hence, just because you finished one step in the process doesn't mean you won't have to return to complete the process over again, especially as you learn more and conditions change as you move through the process. I once worked as CMO for a tech startup. We created a prototype of our product, tested it with our target market, and iterated a number of times prior to the launch. That's why I prefer this image of the new product development process, which depicts the process as circular with the steps forming around the circle.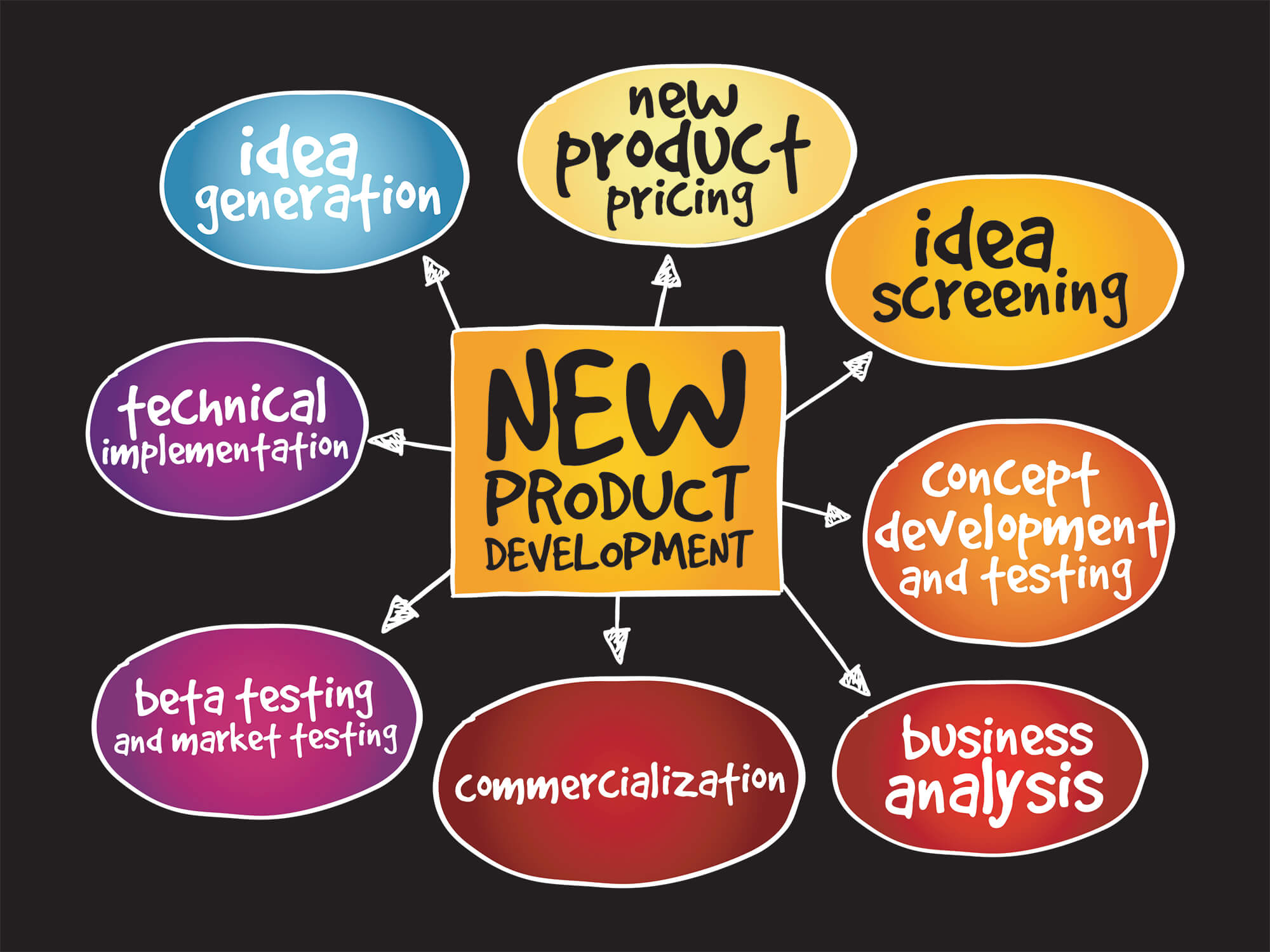 1. Idea generation
Ideation is arguably the start of the new product development (NPD) process because, without an idea, you're nowhere. Ideation is also a critical step in the process since bad ideas won't work no matter how well you perform other steps in the NPD process.
Consumers don't buy products.
I know that sounds insane as we all know consumers buy products and this factor ensures our survival or failure.
But, consumers don't buy products. They buy solutions.
The first step in creating a successful new product that flies off the shelves is to start by solving a consumer problem or doing it better than existing products.
What do consumers need? By all means, don't ask them or you'll get some meaningless gobbledygook. Consumers just don't know what's possible and it's not their job to create new products for you. Sometimes they can't even articulate their problems because, without a solution, they don't often think about something as a problem.
A good example is the new lift gate on many SUVs and Minivans that opens using your foot or by pushing a button on your key fob. If you asked consumers about their biggest problem with these products you probably didn't hear that it's hard to open the liftgate with your hands full of kids and groceries. But, watch them for a couple of days and you see them struggling with the liftgate and you see this is a big problem.
When you ask consumers what they need, your new products will be derivative rather than transformative. Derivative products require a strong brand image and expensive marketing if they're to have any hope of succeeding, while transformative products can come from 2 guys in a garage with no marketing budget. For instance, if I see one more startup pitching a dining app, I will scream. Grubhub, Uber, and several other companies own that market. Unless you have something transformative, a derivative product enhancement isn't gonna fly against the $$$ they've invested in advertising and the brand reputation they own. If you're a big brand, like Proctor & Gamble, you can develop a derivative new product like Tide Sensations to build on your powerhouse brand and still flop. But, if you're like most startups, you can't afford a mistake like that.
Instead, take a page from the Apple playbook and give consumers products that solve problems they didn't know they had. Take the iPhone, for instance. iPhone was so successful it survived rampant criticism that the phone element is almost useless and other features were, at best, substandard. Part of the iPhone's success is certainly due to the reputation of Apple for "cool" products, but much of it is based on first-mover advantage — iPhone made the market for smartphones when none existed. Unfortunately, being the first isn't a guarantee of success, either.
Now, if you'd asked the average mobile phone user if they wanted something to connect them to the internet and allow them to play fun games on their phones, most would likely say no. An even bigger group would have nothing to say if you asked them how to improve their existing mobile devices. But Apple execs were smart enough to see problems we faced in our daily lives, problems they could solve by creating a transformative product that combined traditional phone features with the things we needed most from a laptop on the go.
Witness the power of transformative new product development. Facebook did the same thing — Zuckerberg and his buddies wanted to find women (hot women) to date — like almost any red-blooded 20-something male. His first attempt failed because it created more problems than it solved. His second attempt, Facebook, flew around campus as each man invited his friends to the experience. Today, Facebook boasts nearly 3 billion users.
2. Idea screening
Once you have a few ideas from the idea generation step, it's time to get real. While idea generation works best when you don't corral your thinking with reality and listen to anyone with an interesting idea (especially folks on social media who share their problems to identify potential new products), the next steps only work effectively if you buckle down to reality and put numbers to your ideas. That's where the idea screening stage comes in. Some ideas you might throw out immediately as impractical or as poor fits for your company's mission, vision, and values. But, don't be too fast to throw out ideas without giving them serious consideration. When Apple wanted to create an MP3 player, it might have seemed pie in the sky as the technology didn't exist. The opportunity was so great, Apple brought in the best engineers and designers to make the product a reality.
No one went to Steve Jobs and said they wanted a tablet computer, either.  Apple recognized that people were carrying multiple devices to do common mobile tasks such as surfing the web (computer or smartphone), reading (Kindle), watching videos (mobile TV/VCRs), and playing games (Nintendo DS).  Folks were lugging heavy computers and multiple devices. Enter the tablet computer, which can do many of these things in a single device, especially when you don't need the computing power of a computer.
3. Business analysis
Business analysis begins the grounding for your idea in profits.

Here you must estimate:
the number of potential buyers
the potential of competitors to beat you in developing the product or cutting demand for your existing products (cannibalization)
how much it will cost to bring the product to market
the potential ROI based on a projected selling price as well as the factors listed above and the resources necessary to build the product
Now research must replace intuition and dreams. Many innovative products fail because companies failed to accurately assess the business opportunity.
4. Build an MVP
By now, you should winnow down your ideas to one based on prior steps in the NPD process and know a lot about the market for your idea. You can now build an MVP or minimum viable product. An MVP allows you to test your idea with real consumers, gain a better estimate of costs and pricing, and you can do all this without the huge investment necessary to fully develop the product.
An MVP is often an iterative part of the process where you listen to real consumers and tweak your idea. Don't be afraid to abandon the project at any point in time, especially after consumers reject your MVP. Many innovative products fail when the business owners make a sunk cost argument to continue development despite poor reviews by potential customers.
5. Marketing is not an option
Next, you test market the product with a small subset of your potential market. For instance, brands often test market their product by placing it in a retailer or two before moving to a wider area. Others, set up the product in an online store to test the waters before establishing a brick-and-mortar channel. If the test goes well, the company begins commercializing the product by marketing it to a wider audience.
Money comes into the firm in 2 ways — and only 2 ways. You either borrow it (or get it from investors, which still places restrictions on the firm) or you make it. There's a limit to what you can borrow, but you can make an infinite amount of money. Making money requires effective marketing (not selling) and tracking to improve the marketing performance of your new product. And, unless you have about 10 years of marketing experience, don't try doing it yourself. Despite what many seem to think, marketing does have rules and tools. It's really expensive to discover those rules by making mistakes rather than hiring someone who already knows them, as you can see in the graphic below with respect to digital marketing.
If you really have a tight budget, hire a consultant to develop a strategy and provide oversight, then implement the marketing strategy yourself. Bring the consultant on early in the process to help identify problems using social media and other conversations — such unstructured data is where disruptive, transformative new products come from. Involve them in the development of your idea and in testing your MVP. Then, have them create a marketing strategy that bootstraps your existing resources to build interest in your new product and stimulate sales.
Likely that strategy involves using content marketing (the new SEO), social media marketing (especially engagement that amplifies your messaging), and building relationships with customers that drive loyalty. You can implement these strategies internally (if you have time) rather than paying an agency to do them. While this isn't optimal, it can save you a ton of money.
On a routine basis, bring the consultant back to review the market performance of your new product — not just sales, but intermediate steps along the customer journey. A good consultant uses these metrics to suggest tweaks to your initial strategy focusing efforts on what's working and using performance to identify additional strategies that might improve performance.
The notion that if you build a better mousetrap and the world will beat a path to your door is horses@#$.
I don't care how GREAT your product is, NO ONE can buy it if they don't know it exists. Marketing is a tool for telling the world you exist. Marketing is the tool for telling folks how your product will help them (refer to my first point). Marketing is the tool to create word of mouth and motivate social sharing (social media).
Why innovative products fail
1. Failures of the NPD process
As you can see from the discussion above regarding the NPD process, any failure along the way can derail the entire process so your innovative products fail. Inadequate testing, products searching for a problem, poor business analysis, or any decisions along the way can prove deadly (and costly).
2. Poor product quality
This can destroy even an established brand, but it's the kiss of death for innovative products.
You remember the old adage:
You only get one chance to make a first impression
Well, that's especially true for new products.  You only get one chance to show buyers how cool it is.  If the product quality doesn't meet expectations — your innovative product fails.
3. Poor customer service
Not only can your innovative products fail due to poor quality, but they can also fail through poor customer service. Here are some examples of poor customer service:
If you can't get products to customers in a reasonable amount of time, here unanticipatedly high demand may be worse than too little
Your staff isn't trained to answer questions or provides inaccurate answers
The website offers a poor user experience or the purchase process is overly complex
C. Marketing failures
I once worked for the Small Business Administration counseling business owners. The biggest problem I encountered was that the business underestimated the value of marketing in their success and either didn't budget sufficient funds for their business or didn't budget anything at all. Of course, marketing is more than advertising, although advertising is a big chunk of the marketing budget. Marketing also involves:
Matching products to the target market, which changes over time. Hence, you're never done with scanning the customer environment.
Segmenting the market and developing messaging that resonates with each market
Developing and managing channels of distribution that reduce product delivery failures
Pricing the product to be competitive and affordable
Developing intelligence about the actions of your competition as well as other changes in the environment, such as government regulations and the economy
Keeping an eye out for new product opportunities
Monitoring market performance to optimize returns
Conclusion
Most innovative products fail. In this post, we discussed why they fail and the NPD process that helps ensure yours isn't one of the casualties.
Need marketing help to support business growth?
We welcome the opportunity to show you how we can make your marketing SIZZLE with our data-driven, results-oriented marketing strategies.  Sign up for our FREE newsletter, get our FREE guide to creating an awesome website, or contact us for more information on hiring us.
Hausman and Associates, the publisher of MKT Maven, is a full-service marketing agency operating at the intersection of marketing and digital media. Check out our full range of services.