Engaging customers is essential for any business that wants to successfully reach its goals. Whether your goals include generating more leads or nurturing those leads, engagement works to increase revenue. Engagement creates a relationship between your brand and customers that makes people want to continue visiting your website, sharing your posts, and buying from their trusted friend, which boosts customer loyalty and may increase revenue as their customer lifetime value increases through purchases made over the long-term and higher-order sizes (commonly called AOV or average order value). Online is a great place to build engagement. Here's how to use some digital tricks to build engagement.
If you consider the graphic below, you see what Northwestern calls the customer engagement engine consisting of gears that translate brand actions into increased revenue through engagement actions like dialogue and motivation. The notion of gears is that engagement can increase revenue in a non-linear fashion whereby each action sets other actions in motion creating a self-reinforcing mechanism to increase revenue.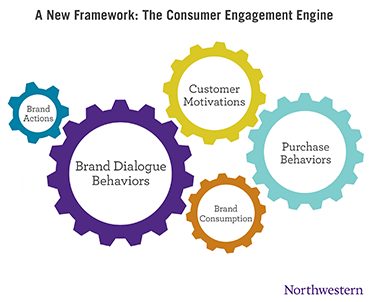 This drives the question of how you increase revenue by encouraging customer engagement? And, the following seeks to answer that question.
Increase revenue through customer engagement
First, let's look at a definition of customer engagement from Hubspot:
Customer engagement is the process of interacting with customers through a variety of channels and strengthening your relationship with them. For many businesses, this process begins with the first interaction and extends beyond the point of purchase.
An important point to note is that customer engagement doesn't just happen by posting some stuff on social media platforms or sending broadcast emails to subscribers. That's because consumers have very limited interest in engaging with brands. At a minimum, a brand must deliver on customer expectations, even overdelivering to achieve customer delight. That means every customer experience, whether online or off, must exceed customer expectations.
For instance, check out this graphic based on a survey of consumers regarding how they respond to a positive customer experience.
Note how a positive customer experience generates engagement actions such as recommendations and sharing on social media. And, note how a positive customer experience works to increase revenue as customers renew or upgrade products, sign up for the brand's loyalty program, and how their expressions like reviews bring new customers to the brand. Note, that only 15% of those surveyed said they do nothing after a positive customer experience. As you can extrapolate from this graph, a negative customer experience has the opposite effect on revenue and engagement.
But, customer satisfaction/ delight is just the minimum standard for building engagement. The following are 3 ways to help build customer engagement.
Show some personality
We prefer to engage with people and only engage with brands when they motivate some sense of the person behind the brand or an appealing brand personality. Consumers like to buy from a business that they like, so don't be afraid of showing some personality.
Work to bring the right tone, the tone that matches your target market, to your interactions with customers, from your advertising to your social interactions. Let people see that humans run your brand.
Social media is a perfect tool for showing off your personality, as you can use social posts to bring customers and prospects behind the scenes of your business. Show users something interesting about your business, like how you design products, or share something human, like showing how you celebrate an employee (or customer) who supports your business over the long-run or who does something interesting. Customers will feel more connected to the human side of what you do, encouraging them to engage with you when you show your personality.
Social media isn't the only place to show off your personality, however. Advertising uses catchy jingles, actors, and even tone to build customer engagement. Check out the graphic below to see examples of brands along with the personality they project via advertising and other messaging that reaches consumers.
Reach a new audience
Perhaps your business is in a period of transition and you're struggling to reach out to a new audience. Shake up the way you reach out to potential customers. For example, if you usually target older consumers with your strategy, but you're adding a product line that appeals to a younger audience, you must change the platforms you use to reach the new target audience and the messaging so it conforms with the wants, needs, and attitudes of the new market. Instead of using Facebook groups, a higher percentage of older consumers start interacting using TikTok (for Gen Z) or use Instagram advertising (for millennials) since these platforms feature much younger profiles than Facebook.
If you're great at offline engagement, try to bring those contacts online. For example, if you network in person or use print media, make QR codes to add to any posters, leaflets, or business cards. When someone sees your QR code, they scan it with their phone's camera (no special apps needed as in the old days of QR codes) to view a tailored webpage, like a product page, social media page, or a subscription form.
Be responsive
Communication, in general, builds customer engagement. For instance, I received a package from a company containing a hand-written note thanking me for my purchase. Sure, you can't do this for a large customer base, but I frequently buy from this company and their special attention to my purchase means I'll keep buying from them.
As well as using your social media platforms to promote your business, respond to users there, too. A lot of customers prefer to reach out to your business on social media than call or email you. Make sure you keep a close eye on notifications so you always respond promptly, whether you're getting compliments, complaints, or questions. A quick response diffuses complaints, encourages additional compliments, and reduces strain on your customer service people by answering questions on a platform where others see your answer, which reduces their need to call you asking the same question.
Social platforms are such a commonly used vehicle for complaints, especially Twitter, that brands often host customer service hours on the platform when customers are assured to get a timely response.
Keep your responses personal, even if the post comes through social media. Address the person by name, and provide a response that is actually relevant and helpful. Sign off with your name, and not the name of the business. People like dealing with humans better than they do a faceless brand. Having the names of customers is also practical in case you need to escalate a complaint or move to another form of contact. The customer also knows who to ask for if they call when you sign your name to messages.



Conclusion
We only scratched the surface today in our discussion of how creating customer engagement can increase revenue. If you have suggestions that add to this discussion, please post them in the comments section. I'd love to hear your feedback.
Need marketing help to support business growth?
We welcome the opportunity to show you how we can make your marketing SIZZLE with our data-driven, results-oriented marketing strategies.  Sign up for our FREE newsletter, get our FREE guide to creating an awesome website, or contact us for more information on hiring us.
Hausman and Associates, the publisher of MKT Maven, is a full-service marketing agency operating at the intersection of marketing and digital media. Check out our full range of services.