Even well-positioned brands with solid marketing results need to revise and update their strategies at least once a year based on changing external factors, internal opportunities, and results achieved by implementing existing strategies. After all, your success greatly depends on your ability to recognize emerging trends and build them into your strategy, to make sure your brand is still relevant in the ever-changing marketplace. If you're not getting the most from your email marketing or implemented VoIP solutions, think about changes to optimize on these strategies as you build your new strategy.
In recent years, digital outlets stole the spotlight for businesses as channels to market their products or services effectively because they produce a high ROI (return on investment). With the rise of social media, AI-driven chatbots, and similar communication tools, many marketers wrongfully dubbed email marketing as passé. In reality, email marketing grows more relevant as a unique way to maintain customer bonds, build long-lasting relationships, and grow your brand authority due to the high ROI associated with email marketing, as shown below.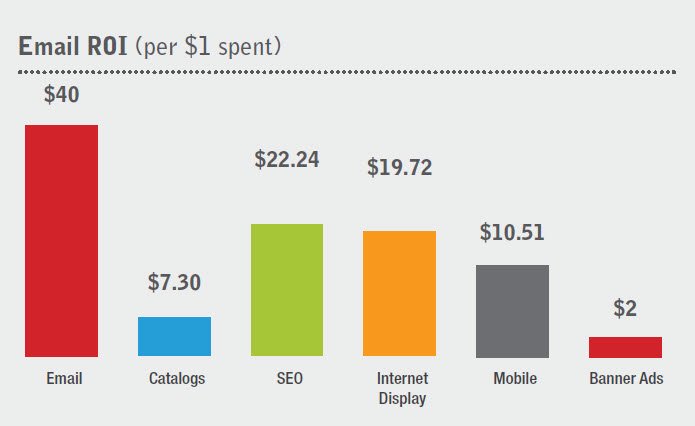 This is where voice over internet protocol (or VoIP for short) steps in to make your email campaigns, newsletters, and the overarching marketing strategy associated with them even more effective. VoIP solutions provide new ways for your business to interact with customers, learn about them, and integrate that knowledge into future campaigns. Here's how VoIP solutions and your email strategy work hand in hand to boost your marketing success.
Ways to combine email marketing and VoIP solutions to improve performance
Smarter customer segmentation
Not all people are the same. They have different needs and wants, they use different channels of communication, and they value different features and benefits differently. By segmenting your market into more homogeneous groups (segments) then tailoring your marketing strategy to that segment, your market performance will explode.
You likely noticed by now that your customers and prospects share different kinds of information via different communication channels if you set effective listening programs. Behind the scenes, your analytics and campaign tracking tools serve to collate even more data on customer behavior that can redefine your future campaigns. For instance, which customers open which emails, click on what kind of links or engage with your email in any shape or form? Where are those engaged customers located?
Then you have dedicated support agents with direct access to customer data who interact with customers to help them resolve any issues or find suitable products from your collection to fit their needs. With VoIP at your disposal, you can record those calls, analyze their voices, and use the data to discover patterns that help better match support to customer segments. By combining your email data with the VoIP-collected data, and you have a goldmine of customer-specific information to fuel future campaigns, segment your customers with ease, and target them with personalized content.
Personalized automation with mail
Personalized marketing communications are increasingly critical for market performance. On that note, are you really doing your best to customize and personalize your email campaigns by using your customers' first name? The answer from studies of users say simply using a name isn't sufficient personalization.
Automated campaigns, especially if you're sending emails to a large number of subscribers, don't have to be generic. On the contrary, you can use built-in custom templates that you personalize with names, colors, and details such as birthdays. Personalization based on the stage in the buying process or particular products of interest for individual subscribers is critical for market success.
How do VoIP solutions fit into this aspect of your email marketing? For starters, you can use your VoIP database to target specific customer groups on specific dates based on their last interaction with your brand. The details of those interactions further help you personalize your email content and make each email more engaging as a result.
Collecting data and customer feedback
Although your email campaigns are an indefinite source of valuable customer data and a perfect way to determine customer behavior patterns, phone calls, text messaging and other communication channels are even more revealing. It's important to note that a VoIP connection doesn't work like your old-school landline systems.
The key to combining these two communication channels is to understand how VoIP works, how it uses your internet connection to seamlessly make and receive calls, while, at the same time, it enables other powerful features. Your customer support teams can use VoIP to conduct surveys with customers, record phone calls, and integrate your email campaigns with your VoIP platform.
By asking your customers directly to share their opinions and ideas, you show just how much you value their input and thus make them feel like part of your brand story. Look for VoIP solutions with the following features for an even greater impact on your marketing:
Video conferencing
Voicemail to email
Call recording
Faxing
Auto-attendant for added support
Track customer engagement
Employing different key performance indicators for each of your campaigns might indicate some underlying problems in your approach to your target audience. By analyzing the level of engagement through specific KPIs, such as your email open and click-through rate, conversion rate, abandoned carts, retargeting success, all the way to social media shares and likes, you get a more thorough overview and nuanced analysis of your marketing success.
Much like the way your email analytics tools can give you unbiased, data-rich reports, your VoIP-based interactions, such as phone calls and geo-targeting texts, help you understand what you can do better to meet or exceed customer expectations.
What kind of emails inspire a higher unsubscribe rate?
Which texts generate the most conversions?
Track customer engagement across these different communication outlets and you gain insights to create an overwhelmingly stronger marketing strategy.
Boost employee performance with call recording
Customer satisfaction often depends on how friendly and helpful your support agents are during a call or through email responses. In both instances, the language they use, their perceived empathy and knowledge, their ability to solve problems, and how quickly they respond affect how a customer perceives your business.
Your email marketing results paired with your VoIP data becomes a source of invaluable learning materials for training new agents or working with agents to discover techniques to improve performance. Share your best practices with not only your marketing team, sales reps, and social media managers, but for your support team, as well. Here are some ways to use the recordings:
Recognize successful and unsuccessful communication patterns
Build effective, but customizable templates for review responses
Create clear language guidelines for your support team
Unify all your communications in one place
Transparency and visibility are not just buzzwords used in marketing to make your business sound exceptional. Make these terms two key pillars of your communication strategy. Enable transparency by making communications available and making them visible to stakeholders. Sharing communications makes each communication more effective and coordinating across functional groups means you employ a single strategy rather than using a shotgun approach and hoping to hit a target with something.
Unified communications alone help eliminate common errors such as sending duplicate emails, sharing conflicting information via email and via the phone, sending out a birthday discount to the wrong "Jimmy" on your email list, etc.
With business-wide visibility on a single communication platform employing all the necessary integrations, you seamlessly share analytics results, reports, customer information, and other creative ideas across different departments.
Conclusion
There are always be innovative tools and improved solutions to help you improve your marketing strategy. Some outlets and tools, however, remain timeless in their value. With creative tools and unified communication platforms such as VoIP solutions, both your emails and all other customer interactions can reach a new level of success.
The features of these two marketing strategies combined can do wonders for your business and help you elevate your customer relationships to a new level, enhancing loyalty and ensuring your brand remains an industry leader for years to come.
Need marketing help to support business growth?
We welcome the opportunity to show you how we can make your marketing SIZZLE with our data-driven, results-oriented marketing strategies.  Sign up for our FREE newsletter, get our FREE guide to creating an awesome website, or contact us for more information on hiring us.
Hausman and Associates, the publisher of MKT Maven, is a full-service marketing agency operating at the intersection of marketing and digital media. Check out our full range of services.