The internet fundamentally changed the way consumers interact with businesses. With the growth of e-commerce and the use of digital marketing, the impact of providing a great customer experience continues to grow. So, how can you improve customer experience online across your various digital platforms? Read on for some great tips.
Above, you see how brands build a great user experience through visual design elements and branding. To improve customer experience online, you must incorporate these concepts across your website, your social platforms, and even your email messages.
Improve customer experience online
Today, online shoppers are better informed than ever before and have mastered the tools necessary to find the best options online. They're willing to take their business elsewhere if they don't receive the customer experience they deserve from the start of their search through consumption of the product. As a result, companies must create an online experience that consistently delivers a stellar customer experience to attract and retain customers. Here are a couple of ways you can improve customer experience online for your business and drive more customers through your doors:
Create a simple yet eye-catching website that works on all platforms
Your website is often your first point of contact with customers. It's the gateway that leads to potential sales and customers. Similarly, your website is critical because your control that platform, unlike social media where your marketing potential operates at the whim of much larger companies that can destroy your profit potential with a capricious change in their terms of service. For this reason, every business needs a website.
If you don't already have a website, you need to build one today. I even have a nice little ebook that guides you through the process of building a website that doesn't require any coding, prior experience, or even much technical know-how with tons of images. If you already have a website, Make sure your website is user-friendly, speaks to your brand, and has the information that potential customers need. You can make small changes that improve customer experience online by employing these tips for website design:
Make them easy to navigate, with menus that reflect the content of each page and are readily available on each page. Using breadcrumbs, like those used by Hansel and Gretel, helps visitors find their way back home.
Eye-catching visuals grab your target market's attention and help create a lasting impression.
White space makes your website inviting and easy to read.
Fast load times cater to users who won't wait more than 3-4 seconds for a website to load.
Interactive websites help visitors find what they want quickly and limit the number of options to make decisions less onerous. For instance, including filters and search functions on your website helps visitors find just the products they want without spending hours or weeding through dozens or hundreds of products. Many visitors give up when faced with too much choice.
Accessibility is important. Don't forget that not all visitors have the same abilities so plan for those visually impared or with hearing problems. The same goes for diversity. Cater to a diverse group of consumers as even small issues, such as your images showing only white consumers, can turn off potential buyers.
Don't forget mobile. More users now shop using mobile devices or mobile apps than ever, as you can see below.

Image courtesy of Oberlo
The best web design works across all venues. Whether you're selling on an app, a third-party website, or your own domain, using a layout that works on all platforms helps you reach more potential customers and keeps existing customers coming back.
Use analytic tools to improve customer experience online
Google offers a set of free analytics tools that closely monitor the progress and performance of your website. Google Analytics, for instance, provides real-time and logitudinal data to any business with the simple addition of a code snippet supplied by Google that the website owner copies and pastes into the "head" section of the website (most themes make this super easy or you can use the free version of the MonsterInsights plugin to accomplish this.  In addition, Google offers the Google Search Consol.
These powerful tools help businesses understand how users find their website, navigate through the site's pages, how conversion happens on the site and what pages lead to cart abandoment or other ways to interfere with conversion, and why they leave your site. Armed with this information you can improve customer experience online by streamlining pages with poor performance, identify the need for speed on certain pages, improve your search capabilities based on what visitors look at during a visit, and much more. With the help of Google Analytics for business, small businesses can improve the conversion rate of their website. There are also other analytic tools in addition to Google's that enhance your abilities to track data and find quick solutions to your problems.
Up your marketing game
A strong marketing strategy helps you get your brand's message out to your target market. It's not only important to plan out your marketing strategy but also to follow through on each campaign that you launch. If you want to develop an effective marketing strategy, you require consistency and follow through.
Storytelling is an important element of your strategy. These stories help consumers related to your brand, see what you stand for, and offer tangible proof that you live your values. These are important determinants of which products a consumer purchases, as you can see below.
Create a positive brand culture and increase brand awareness
A strong brand, especially one reflecting the values of your target market, reflects positively on your business, as mentioned above. A culture of caring and courtesy encourages repeat customers and leads to more referrals. Customers are more likely to recommend your brand to friends and family if they have a positive experience with your brand, including both a great experience online and postive experiences with your employees before and after the purchase.
Create an environment that puts the customer first, where everyone feels appreciated and valued. Create a welcoming tone on all of your digital platforms and ensure that all of your employees are great brand ambassadors.
To build a strong brand, it's essential to consistently use media platforms to showcase your brand in a positive light. Create content that resonates with your target market and shares relevant information to help them make decisions. Content is critical, whether on your blog, social media channels, or your business' website. But, having content isn't enough, even when it's the right content for your market. You must use SEO and social media algorithms to ensure your content appears on search and on your social platforms.
Build a strong network of business relationships through social media and local networking groups. This helps spread the word about your brand and gain more exposure for your business, especially when your content supports your values and isn't promotional.
Remove barriers to purchase
The best way to improve customer experience online is to remove barriers to purchase. This can mean anything from improving your shopping experience online to removing payment processing fees from your menu of services to speeding delivery times for orders.
Carefully assess your online shopping cart to find areas for improvement. For instance, when Amazon implemented its one-click checkout option, its conversion rate went up significantly. Google Analytics offers a funnel tool (see below) that graphically depicts drop-off along the conversion funnel. Whereever you detect a big drop-off, viiew the page with an eye toward detecting and fixing the reason visitors left at that point. It might show your price isn't competitive if drop-off occurs at the product page or your delivery fees too high if visitors drop off on your review page.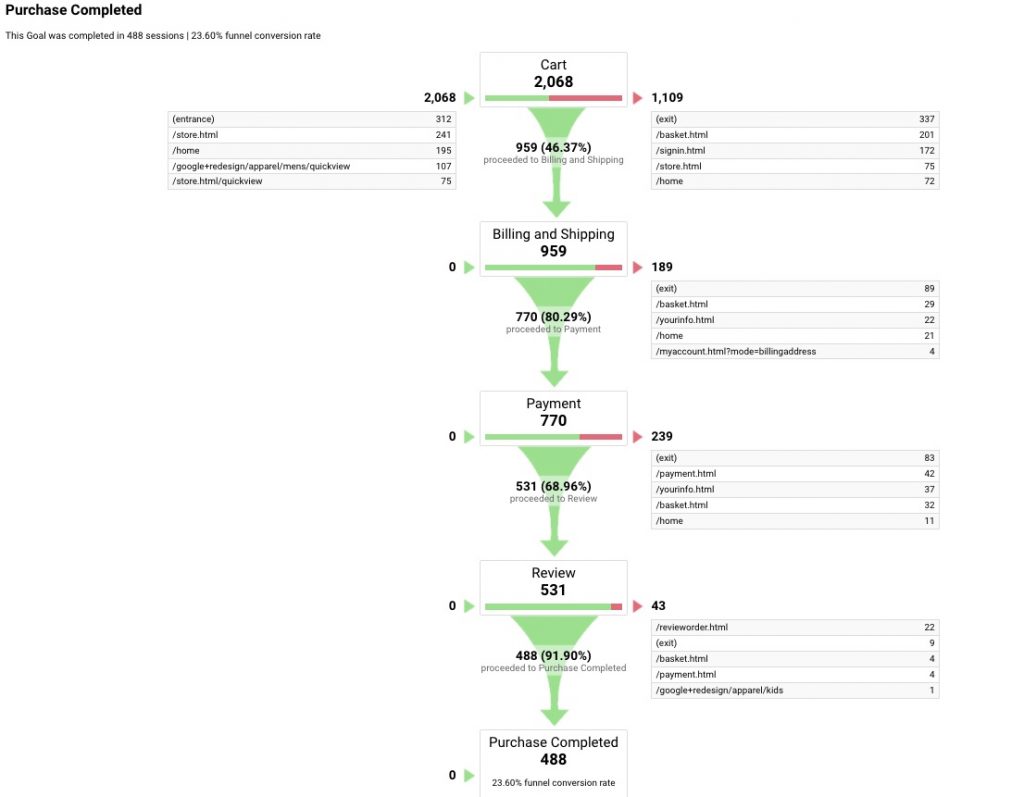 Conclusion
The internet fundamentally changed the way that consumers interact with businesses. As a result, brands must create an online experience that consistently delivers a stellar customer experience to attract and retain customers.
The tips mentioned above should help you create a positive experience for your customers when shopping online. To have the best customer experience possible, businesses must invest time and effort in building an online presence that delivers what customer want. As a result, customers will go where they feel welcomed and receive excellent service.
Need marketing help to support business growth?
We welcome the opportunity to show you how we can make your marketing SIZZLE with our data-driven, results-oriented marketing strategies.  Sign up for our FREE newsletter, get our FREE guide to creating an awesome website, or contact us for more information on hiring us.
Hausman and Associates, the publisher of MKT Maven, is a full-service marketing agency operating at the intersection of marketing and digital media. Check out our full range of services.