As with every business, the insurance industry is largely about the customers you serve, your ability to sell them the products they need, and maintaining high levels of customer satisfaction. However, unlike other industries, insurance business owners face some unique challenges. First of all, they are in an industry where consumers have a dim view of what they do and they sell a complex, intangible product where the buyers might not fully understand why they need the product and what makes one company's offerings better than the next. To that end, working to improve customer experience in this industry is especially challenging. Here, we look at a few ways to improve customer experience.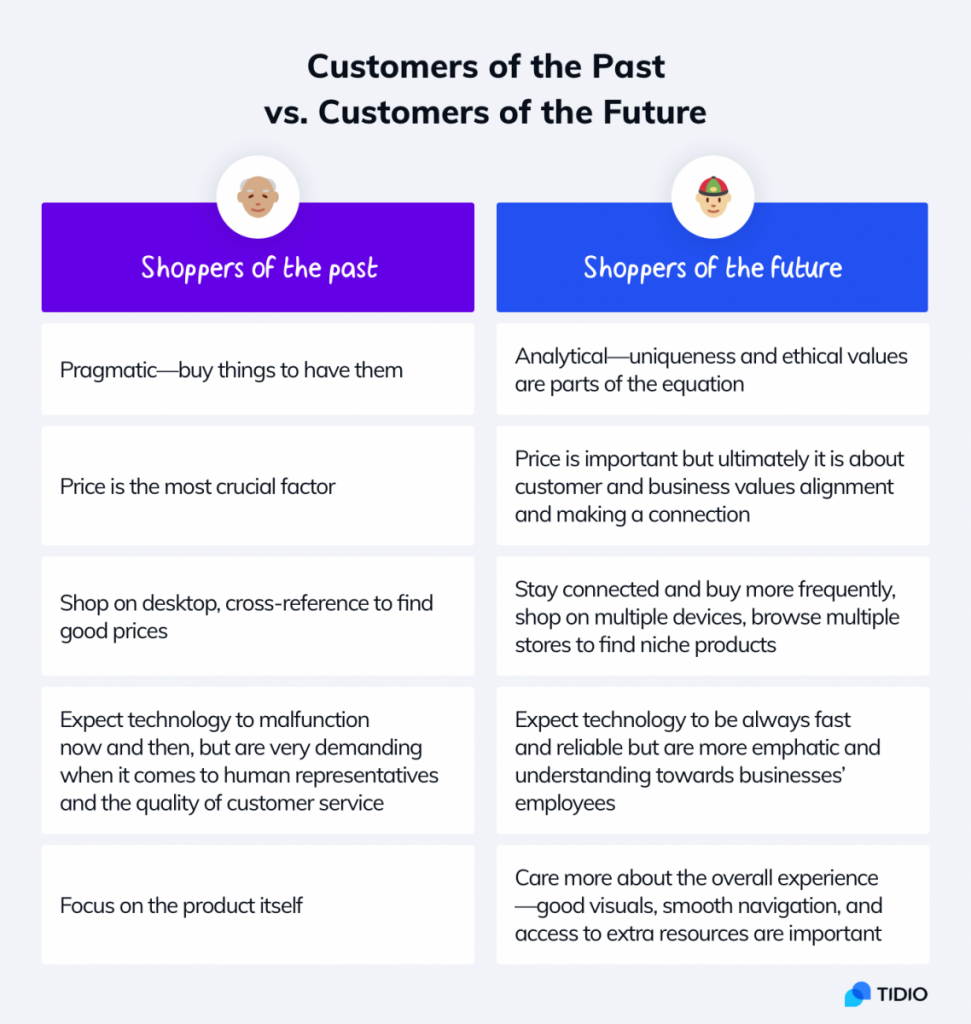 Improve customer experience
As you can see in the image above, customers today are more demanding than those in the past, which requires increased attention on how to improve customer experience.
Creating a superior customer experience in the expat insurance world or the insurance world in general is made more challenging due to the intangibility of the product and the fact that insurance is one of the things you need but hope you never have to use it. You only discover the ultimate worth of your insurance when something bad happens, like your car is involved in an accident or your house catches fire. Literally, nothing will elevate your mood in those situations.
Hence, the customer experience you provide in the buying process and how you manage your public image make all the difference in the world when it comes to success. Here are some things to focus your attention on as you try to improve the customer experience at your agency.
Make sure you're easy to find online
You might consider your business to be a relatively modest local outfit, not deserving of some global online presence, but that's old-school thinking. You want to assure customers that your business is established and trustworthy, and making sure that you have a website they can find on Google provides that assurance. Ensure you build an SEO-optimized website designed for a better customer experience by being easy to navigate, fast-loading, and visually appealing.
A digital transformation can offer a better online customer experience, which in turn makes customers more loyal. Make sure that your website provides all the necessary information on what you do, how your products benefit the customer, and, most importantly, how they can reach you. Self-service is a big part of digital transformation, so consider ways your website can make it easy for customers and prospects to interact with you, such as online claim filing, customer support, and scheduling appointments.
Provide ubiquitous customer support
You might work 9-5, 5 days a week except for holidays, but your customers want immediate answers, especially in cases where they really NEED you, such as during a hurricane when they want immediate insight into their coverage. Forcing them to wait for normal office hours, especially in a situation where the event also impacts your business, destroys credibility that quickly spreads through the media and consumer groups.
Aside from building service pages that answer the questions they might have about the different services you offer, you can also use tools like FAQs or support pages to get answers to some of the most common questions they might have. However, using a chatbot to simulate human interactions means you can offer 24/7 availability. Since the chatbot is housed with your server, it isn't impacted by local power outages, and most reputable companies offer 99.9% uptime by using generators during a crisis.
Consider your contact methods
Those customers who are unable to help themselves using guides and resources on your website need someone to help them. Or maybe they have queries that you haven't thought to answer through your chatbot. Either way, you must ensure your team is easy to reach for answers to those questions. Aside from having contact details such as your phone number or email address on the website, you can click here to see options that allow the customer to access your team directly through the website for those queries a chatbot can't handle.
An app is a great tool to allow self-service, such as submitting claims, but ensure you have options for your customers to contact a real person if they don't feel comfortable using the app or need an immediate response.
Free up the time you need to spend on customers
Unlike many other aspects of your work, customer service shouldn't be all about efficiency and time-saving. There are ways you can give customers the tools to help themselves, but if they have a problem, they need someone on the other end of the line or live chat to help them. To that end, you can free up time within your team by checking out some insurance process software when you click here. By automating some processes, or at least making them a lot easier to complete in-house, you can free up time you can use to win and maintain customers more effectively.
Invest in the skills of your team
You shouldn't assume that answering customer queries is easy either in sales or in support. Much of your business's success depends on the ability of your front-end team to keep customers happy. For those two reasons, you should consider investing in customer service training for any members of the team who are going to handle your customers. Employees often feel left behind by the automation of labor, but you must also invest in them. Moreover, you have to invest in training them to use any of the tools you use to manage their workload. Training for new digital tools is just as important as training them to be more effective at speaking to customers.
Remember your clients and personalize their experience
When a client gets in touch, they want to feel like you're speaking to them and addressing their needs, specifically, rather than offering them generic answers. The first thing you can do is make sure you capture the information you need on them. You can click here for customer relationship management software that allows you to save data, including the customer's name, contact details, and, more importantly, their service and contact history with the company. This way, your team can quickly look up what they need to know about the customer and provide a continuity of service so that the customer feels remembered, valued, and like their past queries have been taken seriously, too.
Make sure that you're seeing from the customer's perspective
It's important to make sure that you see your customer experience from their perspective. There are various ways to do this. You can use metrics such as customer feedback to get their direct response to how they felt about any customer support they experienced from your company. You may also want to use your own employees or hire contractors to go through your website and customer service processes to report back on any difficulties they experienced or what positives they noticed during their journey. Monitoring phone calls to improve training and provide better support to clients is also important. This monitoring helps you discover the parts of the customer experience that need improvement.
Conclusion
If you cannot manage your customers effectively, you may find growing the business impossible. Consider the tips above and determine what you can do to improve customer experience with all facets of the business, which makes them more likely to convert and easier to retain. Satisfied clients also write positive reviews and spread positive word-of-mouth which are critical for attracting new clients.
Need marketing help to support business growth?
We welcome the opportunity to show you how we can make your marketing SIZZLE with our data-driven, results-oriented marketing strategies.  Sign up for our FREE newsletter, get our FREE guide to creating an awesome website, or contact us for more information on hiring us.
Hausman and Associates, the publisher of MKT Maven, is a full-service marketing agency operating at the intersection of marketing and digital media. Check out our full range of services.