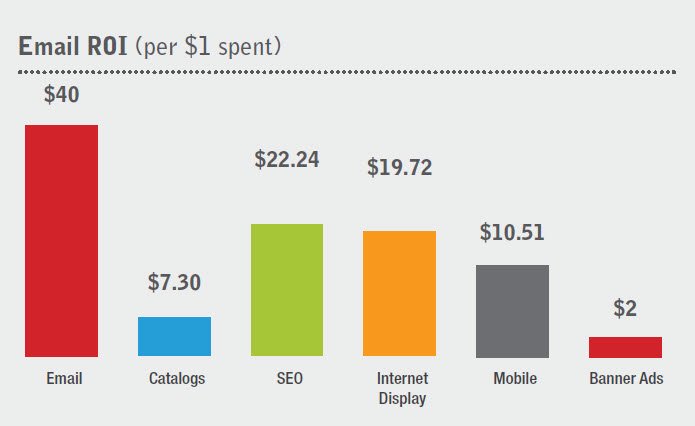 Writing email copy and writing copy that convert are two very different things. Writing copy relies heavily on rules of grammar while writing email content that converts means understanding marketing principles as well as using effective tools of influence to gain conversions.
The number of brands in the market using email marketing grows day by day; increasing competitive pressure to get your emails opened and drive conversion with them. The near-universal use of marketing automation to handle your email marketing tasks further increases the number of emails hitting your customers' inbox. Thus, the only way to ensure a high conversion rate is to focus on crafting the type of email content that converts, which means first handling the task of getting subscribers to open your email.
In this article, we share some insights about writing email copies that win conversions instantly without costing you an arm and a leg for research. Read ahead to know more.
Crafting email content that converts
1. Write a click-worthy subject line and preheader text
Getting subscribers to open your email is sometimes a challenging feat. And, without a high open rate, your email won't generate the conversion you want.
The subject line is the first thing your subscriber sees when they go through the numerous emails they receive. Monday mornings are especially hard since emails often stack up during the weekend when users often don't touch their work email or check their personal email as often.
If users don't find your subject line interesting enough to open the message, even the best email copy won't generate any clicks. When writing a subject line, experiment with various techniques like adding an emoji, using time-tested words like free, secret, gift, special, offer, and redeem, as these words tend to increase open rates.
You should also use preheader text to compliment your subject lines. However, don't miss on personalization best practices like adding the recipient's name. Go farther with your efforts to personalize your emails by building on subscribers' interests based on buyer persona tracking.
Learn to think like a subscriber, even going so far as to gather information about subscriber groups to help increase their interest in your emails then craft headlines (and other content) based on your research.
(Source)
2. Maintain a conversational tone
Inboxes are flooded with email messages and the last thing your subscribers want to see is a monotonous, sales-heavy message. Maintaining a conversational tone sounds more humane so that your subscribers feel like they are talking to you in person. Staying conversations helps ensure the message is focused on the recipient.
Regardless of the context, avoid using third-person nouns as they feel robotic and impersonal. Using nouns like you along with related words like we, our, and us, bridge the gap between you and your subscribers. Stay helpful, genuine, and offer content that makes you seem like a friend. Don't be afraid to let subscribers behind the curtain to know the real you by featuring the backstory on your company or highlighting individuals working with the brand.
3. Focus on what your subscribers want
One thing you find in all the winning email copy out there is that it focuses on subscriber-centric subjects and helps solve their problems. Keep the recipient's emotional state in mind when writing copy and pivot your message around what's likely to interest them. For instance, if you are a restaurant, sending an email about distributing leftover food to homeless people can help your subscribers feel like they are a part of an initiative rather than mere customers.
One of the principles of writing content focused on topics that matter to your subscribers is keeping the customer journey at the center of your copy. For customers near the beginning of their journey, this means crafting copy that addresses frequently asked questions, while for customers, that means copy focused on efforts to help them get the most from their purchases and encourage re-purchase.
Seasoned email developers advise developing emails for individuals instead of email lists through creating buyer personas and assigning subscribers to the appropriate persona. This enables you to create a more organic and humane message.
4. Develop content using data-driven insights
The key to conversion rate optimization lies in understanding what action you want your subscribers to take after reading your message. Setting specific goals regarding the final action you want subscribers to take helps you understand what to include and write the copy. We also suggest using customer segmentation to understand your subscriber journey better.
Use your CRM data, for instance, to extract personalization and segmentation insights to understand how your readers react to even the minutest details like images and fonts. Many times, it is not necessary to develop entirely fresh content. You can use the things that work the best for you and repurpose them for ongoing efforts.
You should also consider the probable actions subscribers might take for transactional email automation workflows. Combining these aspects, along with the overall campaign strategy, sets the objectives of deliverables for the email content.
5. Leverage social proof and voice of the consumer
Instead of telling your subscribers about your products and services, why not let your customers do the job? There are two benefits from doing so: You can run email campaigns to help with gathering customer reviews that provide insights to improve your product and your request for feedback makes subscribers feel valued. What makes this feedback even more beneficial is that you can leverage the social proof provided in future email marketing efforts.
Using customer reviews also helps build a solid brand image. For instance, Salesforce users might import their CRM data into Pardot templates automatically to create user-generated content. Using the voice-of-the-consumer content elements in your email copy boosts your relevancy and appeals to your subscribers by acting as objective measures of brand performance.
6. Glean email copy from organic sources
One of the methods used to write email content that converts easily is to shape your content around data sources from user-driven platforms like forums and review sites. These sources reflect organic attitudes, helping your glean ideas of what excites, frustrates, motivates, and impacts the decision-making of your target markets.
You then formulate email copy based on user-generated content shared by real consumers to make your brand appear more in touch with consumers and more responsive to their needs. Another benefit of using organic sources is that you don't have to invest much effort into creating copy. Your subscribers will still find your content well-researched and insightful as their problems, needs, and actionable insights are covered.
7. Optimize content structure and CTA
Remember, your goal is to craft email content that converts.
Hence, focus on your content structure as much as the email copy since failing to adhere to visual hierarchy reduces your conversion by leaps and bounds. If you use Mailchimp, you can find modular Mailchimp email templates for ensuring proper visibility to each content element. These Mailchimp email templates,. or those available for your specific email platform, also helps you edit individual blocks without affecting the entire email code, thus saving you a lot of time.
Your CTA (Call to action) is critical in crafting email content that converts. Ensure your CTA stands out, is easily reached, and doesn't interfere with other links on the page as putting hyperlinks too close together results in unintended clicks, especially on mobile.
While you shouldn't worry about the length of your message, keep up your headline, banner image, various sections of the body, and CTA easily distinguishable from each other yet ensure they flow well and compliment the overall look of your message. Use only one CTA button in your message. Also, instead of using cliched CTA text, experiment with text that matches the purpose of your message.
Crafting email content that converts: Final thoughts
In summary, we want to add two essential aspects of writing winning email copy: Test and optimize. You should test your email messages before and after sending them. Before sending your message, run an A/B split test to see which subject line, content structure, and copy performs best. In conjunction, study email metrics like open rate, CTR, and forwarding rate to optimize your future communications.
We hope that you find this article on writing conversion-oriented email copy useful for your business and would love your feedback.
Need marketing help to support business growth?
We welcome the opportunity to show you how we can make your marketing SIZZLE with our data-driven, results-oriented marketing strategies.  Sign up for our FREE newsletter, get our FREE guide to creating an awesome website, or contact us for more information on hiring us.
Hausman and Associates, the publisher of MKT Maven, is a full-service marketing agency operating at the intersection of marketing and digital media. Check out our full range of services.
This is a guest post by Kevin George
Kevin George is Head of Marketing at Email Uppers, one of the fastest-growing full-service email marketing agency that specializes in crafting professional email templates, PSD to HTML email conversion, and HTML email templates. He enjoys sharing his insights and thoughts on email marketing best practices on an email marketing blog.