As you can see in the image below, brands increasingly use video marketing as a major part of their online marketing campaigns. Given that 92% of brands utilize video marketing as an important part of their marketing strategy, it's easy to tell that B2B brand marketers are represented among the survey results. Consumer brands use video marketing to drive awareness and create positive attitudes toward their brands with short video platforms such as TikTok, Instagram Reels, and YouTube for explainers and other informational videos. YouTube for B2B marketing provides resources that extend the value of salespeople by offering information and providing benefits business customers achieve by buying the company's products. As a result, recent influencer marketing statistics show massive growth in the budget for YouTube influencer marketing campaigns from businesses of all sizes.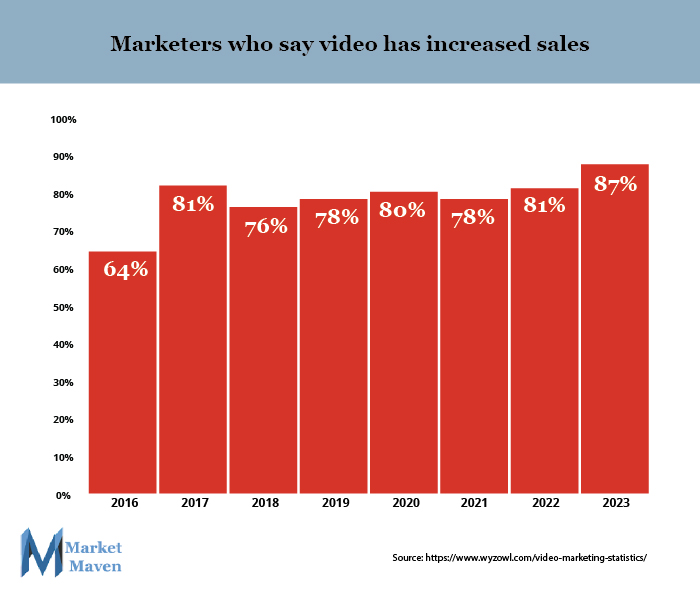 YouTube has the second-highest reach of all social media platforms, with around 2.7 billion users as of 2023. Brands use YouTube for B2B marketing because the platform not only provides access to a large user base but also because engagement on the platform is high and posting content on YouTube helps improve SEO ranking (by 50 times) so your content shows up near the top in related search results. However, changing algorithms and user behavior require an intelligent and flexible approach to using YouTube for B2B marketing.
Why use YouTube for B2B marketing
YouTube is just like other marketing platforms in that you can use different types of content to reach and engage your audience. Which type of content works best for you depends on various factors, such as your target audience, what you are trying to achieve, and your budget.
Embedding YouTube videos on your business website can give you a boost with both national and local SEO. Better rankings will drive more traffic to your site, while your YouTube channel itself can also drive traffic to your site.
This makes creating content for YouTube an incredible marketing opportunity for businesses that want to get their company noticed. Brands can use YouTube marketing to:
Reach potential customers
Build brand awareness
Drive growth
Grow their audience
Drive leads and conversions
Increase awareness and preference
Demonstrate products
Share knowledge
Put a likable, human face on their company
Boost search engine visibility
Help potential clients find them
Content marketing
The #1 question I get regarding content marketing is, what types of content to create. I have clients who seem to think it's a waste of resources to write/ video anything except promotional content — they're wrong. Experts recommend an 80/20 split (some even advocate for a 90/10 split) with the lion's share of your content providing value to your community without being promotional.
A corollary to that way of thinking is that content marketing is like writing a book, it needs to provide linear content. That's not true either. If you look at how visitors come to your website, you see that they come through a variety of channels based on either search intent (over 50% of the traffic to most websites represents organic search) or an interesting post viewed on a social platform.  While the implication might not be obvious, that means folks aren't reading your blog or social media posts sequentially which means you don't need to post 100% unique content every post. It's okay to return to a topic you covered in the past and update it or delve deeper into the topic. You can also show how that topic fits with other content shared on your website. You can (and should) create content and then adapt the content for different channels. For instance, I offer an ebook to help small businesses create a website from scratch or update an existing one as a lead magnet for my email marketing.
Embedded within the book are short videos and images to make it easier for readers to build their websites. These videos and images are also shared on other platforms including YouTube. This enhances my ability to attract subscribers and helps promote my brand as one focused on entrepreneurs and marketers in my target market.
As I mentioned above, coming up with good ideas is one of the biggest challenges when creating content. It can be very difficult to know what will be a hit and what won't. Repurposing your content on other platforms works well because you already know how your audience reacted to previous content you've published. Pick some of your best posts from the past and create videos around them.
If you have blog posts, articles, or any other written content you've used in the past, you can repurpose it into video or audio for your YouTube channel. Focus on repurposing your best-performing content first for the best results.
YouTube for B2B marketing
The video medium is just as flexible a sales methodology as other forms of content such as text and image content but offers a higher engagement rate which translates to a higher conversion rate (an average of 12% with some marketers achieving a 16% conversion rate with average conversion rates for other channels at less than 3%). The trick for success is for marketers to create video content that appeals to the right people (your target market), recognizing that what works for B2C sellers might not work for B2B marketing.
This makes it important for B2B marketers to ensure that any content they create is optimized to appeal to businesses rather than the end consumer.
Here are some things to remember about B2B and B2C marketing:
B2B marketing typically involves a longer sales cycle than B2C marketing, which means you must create content focusing on each stage of your conversion process.
Instead of focusing on emotional appeals, B2B marketing content tends to focus on providing education and logical appeals.
There is often more than one person involved in the buying process for companies (called a buying center), and educational content produced should address the disparate concerns of buying center members with different concerns. For instance, the operations manager is concerned with how easy the product is to incorporate into their business processes while the finance manager is more concerned over financing options and operational costs.
However, having a focus on education rather than cute dogs on boats doesn't mean B2B content can't also be fun and entertaining. In fact, the more entertaining the content is, the more likely people will digest all of it.
There are several ways you can create informative, educational content that will also catch and maintain people's attention. Let's take a look at some of the most effective content types you can use on YouTube to drive B2B sales.
Creating videos for YouTube
1. Animated explainer videos
Standing in front of a whiteboard explaining a product or sending a long spec sheet can prove dull for your viewers and struggle to pique people's interest. With such a two-dimensional format, whiteboard demonstrations can also struggle to explain some more complex points. As you can see below, even images help explain your product better than text alone. Imagine how much more useful YouTube for B2B marketing is at explaining your product.
Animated explainer videos are a much more effective solution. Explainer videos can be bright, and eye-catching while helping to explain technical issues in a way that makes them easy to digest. This makes them more likely to be shared on social media and linked to or embedded on other websites, helping to generate more leads for your business.
A 2022 survey showed that around 81% of marketers saw a direct increase in sales thanks to video.
As an example, Moz, an SEO company, creates explainer videos every Friday and calls it Whiteboard Fridays. The concept is simple. It involves an expert standing at a whiteboard to explain some aspect related to digital marketing while someone videotapes as the expert fills the whiteboard with images that demonstrate a particular tactic or principle.
2. Podcasts
Podcasts aren't limited to the main podcatchers like Anchor and Spotify. You can also post your podcast episodes on YouTube. While these can be uploaded with still images for visuals, it's best to have video.
This allows you to speak to your viewers about your vision, ideas, and services in a way that can be a lot more engaging than a short ad. Podcasts also tend to attract long-term listeners, giving you more time to win your audience over.
With podcasts, you can involve others who are respected professionals in your industry as guests. Doing so will help to give your show more credibility, making your listeners more likely to take on board what you have to say. Your guest's popularity can also boost your video's viewership and help attract subscribers.
Podcasts are a great way to help your audience get to know you and your business better, and they can build authority and trust that may help sway them when it comes to making a buying decision.
3. Vlogs
A bi-weekly video of you walking around the office, talking about how your product can benefit clients is much more relatable than an executive giving a product demo. Vlogs add a more personal touch to your marketing, helping potential customers see that they're dealing with a real person.
Vlogs are also a very affordable method of creating B2B content. All you need is a decent camera and maybe a selfie stick, and you could be creating quality content in no time. Make sure to prepare some type of script beforehand so you know what you want to say during your vlog.
4. Branded storytelling
It's a misconception that your content needs to be straightforward and concise when marketing to a B2B audience. Business reps are also human, and they're looking for creative content that entertains while telling them everything about a product or service.
Branded storytelling is an effective way of making a human connection with people. With storytelling, you can help people relate to and understand your products and also help them see how your product will solve their pain points.
Extending content reach with YouTube ads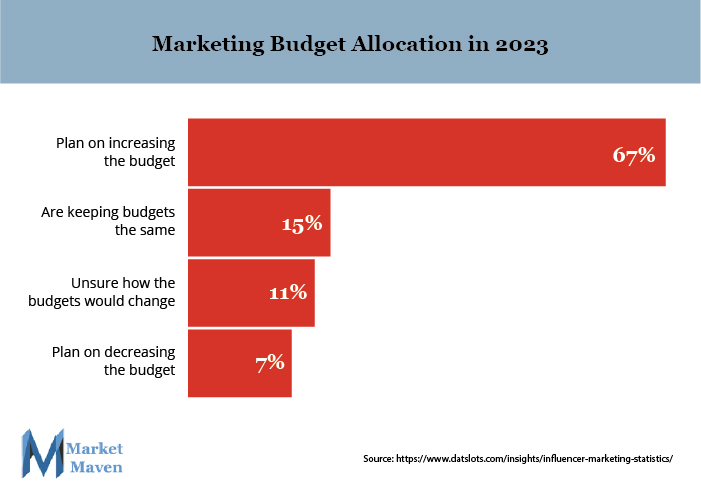 As you can see, most marketers plan to increase their budget for YouTube marketing. Most marketing experts recommend a brand focus on organic reach but supplement it with targeted advertising that's super-relevant to your overall message. Expanding your reach will help you attract new prospects that might eventually become new customers.
When using your content to make YouTube ads, focus on the videos that received the best reaction from your audience. The better the content, the more likely people will follow your channel or pass on their details, giving you new leads to work with.
Start elevating your business with YouTube today
With the vast potential reach of YouTube, leveraging the platform to your advantage could mean a considerable boost for your company's fortunes. You can also tap into the power of storytelling for added impact.
The platform is easy to use; anybody can create an account and upload videos with little to no technical knowledge. You can also promote and optimize your YouTube channel, helping you gain more leads and generate more sales.
Although creating video content might sound expensive, that is not necessarily the case. With a little creativity, even a small business with a limited budget can create quality content that will help boost sales.
About the author
Jamie Finch is a freelance writer with nearly two decades of experience. He left Britain in the year 2000 and headed East. He is currently living in Bangkok and writes on a wide range of topics, with a particular focus on SEO and marketing.
Need marketing help to support business growth?
We welcome the opportunity to show you how our data-driven, results-oriented marketing strategies can make your marketing SIZZLE.  Sign up for our FREE newsletter, get our FREE guide to creating an awesome website, or contact us for more information on hiring us.
Hausman and Associates, the publisher of MKT Maven, is a full-service marketing agency operating at the intersection of marketing and digital media. Check out our full range of services.