Using Twitter as a marketing tool makes sense for most brands. But, how do you do it right?
The Tweet above, from Mari Smith, resulted from many hours building and maintaining my Twitter as a marketing tool — @MarketingLetter. It generates a large number of ReTweets and brought a good amount of new traffic to my site.
As a transparent platform where many people see how a company interacts with customers and where brand mentions occur in public, Twitter substantially influences brand attitudes. Even if a company decides they won't actively engage Twitter as a marketing tool, they can't ignore the impact of consumer conversations through Twitter on the viability, even survival, of the brand.
A company with a strong Twitter strategy keeps old and new customers engaged, attracts prospects, and funnels visitors to the company website where marketing efforts culminate in a sale or referral to a brick and mortar. In the end, Twitter builds sales and increases the profitability of a business; making its use an essential part of any marketing arsenal.
Although companies want to see their Twitter strategy result in more business, they should carefully avoid the trap of only tweeting about products and services. Rather than come across as needy or pushy, a company with a strong Twitter presence will mix quality content and customer service into their tweets, building brand awareness, and customer loyalty.
Here are some basic things that every company needs to remember when it comes to using Twitter for marketing purposes.
Customizing the company's profile
Before launching a presence on Twitter, the business owner (or their designated representative) needs to create a complete company profile that accurately reflects its brand. Elements including the name of the account, profile picture, and background image play a significant role in creating a branded Twitter presence that is visually appealing and engages users resulting in increased revenue.
In most cases, the company uses its logo as the profile picture to create a strong visual association between Twitter and the company website.
Other profile features you should complete include:
the physical location of the company
its website URL
its biography.
Companies should also include their motto and provide an entertaining, amusing, and accurate portrayal of the business. The Twitter profile should resemble the message that is conveyed on the company web pages, brochures, and marketing collateral. Leaving this information blank signals you aren't really interested in building a social following on Twitter and fewer users will engage with your account.
Moreover, companies should use their brand name as a hashtag and make it part of every tweet – that way people can easily stay updated with company news, events, and articles. For the best effect, marketers should integrate their marketing efforts across platforms. For example, company emails reference tweets, and tweets mention the company mailing list. Simply sharing your company Tweets across platforms is a very bad idea.
Additionally, the company website should invite Twitter followers and provide easy options for readers to share content on Twitter. Often, businesses have a section of the website streaming the company's Twitter feed, although this strategy isn't appropriate for everyone.
Options for using Twitter as a marketing tool
One of the great options for using Twitter as a marketing tool is its ability to track mentions.
Brand mentions provide a variety of insights to brand managers:
Overall sentiment related to the brand, as well as specific facets of the brand
Customer complaints regarding the product, service, or usage of the brand
Unmet needs or suggestions for improvement
Each type of brand mention offers opportunities for the brand to excel.
When users talk about brands and products, as well as the quality of service they receive from a company, on social platforms, brands gain a powerful tool for addressing issues before they go viral — the faster a response a consumer receives, the less damage is done to the brand. Insights into how consumers use your brand, problems they encounter with your brand as well as those offered by competitors, and signals of purchase readiness are all visible on Twitter for the astute brand able to translate these utterances into a sound business model.
Using Twitter as a marketing tool
Twitter is an integral part of the marketing strategy for many brands. Critical elements of a good Twitter marketing strategy include:
Finding and engaging customers, influencers, and prospects to amplify messaging and draw consumers down the market funnel
Increasing reach and building a stronger Twitter following
Balancing valuable content with promotions — a mix of 80/ 20 works well
Moderate Tweet frequency to about 5/ day — Buffer
Responding to mentions to encourage engagement
Utilizing Twitter analytics.
Twitter content marketing
Twitter gains much of its power as a marketing tool by creating interesting content. Companies sabotage themselves by failing to provide exciting, stimulating content in their Tweets. Inappropriate or insensitive Tweets are a quick way to damage your brand and alienate followers.
Twitter content needs variety — images, video (think Periscope), valuable information, infographics, promotions, and just plain quirky content all have a place in using Twitter as a marketing tool. Without this variety, followers and customers will lose interest and focus their attention on other companies. Tweets should reflect your brand's personality.
Companies should balance their interests with those of their audience by Tweeting links to news and market sources that can help people learn more about available products and services. For example, a blog post demonstrating the use of the company products benefits customers. Using Twitter to forge connections with influencers, suppliers, and users requires celebrating their accomplishments more than your own.
Communicating with followers
Companies build an engaged Twitter community by communicating. This includes:
following customers, business partners, suppliers, and other stakeholders
greeting new followers and talk to them about the way they perceive their brand
learning from customer experiences and user perceptions to improve the fit between your brand and your target market
When interactions between a company and the public resemble casual conversations between friends, people feel comfortable. Similarly, when a corporation thanks followers for comments and offers special discounts or creative promotions in exchange for retweets, people feel respected and appreciated.
Focusing on customer service
Finally, marketing professionals should never forget the power of great customer service as a marketing tool. Best practice use of Twitter as a marketing tool involves addressing customer issues through mentions and direct messages to demonstrate their attentiveness to their clients and their speedy resolutions. When companies respond publicly, others can witness excellent customer service and spread the word.
This requires advanced contingency strategies developed in advance so the brand responds quickly and appropriately — something Asus didn't do. They paid the price for the post shown below.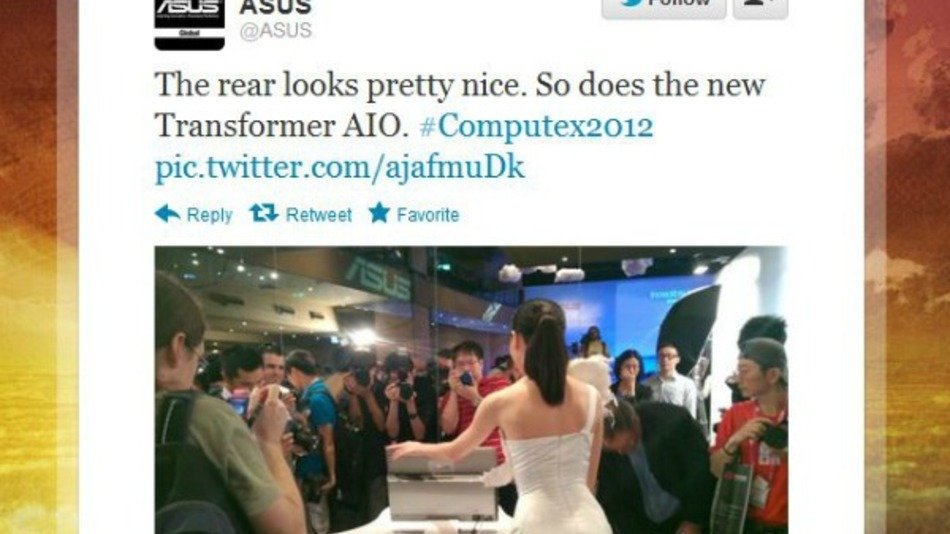 Navigating through bureaucracy involving multiple approvals, lack of ownership over negative brand mentions, and delaying response to normal working hours all provide an opportunity for damage. Creating contingency plans allows firms to have solutions approved and in place when problems occur.
Elements of the contingency  plan include:
having someone monitor Twitter 24/7 365
authorizing an immediate apology
an unambiguous chain of command for escalating complaints, questions, etc in a timely manner for a more thorough response
a plan focusing not only on de-escalation of the situation but moving it to a less public platform to limit exposure
A brand should create a warm, friendly, and approachable Twitter presence and demonstrate that the company values every customer. Excellent customer service can sometimes please customers to the point where stories of their experience can go viral.
Conclusion
Although businesses can use the site to promote products and services, they can also create positive value for their brand by providing exciting content and exceptional customer service for the world to see. By spreading the reach to a wide range of followers and utilizing all the options that Twitter offers, a smart company may do wonders for its marketing goals.
This is a guest post by Natalie Smith.
Natalie Smith is a freelance writer and copywriter from Seattle. She loves to write about topics such as content marketing, social media, and business in general. You can reach her @Natalie Smith
Need marketing help to support business growth?
We welcome the opportunity to show you how we can make your marketing SIZZLE with our data-driven, results-oriented marketing strategies.  Sign up for our FREE newsletter, get our FREE guide to creating an awesome website, or contact us for more information on hiring us.
Hausman and Associates, the publisher of MKT Maven, is a full-service marketing agency operating at the intersection of marketing and digital media. Check out our full range of services.