In today's world, Social Media channels have endless roles to play in supporting your brand. We often use it for socializing or marketing, but there is so much more than that and there is a lot more to explore like using social media for project management. Sound Puzzling? Don't worry we have got all your answers. In this blog, we discuss why and how you should use social media for project management.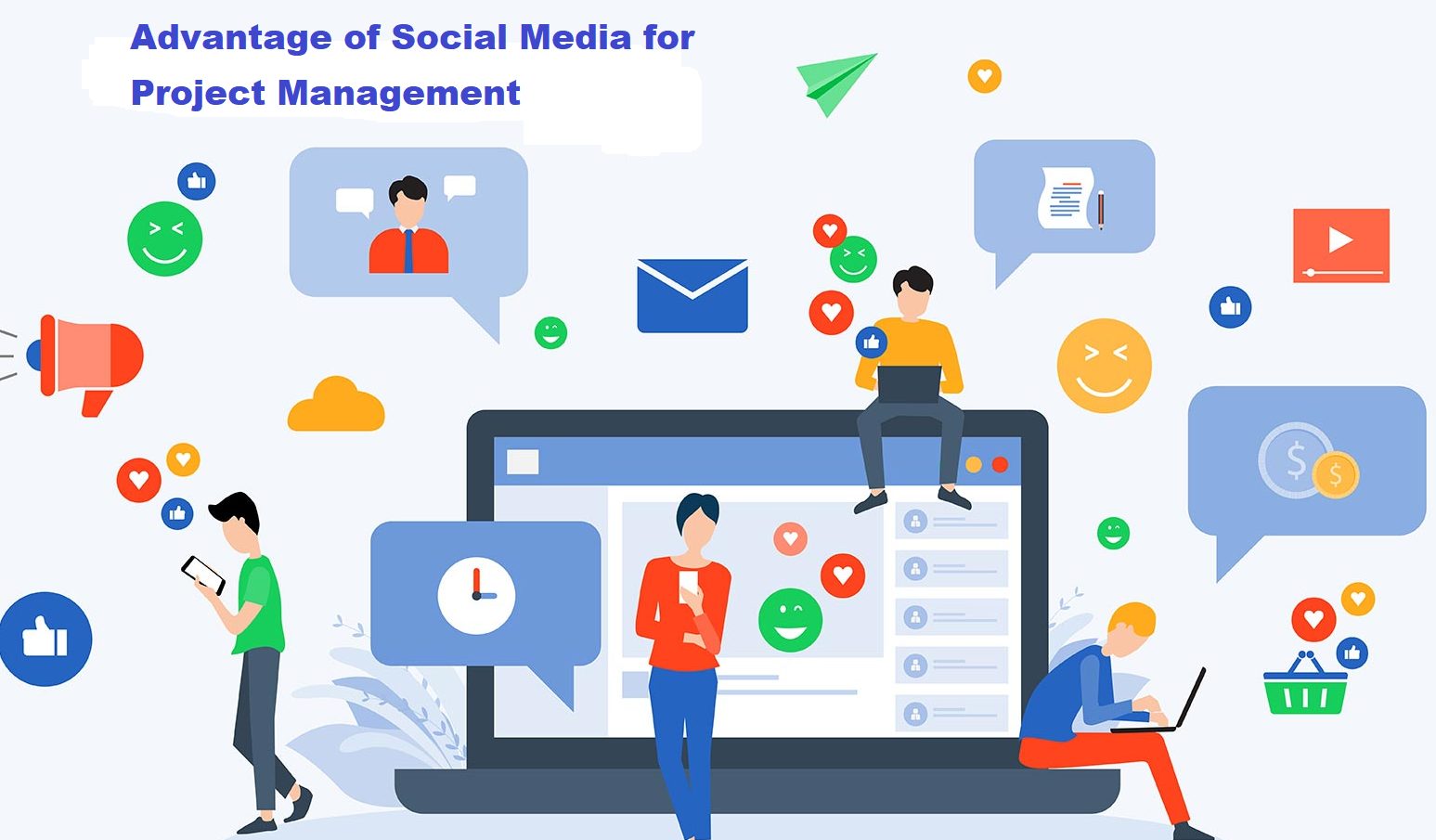 Social media networks are all about connections, but it's not just for connecting to friends and family. Social media lets you reach out to your team members and also to the professionals within your industry. Most people only consider limited social media networks like Instagram, Twitter, and Facebook. Yet, those are just a few drops in the ocean. There are tons of social platforms that work as excellent project management tools. Today, we discuss which social platforms work best for project management and how to use them in this blog. Benefits of Social Media in Project Management
Here are a few things that make social media an efficient tool for you and your team members.
How to leverage the benefits of social media for project management 
Communication is the basis of successful project management delivery.  When it comes to project management, the team may need to communicate in various manners like messages, calls, and videos. Social media makes it possible for you to connect in all these formats without hassle. Social media makes team communication smooth, efficient, and fun. Facebook, WhatsApp, LinkedIn, Tumblr, Zoom, and Google Meets were the ultimate saviors during the Covid19 pandemic.  Without these tools, it would have been impossible for companies and enterprises to function remotely.
Another benefit of social media as a project management tool is its ability to access valuable information like links, documents, photos, audio, and more. All these data are available through various portals, including in chats at any time. Team members can create specific chat groups based on a particular project or role. For efficiency, the project manager can monitor messages and share data in the groups. S/he can make sure there is no miscommunication or misleading information shared.
With the use of a few social media tools, you can ease communication not only with teams but also with customers. Here are some examples.
1. Work updates and milestones
Project Management is a long process consisting: planning, executing, monitoring, testing, and preview. To stay on track, employees need to constantly go through all these milestones. If not done correctly your project process can become a mess, especially if you have big projects in hand.
With the perfect social media marketing strategy and tools, you can not only facilitate information but also manage time better. For example, you can:
Update management on social media are the following:
Schedule meetings with the team
Check on project progress
Discuss activities
Ideation and innovation
With a designated moderator for social media, updates can be monitored. Moderator ensures the team that updates are relevant and there are no inappropriate threads, such as criticizing someone's idea or their work products.
2. Access to essential documents and files
The greatest asset of social media, when used in projects, is platforms make it easy to share any form of data. Not only is it quick but also more accessible than computer software, as the tools are accessible on any device. Team members can share any type of file with individuals or in a group at any instance. Individuals can take screenshots and use drawing tools to draw the team's attention to a specific section.
3.  Issues management
Issues in a project are anything that affects your plan, threatening to derail the project. To successfully complete the project, issue management is critical. The team must identify issues quickly, investigate them thoroughly, and solve them fast to avoid delaying or sinking the project. Issues management is nothing but successive actions. This includes identifying, registering, logging, assigning actions, monitoring, and closing. You can implement many of these actions through social media. A dedicated social media issue manager can help in handling issues efficiently, as mentioned below:
Inform team members about the issue quickly and ask them to work on it immediately based on the urgency
Involve the right people that can troubleshoot the error
Ask experts for their immediate advice
Divide tasks
Create logs on possible tasks
Share risk management plans
4 . Knowledge management
Knowledge management is another valuable element in project management. However, it is often neglected and if implemented it is not in a structured manner. Knowledge management consists of sharing, processing, adding value, helping all the members grow. Social media helps in achieving all these aspects easily.
Project managers can use social media to share their knowledge which will lead to fresh and productive energy. Employing a dedicated individual is beneficial when the team works on big projects. If there is inadequacy in such a case it can get you in big trouble.
5.  Networking aid
Networking helps businesses and people make money through social media channels. It is all about sharing and receiving information from not only the internal team but to a wider audience and professionals.
Social media sites like LinkedIn make networking effortless. Corporate professionals from different industries share their knowledge on this platform. This helps them in collaboration, as well as get the attention of the potential audience. Involving prospective customers as well as others in guiding a project offers great value as you must ultimately solve their problems with your brands if you expect to make money.
Involving outside interests during the project management phase also increases their buy-in on the project, making them feel part of the team, which lessens resistance once the project moves forward and increases the likelihood of securing a sale.
6. Online presence
If your project includes websites and blogs, one of your goals may include increasing your online presence. In this area, social media works as a great tool. You can promote your project through appealing campaigns. Social media networks let you choose your target audience, increasing the success of your campaigns. Hence, your product is mostly visible to the ones who are most likely to be interested in your service, hence they are more likely to open your website or read your blog.
Conclusion:
This was our list of some of the most beneficial ways of using social media for your project. This list should help you get started in using social media as a tool for efficient project management. You can use it for all the mentioned benefits or anyone. The idea is to try and see what works for you.
Do you know any other benefits of social media for project management? Share it with us in the comment section below.
Guest post  by Ankit Thakor
Bio:
Ankit Thakor is a marketer by trade and a football player by passion. He is a Saas Marketing Specialist at SoftwareWorld. He specializes in using compelling content to capture consumer dollars for world-class SaaS brands, including Zoho, Freshworks, ClickUp, and more.
Twitter :           https://twitter.com/ankitthakor14
Linkedin :         https://www.linkedin.com/in/ankitthakor/
Quora:             https://www.quora.com/profile/Ankit-Thakor
Need marketing help to support business growth?
We welcome the opportunity to show you how we can make your marketing SIZZLE with our data-driven, results-oriented marketing strategies.  Sign up for our FREE newsletter, get our FREE guide to creating an awesome website, or contact us for more information on hiring us.
Hausman and Associates, the publisher of MKT Maven, is a full-service marketing agency operating at the intersection of marketing and digital media. Check out our full range of services.