Designing an effective user interface (UI) is an excellent way of improving your website to create a better user experience (UX). In contrast, SEO involves designing your website and creating content that helps your website rank well when users show intent related to your products. So, how do you strike a balance between SEO and UX when developing and running your website? That's the topic for today's posts.
The main question you need to ask yourself here is whether the changes you make to the design and content you create on your website improved the user experience or whether they will have any adverse effect on SEO. SEO and UX go together as opposed to being in opposition, so consider both while designing your site and adding content and you should be just fine.
What's the difference between SEO and UX?
The first thing to understand is that SEO and UX are not the same things. SEO, or search engine optimization, refers to how your site is built to make it more easily discoverable by search engines like Google and Bing. UX (user experience) design focuses on making your website easy for users to browse and use.
So which one do you need? Both! When designing a new website or redesigning an existing one, some designers find more appeal in focusing exclusively on one side of the coin. They might either focus on optimizing their pages so they rank higher in search results or create an intuitive user experience that makes navigating those pages easier. However, it's important to remember that these two concepts are related and equally important when building a successful online presence!
UX/UI
User experience and user interface are two sides of the coin that go together, as you can see in the graphic below. UX refers mainly to elements that make a website valuable for users, such as ease of use and storytelling while UI is the way you implement UX by making decisions about layout and visual elements that meet the needs of your visitors.
Elements of a good UX/UI include design that is:
useful
learnable
memorable
effective
efficient
desirable
delightful
More about how to implement these into your website design below.
SEO
SEO is based on an algorithm developed by a search engine designed to rank website content so the user finds the information they want quickly, near the top of the search results page. Below, you can see the impact of SEO on organic traffic (that traffic coming from search engines) coming to your site.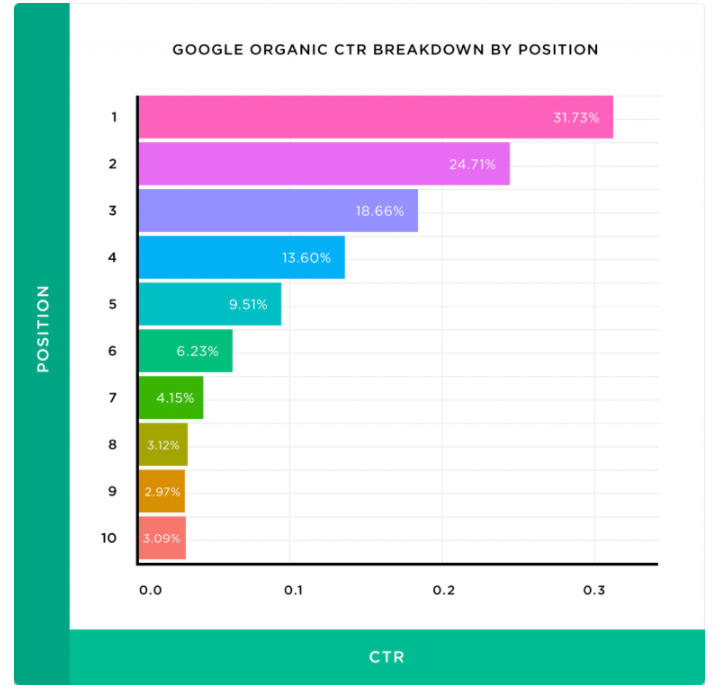 Since organic traffic represents between 53% (average) and 75% (for B2B firms) of all traffic sources to a business website, poor SEO performance has a huge impact on your performance. Compare this with the 15% of traffic you achieve with paid online advertising and less than 5% coming from social media and you see the true impact of SEO on your performance [source].
Factors impacting your rank include (for a deeper discussion on SEO use this link):
Signals representing high-value content such as the number of backlinks from other websites, social media engagement, repeat visits, etc.
Consistency in posting fresh content, especially long-form content
Focus keywords (actually phrases) that match user search intent
Technical SEO such as canonical structure, indexability, clean code, etc
Mobile-friendliness
Fast load speed
Easy navigation, search, and other elements of good UX
As you can see, some elements of good UX also figure into SEO. Since search engines want to deliver the best results to users near the top of the results page, it's no wonder that there's a strong relationship between SEO and UX.
Combining SEO and UX
Use clean and simple design
According to a recent survey, 39% of respondents find color more important than any other design element in a website's design. Ensure the colors you choose for your design match your brand (use hex codes to ensure an exact match). Also, don't get crazy with too many colors as it makes your site look unprofessional. Stick with no more than 3-4.
It's best not to have too many colors on your webpage. Having too many colors makes it difficult for users with color vision deficiency (CVD) or other visual impairments like low vision or blindness, who may have trouble seeing specific colors enough because their eyes don't work together due to some damage from illness/disease.
Also, remember that different devices display different screen resolutions (PPI). So even if someone has excellent eyesight, they might still need help finding specific items on the screen.
Don't hide important content
It's easy to get caught up in the excitement of creating as much new content as possible, but don't forget about what's already there. A poorly designed mobile app or website will cause 38% of users to stop interacting with it. You don't want your site to look like a mess of ads and pop-ups that make it hard for people to find the information they want.
Keep essential and SEO-rich content front and center. Don't hide content in sidebars or behind tabs; make sure that the content users want to see is easy to find. And, don't clutter up your page with too much text. Break up text with headings, images, and bullets to invite readers in.
Consider the user's search intent
You can also look at user behavior. You can find out why users search for a particular thing by looking at the queries they use and how they interact with your site. This is where Google Analytics is invaluable and using tools such as SEMRush can help with trending keywords.
If you see visitors using advanced search features, like filters or sorting, you might simplify your design by creating categories or menus that help them find what they want with fewer clicks. Google Search Console is where you can find information like this regarding your website.
Localized SEO is your key to providing a great user experience for users in your specific area. For example, a user looking for a pizza restaurant in the Orlando area may be looking for a particular restaurant or just looking to find the closest option. This is a great opportunity to reach new customers and help your loyal customers engage with you. Build your site to serve both types of users. For instance, someone who discovers your local business through a search engine might want to view your location (along with a map option for mobile users) or your menu, while an existing customer might want to order online for pickup or delivery. Make it easy for them to do whatever they want.
If you have a business in Orlando and want to rank well in local search results, you need to understand your users' intent. Look for a consultant who also has some knowledge about the user interface. If you want to strike a balance between the two, you need to seek help from someone who has significant expertise with one and at least some expertise with the other aspect. If you need professional help with your website's SEO, or if you're looking to optimize it for usability, consider hiring a local Orlando search engine consultant.
Make sure your site loads quickly
Speed is a ranking factor in Google's algorithm. Moreover, slow load speeds reflect a poor user interface and customer experience as the customer must wait for the entire website to load to get the information they want. A one-tenth of a second improvement to the web page load time increased website engagement by as much as 8% in a recent study. Hence, you should take steps to ensure your site loads quickly. One of the easiest ways to do this is by using a tool like GTMetrix or Pingdom to monitor your site's performance across different browsers.
If you find that one of your pages takes too long to load, try using a CDN (Content Delivery Network), caching and minification, using a light theme and lightweight fonts, lazy loading images (loading them only when they are needed), etc. to help speed up the page load.
Simplify navigation
To keep a user's attention, it's essential to make sure that the navigation is easy to use. According to data, forty-two percent of people will leave a website if it is hard to navigate. This highlights the need for keeping the web design simple. The best way to do this is by using a clear hierarchy of links, with primary links at the top and secondary links on subsequent pages.
Use visual cues to help users understand the structure of the site. Breadcrumbs can help show where they are within an organization or site. Sitemaps are also beneficial in this respect.
Optimize for mobile from the start
The first step to optimizing for mobile is to ensure you build a mobile-friendly website a concept called mobile first. A study by Forrester Research found that 74% of visitors will return to a website if it has an excellent mobile user experience design.
The number of people using smartphones to view content now eclipses that of other devices in consumer markets, so your users must have an experience they can enjoy on their phone or tablet. You need to implement critical elements such as responsive design, parallax scrolling, touch gestures, and fluid grids to accomplish this goal.
Don't forget that users choose how they interact with your website over time. For instance, a user might visit via a mobile device to explore your options and then return using a desktop (or laptop) when it comes to making a purchase. Ensure a seamless experience for visitors regardless of the device and the combination of devices they choose.
Final thoughts
If you design with SEO and UX in mind, you make your site easier to find, more accessible to users, more appealing to them, encourage them to return over time, and improve your performance. This means it is easier for them to find what they need, interact with your brand, and accomplish their goal with as little fuss and as few clicks as possible. Make sure your content is accessible for users to find, clear, concise, and concisely written so that no one gets lost within its depths. This can help with both SEO and UX.
Need marketing help to support business growth?
We welcome the opportunity to show you how we can make your marketing SIZZLE with our data-driven, results-oriented marketing strategies.  Sign up for our FREE newsletter, get our FREE guide to creating an awesome website, or contact us for more information on hiring us.
Hausman and Associates, the publisher of MKT Maven, is a full-service marketing agency operating at the intersection of marketing and digital media. Check out our full range of services.