Even though we live in a globalized world where goods and services are delivered across the globe, proximity still matters for marketing. Moreover, proximity marketing offers an opportunity to get a product that your market needs instantly and conveniently, which is more valuable than ever.
For a retail company, proximity marketing is a great chance to get immediate conversion and a rather captivating marketing strategy. In this article, we will cover the benefits of proximity mobile marketing and explain what beacon technology is and how to use it in your marketing campaign.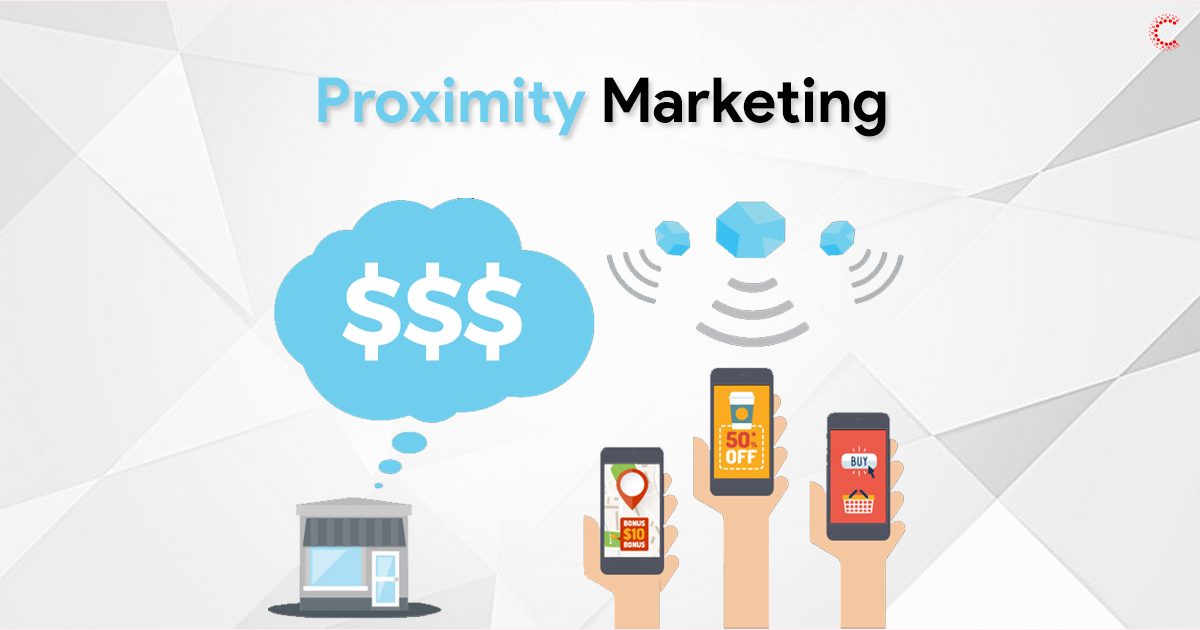 What is proximity marketing?
Also known as 'hyperlocal marketing', proximity marketing involves targeting potential consumers with personalized adverts based on how near a consumer (or device) is to a specific location and enticing them to make a purchasing decision in the immediate future. [source]
Thus, the goal of these campaigns is to reach customers in the right place at the right time with marketing information customized to their location using a device, such as a beacon, app, or mobile device as part of an effort to reach the customer based on geolocation.
Proximity-Based marketing benefits
Is all this fuss with proximity marketing systems worth it? Eventually, you need to deal with separate technology, buy devices, and set up the original campaign. Let's have a look at how proximity marketing can boost market performance.
Immediate response
Proximity marketing can reach your customers where they are — figuratively and literally. So, it creates space and opportunities for instant conversion. Your clients are already looking at their smartphones. You only need to come up with an offer based on location to prompt purchase. For instance, if a customer is in the dressing room near social dresses, you might offer a coupon for the products displayed nearby or highlight your easy return policies. At checkout, you might prompt buyers to consider added purchases, such as adding a menu item to their order in a restaurant.
Competitive channel
Proximity marketing devices create a new channel for you to find the right audience. These days, even small retailers have their websites, apps, and social media accounts. Reaching your customer in the immediate area of your business empowers you to a whole new level of competitiveness.
Personalized experience
A proximity-based approach allows businesses to customize the experience for customers. For example, you can provide your loyal customers with special offers and discounts. The reverse model is also possible: geolocation beacons might notify staff when a loyal customer is entering the shop encouraging staff to approach these customers or offer insights on what products the customer buys.
App retention
If your brand has an app, proximity methods are an excellent way to involve your customers in activity within the app. Push notifications sent via beacons, for instance, deliver an average clickthrough rate of 80%. Such an engagement level ensures that your customers' experience improves, and might lead them to purchases.
What are beacons?
Proximity marketing doesn't necessarily require beacons but they increase the accuracy of campaigns. Using GPS, retailers have less accurate location information and indoors the device might not function properly, whereas beacon technology works better indoors and provides a more specific location.
Geolocation beacons are small devices that run on a CPU, radio, and batteries. They send information to nearby mobile devices via Wi-Fi or Bluetooth Low Energy technology using permission-based marketing. When the user is close to the beacon, they get an ad, special offer, or any other promotional materials.
Beacons technology is a straightforward and cost-efficient tool to run a promotion campaign. It sends relevant offers to people who are most likely interested. Not only does it help you reach out to people, but you can also analyze your business. Beacons allow marketers to monitor how much time customers spend in a particular retail area and which goods section attracts the most customers.
You can even use beacons to monitor employee behavior that contributes to improved customer experiences by tracking how employees move through your physical building.
How to run a proximity marketing campaign
So, you want to start in a new marketing field for your business. Before implementing a campaign, you need to create a plan and describe each step.
Prepare the campaign
For this, you need to complete several components:
Set goals. You can introduce concrete KPIs such as: to increase your sales by 10%, finding unsuccessful areas of your shop, or attracting a new audience.
Define the target audience. Identify who you are most interested in as your customers and divide them into social groups. Groups, or personas, can be based on age, sex, occupation, place of residence, or any other data that you can access. Such an approach allows you to personalize your customers' experiences according to their interests and desires.
Create a content plan. It should be a structured list of messages that your customers receive. It might be general or connected to some seasonal peculiarities and holidays. Remember to stick to strong messages: your aim is not only to inform clients but to encourage them.
Choose a location. Beacons should be on the premises of your business, in logical locations, to encourage visitors to interact with your brand. Another essential factor to consider is the duration of the visit. Proximity marketing makes the most sense in places where people spend time such as, in shopping centers, large retailers, trade exhibitions, railway stations, or airports. So, you are looking for a place with a combination of two circumstances: an opportunity for customers to take action and to have time to complete this action.
Choose the technology
There are plenty of technologies to use in proximity marketing. You need to choose — but choose wisely. In this piece, we highlight what different technologies offer.
Bluetooth Beacons are probably the most popular in proximity marketing. As we mentioned, Bluetooth beacons use Low Energy technology to send relevant messages to nearby devices.
Wi-Fi Systems are cool since they not only create a channel for your proximity marketing campaign but increase your customers' satisfaction. Wi-Fi marketing also allows you to target your clients according to their previous actions.
Geofencing is a technology based on location. Using it, a business can fix the boundaries around a certain area so that staff receives a notification when particular devices enter it. This mechanism allows companies to send messages to their clients when they are close to the shop.
NFC (near-field communications) is another way for businesses to reach customers on-premises. This is an inbuilt technology in mobile devices that allows a mobile phone to communicate with a transmission device. Companies can send messages and promote their products with NFC.
Evaluate Results
After completing your campaign, do not forget about checking if it has met KPIs. You can estimate how many people clicked the notifications and the percent of conversion. Result assessment enables you to improve your future campaigns.
Conclusion
So, proximity marketing activities can boost market performance. They allow you to reach your customers, provide them with a personalized experience, and, eventually, increase your brand visibility and revenue. To start such a campaign, you need to select your KPIs, target audience, technology, location, and create a content plan. After the proximity marketing campaign, remember to assess its results and take them into account for future activities.
Need marketing help to support business growth?
We welcome the opportunity to show you how we can make your marketing SIZZLE with our data-driven, results-oriented marketing strategies.  Sign up for our FREE newsletter, get our FREE guide to creating an awesome website, or contact us for more information on hiring us.
Hausman and Associates, the publisher of MKT Maven, is a full-service marketing agency operating at the intersection of marketing and digital media. Check out our full range of services.