Do you know that you can make money with YouTube? Yes, it is possible to make money on Youtube and some folks with large followings make millions of dollars a year. In fact, a child star raked in over $25 million in 2019 from his entertainment/ educational channel. All you need is an idea, a personality, and some video to upload onto YouTube, then share across other social platforms so you build an engaged community clamoring for your next video. Many consider YouTube as the best online sharing website because it's used by millions of people, although TikTok is fast taking over the video filesharing space.
Sharing videos with online users greatly enhances your earning potential, especially when users enjoy the content you share. To use YouTube effectively, read on to learn the tricks and strategies needed to appeal to the YouTube audience.
How to make money with YouTube?
YouTube is a world-famous site for video sharing, making it somewhat unique when compared to other social platforms with broader content options. YouTube, owned by Google, is also the oldest of the surviving video filesharing sites. Vimeo, a competitor, tends toward more artistic videos and is a favorite of filmmakers, while TikTok focuses on very short videos. But does TikTok pay well too, like YouTube? Check out the link to find out!
Making money with YouTube is like making money with any other digital tactic and involves a strategy that implements marketing concepts and integrates across all your marketing efforts, both online and off. Here's a handy infographic to show you how to make money online.
Of course, YouTube involves unique elements, as does any other digital strategy.
The key to success with YouTube is coming up with content users love and a popular, and very successful, genre is gaming videos. Other popular genres on YouTube are easy experiments, music, and sports entertainment. Even the traditional TV channels boast popular YouTube channels and you can find content in the most popular languages. In fact, the most popular channel is in Hindi and boasts over 129 billion views of its music.
Some principles you need to know
Starting a video channel on YouTube and running a successful YouTube marketing strategy isn't something you just do on a whim but requires careful planning (including storyboarding each episode), technical skills in editing and other aspects of video production, good equipment for taping and lighting, as well as the right personality that draws in viewers.
To start up your business on YouTube, you must also understand video converters that take edited footage and transform them into different formats such as 3gp, mp4, Flv, WMV, etc. Understanding the YouTube platform allows you to make your video "findable" when users search the platform or use a search engine like Google by using keywords and employing state-of-the-art SEO techniques. You should also know how to embed your videos and where to use them on your website to get massive results.
If you want to make money with YouTube, you must learn the tools and tactics needed to make your video that fits your budget. Adaptify offers assistance that guides you with ideas on making videos and helps you bring massive traffic to your videos, whether on YouTube or another platform, such as your website.
As a business, explainer videos and other videos that support your marketing efforts, bring traffic to your website from videos hosted on YouTube rather than driving traffic to your channel. By embedding videos and ensuring videos get found on search engines, you use video as part of your lead nurturing program from bringing in new visitors to showing how your products solve a consumer problem.
For instance, check out this video I create about content marketing as a means to establish my business as an expert to prospective customers.

Easy Steps
Include YouTube videos on your websites or blogs by using embed codes to add videos from your channel, such as the one above. Using SEO both on your website and on YouTube helps users find your content by improving your rank so you show up near the top in search results.
Those making serious money on YouTube use advertising through Google Adsense or direct relationships with advertisers. Adding these ads to your videos earns money each time someone plays the ad.
Explainer videos help users solve problems. For instance, my most popular video shows how to install the Yoast plugin, a WordPress option that handles your SEO to ensure you rank as high as possible.
Creating videos about your products helps visitors and viewers understand how to install your products or shows how they solve their problems.
Simple Ways to Earn Money
Market your website
Sharing videos that include a link to your website across social platforms and in presentations to other groups brings more traffic to your website. Once visitors see that initial piece of content, you can create additional content designed to drive them toward purchase. Below is a visual image showing the types of content you might use at each stage as you work to convert visitors and, beyond, become loyal customers: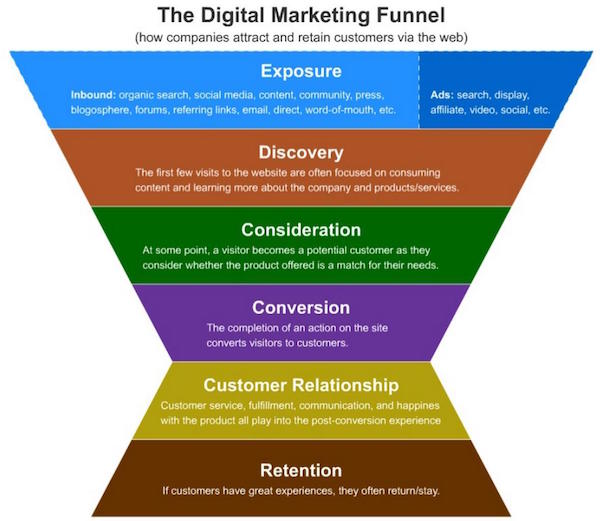 Collect email address
Creating leads to potential clients via their email addresses is one of the most effective money-making ways on YouTube. If you want to earn more money from YouTube, put a watermark on your video or link in your profile that redirects to a landing page on your website that collects emails from visitors.
Armed with email addresses, you can set up a series of broadcast emails designed to drive visitors toward a conversion. Email marketing is one of the most effective digital tools used to generate ROI from your online marketing efforts.
Marketing affiliate programs
For beginners, affiliate marketing is a perfect way to make a profit or make extra income. Affiliate marketing involves joining the affiliate program for brands related to your video; things your viewers will enjoy. The affiliate link provided by the brand contains information so the brand knows you earn a commission when someone using the link buys something from the brand. All you have to do is embed that link in your video or in the description below your video to encourage viewers to visit the brand.
Make money through partnerships
Partnerships are similar to affiliate marketing programs except you form partnerships with brands lacking a formal affiliate program. To start, find brands similar to yours or the video content you create. Reach out to those brand owners and negotiate an agreement where you either support each other through recommendation links in the description field or by including links that earn you a fee when your viewers use the link to buy something from your partner.
Conclusion
The key feature of making money with YouTube is to follow unique techniques that attract more and more customers. You merge your videos with standard direct response methods to make it unique, funny, and eye-catching so that online users watch the video and link to your platform!
Need marketing help to support business growth?
We welcome the opportunity to show you how we can make your marketing SIZZLE with our data-driven, results-oriented marketing strategies.  Sign up for our FREE newsletter, get our FREE guide to creating an awesome website, or contact us for more information on hiring us.
Hausman and Associates, the publisher of MKT Maven, is a full-service marketing agency operating at the intersection of marketing and digital media. Check out our full range of services.
Instead of doing everything yourself, the best idea is to take the help of a YouTube video marketing expert. Adaptify can help you reach billions with a wide range of highly effective YouTube video advertising services.