If you're serious about driving success, you likely read hundreds of books and blog posts, attended seminars and workshops provided by successful entrepreneurs, and worked hard to build your digital presence in hopes that you'll thrive only to find disappointment. If you really want to increase revenue, read these secrets of how to making money online and check out the graphic below.
How to make money online
I created this graphic along with some design friends to reflect the 9 secrets that increase revenue and drive business growth. Before we jump into the secrets exposed in the image, note that the true secret of how to make money online is integration among these tools, rather than using one or another, or even a handful. To increase revenue, you must get these tools to work and play well together, building a cohesive strategy combining the secrets so they reinforce each other.
Notice, too, that I divide the infographic into 2 parts. The upper part of the infographic deals with driving prospective customers to your website or physical store. The lower part focuses on converting the visitors once you get them to you. Both are important and you can't focus on only one aspect. You need both.
To help you understand how the parts of the infographic must work together, let's delve into the conversion process with an emphasis on how to make money online. Here are the steps in the conversion process:
Create awareness
Drive website visits or even send traffic to your physical store
Build landing pages and other assets that help convince visitors to make a purchase. This means answering questions, providing resources like explainer videos to show how to use your product, or using marketing tools like influence to build desire for your brand.
Craft an easy-to-use process for making purchases. The fewer clicks involved in the process the better, as each extra click reduces the number of people who complete the purchase process.
Remove barriers that block conversion by accepting multiple payment options (Tesla now even accepts Bitcoin), offering to finance high-cost purchases, allow user registration to speed subsequent purchases (but don't require registration for those who want to maintain privacy), and show prices clearly so buyers don't get a surprise at the end of the process.
Reach out to visitors who don't make a purchase
Offer options to update information after buyer complete a purchase and track packages
Provide great customer service both before and after the purchase
With that in mind, let's start with SEO and work our way around the graphic until we've covered all 9 secrets for how to make money online.
1. How to make money with SEO
SEO, or search engine optimization, brings organic traffic to your website; on average 53% of traffic was organic in 2020 a number that increases every year. Compare that with only 15% of traffic from paid search and you easily see the value of SEO.
Check out the graphic below to see the impact of how you rank in search results and you see the value SEO brings to you by bringing more traffic to your website.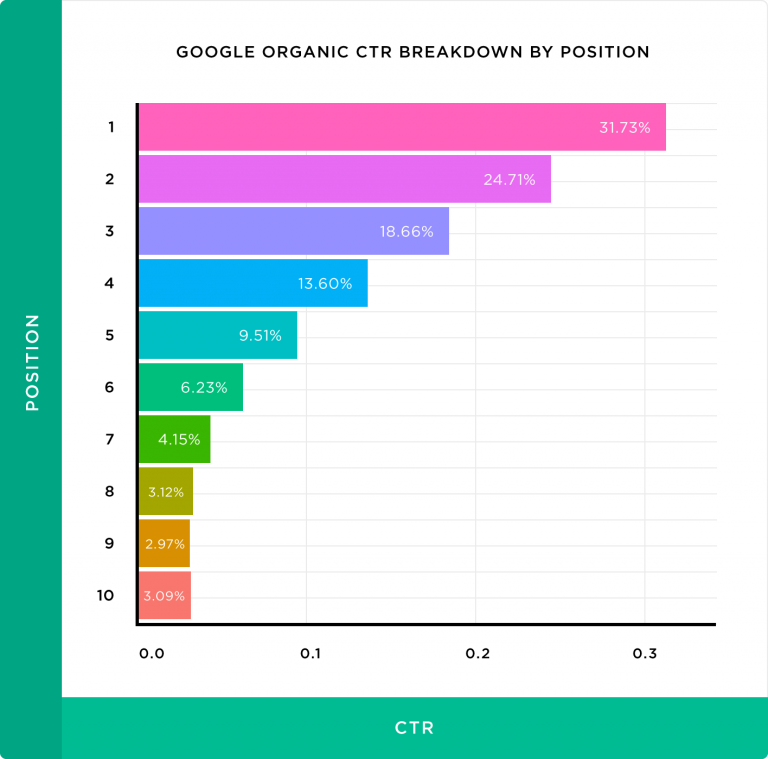 The average conversion rate for traffic is about 2.4%, with some high-performing landing pages driving 5% conversion rates. Meanwhile, SEO offers conversion rates of 14.6% through a combination of better targeting and the amount of traffic earned by top-ranked websites. Hence, making money online requires a well-developed strategy and flawless execution.
2. Building Traffic with Social Media
Social media is an especially effective tool for transmitting brand messages especially when the message comes from a user (user-generated content) or through user engagement (such as sharing and commenting). A recent study by Deloitte shows that 71% of consumers are more likely to make a purchase after seeing the product on social media, demonstrating the real power of eWOM (digital word of mouth). First, let's take a look at different social platforms and talk about how you can use each one to build traffic to your website since each social platform is different and supports different goals.
Facebook
The largest of all social media platforms with over 2.8 billion users, Facebook connects "friends" who share information by posting to their wall. Companies set up fan pages to share information or set up groups, or both.
From a business perspective, you get users to "Like" you  — become a fan of your company — or join your group by posting valuable content frequently. The trick to optimizing your Facebook strategy, as with all social media platforms, is driving engagement by getting users to like, comment, or share your content. Based on a complex algorithm, engagement amplifies your messages so they show up for users related to engaged users (see the graphic below).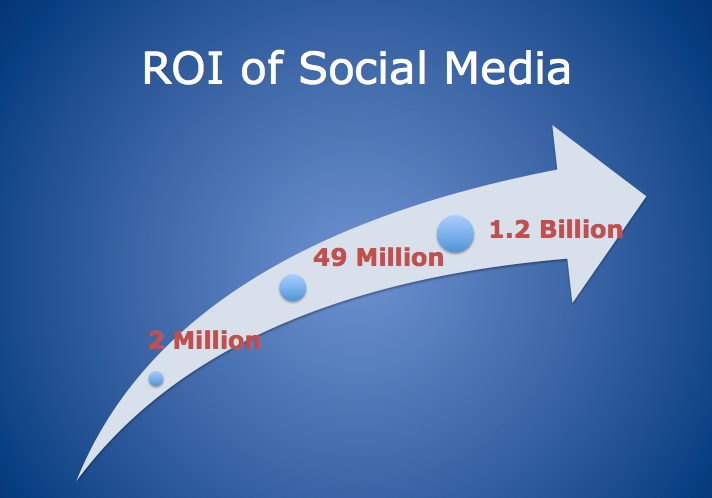 Engaged users not only amplify your message they help target it to the right people since they share key characteristics with their connections as well as personalize the message with their endorsement to make it more believable.
Twitter
The second-largest social platform is a microblogging site with a 280 character limit. Its main value is the public nature of tweets and their searchability via # (hashtags). Basically users Tweet news, information, pictures, links … to their followers. Once a user has a large number of followers, influencer marketing helps spread your message and make it seem more truthful.
When users find something interesting or valuable, they Retweet it to their followers. Thus, messages sent through Twitter spread pretty far, pretty fast — just ask Anthony Weiner. This is called viral marketing and can happen anywhere, but is more likely on open networks like Twitter and YouTube.
The business strategy for building traffic to your website using Twitter is to gather a large number of followers (preferably in your target market), tweet interesting things they want to share, and encouraging them to follow your links, etc.
YouTube
This is a video-based platform that garners 5 billion video views per day.  Of course, there's a ton of competition for these eyeballs as over 300 hours of video are uploaded every minute. Videos range from professional (although Vimeo is more common among true entertainment filmmakers) to comically unsophisticated. An influencer with a significant YouTube following makes millions of dollars a year, with businesses with explainer videos or other promotional reels driving more traffic to their websites and providing better customer satisfaction by demonstrating how to use a product.
Instagram and TikTok
Both are platforms with rapidly increasing numbers of users, time spent on site, and influence. Instagram is image-based, with a heavy emphasis on hashtags while TikTok is a micro-video platform consumed like crack by users. As an example of the power of TikTok, a recent viral video showed a user drinking Ocean Spray Cranberry Juice and singing as he rode his skateboard after his vehicle broke down. The video drove such demand for the juice and garnered so much attention for the brand, that Ocean Spray bought him a new truck filled with juice.



3. Digital advertising [note changes since the original construction of the infographic]
Formerly Adwords, Google Ads deliver ads on search or display image ads through the display network, including YouTube. In addition to this digital ad platform, most of the largest social media platforms also support advertising.
Unlike traditional advertising, digital advertising is very cost-effective. Instead of spending thousands of dollars to create a TV ad and millions of dollars to broadcast the ad, digital advertising creation is inexpensive and transmitting the ad can cost just a few dollars, even less if you choose less expensive keywords and achieve a good quality score.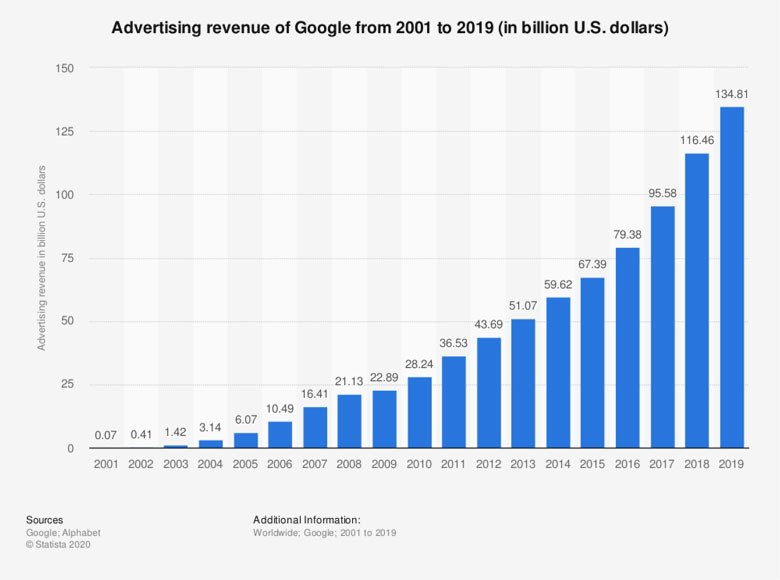 But, the true value of digital advertising comes from the enhanced targeting available on both social platforms and Google Ads (as well as ads on other search engines). Although social platforms target users based on deep knowledge regarding demographic, geographic, and interest data gleaned from their profile and actions on the platform, search engines use a combination of search history and user intent represented by the search query to deliver targeted ads. You can learn more about optimizing your digital advertising strategy here.
Digital advertising budgets grow every year because digital advertising works. For instance, Purple increased brand consideration by almost 35% and Schmidt Naturals increased brand awareness by 48% after running ads on YouTube [source]. In social, the results of advertising show that 27% of users find new products through social advertising, a rate that increases for younger users. Of course, adblocking from mobile on iPhones created a $2.12 billion hit for advertising brands.
Email marketing
While email marketing was added as part of digital advertising in the original graphic, email deserves its own category today due to the rapid increase in ROI, see below.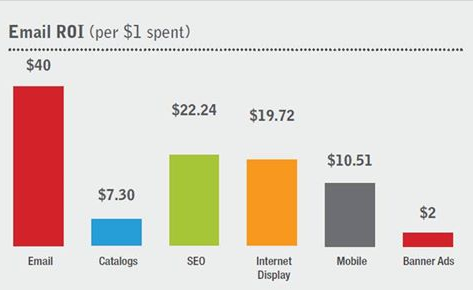 Email marketing involves 2 related strategies, driving email subscriptions, often using a lead magnet, then constructing email campaigns that deliver ROI. Some factors to consider in email marketing include:
periodic list cleaning to remove unresponsive subscribers
providing valuable content to encourage readership
crafting great headlines to create a desire to open the email
segmenting your list and constructing content pertinent to each group
using analytics to optimize performance by tracking factors such as time of day and day of week performance and A/B testing headlines and copy
4. Integration
Here's another aspect of making money online that's increased in value since this graphic was created. Plus, the tools for integration are better now than ever before.
Remarketing is now possible on most digital advertising platforms. By installing a small piece of Javascript on your website, you tag visitors and both Google and most social media platforms serve up your advertising to users who visited your website in the past. Since these users are primed for your brand and expressed an interest by visiting your website, results are much better from retargeting with 70% higher conversion rates.
Sharing tools became ubiquitous over the years and smart marketers use social buttons on every piece of content produced, including offline advertising.  But, the options for making money online don't end with sharing your content. Hosting contests on Instagram where users post images of themselves using your products or shopping your physical store boosts awareness and interest in your brand.
The options for integrating your online efforts, as well as integrating online and offline efforts abound; limited only by your imagination.
5. Market research
You can forget about making money online or anywhere else unless you build a deep understanding of your customers, such as:
what they want
how they make purchase decisions
what features and benefits are most important
how much they're willing to spend
how they view your brand versus that of your competition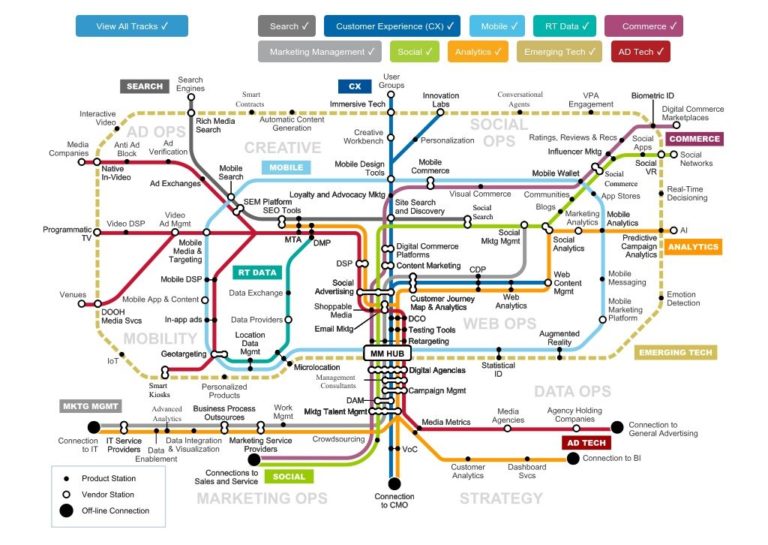 Some market research, called primary research, involves asking customers and non-customers about your market. Other types of market research we call secondary data. While primary research dominated, in a digital world, secondary research such as the complex customer journey map above, gained traction.
Part of the transition to using secondary research came from realizations that consumers often can't articulate their attitudes and beliefs, such that behavior models failed to explain much of true customer behavior. For instance, New Coke, based on a flawed interpretation of primary data might have damaged the brand. The other explanation for the transition toward secondary data is the plethora of data generated in a digital world as users share on social media, leave breadcrumbs about themselves through cookies, logins on e-commerce platforms, and other digital footprints.



Among the most valuable insights delivered through secondary data are expressions of unmet needs. If you ask customers want they want, they'll answer they want something better, faster, and cheaper. They often can't imagine a product they've never seen regardless of how great their need for the product. Crafty marketers, however, can detect unmet needs in the frustrations expressed by users on social media, in comments, and in abandoned shopping carts. For instance, a colleague discovered within days that Microsoft's Surface didn't offer sufficient competitive advantage over other products. Within days, he sent ideas to the R&D folks who were working on the second generation before the first product hit most stores.
A great graphic from Avinash Kaushik may help you match your analytics strategy to the stages consumers undergo in making a purchase decision.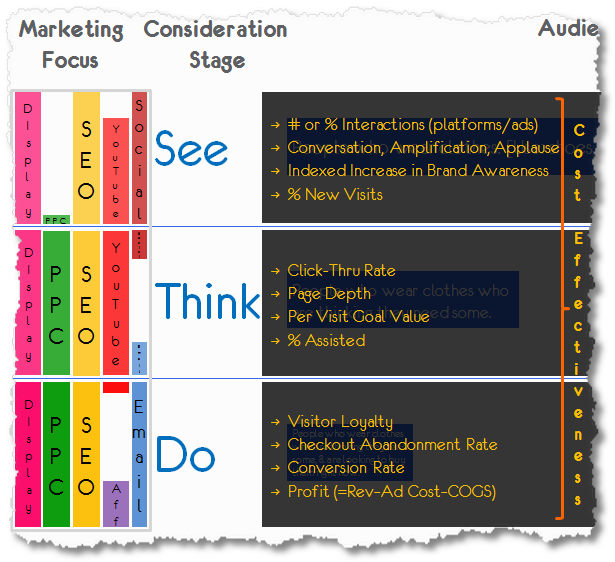 6. Customer service
Customer service is an expensive but critical part of the business. Inevitably, customers find your product wanting for a variety of reasons, including their own misunderstanding or incorrect use. Traditional customer service meant hiring an army of agents to field phone calls and work through solutions. Due to the cost of these agents, many firms outsourced customer service outside their home countries, especially places like India where English was common and wages low. Customers hated this solution.
Fast forward to today where customer service expectations involve nearly instantaneous answers to customer problems and complaints. Failure to provide satisfaction to customer issues quickly spreads through social media; damaging the brand and reducing market performance. In today's digital world, firms often offer customer service during prescribed hours on social platforms to ensure prompt service. Others offer 24/7 customer service using Chatbots fueled by AI (artificial intelligence) to answer common customer complaints. Many consumers don't even realize they're interacting with a sophisticated machine rather than a human. Of course, you still need humans to take over when the Chatbot is stumped.
You reduce customer service problems when you produce high-quality products designed with users in mind. Also, creating explainer videos help users with common problems like assembly, setup, and use. Another tool for reducing customer problems is to deliver completely on your promises.
7. Motivation
Motivating customers to take action is a key element of making money online. Online purchase suffers from limited interaction and time pressures. It's easy to leave a website looking for a better price or options. The trick is to motivate visitors to buy during a visit. Strategies such as exit-intent popups target customers showing they'll leave without making a purchase. Instead of losing the sale, a popup might offer a discount or make the backoff offer to subscribe for future information. By testing various offers and tracking responses, your business can motivate customers to purchase.
Retargeting is also a piece in the motivational puzzle by encouraging visitors to return to make a purchase after leaving your website. Finally, email marketing helps motivate purchase by reminding visitors of items left in their shopping carts or on wish lists.
8. Branding
Learning how to make money online involves branding your business. Not only does branding involve graphics, like logo design and color, but fonts and other visual elements. More important in branding are things like personality, corporate social responsibility and other mission-driven elements, and commitment to performance. Check out the graphic below for more on brand personality and color.
9. Customer targeting
Just like all marketing, every aspect of your digital marketing strategy must focus on your target customer by developing a deep understanding of who they are and what they want, as mentioned earlier. Here's an example of a customer persona to give you insight into how this is valuable.
Now that you understand your customers through multiple personas, direct your marketing strategy toward them by positioning your products so they appeal to one or more target personas. That means not only adjusting your message to resonate with a particular persona but matching the product features/ benefits to fit their needs, pricing to match what they can afford, and reaching them where they are.
Also, recognize that not all targets are equally valuable to the firm. Instead, some markets have what's called a heavy half, also sometimes refused to use the 80/20 rule, meaning a small fraction of consumers buys a large quantity of the product. Obviously, not all markets have a heavy half but focusing on the heavy half is more financially rewarding when one exists. For instance, the pet food market features a heavy half, large breeds, due to their increased consumption of the product. That's why packaging and messaging feature large breeds. Attracting owners of large dogs results in higher profits.
That doesn't mean there isn't value in marketing to the light half. You just have to adjust your strategy. Hence, small breeds consume small quantities of pet food, so offering higher-priced options, such as frozen and fresh food, attracts small breed owners who can afford these products because their animals don't eat much.
Conclusion
Wow, we're done. We've gone through all 9 strategies for how to make money online. Obviously, I couldn't provide detail on each strategy or this post would be massive. Instead, I tried to focus on the most critical elements for each strategy. I covered each of these in greater detail on other pages, so search for posts on specific strategies to get more insight on crafting a rewarding strategy for that element.
Meanwhile, if you have questions or want to share your own experiences, share them in the comments below. I love reading your comments.
Need marketing help to support business growth?
We welcome the opportunity to show you how we can make your marketing SIZZLE with our data-driven, results-oriented marketing strategies.  Sign up for our FREE newsletter, get our FREE guide to creating an awesome website, or contact us for more information on hiring us.
Hausman and Associates, the publisher of MKT Maven, is a full-service marketing agency operating at the intersection of marketing and digital media. Check out our full range of services.