If you believe a picture is equal to a thousand words, live streaming is probably worth much more. Video marketing is big now and is only going to get bigger in the future. Cisco estimates that Global video traffic will be 85% of traffic in 2020 and brands are adopting live streaming to take advantage of this rising trend. Today, we'll discuss how to leverage live streaming as part of your digital marketing campaign to increase awareness and encourage engagement.
The most advantageous element of using live streaming for your digital marketing campaigns is that the tool is in "Real-Time". Live streaming integrates a new element to digital marketing by giving the audience an authentic look into the "real-side" of a brand that fosters immediate interests. Making a connection with your target audience is where the success of marketing rests, therefore, leverage live streaming to enhance your brand image and loyalty is a smart strategy to adopt.
In this blog, we will look into the secrets to leverage live streaming to power your digital marketing strategies. Let's get started.
Leverage live streaming in digital marketing
Live streaming can improve digital marketing performance and impact results across a wide variety of contexts including live announcements and product promotions. Live broadcasts enhance and maximize real-time communication with customers and partners. making them feel like they're part of the "in" group.
Live streaming offers a fresh and effective way to pull target audiences into your marketing campaigns. When well-trusted brands and compelling live broadcasts come together, it is almost impossible for audiences to ignore them. Let's discover some of the fascinating ways you can set up live streaming in a way that helps your digital marketing efforts.
Broader audience potential
Physical events are generally limited by the space available at a venue, which limits the reach of this type of marketing effort. However, with live streaming, you bring in as many people you like to attend your event no matter their location or distance. You're only limited by your ability to attract visitors to the live-stream event. Live streaming expands your reach in both the number and type of audience that you wouldn't reach otherwise.
Opportunity or creativity is limitless
Live streaming supports a limitless number of creative ideas to leverage its potential to power your digital marketing efforts. From TV-style live streams to Q&A sessions, interviews, panel discussions, and product launches, live streaming encompasses a broad range of options and allows some really effective and unique content.
You, not only leverage live streaming with its creativity, but the real-time element also allows you to interact with the audience in real-time, as they respond to the content that you broadcast live. Along with this, different live streaming platforms offer unique opportunities when it comes to live streaming. For example, while Facebook and YouTube Live allow you to immerse the audience in big events, Instagram and Periscope are ideal platforms to directly engage with the audience and to hold question and answer sessions. In short, the opportunities are limited only by your imagination.
Real-time engagement
One of the primary reasons live-streaming gains traction among digital marketers is its ability to offer real-time user engagement and indulge in a real-time conversation with your audience. When you read a blog post, the content is static. But with live-streaming, everything happens in the present and you open tons of opportunities for your team to interact with the audience.
Ability to reuse live videos
Even though this point is applicable to any type of video, live videos are converted into other types of content for reuse, especially to allow viewing by folks who couldn't make the original broadcast. You can repurpose the broadcast by editing the longer format video to repost to YouTube and other video sharing platforms, create short snippets for Twitter and Instagram, mix the live video with new content, turn your live video into a podcast, transcribe the video, and create a blog post, and do a lot more with that content.
Measure ROI
The most significant tool in the live streaming marketing arsenal is its analytic features to measure ROI. Analytics and reports allow marketers to measure the level of engagement on each live stream. The analytics dashboard ranks viewers by the number of hours viewed, peak concurrent viewers, purchase intent, content retention, demographics, etc. across multiple streaming platforms. For small and medium-sized businesses, analytics is a vital tool to measure ROI and strategize their digital marketing efforts accordingly, allowing businesses to monitor the performance of each video, evaluate lead nurturing, and do A/B testing to optimize performance.
The content is rich and scalable
While live videos cannot be as polished as pre-recorded videos, the real-time element of live streams makes the content far richer. The effort, time, and money you spend creating live videos are reduced by viewer expectations with less need for high-tech equipment and complicated software. A smartphone is more than enough to start your live-streaming. Live-streaming also allows video creators to bypass navigating broadcasting rights to media brands by broadcasting content directly to the audience.
Establish trust with the audience
Live videos come with a generous dose of transparency. The voice of your brand rings truer in live sessions with your target audience than it does in a blog post. The audience can engage with your products and services in the open conversation happening in real-time, which only works if you're meeting customer expectations in terms of both product performance and the ability to address customer concerns.
If you want effective strategies to build trust with your audience, live streaming is a great place to start. Offer behind the scenes entre to your office events, conduct a session with your staff members, or show how you make your products to bring home the real side of your business.
Cost-effective access to video marketing
If you are looking for cost-effective ways to run your video marketing campaigns, live-streaming offers tools that reduce costs, especially over more polished video options. Professionally produced videos are extremely expensive and even DIY video production takes time. These two elements are one of the reasons why brands love live streaming very much. Learning to leverage live streaming doesn't call for an expensive setup to start. A quality smartphone and a solid Internet connection are enough to begin a live-streaming option.
Live streaming touches multiple channels
In a digital space once dominated by YouTube, live videos are no longer restricted to a single channel. From social media networks like Facebook, Instagram, Periscope, and Snapchat to video-only platforms like Vimeo and Twitch, live streaming is available in lots of places. On social media, this has the added benefit of reaching your market using platforms they already know as well as leveraging your existing connections.
For example, in 2016  NBC Entertainment designed an influencer campaign to live broadcast Hairspray live by partnering with 20 influencers.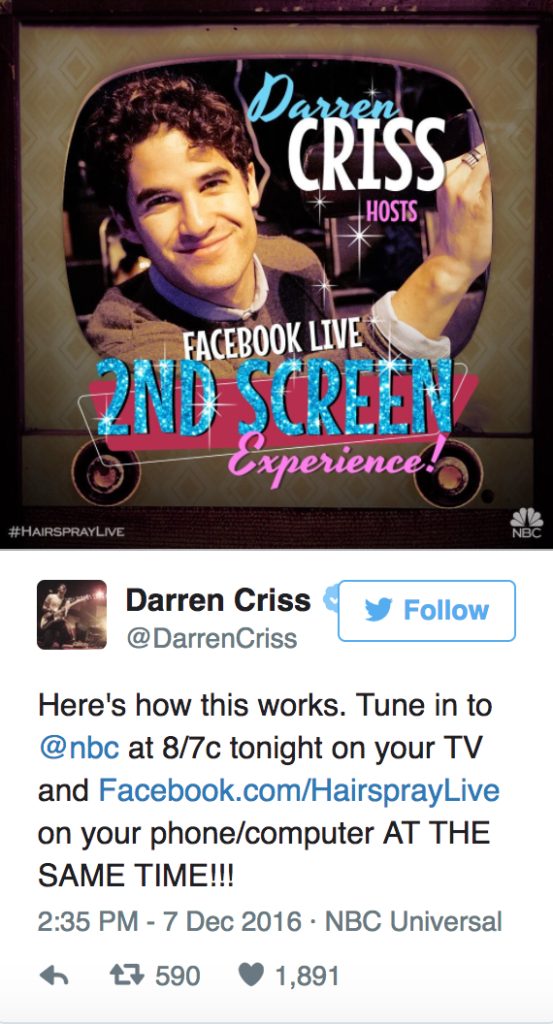 Source
These influencers promoted #Hairspray live on Facebook Live and on their own channels simultaneously, doubling reach in real-time.
Real-time ad conversion
Running ads on live streams brings an additional influx of brand awareness. Combining paid ads like Facebook ads and Twitch banners that allow you to link directly to your video increases the strongest exposure. Analytics and performance tracking features in live streaming platforms also help in making adjustments in your next live streaming campaigns.
Effective ways to leverage live streaming in your digital marketing strategy
Videos are one of the most effective mediums to support your digital marketing efforts and they generate 100% more traffic and engagement than other forms of content. As live streaming involves less pre-production and editing, it is a more authentic chance to connect with customers and receive instant feedback. But, knowing how to implement successful live streaming is important for the best results. Here are some effective steps to implement live streams to support your digital marketing efforts.
Identify the right platform
As we already discussed, different live streaming platforms come with different features and capabilities, hence identifying the best platform that suits your needs is critical. You should also choose live streaming according to your target audience.
Here's a breakdown of the advantages and disadvantages of various platforms:
For instance, if you are a B2B brand, LinkedIn Live is an ideal choice if you intend to target professionals and build business networking. LinkedIn reports that live videos receive 24 times more comments than other video types. Alternatively, you can also choose to integrate live streaming to your website or build a live streaming website to gain the most out of your live streams. Facebook is a great option if you already have a community built there.
Plan the right content
While live streaming is less rehearsed than other video options, that doesn't mean you should don't need a script. Preparing a script and planning the content you want to stream is pivotal to the success of your live streaming efforts. Leveraging the right content is important for success, along with planning the content so you can reuse it to promote your brand across other platforms. You can choose the content based on the following.
If you are running a marketing campaign to promote a new product, live streaming a detailed product demo will help to showcase the product to your viewers in an engaging way.
Methods that engage your audience engaged
Q&A sessions, interviews, live polls, rewarding games, answering comments, etc. can help to maximize the interest of the viewers. For example, When American Idol streamed a live interactive Q&A session with judges Mariah Carey, Randy Jackson, Nicki Minaj, and host Ryan Seacrest, it brought in more traffic, views, and engagement.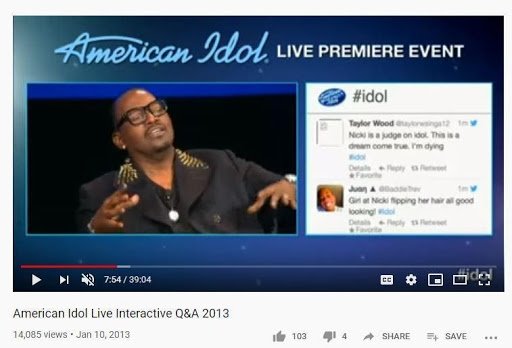 The host of the broadcast
Based on the objectives of your live stream, you can bring in popular influencers, employees, or even customers to host the live broadcast
Release teasers about your live broadcasts
To enhance the reach of your live videos, utilize the power of social media networks to promote them using short teasers. Share a teaser of your live broadcasts even a month in advance to keep your followers aware and give them time to share the teaser with their connections to enhance the viewership of the broadcast on the day of the event.
Let your audience know you value them
Tell your viewers how important they are to your business and that you care for them in your live streams. Always talk by addressing your viewers by their usernames and use user-friendly conversations to make your live sessions engaging. Use live streaming to establish a personal connection with your customers before you sell to them. That real connection makes your prospective customers believe in your brand. That is how you use the power of live streaming to sharpen your digital marketing strategy.
Conclusion
Leverage live streaming to enhance and supplement your other marketing tactics to give your brand a competitive edge. The rise of live streaming across social media platforms helps digital marketers and brands connect with their audience, both old and new, in new ways. The digital world is only going to get noisier and more crowded as brands increase their presence on multiple platforms and leveraging live streaming to power their digital marketing efforts helps them stand out. If you're not using live streaming as a part of your marketing strategy yet, you're missing out on lucrative opportunities.
Today's guest post is from Amanda Smith.
A marketing professional with expertise in strategies to engage customers and improve business opportunities. Interested in marketing communications and like to keep abreast of new trends and developments.
Need marketing help to support business growth?
We welcome the opportunity to show you how we can make your marketing SIZZLE with our data-driven, results-oriented marketing strategies.  Sign up for our FREE newsletter, get our FREE guide to creating an awesome website, or contact us for more information on hiring us.
Hausman and Associates, the publisher of MKT Maven, is a full-service marketing agency operating at the intersection of marketing and digital media. Check out our full range of services.