Many businesses still send the same content to their entire email list then they're surprised that their results don't live up to expectations. The poor performance comes from doing email marketing the same way they did it in years past. But, it's not 2015. The factors users consider before opening their email and technology allow you to adjust your email marketing, resulting in better performance. One of the biggest opportunities overlooked by email marketers is the ability to increase email conversions with segmented messages custom designed with a group of subscribers in mind.
Gone are the days of superficial email personalization that simply inserts the subscriber's name into the message and subject line. In their place is a world where subscribers expect value from email marketing directed to their interests and situation. Start using deep personalization and you'll soon find you can increase email conversion to reach your goals. Below, you can see email marketing benchmarks for key email marketing metrics by region for 2023 to determine whether you could increase email conversions for your brand.
Each person is as unique as a snowflake. And each snowflake has distinct interests and needs. Traditional emailing strategies that ignore this reality have fallen out of favor. For example, email blasting is redundant except among prolific spammers. Deep segmentation of your messages is now an important pillar of email marketing. This is due to its ability to provide more targeted content that subscribers find valuable. For instance, sending an email offering a discount or highlighting the benefits of a product after a subscriber left an item in their shopping cart is a great way to improve market performance, with the ROI of email marketing reaching as high as 40% when effectively implemented using segmentation strategies. Here's a statement about how using segmentation can increase email conversions from Hubspot:
According to DMA, 77% of email marketing ROI came from segmented, targeted, and triggered campaigns in 2015.
Other advantages of email segmentation include:
Increased engagement
Improved deliverability, and
A better understanding of your target audience
Here's everything you need to know about email segmentation. By following this advice to create deep segmentation of your email messages, you can give an instant boost to your campaign metrics and increase email conversions. Let's get started:
Email segmentation – the starting point
Email list segmentation is a critical component of any effective email marketing strategy. It involves dividing the target audience into sub-groups based on predefined criteria such as products purchased, purchase frequency, customer lifetime value (CLV), demographic variables, persona, past interactions with your messages, and many more options. Choose the segmentation criteria that fit your needs and add groups to the other data captured about a subscriber.
Growing a contact list takes time and effort, and keeping subscribers engaged over time is even more difficult. The days of "email blasting" to an entire database and hoping something sticks are over. This "hit-or-miss" approach to email marketing presumes that everyone has similar needs. Email blasting results in lower engagement rates and higher unsubscribe rates as subscribers learn to ignore your unvaluable messages. Below, you can see some examples of how to segment your email list.
Email segmentation is a strategy for dividing your email subscription lists into smaller groups. Geography, buying history, interests, and so on are some email segmentation ideas. By doing so, they can serve them more valuable content that's tailored to their particular situation. Segmentation is also important in the art of lifecycle marketing. It tracks a customer's position in the sales funnel so marketers can nurture each lifecycle segment in the hopes of enticing them to act with the most appropriate message for where the individual subscriber is in the sales funnel.
What is the process of email segmentation?
Consider some of the best emails that arrive in your inbox on a regular basis. Your email address was most likely placed in a specialized segment by the sender. This segmentation increased the chances of you opening and clicking the email. However, when you receive an email that's not appropriate, it can lead to distrust and lower the reputation of the brand. It also sends the message that they don't care enough about you to bother knowing you. For instance, I always think a little less of Amazon when they send a message about an alternative to a product I searched for on their website when I ALREADY bought the product or a similar one from them.
This is the difference between "clock-in, clock-out" digital marketers and best-in-class digital marketers. Here are some ways you can get the subscriber information necessary for email list segmentation.
Ask subscribers, although I recommend only collecting the minimum of information at the time a user subscribes. Asking too much information decreases your opportunities to build a robust subscriber list. You can ask for information in a welcome email or subsequent communication.
Collect information on the subscriber's customer journey and purchase behavior over time.
Code subscribers based on how they joined your list, such as through a webinar or event, as opposed to a page on your website.
Monitor how the subscriber engages with your email messages such as what messages they open, what links they clicked, and which subject lines led them to open the message.
You can purchase additional information about your subscribers, although I don't recommend this as it seems kinda stalkery.
What advantages does email segmentation provide?
Segmented campaigns have a positive impact on your campaign metrics and increase email conversions, as mentioned earlier. It's difficult to summarize the benefits in a single article.
The following is a list of the top additional reasons to begin or improve your email segmentation practice right away.
Better engagement: Personalization, according to 90% of top marketers, leads to profitability. Segmentation allows you to target users with content that is relevant to their specific requirements. It can be about demographic data, past behavior, and other factors.
Lower churn rates: The marketing 80/20 rule states that 20% of your current clients will account for 80% of your future profitability. You can build targeted campaigns for unengaged contacts. This will stop them from unsubscribing by segmenting your lists.
Opportunities for upselling: You can tell who is a repeat customer and who is a one-time buyer by segmenting your lists based on behavior. You can send targeted email campaigns promoting all your new goods to customers who have a history of high purchasing.
Create a loyal customer base: Convert first-time buyers into brand advocates. The ultimate goal of any marketer is to convert first-time buyers into cult followers. This is only possible if you cultivate your most devoted and high-paying customers. Segmentation is an important component of successful lifecycle marketing. Because it allows you to target users at different stages of the customer journey,
Improve your knowledge of your target market The simplest method to develop sincere email marketing campaigns is to know who you're talking to. Psychographic segmentation enables you to experiment and refine buyer personas in greater depth.
Increase deliverability: Any business would prefer that its emails land in the customers' inboxes instead of the spam folder. You can send frequent emails to your loyal and engaged subscribers. Separate and remove the inactive ones.
This is only possible once you segment your lists. Businesses that perform this way receive incentives from providers like Google. The tech giant let more emails through their filters. Win-win! Segmentation can help with many aspects of a company's marketing strategy. Revenue growth, yet, is one that always gets leadership teams excited.
So, today, we'll look at how segmentation can help you boost conversion rates and generate more revenue for your company.
In what ways can segmentation increase email conversions?
The promise of email segmentation is enormous. But, to capitalize on segmentation, marketers must segment more. They need to understand that not all segments present equal chances and revenue potential. Below, you can see that email marketing offers a higher ROI than any other marketing effort, online or off.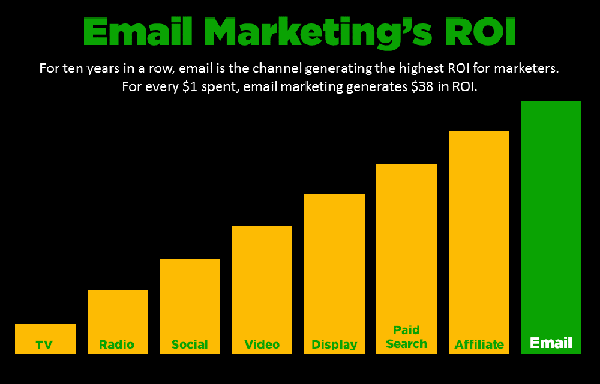 To increase engagement, tiny strategic segments are essential, but how do we find these segments? We need to first understand how our clients are currently spending to segment our email data. Your email marketing strategy's format depends on who your primary prospects are.
RFM marketing strategy can be used to segment the client value.
Recency: When was this product purchased by the customer?
Frequency: When do they buy things? How often?
Monetary Value: How much did they invest money?
This is one method of segmenting your customer base to increase conversions, but it is not the only one. Email segmentation is a marketing science that necessitates experimentation with customer data.
Let's look at some tried-and-true strategies.
Strategies to increase email conversions through segmentation
Creating email segments in a hurry is like trying to fit square pegs into round holes. But it's not easy when there appear to be an infinite number of ways to segment your lists. Below, we can see one way of segmenting your list, which allows you to create custom messaging for each type of situation.
So, let's take a look at how you can slice up your data to better target your users.
1. Demographics
Many marketers begin email marketing segmentation with demographic data. Age, gender, business position, and income level are a few of the factors that can reveal a lot about a person's needs and interests.
The more demographic segmentation choices you have, the more data you can gather. This filters out your audience for you right at the start during the sign-up process. But, be cautious with this. Requesting too much information may deter people from joining up at all. Use your website's forms to divide users based on demographic data. You can use a plugin to create opt-in boxes. You can also change the email sign-up questions using your email marketing platform.
Then, customize your message based on demographics. For instance, you might send information about a new product to business owners and managers in related NIAC codes (a government system that codes businesses based on their industry).
2. Survey or quiz results
Some marketers wouldn't dare demand anything more than an email address in the sign-up form. This approach is often used to make the process short and simple. But by making a survey or quiz, you can still gain access to detailed information about your customers. You have the chance to get not only this crucial demographic data but also their perceptions. You can take a peek into people's tastes, preferences, and views by participating in a survey. Sending out a survey to your audience is a good way to get a lot of responses. But you should give people a reason to respond, like entering them in a contest for a prize. You can create a quiz that provides results that will interest your audience instead of pitching it as a survey.
Once you have deeper information, such as interests, you can send messages to this segment. For instance, if a segment of your subscribers say they like to read graphic novels, you can send email messages about upcoming releases in this genre to these subscribers.
3. Email engagement
Email engagement is yet another simple way to segment your lists. It can have a significant impact on your results. The open rate and click-through rate are the most important metrics in this case. These assess the efficacy of your email marketing service.
By monitoring WHAT content drives their engagement, you have a better idea of their interests and the content they find valuable. You can zero in on subscribers who engage and target them more specifically. After that, you can create a separate campaign to target them as potential buyers from the sale.
I recently completed a project for a client interested in finding out more about the click-through behavior exhibited by their large subscriber list to better target messages. We were able to segment subscribers based on which message links they clicked to determine which of the company's products was of the most interest. As an industrial brand, they then handed this information to the salesforce when a subscriber reached a minimum score based on their engagement patterns.
4. Past purchases
Marketers can also segment based on past purchases made by the customer. You can test this by sending out email recommendations for similar products. These items can be related to their previous buying. Try sending targeted emails if a customer is asking for a replacement, refill, or renewal of a product s/he bought. This can help in sending out specific offers to the relevant segment.
For instance, if a customer ordered a hair product. It is easy to make an educated guess that after how much time it would run out. You can send a re-ordering reminder to the customer suggesting getting a refill on it.
Targeting one segment at a time
Rome was not built in a single day. Segmentation can become a significant part of your email marketing success. But it is critical to begin small. To get started all you need is effective CRM software, a high-speed internet connection, and lists culled from your customers, event attendees, and subscription forms (buying email lists is now illegal in the US and EU and leads to a substantial fine).  If you're just getting started with email marketing segmentation, don't try to nail it all at once. Instead, choose one segment to create and test.
From there, you can concentrate on new data that will help to inform future segments. Do you have any information about their purchase or user history? Do you have any information on the size of their company? Could you link this to their email address?
If this is the case, you may be able to identify new segmentation opportunities and create your next segment.
Need marketing help to support business growth?
We welcome the opportunity to show you how we can make your marketing SIZZLE with our data-driven, results-oriented marketing strategies.  Sign up for our FREE newsletter, get our FREE guide to creating an awesome website, or contact us for more information on hiring us.
Hausman and Associates, the publisher of MKT Maven, is a full-service marketing agency operating at the intersection of marketing and digital media. Check out our full range of services.