For many businesses, obtaining that top spot on Google is the ultimate goal. When your business is the first to appear on a search with a relevant keyword, users are more likely to click on your site and this dramatically increases traffic to your website, providing opportunities to boost conversions. However, securing that top spot is a very tricky proposition, especially if you are operating in an industry with some big names as competitors. Today, I share some ideas to improve your Google rankings.
Why focus on SEO
SEO or search engine optimization generates higher Google rank and more traffic to your website.
In fact, 75% of users never scroll past the first page of SERPs — search engine results pages and most clicks occur to one of the first 3 organic links in search (see below).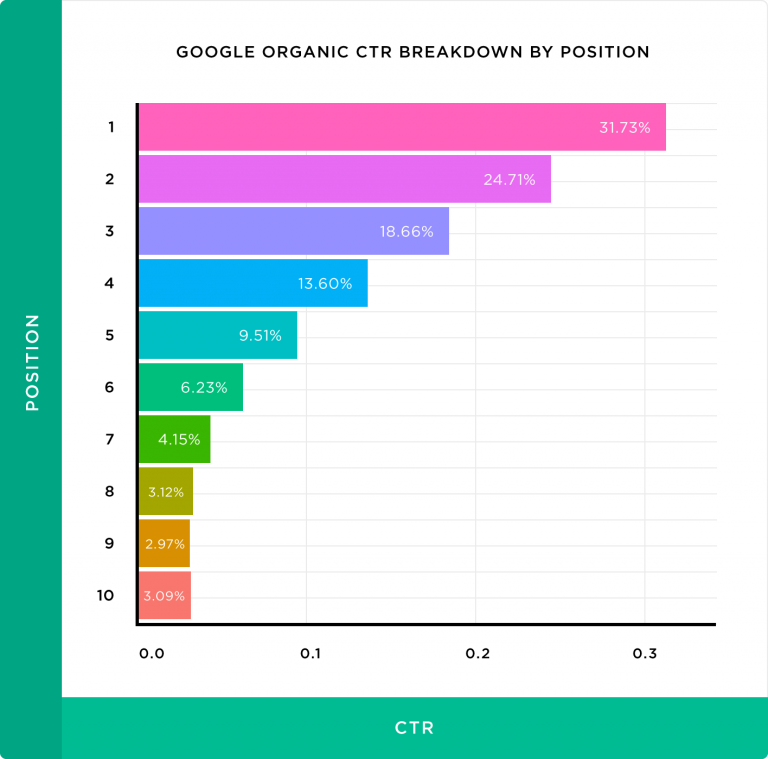 Hence, a Google ranking in the top 3 slots generates a ton more traffic to your website; providing increased opportunities to convert and increase sales.
Among the key factors to improve your Google ranking are:
sitemaps preferrable submitted through Google Webmaster Tools
valuable content created on a consistent basis
fast loading
mobile-ready
links and backlinks to and from high authority sites
wordcount above 1600
social media engagement
meta descriptions
keywords used effectively
mentions
Understand how rankings work
Let's start with a little background on how the Google rankings work.
The Google algorithm used to determine your link's position in search results is a complex, constantly changing group of factors with unknown weighting across factors that determines your ultimate position.
However, each time Google releases a major update (something they do once or twice a year, on average), experts spend a lot of time experimenting to see how the algorithm impacts content to guess at the changes made by Google. Detecting changes, especially when those changes primarily involve weighting factors, isn't straightforward since Google doesn't publish its algorithm. So, if you want to know a bit more about how Google rankings work, all you need to do is have a quick look online at leading SEO experts such as MOZ and Wordstream. Do your research and you'll understand the whole concept a bit more.
Every time you post new content, the Google spider ( a small bit of code) crawls your site using your sitemap to find and categorize the new content (called indexing the content). When a user enters a search, Google scrolls through the database created by all that crawling to find content related to the user's intent when conducting the search. Google then organizes results using its algorithm to deliver the "best" content first.
To help, we summarized what are thought to be the most impactful factors to improve your Google rankings.
Speed
How long does your website take to load? If it is longer than just a few seconds, Google downgrades your rank and potential visitors click off before the page loads completely, thus costing you useful traffic. Recent data suggests consumers are willing to wait 6-10 seconds for a page to load; 3 seconds on a mobile device, before they click away from the site. Meanwhile, average load times for a page exceed this speed by 2-3 times.
If you aren't familiar with the concept of a bounce rate (the percentage of your traffic that leaves after viewing only a single page) you know that this negatively impacts your Google rank. Google figures bounce rate into its calculations, as well as speed so, if your site isn't cutting it, Google won't rank your business as high as you'd like in the results. Ensure your site is as fast as possible and remove anything that might be slowing it down by using caching and storing images in the cloud to speed its load times (see below).
Ask an expert
Did you know there are some marketing companies out there that focus their efforts on improving the Google ranking of their client's websites? Not all marketing companies focus on social media and print media, others are trained to audit your website to collect SEO information and recommend (or implement) important changes to improve your Google rankings.
Experts know a lot about what makes Google tick and may represent a big opportunity for your business to succeed or improve. If you feel overwhelmed by all of the work that you need to do to improve your Google rankings, start by asking for a consultation from an agency specializing in SEO, such as LNP Media Group who organize detailed, long-term SEO campaigns with proven performance. Often such companies offer a free, initial consultation to help you determine whether you might benefit from their services.
Backlinks
We mentioned backlinks earlier but these are worth going into a bit more detail. Backlinks are links on another website that link a user back to your content. The value of backlinks comes not just from encouraging readers or website visitors to check out your website or brand, they are extremely effective when it comes to Google rankings because backlinks, especially those from .edu or .gov domains reflect credibility and value just as references in a research paper. The better the domain hosting the backlink, the most "link juice" — value — Google assigns to that backlink. By the same token, backlinks from poor performing websites may hurt your Google rank.
Google typically ranks websites that have a lot of backlinks higher. In fact, the average number of backlinks for links ranking in the top 10 slots is 918. This is because they are seen as more trustworthy. The truth is that backlinks are often expensive since you must either pay for content (or links) on high authority websites or spend significant resources creating content other sites want to include as links in their own content. So you'll need a substantial budget for this.
Check your images
To improve your Google rankings might require a significant effort to add high-quality images to your website (original images, infographics, and videos) but it doesn't stop there. You must optimize your images, otherwise, they won't improve your ranking on Google.
Google needs help to identify images properly and categorize them based on keywords. You must also compress images. You must also ensure they have alt texts so Google understands the content of the image. This is something that is typically ignored by those hoping to improve rankings but is a priority.
Update content
When was the last time that you changed the content on your pages? If you want to improve your Google ranking; you must ensure the content on each page is relevant and accurate. If there are spelling mistakes and words in the wrong places, Google might consider the page spam and this can be problematic. You need content that is relevant to any keywords you want to rank for and content must add value. This way, you rank higher and encourage customers to visit the site.
Get Started
Now that you have learned a bit more about how to improve your Google rankings, you can make some important changes. If you don't have a lot of spare time to work on this, it might be worth getting some professionals on board. Improving your ranking won't happen overnight, you need to be willing to commit and work on it over time. Hopefully, it won't be long before you are nearer to the top of the page.
Need marketing help to plan your business strategy?
We welcome the opportunity to show you how we can make your marketing SIZZLE with our data-driven, results-oriented marketing strategies. Sign up for our FREE newsletter, get the 1st chapter of our book on digital marketing analytics – FREE, or contact us for more information on hiring us.
Hausman and Associates, the publisher of MKT Maven, is a full-service marketing agency operating at the intersection of marketing and digital media. Check out our full range of services.