When running their companies, business owners frequently undervalue the role that communication plays in their operations. Your employees are less safe and productive if they do not have the tools necessary to communicate with their managers and fellow employees. Collaboration and cooperation decline to the point where it's nearly impossible to meet your goals. This gets harder as your business grows, so now is the time to look for ways to improve communication while you can build it into the culture of the business. Let's look at some key ways to improve communication in construction and the tactics you and your workers can use to implement them.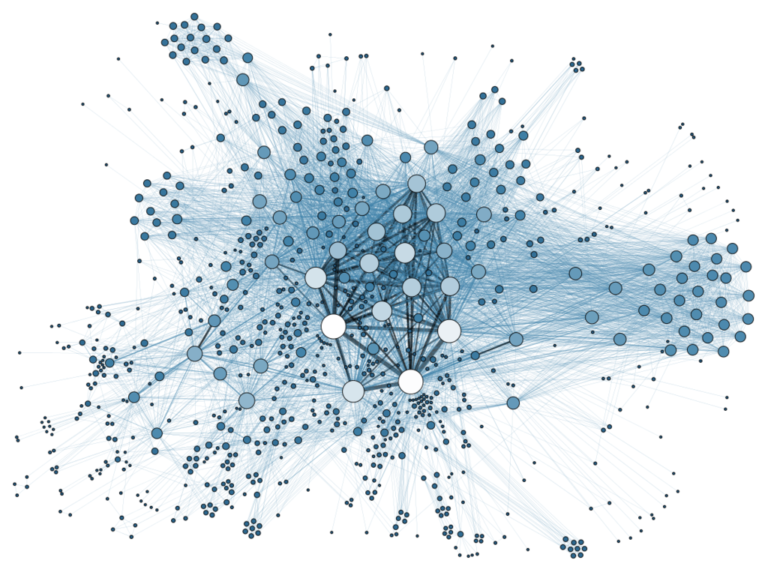 Above, you can see a diagram of effective communication, where members (nodes) are interconnected with others through lines of communication involving redundancy and exchanges beyond those proscribed by channels of authority.
Why communication is important?
Businesses are often difficult to manage effectively and some involve a hazardous industry rife with potential dangers for the people who work in it. In any but the smallest businesses, the cost of a communication breakdown can quickly add up. In the most devastating cases, it could even lead to the death of your workers. An example of this comes from the chemical industry where a firm reclaiming silver from old x-rays failed to communicate the dangers of the process with their non-English speaking workforce. Ultimately, the firm drowned in a sea of lawsuits filed by injured workers and the firm's managers were sentenced to prison terms.
On the other hand, there are methods of communication you can adopt to make your projects run more smoothly, safely, and productively, thereby saving not only lives but also money.
The construction industry is a great example where the costs are disproportionately high. According to the findings of the 2020 Census of Fatal Occupational Injuries, the construction industry was responsible for nearly half (47.4%) of all work-related fatalities that occurred in the United States in the year 2020. But other industries also experience injuries, many of which could be avoided, and all businesses suffer operational inefficiencies that would disappear if they improve communication.
Miscommunication is possible at any stage of the building process and for many different reasons, including delays in the transfer of information, workflows that are not clearly defined, and a lack of easy access to instructions by the workers. Failure to publish clear process guides also contributes to injury when workers don't clearly understand standard operating procedures adopted by the business. When you still rely on antiquated methods of communication, such as pen and paper, this whole situation is made much worse.
On any given work site, effective communication is a valuable skill that reduces the costs and injuries that result from poor communication. You must train workers in effective communication, reward those who communicate effectively, and weed out those who don't uphold your communication standards.
How to improve communication
Communication happens in many ways within organizations. Sometimes communication is very formal and disseminated through email, meetings, training, and one-on-one interactions, such as performance reviews. In other cases, it's more information such as employees chatting over the water cooler. These informal communication events are critical for performance even when they lack any relevance to the job at hand as they build social capital, spur new ideas, provide a platform for future collaboration, and help with problem-solving.
Informal communication is so critical that companies like Google design their buildings around providing for them. At Google, each area has comfortable seating groups away from the work areas to encourage workers to take a break with each other. Each of these break areas contains refreshments, as well, including beverages, salads, and snacks that further encourage workers to relax and exchange ideas. They even have a workout area and opportunities such as family movie nights that encourage workers to develop deep relationships outside of their normal lines of responsibility.
Establish clear lines of communication
Your employees know exactly where to go for all of the information they need to perform their jobs in a manner that is both secure and effective. You must establish a transparent line of communication and chain of command within your company and for each of your projects. Make it abundantly clear who is responsible for what and to whom they are accountable in order to establish accountability and eradicate confusion. But also allow for cross-functional communication as well as communication outside formal lines of responsibility. These boundary-spanners between groups are an important conduit of information and communication outside of the formal bureaucracy allows workers a free exchange of ideas and support.
You will also be able to effectively communicate top-level information to your workers on the ground if you have a communication chain that is clear and unobstructed. SharePoint hub site consultants can help you to find a cloud system to enable you to maintain these communication channels.
Encourage open communication
It is essential that you support open communication among your workforce if you want your projects to run efficiently and without incident. Unless you're the CIA or have some secret development projects, putting handcuffs on communication will quickly prove the undoing of your projects and profits.
Your employees should be able to update one another in order to stay on track with the project. They should also be able to instantly communicate any problems they come across to their managers, and these issues should be dealt with as soon as they occur. Project management software helps facilitate open communication without the time-consuming task of frequent meetings.
You should make it a priority to cultivate an atmosphere in which your staff members can approach their managers with questions whenever they feel as though they do not fully comprehend something without penalty or criticism. Your employees' morale and trust in you will improve, and they are more likely to feel satisfied, valued, and heard if you demonstrate that you are open to dialogue.
Avoid jargon unless it eases communication
Miscommunication is more likely to occur between workers when there is a lack of clear understanding between them. The use of jargon can lead to significant misunderstandings even when both parties are communicating in the same language. You can avoid this by using significantly less jargon to improve communication. The exception to this low jargon rule is when jargon acts as a common language that is a shortcut to improve communication. For instance, when doctors communicate with each other, using the language learned in medical school to refer to a bone or medical condition contains a shared language rich in information. As a college professor, we spend significant amounts of time with undergraduates simply teaching them this shared language so they can communicate more effectively. Thus, learning about a target market means they can convey a lot of information to other marketers by using this term rather than describing the process of choosing a target market and why it's important for success.
This is of the utmost significance in situations in which a large number of distinct types of professionals are working on the same projects, each of whom uses their own particular jargon. If you believe that certain jargon terms are absolutely necessary and should not be left out, you should explain the term to those who don't come from your particular functional area and who are unsure about what it means. That all of your employees continue to operate from the same playbook is ensured by doing this.
Keep a schedule of regular meetings
Your employees stay on the same page regarding planned and ongoing projects, expectations, and courses of action if you hold regular team meetings and share communication using non-meeting formats such as shared documents, project management tools, and other forms of electronic communication. These meetings also help everyone clearly understand their roles and responsibilities on the project, as well as judge the progress of the entire project.
Make notes of the most important topics that are covered during your meetings and distribute them to the members of your team so that they can use them as a reference.
Make consistent training available to staff members
Do you want your workers to know their fields and to produce results that are on time and of high quality?
Make it possible for your employees to periodically update their knowledge of the rules and procedures that are already in place, as well as to keep themselves apprised of any new information, such as safety regulations governing the work site and training on the equipment. Training can take various forms including procedure manuals, formal classroom or hands-on training, or mentoring by more experienced workers.
You can increase employee satisfaction and make your workers feel valued and more invested in their jobs by providing opportunities for professional growth through the training programs that you provide.
Make critical data and information easily accessible
In order for your employees to complete their work in a manner that is both safe and productive, it is imperative that they remain current on the following topics:
The most recent set of guidelines for the company.
Regulations governing health and safety
Instructions for the processes they use
Equipment manuals
Your employees should not have to lug around folders full of paperwork or ask each other where they can find a particular manual because they should always have easy access to all of the essential information and documents that they need for the job. This allows them to do their jobs more efficiently.
Ensure that everyone at your facility, from the workers to the managers, is consistently aware of how and where to find everything by converting all work-critical documents to digital format and storing them in a single location. Because of this, your employees experience much less frustration, and your company saves both time and money.
Conclusion
You can improve communication in your facility no matter how many workers you employ by creating a culture where sharing information is rewarded, workers have electronic access to information that impacts them, managers openly share information with those who work for them, you establish boundary-spanners to ease relationships between functional areas, and you recognize the value of exchanging informal information even when it doesn't immediately support operations.
Need marketing help to support business growth?
We welcome the opportunity to show you how we can make your marketing SIZZLE with our data-driven, results-oriented marketing strategies.  Sign up for our FREE newsletter, get our FREE guide to creating an awesome website, or contact us for more information on hiring us.
Hausman and Associates, the publisher of MKT Maven, is a full-service marketing agency operating at the intersection of marketing and digital media. Check out our full range of services.