Your online reputation is one of the most important things you need for business success, whether online or off. And it all comes down to how people feel about what they experience with your company. Online reviews are one of the best ways to get feedback on your services and products and to let prospective buyers know they can trust your business to perform as promised. How to get more reviews isn't a simple topic but we'll work on that in today's post.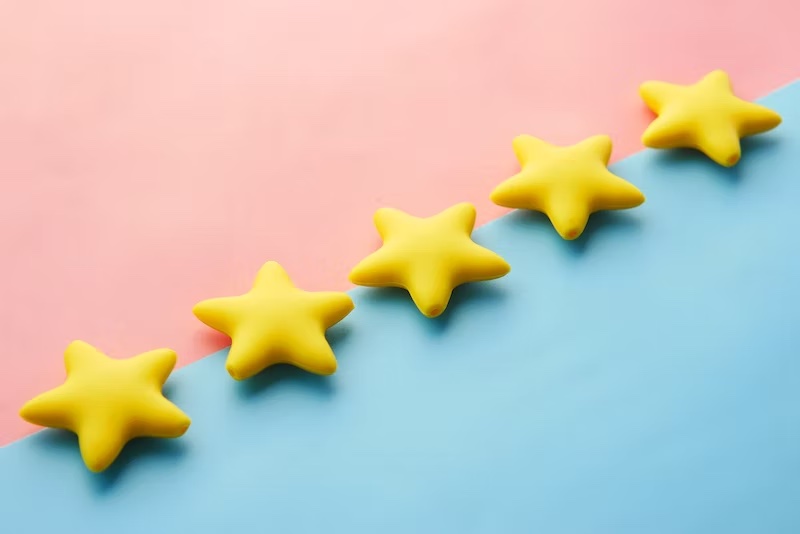 Importance of reviews to build your online presence
Online reviews are an essential part of building your online presence. If you want more customers and more business, online reviews are one of the best ways to entice prospective buyers to choose your brand over the competition.
They help you get more sales: The average consumer will look at over 10 different sites before making a purchase decision, so if someone sees that you have lots of positive reviews on Google, for example, they feel more confident in buying from you.
They help build trust with potential clients: If people see that other people used your services or bought products from your company before and had positive experiences doing so, then this builds trust in your brand and confidence in buying from you. It has been widely researched that 95% of customers left online reviews in 2022, which others often go through before making purchases.
It's free advertising: A lot of people don't realize this, but by having an active presence on review sites like Yelp, each time someone searches for something related to the type of service/product category yours your business represents, those listings show up right underneath all other results. A great example is when using Google Shopping where your price and rating on a scale from one to five shows up along with the price and product image in your listing. Google Local also shows your star rating prominently in search results.
How to get more reviews
There are many ways to build an online presence and gain more reviews. For instance, many marketers use Instagram Reels for creating brand awareness. According to a HubSpot report, 58% of marketers leveraged Instagram Reels in 2022 to promote their businesses. However, creating Reels is a complex thing and, like other forms of company promotion, consumers view them with a grain of salt. Reviews and UGC (user-generated content) are more believable to consumers as they view them as objective.
Here are some easy ways to get more reviews:
Focus on SEO
SEO is all about getting your website to rank higher in search engines. It's one of the best ways to grow your online presence and get more customers and traffic. While SEO doesn't directly generate more reviews, SEO is crucial for generating organic traffic, which starts more users on the path to making a purchase. The more sales you generate, all things being equal, the more reviews you get. The thing with organic traffic is that the people visiting your website for services or products genuinely need them, otherwise they wouldn't use search queries related to your products. Hence, when they can solve some problems with your offerings, they are in a better position to make a purchase and write reviews about your company and its services or products.
Content is an integral part of SEO. The content you share should offer significant value to visitors in terms of entertainment, information, and/or support. According to Adobe's State of Content Report, 72% of consumers prefer content that focuses on communication. However, writing content that ranks well is part art and part science. You need both good research and writing skills as well as a good knowledge of SEO tactics to improve your rank.
You'll find a plethora of SEO companies out there that can help you with this process, but it's essential to find one that fits your needs best. Some are better at certain things than others, so do your due diligence before deciding who you want to work with you on this project. One of the best agencies you can go with is Greener SEO. This firm helps create a tailored SEO strategy for your specific needs. For instance, if you own a CBD shop, Greener SEO will research CBD trends in your locality and develop a plan accordingly. This gives you insights into what type of content is likely to engage your audience and ensure better relationships as well as generate more organic traffic by ranking well in search results related to CBD in your area.
Collect email addresses for follow-up
Regulations now forbid companies from sending email to users unless they have a relationship with the user or the user requested contact. That means no more buying or sharing email lists. Instead, you must build one yourself. For instance, when you bill for services online or off, ask for an email address. If you have a physical storefront or office and are collecting payment in person, it's easy to ask for an email address. This step may not be as evident in online transactions where customers pay online, but consumers are used to offering an email address to get updates on their purchases, so most are happy to share their contact information or create an account containing an email address.
There are several ways to encourage visitors to provide an email address:
Use a pop-up form that appears when someone checks out with their order number displayed prominently on the page. Ensure you also have some sort of call-to-action button nearby so that people know what they're supposed to do after providing their information.
Offer a discount on future purchases if they sign up now. You could also offer an incentive such as free shipping on all future orders once they sign up. This gives them something tangible in exchange for giving away their contact info without making them feel like they're being scammed into giving up personal information just because "it seems like everyone else does."
Once you have valid email addresses, you can follow up after purchases are delivered. You can ensure the customer is satisfied as well as ask for reviews from satisfied customers. If you've done a good job, many customers will gladly submit a review, especially when you go beyond the norm by sending thank-you notes with orders.
Get started by asking for customer feedback
When you ask for customer/client feedback, you must make the process as easy and painless as possible. This means asking for feedback promptly, in person, or via written form. You can also ask your customers to complete surveys or questionnaires about their experience with your company. When asking for customer feedback, guiding them on what information is most beneficial for you is helpful. This could include "Did our services meet your expectations?" or "Is there something we can do better?"
Invite customers to provide feedback on your products to allow you to improve performance but offer the option to just rate the performance to encourage maximum responses.
Having such conversations with your customers helps develop trust to encourage repeat purchases. When combined with high ratings from customers these results help your company build trust among other potential customers. According to the ROI of Customer Experience report by Qualtrics XM Institute, 90% of customers trust businesses that they rate very well.
Keep the review process as straightforward as possible
As a business owner, you're probably already aware that reviews are important. They help potential customers make informed decisions and can even boost your search engine rankings. But what may not be clear is how to get more reviews for your company.
Make it easy to leave a review by providing an email address or phone number on your website where people can contact you with questions or concerns, as well as an online review form if they want to leave feedback via their computer, tablet, or smartphone. You should also consider including these details in print materials such as brochures and flyers. Always email customers after they receive their goods and services with a link to submit a review.
You might also consider offering a small token to customers who leave a review as a means to encourage more to leave a review.
Respond to all reviews
Make sure that you respond to all reviews. Responding to a negative review can be difficult, but it's essential for building trust and credibility with your customers. If someone takes the time to leave feedback about your business, make sure you thank them for sharing their experience and address any issues they may have had. The faster you address complaints, the more transparent you are in explaining what you're doing to fix the problem, and the more completely you respond with solutions for the complaint the less damaging they are. Attempts to hide a negative review don't work, especially online, as content never totally disappears. In fact, efforts to hide a review can easily backfire.
Responding to positive reviews is also important because it reinforces the notion that you care about every customer's experience, even if it is fantastic. A simple "Thanks so much." or "Glad we could help." can make customers feel valued as individuals rather than just another sales number on an Excel spreadsheet somewhere. You might even offer a small token in recognition of their efforts to support your business. Be careful, however, as consumers become wary if they perceive that you're buying positive reviews. For the same reason, never pad your reviews with comments from friends and staff.
Conclusion
The internet is a prominent place, and there's no better way to stand out than through reviews. By encouraging your customers to leave feedback, you can build a solid online presence that will help attract new customers.
Need marketing help to support business growth?
We welcome the opportunity to show you how we can make your marketing SIZZLE with our data-driven, results-oriented marketing strategies.  Sign up for our FREE newsletter, get our FREE guide to creating an awesome website, or contact us for more information on hiring us.
Hausman and Associates, the publisher of MKT Maven, is a full-service marketing agency operating at the intersection of marketing and digital media. Check out our full range of services.