Imagine you implement steps to increase ROI by 13 times? With blogging, that's possible, according to research. But you probably already know the value of blogging, or, if you don't, read on to discover this tactic to build massive new organic traffic to your site. And, creating a blog isn't that hard, I even offer a free whitepaper that walks you through the process with step-by-step images to guide you through the process. Once you craft content, however, you must effectively promote new content to drive visits.
Without traffic to your blog, however, blogging is a zero-profit endeavor. No sales, links, or audience. Your blog can sell for you — if it has traffic. It's an even worse predicament when you don't know how to fix the traffic problem or don't have the cash to spend on exquisite ad placement to promote your content.
It doesn't have to be that hard. A basic understanding of how building an audience works goes a long way toward solving your traffic problem.
In this piece, we demonstrate three strategies you can easily implement to bring in reliable and qualified readers.
[lwptoc]
Content strategy
I've said this many times before, but the biggest driver of organic traffic, the backbone of SEO, is content. Specifically, you must create valuable content on a consistent basis. You need a mixture of blog posts, social media updates, and evergreen content, such as white papers, to keep your content funnel full.
Our post today discusses how to promote new content that includes all these content types. Let's start with white papers.



1. Amazon's kindle select traffic strategy
Sure, you can distribute a white paper from your website, even using it to build an email subscription list. But, especially for longer pieces of content, consider self-publishing an ebook (or even a print-on-demand paperback) through Amazon.
Self-published books account for 31% of ebook sales on Amazon's Kindle Store, which wasn't true years back. In the past, you'd use an agent to obtain a contract with a major publishing house just to publish your book (alternatively, folks paid vanity press publishers thousands of dollars to get their books in print). Thanks to Amazon's Kindle Direct Publishing (KDP), that's all changed.
If you have enough quality content on your blog, combine it into an ebook, publish it on the Kindle Store, and drive traffic back to your blog. Several paid software tools even automate this process to make creating an ebook fast and painless. Aaron Ross, a well-known entrepreneur, used this strategy—he leveraged his blog posts and made them into a book.
Here's how it works.
Once you publish your ebook on Kindle (you can do this in a few hours), enroll it in the KDP select program.
KDP select enables the exclusive distribution of your ebook on Amazon Kindle for 90 days and makes it eligible for the Kindle Owners Lending Library, where millions of targeted readers can borrow your book.
You might also run a 5-day free ebook promotion as part of the KDP Select terms.
Now, for traffic, here are two ways you use your kindle book to pull readers to your blog:
Link to your website inside your ebook (Direct-Link Strategy)
Free giveaway
Direct linking strategy
All you need to do is place your blog link with a call to action within your ebook. When Kindle readers borrow your ebook to read or partake in your 5-day free promotion, they find your link and, especially if they find your content valuable, may click through to your website to find out more about you and your business.
A link strategy drives an average of 200 visitors to your blog in 30 days. But with a compelling call to action and a highly ranked ebook, you might receive 300 to 3700 visitors monthly.
Free giveaway
Here's a twist to the direct linking tactic to promote new content. Instead of linking directly to your website, you can turn your ebook into a traffic magnet by adding a free giveaway.
Take Steve Scott, for example. He built a long list of subscribers by giving a freebie to his book buyers on Kindle.  He did it by putting a "free-gift" message with a link pointing to the author's landing page.
Another way to go about driving organic website traffic involves using Kindle's "Download a Sample" feature to give readers a free look inside. Include a call to action on the last page of the preview, which is page 4 of the ebook, and link it back to your blog. Average results are ten visitors to your blog per 30 previews.
So you can expect approximately 1100+ visitors to your site in 7 days if your book is free on Kindle. Somewhere around 6600 monthly visits. Plus, free downloads boost your ebook rank, which would attract yet more traffic.
An important feature of this strategy is the type of traffic driven to your website. Visitors to your website who don't represent your target market don't do anything to improve profitability. By using an ebook related to your content, you're driving traffic that's already interested in your topic to the website and some of them will ultimately convert.
2. Unconventional guest blogging
Getting featured on relevant and high traffic blogs can shoot up your traffic by up to 203%. That's the testimony of Moosa Hemani, who wrote a guest post for Moz.com. In 4 months, Moosa drove 3016 targeted readers to his site from just one guest post.

He pulled thousands of people to his blog by following these three simple steps:
Blogs Research
Pick high-ranking websites
Pitching
Blog Research
Not all guest posts are created equal. Guest posts accepted to sites with better reach, with higher engagement on social platforms, or with a higher ranking on search engines help drive more traffic to your own website. Thus, it's important to research a website before offering a guest post. Otherwise, you waste the time devoted to creating unique content for that site.
Ensure you research the blog's social influence before you pitch to them. Determine the site's social influence to predict the amount of traffic you might expect from its social media platforms if they feature your writeup.
Top blogs won't display their social statistics publicly, so you must check out their Twitter, Facebook, and Instagram pages. The more people following them, the higher engagement they get from followers, the more traffic you're likely to receive.
For instance, a blog with 5000+ followers on Facebook should send you a minimum of 500 visitors a week.



Pick High Ranking Sites
Google naturally prefers high-authority blogs – websites who's backlinks and other factors signal people respect and value their content. To drive more traffic, direct your guest post efforts to such blogs. You promote new content by gaining backlinks to high-authority blogs, which improves your search performance.
Another way to conduct your research is to certify that the blog ranks well on a similar topic to the post you plan to pitch. To do this, input your long-tail keyword in the search bar like you're searching for content ideas on the topic.
The top search results already rank for a topic similar to the topic of your proposed guest post, so they've made income and earned traffic for that idea before.
Also, by focusing on these SEO-friendly blogs, your topic interests their typical visitor, which means more organic traffic to your blog.
Your guest post idea produced traffic for the blog before, so when you pitch a relevant idea, there's a high possibility you'll get the go-ahead to create your guest post.
Pitch
Here's where it gets unconventional.
After identifying your suitable targets, craft a pitch according to their guidelines, which you can usually find on their "write-for-us" page if they have one.
But there's a spin.
Kevin Duncan might attract an invitation for guest blogging on Smart Blogger by contributing valuable comments on their existing posts and sharing them in his social media feed.
You may not get an invitation as Kevin did, but by engaging with the blog's community, you build an understanding of their audience, which solidifies your pitch and shows you're a valuable follower of their blog. This set a solid foundation for your outreach and make your pitch more attractive, after all, we all want engagement.
However, even if you don't comment on others' blogs, your guest post inquiries convert better if you personalize them. After all, guest blogging is the strategy that Leo Widrich from Buffer used to grow his traffic.
Thanks to solid content strategies, many SaaS companies easily recreate his approach and leverage direct backlinks to content that drive blog traffic.



3. Use social media to promote new content
Quora contributions, Facebook groups, LinkedIn groups, and Twitter feeds are where everyone is online. So why not take advantage of these platforms and promote your content? If your posts provide valuable content, they won't appear to spam your network
For example, when someone asks a question on Quora, and you have a blog that provides an in-depth answer, provide a relevant preview answer, then direct users to your blog for more details.
A large percentage of people who need an answer to that question and come to Quora, read your answer, and visit your link for details.
For Facebook groups, it's the same principle, contribute valuable information to the group, and direct them to your blog for a comprehensive take on the topic.
Take Nick Jordan, for example, who boosts traffic to his website by having YouTube influencers review his website with a video.
His results were phenomenal:
He got a massive surge in organic rankings because he drove referral traffic from YouTube to his website, with the site on the 1st half of the page of its main keyword: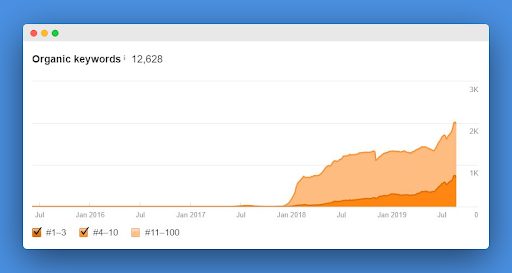 All you need to do is get creative and use social media to your advantage.
Conclusion
These simple strategies to promote new content can boost your blog's traffic in no time and for zero costs. If you think beyond the established routes and practices, you don't have to invest a lot—or any money into promoting your content.
So why the wait? Go out there and put what you've just learned into practice!
About the author:
Joe Peters is a Baltimore-based freelance writer and an ultimate techie. When he is not working his magic as a marketing consultant, this incurable tech junkie devours the news on the latest gadgets and binge-watches his favorite TV shows. Follow him on @bmorepeters
Need marketing help to plan your business strategy?
We welcome the opportunity to show you how we can make your marketing SIZZLE with our data-driven, results-oriented marketing strategies. Sign up for our FREE newsletter, get the 1st chapter of our book on digital marketing analytics – FREE, or contact us for more information on hiring us.
Hausman and Associates, the publisher of MKT Maven, is a full-service marketing agency operating at the intersection of marketing and digital media. Check out our full range of services.