Backlinks are essential factors in any content marketing strategy as they improve your SEO, driving increased traffic to your website. When you create backlinks from other sites within and outside its domain, those backlinks act as endorsements of the content, demonstrating the content is relevant and informative, at least in the estimation of Google and most other search engines. If you want a visual depiction of how creating backlinks works, see the image above.
Create backlinks that support your goals
However, things changed a lot over the years. It is not just about getting as many links as possible anymore; it's also about getting those links from reputable domains and getting visitors to click through those links.
Domain authority is a score between 0 and 100 to reflect a number of factors impacting the authority of a website. Although Google doesn't use domain authority as a ranking factor, backlinks from high domain authority sites give a page a bigger boost than links from lower domain authority sites. And, in a perverse sense, links from "bad" websites actually hurt your ranking. For instance, backlinks from unrelated sites hurt your rank, while links from spammy sites (and, yes, there's a tool to check your spam score) and sites featuring negative behaviors such as gambling and porn, seriously hurt your rank.
Let's start our discussion today by building your understanding of SEO and how backlinks fit into determinations of rank.
The role of backlinks in SEO
Recognize that Google's goal isn't to destroy your traffic or to play favorites by sending traffic to its friends (although, certainly Google does hog traffic for its own websites, including YouTube). Rather, Google wants to keep users happy by showing search results that answer their queries, with the best content first, followed by other content ranked in terms of how valuable Google sees that content.
The words used to form a user's query show intent, which Google then uses to find content that matches that intent, usually pages on pages of results. Google then uses an algorithm to rank results to determine who shows up in what order.
Rank has a huge impact on the traffic you see on your website. In fact, over 50% of an average website's traffic comes from organic search, in other words, the traffic you glean by way of search results. And, at least notionally, that traffic is free, in contrast to paid search, which the same source shows only accounts for 15% of your traffic.
And, showing up early in search results has big consequences, as you can see in the graphic below.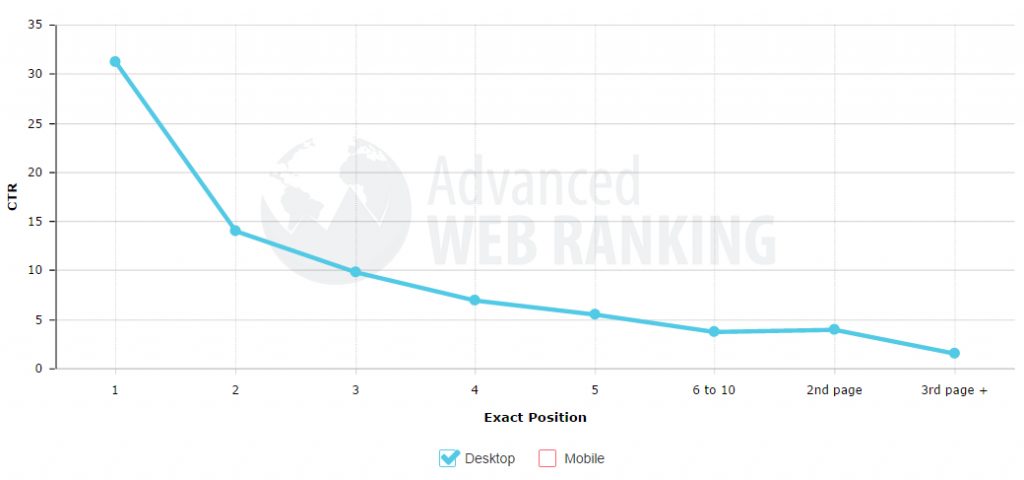 Backlinks have a large part to play in the search algorithm underpinning your rank. While Google (Google is the big player, accounting for 80-90+% of all searches) and other search engines don't publish their algorithms, SEO experts make a good guess at factors playing a big part in your rank and advice from Google shows what factors are important for SEO. Every SEO expert out there agrees backlinks figure prominently in the algorithm.
If you want to build a strong backlink strategy, read on for four simple tips that can help you create backlinks.
How to create backlinks
1.   Backlink from your site
Links from your own site are almost as powerful in determining page rank as those from third-party domains. Make a point of ensuring each of your web and blog pages links to at least one other page on your website. By matching on-page links to the content you create, you build a web of interrelationships between posts and pages of your website.
Not only do backlinks to your content improve your SEO by creating backlinks, but such links also improve metrics included in the search algorithm, such as time on site and bounce rate.
2.   Invest in a backlink checker
Digital tools continue to simplify marketing for small businesses across the globe and, as you might assume, tools for managing your backlinks help with this strategy.
Since link building is (or should be) a core element of your digital marketing strategy, make sure you have a way to track each of your backlinks' performance and the success of your backlink strategy, in general. Sure, you can check backlinks manually, or invest in a backlink checker and view several aspects of your backlink profile from a unified interface.
Using a backlink checker offers many benefits, as even a standard backlink checker enables you to view the number of domains linking to your site, their authority, the pages they link to, the anchor texts used, and the number of clicks coming from each of the domains. Some even offer recommendations for additional domains you might consider and even provide vital competitor stats.
A good backlink checker also identifies backlinks that hurt your rank, allowing you options to disavow these links to limit their damage.
3.   Write as many guest posts as possible
Getting backlinks from other bloggers, especially ones arising organically, is proof your content is useful. Thus, creating good quality content drives valuable backlinks. But, not all content is created equal, and some types of content more reliably create backlinks. For instance, how to and infographics create backlinks as other websites like to link to that type of content. Reports provide both a means to create backlinks as well as a way to gain subscribers (called a lead magnet). I find reviews attract backlinks as brands want to share their positive reviews.
However, you cannot rely solely on organic links. You must create guest posts, too, and insert backlinks to your site in these posts. Guest posts provide a simple and straightforward way to showcase your expertise, as most bloggers let you include a short biography at the end of your post containing a backlink. Publishing content on high authority sites also provides a platform to drive traffic to your site through in-post links, as well as confer authority to you as an expert.
4.   Blogger outreach
Blogger outreach involves finding sites related to your content, then reaching out to blog owners via email or contact forms embedded on their websites to request they include a link to your site within a specific post or that they create a post related to your content.
Of course, blogger outreach involves a significant amount of work — finding related content and determining how to contact blog owners (although the WHOIS directory provides contact information for the owner of any website).
Moreover, you must work to create a relationship with other bloggers. I get a ton of emails related to blogger outreach from obscure folks I don't know and they quickly end up in my trash bin. WHY would I do the work to give you a backlink? What have you done for me? The worst is folks who want me to write a post related to their content, which is asking for hours of my time as I don't just throw up any crap on my website.
Successful bloggers desiring a backlink to my site have options, such as crafting a valuable post requiring no editing. This allows me to quickly add content to my site, which is a win-win for us both. Of course, my standards are very high as I demand all content on my site provide value. Another example of a great way to do blogger outreach is to offer something first (not in exchange for a backlink). For instance, I monitor my social media carefully. If I find you sharing my content on your own social platforms, I'm much more likely to provide you a valuable backlink.
BTW, NEVER offer a link exchange. Google got wise to this tactic and now such reciprocal links actually hurt your rank.
Conclusion
These are some of the simplest ways to build a traffic-fetching backlink strategy for your website. Ensure the content you put out is high quality and relevant to get the most out of these tips.
Need marketing help to support business growth?
We welcome the opportunity to show you how we can make your marketing SIZZLE with our data-driven, results-oriented marketing strategies.  Sign up for our FREE newsletter, get our FREE guide to creating an awesome website, or contact us for more information on hiring us.
Hausman and Associates, the publisher of MKT Maven, is a full-service marketing agency operating at the intersection of marketing and digital media. Check out our full range of services.