Social media strategy — 3 dreaded words. Mainly because designing a winning social media strategy isn't fun and it isn't easy. And, creating a winning strategy takes a lot of experience, skill, and extensive knowledge of the opportunities, challenges, and measures of success surrounding your particular tactics — in this case social media marketing. It also takes time, so expect to spend at least six months before writing off social media as a viable strategy for growing your business. For more info on the time before social media takes off, check out this table from Tactycs:
Average Time It Takes Social Media To Work
| Channel | Average Time To 'Work' | Average Frequency |
| --- | --- | --- |
| Instagram | 6 months – 18 months | Posting approx 5-10 times per week (mix of pictures, stories, IGTV, etc.) |
| Facebook | 12 months – 24 months | Posting 3-7 times per week |
| Twitter | 4 months – 16 months | Posting multiple times per day |
| YouTube | 6 months – 2 years | Educational or entertaining content is key, frequency less relevant |
| LinkedIn | 8 months – 16 months | Variation based on company size, employee networks, etc. |
Challenges in social media marketing
As you can also see from this table, posting on a consistent basis is key to getting the results you want from your campaigns. Posting every once in awhile won't do the trick. You must post every week. Posting at the same time creates an expectation among your community so they look for your content. For instance, every week SEO expert Moz posts "White Board Fridays" where they literally use a white board to lecture in depth on a specific topic related to SEO (search engine optimization). On YouTube, you might consider posting every Tuesday or some other day to build anticipation among your community.
The decline in organic reach for posts on social media due to changes in the algorithms used by the media companies makes it much harder to achieve your goals without spending money on advertising. The solution to this problem is to optimize your posts using best practices for each social platform to get the most return for the reach you achieve.
Creating a winning social media strategy
Look at this diagram below showing all the aspects of a winning social media strategy!  It's clear from this image that you have lots to think about, integrate, and get right if you want to succeed in your social media marketing efforts. It's NOT all about creating a Facebook page or a Twitter profile then spewing out "news" about you and self-serving messages. In fact, experts recommend only sharing info about YOU 20% of the time (at most) and valuable information for your community 80% of the time.
But, without the RIGHT social media strategy, you DO without a coordinated effort, little notion of where you're going, your priorities, or any assessment of what you're doing.  And, THAT'S a recipe for DISASTER.
Steps in Building a Winning Social Media Strategy
Just like any other type of planning — from planning a vacation to a wedding — you need to know where you are, where you want to go, what resources you have to get you where you want to be, and a timeline of important tasks you need to complete to get you where you want to go.
We'll first walk you through the steps necesary to build your strategy.
Step 1 – Assess your environment
It's nearly impossible to get where you want to go without knowing where you are. I mean think about reading a map.  You need that little YOU ARE HERE arrow to know which direction to turn.
That's what a situation analysis does for you — it's that little arrow showing you where you are. Of special importance is knowing your competition. What are they doing? How are they doing it? What can you do BETTER than they are?
Head to head competition is not a GOOD thing and newer firms commonly lose to more established firms in such a competition. That's the notion behind "Blue Oceans", which I highly recommend.
WHO do you want to market to? Sure, you should sell to whoever shows up, but you need to construct your strategy knowing who is MOST likely to buy your goods and services. Undertand what problems the face, what media they use, their hot buttons, and how to reach them (ie. the trigger words to use in your messaging. Build a persona, similar to the ones below, for each target market, paying careful attention to the behavioral identifiers.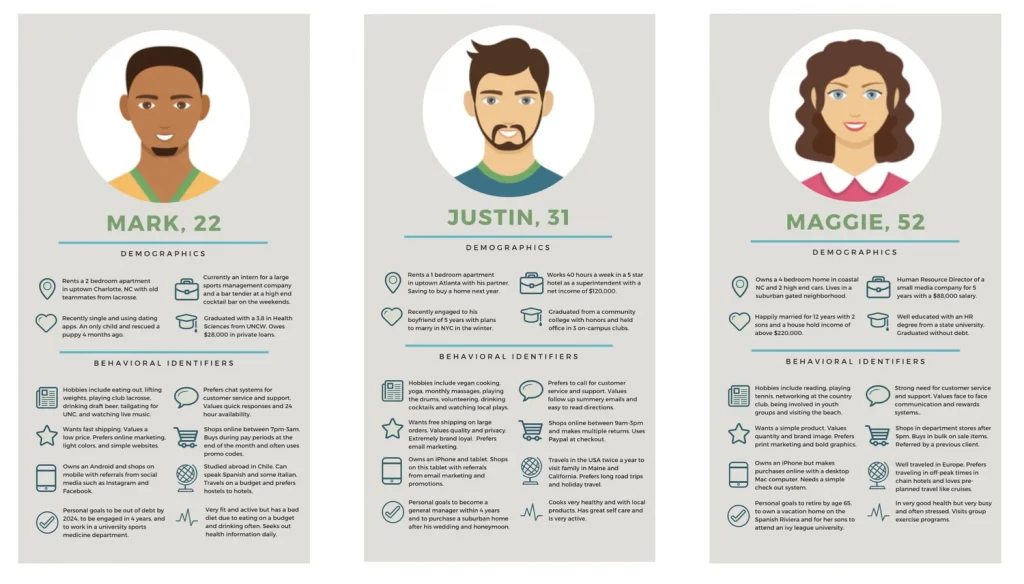 That way you direct all your marketing efforts toward things they value, problems they face, issues they'll find interesting rather than being all over the place and not appealing to anyone — think about the US auto makers and how their brands don't really "fit" with any particular group.
What are your strengths — what do you do well? What resources can you commit to your social media strategy — include tangibles such as owned products and money, plus intangible resources such as time and network connections?
Identify your weaknesses — the things you could improve upon.
Build a SWOT analysis to summarize the results from your situation analysis to guide building a strategy
Step 2: Setting goals and objectives
Be realistic. What do you realistically hope to accomplish with your plan? Having a set of reasonable objectives helps you set priorities, determine what actions to take, and generally direct your tactics. Be sure you have SMART goals for your social media strategy.
Include both terminal goals, such as improved sales or profits and intermediate goals, such as improving reach, increasing time on site, or higher CTR (click-through rate). You must set intermediate goals because sales don't happen in a vacuum but are the end of a process started by creating an awareness and positive brand image for your products. Don't leave out these important early steps.
Step 3: Planning
When we talk about planning your social media, we focus on elements that support success in social media. Here are a few of them to consider.
Since a big element in a successful social media strategy is getting folks to your website where they can learn more about your products and where to buy them, you can't ignore SEO (Search Engine Optimization) which works to also bring traffic to your website. Social media engagement, all those likes, comments, and shares, help improve SEO. More importantly, conversion often takes multiple visits to your website and social media has a part to play in getting some of those visits. Remarketing uses social media to target ads to users with a prior visit to your website.
Keywords are an important element in SEO as they determine when your content shows up in a user's search. Keywords apply to not only your website content but social media posts, as query results include social media content posted on a handful of social media platforms that match users' search intent.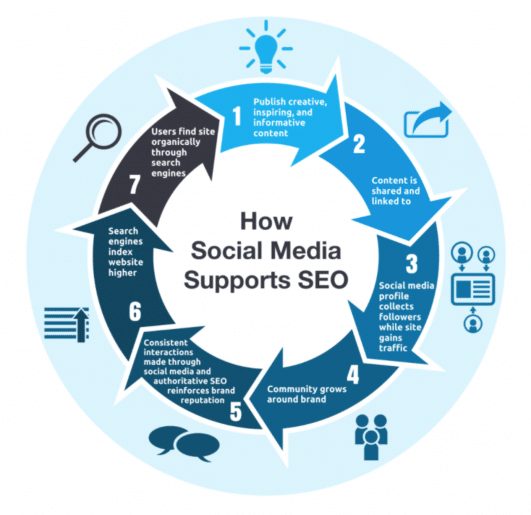 Use the Google Keyword Tool or a paid keyword search tool to determine 6-10 keywords that you can use in your social media strategy. You're looking for long-tail keywords (phrases, not single words) that get lots of searches per month, with relatively low competition. Plan to use these keywords and variations of these keywords extensively in your content and hashtags.
Topics come from your keywords and your knowledge about your target market. Topics should address consumer questions, provide information, be entertaining, or some combination of these.
You'll need to create content on your planned topics, as well as curate content created by others (be sure to credit your sources). A content marketing calendar helps with the massive amount of content necessary to maintain consistency. Below, you can see an image showing how much content you should post each week.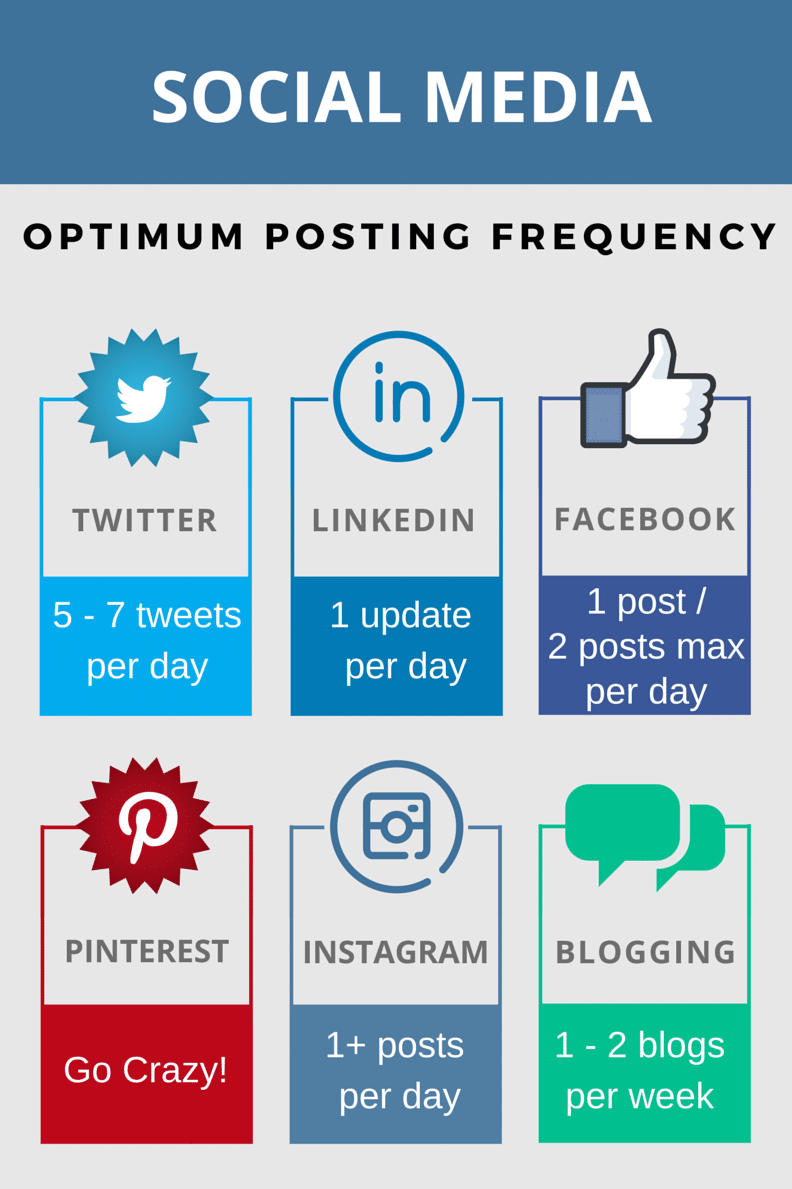 So, what do you write about?
That's a struggle but knowing your target market helps you build content they'll find valuable. I normally think about a specific person from one of my target markets and write like I'm talking to them. Again, a content calendar can really help as you can brainstorm a bunch of ideas in one session. Sometimes it's easier to have a theme for the month, such as posting about holiday shopping during December or even for certain days of the week. For instance, on my website, Living While Gray, I post my retirement journal on Mondays, fun things to do on Wednesdays, and advice for a better retirement on Fridays.
Next, you must match your content to the social platform you're using. All work best with at least 1 image but below are some considerations in writing content:
Facebook posts should contain a headline, a short description, and a link in addition to the image. You might post videos (especially Instagram Reels) and post to business pages. stories, and groups built around a related topic.
Twitter posts with an image perform better but posts don't require an image. Include a short description (240 words max), a link, and 1-3 hashtags
Pinterest is totally image based. Link your image to your content and post on topic-specific boards
 Instagram posts focus on an image with a short description and 1-3 hashtags. Profiles with less than 10K followers can include a link but it's not clickable. Instagram stories don't have this limitation. Instagram also features a video-sharing option called Instagram Reels.
TikTok is comprised of short (30-second) videos while YouTube is built from longer videos. TikTok is experimenting with a text version, as well.
A blog, which lives on your website, requires extensive effort as posts must be a minimum of 600 words and those with the highest SEO average around 2000 words.

Social platforms
There are a bunch of social media platforms out there and no one has enough bandwidth to participate in all of them. Hence, you must choose a few that meet the specific needs of your organization. How many? That's a function of your resources but small businesses should start with around 3, in my experience. If you find you have additional resources, you can add more over time.
Which social platforms will help you effectively reach your target market? That requires you to understand your target market and the individual social platforms in terms of size, demographics, and the types of content that drive engagement. Below are some options among the biggest platforms.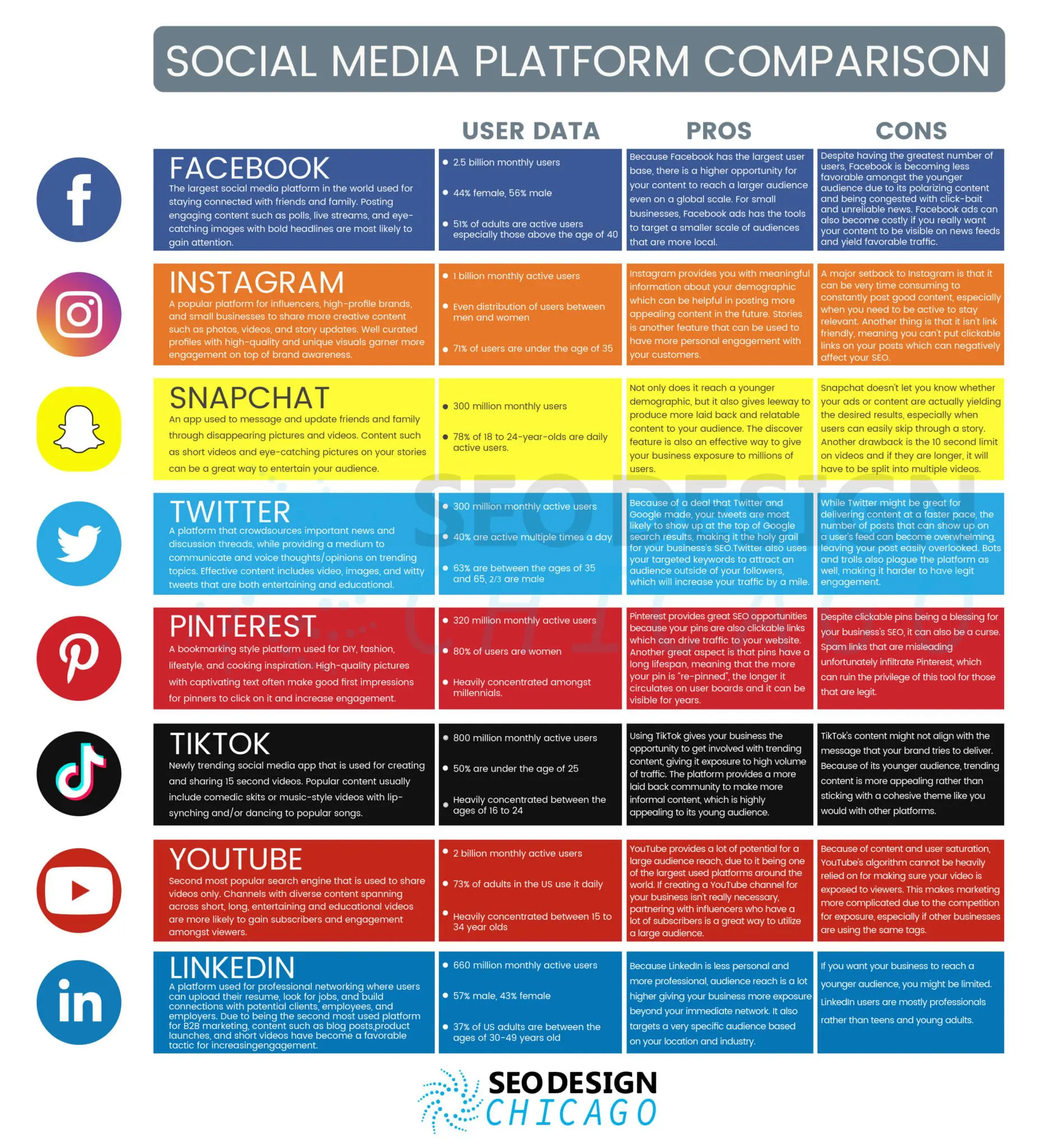 Another thing to consider in choosing which social media platform(s) to use is the return on investment (ROI) from each platform. According to a study by Hubspot in 2023, ROI is highest for Instagram, followed by Facebook, YouTube, TikTok, LinkedIn, and Twitter, in that order.
Engagement and conversion
Engagement is the name of the game in social media. Gaining followers is nice but engaging those followers is what generates success. Engaged followers improve your SEO to help you get found on search, are more likely to convert, spread your message to other users, and allow you to charge a higher fee for advertising on the platform. To encourage engagement, you should:
post valuable content on a consistent basis
respond to comments, follow your followers, and thank folks who share your content in some way.
encourage followers to engage such as using contests or asking poll questions
start a Facebook group
use eye-catching images in every post
use engaging headlines with emotional words
capitalize 2 important words in your headline
interact with followers
use emojis
What are your strategies for creating engagement and converting visitors from your social campaigns? Do you send users to your store, to an online store, convert on a platform such as Facebook Marketplace, or is your social media campaign meant as a lead generation program where you plan to use other tactics, such as email marketing, to drive conversion down the road?
What metrics will help identify what's working from what isn't but only when you assess metrics like the ones below rather than vanity metrics like follower counts. The thing I really like about this image is it focuses on both intermediate and terminal goals and identifies which metrics you should monitor to improve your chances of success in reaching that goal.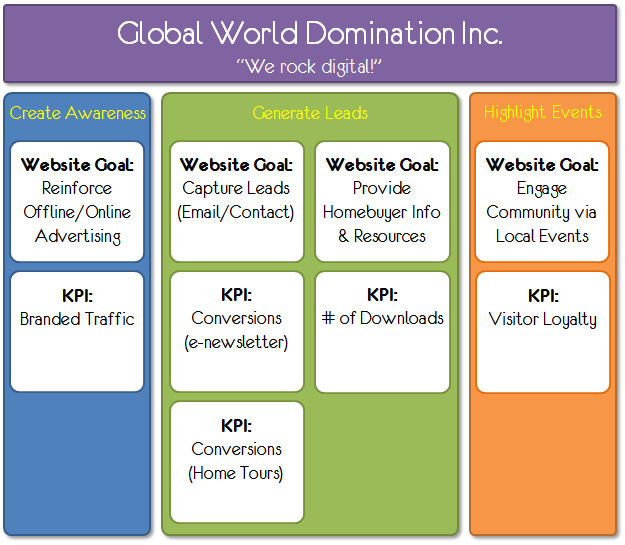 You can improve your metrics by identifying what's working and what's not. For instance, tracking a click from your social media through your website allows you to determine which posts lead to conversion and which drop off earlier in the process, especially when you tag links so you know not only that a click came from a specific platform but from a specific piece of content on that platform.
Step 4: Budgeting
Now that you know what you need to do to create a winning social media strategy, you need to determine how much it will cost. If the cost is prohibitive, you may need to prioritize your plans so you can cut out some of the cost. A common way of budgeting funds for social media is to use the percentage of sales method, although this isn't the best method. Below, you see some average marketing budgets for small businesses in various industries. Commonly, about 56% of the marketing budget is spent on digital marketing.
Step 5: Contingency planning
This is the AW SH*T element of social media strategy. What do you do when things go wrong? The faster and more efficiently you handle a failure, the less impact that failure will have on your viability. Planning for things like negative mentions in social media, website downtime, or product failures is critical. So, setting up a listening post to track what people are saying about you is critical. Setting up a systematic way of transmitting found conversations to individuals who can handle them quickly is also critical.
Conclusion
Creating a winning social media strategy takes time and effort. But, implementing that strategy isn't easy either. Here's an overview of how build a winning social media plan.

Need marketing help to support business growth?
We welcome the opportunity to show you how we can make your marketing SIZZLE with our data-driven, results-oriented marketing strategies.  Sign up for our FREE newsletter, get our FREE guide to creating an awesome website, or contact us for more information on hiring us.
Hausman and Associates, the publisher of MKT Maven, is a full-service marketing agency operating at the intersection of marketing and digital media. Check out our full range of services.