Digital marketing is a crucial part of your success in a world where prospective buyers spend a significant amount of time online. As of July 2022, there were 5.03 billion Internet users. That's 63.1% of the world's population, and your target audience is probably a part of that percentage. If your digital marketing strategies work well, people find your social media posts or your website through search, potentially becoming leads or even customers to support your goals. Optimizing the performance of your digital marketing relies on conducting a periodic digital marketing audit to identify what's working and what's not.
A digital marketing audit is a systematic approach to evaluating your digital performance against KPIs (key performance indicators) to help you optimize your performance based on real metrics rather than guessing about what's working. Read on to learn how to conduct a digital marketing audit, which isn't hard once you know how to do one.
What is a digital marketing audit and why you should do one?
A digital audit is an in-depth, detailed analysis of your digital marketing performance based on both qualitative and quantitative assessments. It consists of many parts, including SEO, content and social media audits, an ROI analysis, etc. You review your goals, your performance against those goals, and how your marketing campaigns contribute to that performance. Based on the results, you can improve your strategies in the future to improve performance.
You should include a periodic digital marketing audit as a normal part of your strategic planning. Elements you might include in your audit are:
Evaluation of the competition
An audit doesn't only involve your own digital marketing campaigns. You should also evaluate your competitors, peek into competitors' strategies, the tactics they use to appeal to their target audiences, etc. This evaluation helps you identify tactics that work for your competition, as well as helps you ensure your campaigns stand out from those used by the competition.
Target audience research
An audit of your marketing strategy can help you find out more about your target audience, since their wants, how they frame the problems they face, and even what they look like evolves over time. If you've been testing on different groups of people, maybe it's time to see how different segments respond and which campaigns work best with which segments of your target market.
Goal achievement issues

Do existing campaigns reach your goals both in terms of terminal goals like sales and intermediate goals like return visits to your website or engagement on social media?
Do some campaigns work better than others?
Which goals are you hitting and which are you missing?
Using this information, you're now in a position to improve campaigns that don't meet your goals

Return on investment check
A digital audit report can also show you the ROI or ROAS (return on advertising spend) for each campaign. According to the results, you can see where you spend more than you get, eliminate ineffective marketing channels, etc. After all, you'll get more engagement, interaction, and eventual sales by allocating funds to the best-performing channels.
Your digital marketing audit checklist
Before we go deeper into the topic, here's your audit checklist. Check each of these off the list every time you conduct an analysis:
Identify and understand your main goals and objectives for the audit, why you're doing it, and what results you want from it.
Determine the metrics you plan to check and analyze their range to form realistic expectations. The metrics you include in the audit should have an impact on achieving your goals. For instance, you should assess the increase in followers rather than the number of followers. The former shows the success of your campaigns while the latter simply reflects a vanity metric.
Collect the marketing data from all channels you currently use and evaluate them against your goals.
See where you have issues, gaps, and opportunities; document everything to create a big picture later.
Identify and analyze the competition, as well as the risks and opportunities it poses.
Based on the data, make improvements to an existing marketing strategy or create a new one that will help you achieve goals more effectively.
This algorithm works for all analyses, be it social media, email marketing, or SEO.
Conducting a digital audit: what you need to know
So, how do you conduct an audit of your digital marketing strategies? The answer depends on the type of analysis you want to perform. Each analysis can help you understand your marketing techniques and how to make them more fruitful.
SEO audit
Search engine optimization is an essential part of promoting your website and drawing organic traffic to it. SEO involves strategies designed to improve your rank in queries related to your business. Use an SEO checker like SE Ranking (an example of the report is shown below) to test the on-page, off-page, and technical health of your pages and keep track of the progress you make toward improving your SEO. Digital marketing audit tools allow you to perform a website audit in addition to researching keywords, competition, and backlink profiles. The data from the service can help you see where you are missing opportunities.
You want to conduct an SEO audit frequently as it takes time and consistency before you see any major shift in your rank.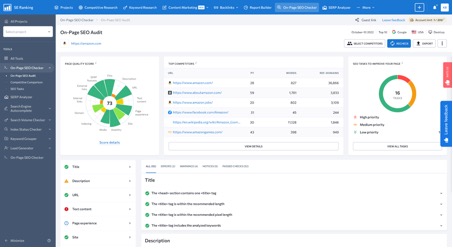 On-page SEO deals with keyword usage, headings, title and meta description, media content, etc. You should ensure the focus query is suitable for the page, correlated with users' search intent, and appropriately placed throughout the content.
Off-page SEO refers to things outside of the website, like link building. High-quality, relevant, non-spammy links not only bring referral traffic to your site but also increase your domain authority, resulting in organic position growth.
Technical SEO includes optimization of loading speed, crawlability, accessibility, and other UX-related aspects. Technical SEO is crucial for making sure your website is crawled faster and ranks higher, plus it provides a better user experience to visitors.
A small mistake in your SEO strategy may cost you traffic and sales, so definitely include it on your digital marketing audit checklist.
Content marketing audit
Content is one of the most important aspects of your marketing strategy as it has a major impact on your rank in search, the reputation you build, and convincing visitors to convert. Content is what draws attention to your business and encourages users to consider purchasing from you. High-quality articles, images, videos, and podcasts help you communicate directly to your target audience and increase sales.
The audit should include the text and media you have on the website, as well as social media and emails you send to subscribers.
Here's what to do:
Analyze your content to find out what kind performs best
Identify any gaps you may have in your content strategy
Focus on the best-performing content and produce more like it to get more traffic
Also, don't forget to research relevant topics your audience is interested in to create new articles and videos.
Social media audit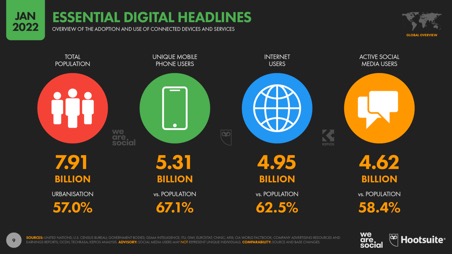 Social media is one of the most effective marketing channels. To make social media work for you, you must create engagement with users, which means posting content they find interesting and valuable on a consistent basis and sharing on platforms where your target market hangs out.
A social media audit can help you identify mistakes in your organic and paid promotions, helping you resolve issues and improve your conversion rates. This will draw more leads and help you close more deals.
Here's what to do to analyze your social presence:
Create a list of all the platforms where you participate and make sure you have a full profile on each
Analyze how well your page performs, site by site. Take into account the growth in followers and their engagement with your content over time. You can choose certain metrics such as likes, comments, replies, retweets, connection requests, page visibility in search, and others for each platform as your KPIs
Identify social media that perform the best and the content your audience engages with the most
Use the data to understand what your followers want to see more of. While performing the audit, you can also create a poll and speak directly to your readers and viewers on the topic.
Based on the conclusions of your analysis, make improvements in managing your pages and create more content that people will engage with.
If you see that a particular page isn't performing well among your target audience, you can delete it and focus your management efforts on the channels that bring the most engagement and conversion.
Email marketing audit
Your digital marketing audit checklist must include an email marketing analysis. Email penetration is huge: by 2025, the number of people owning an email address is expected to reach 4.6 billion. Building a subscriber list that achieves a high CTR (click-through rate) produces the highest ROI of any other digital marketing tactic.
When auditing your email marketing strategy, take open and click-through rates as your main KPIs, as it's important for people to open your emails and click on the suggested links and CTA buttons.
To improve open rates, make your subject lines more compelling, encouraging people to read the letter. And to make the CTR better, make the text and media of your email appealing, concise, pleasant, and high-quality.
ROI (return on investment) audit
Your ROI shows your marketing strategy's effectiveness and the value your business brings. If you spend more than you gain, there's something wrong with your promotion tactics. Since digital marketing involves promotion, rather than using ROI, which includes all costs and investments, digital efforts are commonly evaluated using ROAS which includes the cost of only marketing efforts and the associated return.
Here are some factors you can use in your audit to see if you are marketing your business successfully:
Acquisition costs per lead
The conversion rates for various marketing channels
AOV (average order value)
To perform a successful audit of your return on investment, keep track of all the money allocated for digital marketing, including paid campaigns, digital tools you use for research and analysis, etc.
Also, if you see any marketing channels you use aren't performing well, abandon them. You'll decrease acquisition costs and increase revenue by relocating funds into what works best.
Summary
A digital marketing audit is essential if you want to succeed in promoting your brand online. Let's briefly summarize the algorithm of the analysis:
Gather data
Use tools to analyze it
Identify the best-performing tactics
Locate the errors and gaps
Work on fixing them while focusing on winning techniques
An audit is needed when you launch a new product, website, service, etc., when you want to analyze your ROI, or when you see that the current strategy isn't bringing results.
Within the analysis, you have to work on your search engine optimization, social media, email marketing, content marketing, and ROI. These should show you the best promotion channels for your target audience, where you may be missing opportunities, and whether you're positioning your business properly.
After the analysis, your job is to seize those opportunities and allocate funds and efforts toward the most effective tactics.
Need marketing help to support business growth?
We welcome the opportunity to show you how we can make your marketing SIZZLE with our data-driven, results-oriented marketing strategies.  Sign up for our FREE newsletter, get our FREE guide to creating an awesome website, or contact us for more information on hiring us.
Hausman and Associates, the publisher of MKT Maven, is a full-service marketing agency operating at the intersection of marketing and digital media. Check out our full range of services.