Building an online store is fast, easy, and inexpensive with available tools such as WooCommerce and WordPress to do all the heavy lifting so you never have to write a single line of code. Building a successful online store, on the other hand, takes a lot of time, effort, and patience. Many people see an online store as a get-rich-quick scheme and expect to get great results right away by simply setting up a website and putting up some products. Next thing they know, they find themselves feeling demoralized when it doesn't work out and they find themselves owing money for products languishing in their warehouses. Thankfully, though, you can always speed up this process, and this article will outline 5 key steps you need to build a successful online store.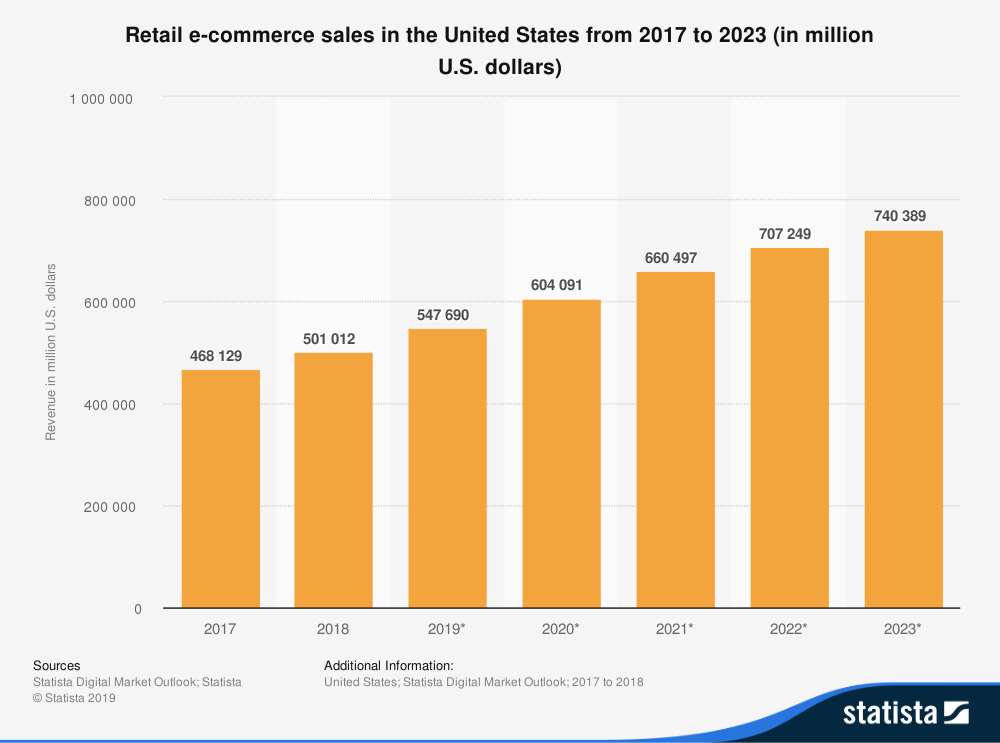 Building a successful online store
As you can see in the image above, the opportunities to make money with e-commerce are huge given the rapid rise in online sales. Unfortunately, this potential also brings in new e-commerce businesses that similarly see the growth in online sales. These new competitors join the ranks of existing e-commerce businesses to make your job of building a successful online store very challenging. Without careful planning and implementation of that e-commerce plan, you end up wasting time and money. So, let's start our journey toward building an e-commerce business that succeeds.
1. Creating a strategic business plan
The first step in any business endeavor is building a strategic business plan. The better your business plan, the better your chances of success. A good business plan contains a number of elements and you can find outlines online to get you pointed in the right direction. However, a good business plan takes a lot more than just filling in the blanks on a template. A good business plan is well-researched and well-thought-out. Some key elements of the business plan that deserve special effort are defining your target market using data rather than assumptions, understanding the competition to identify your USP (unique selling proposition), and your marketing plan. You can find more detail on building a marketing plan here.
2. Building the website
Armed with your strategic business plan and marketing plan, your next step is to build a website for your online store., Using free options like WordPress you can create a great-looking website for around $150 a year without writing a single line of code. Adding a free plugin like WooCommerce gives you the power needed to create product pages and build your checkout process.
To build a website, you must pay for certain elements, including
The domain name – you must choose a unique domain name (this makes up your URL, which is like your online address) that resonates with your target audience and is evocative of your brand.
The platform – usually a hosting company with servers that contain all the files needed to display your website to visitors and accomplish your goals. You need a host that delivers content fast and offers very high uptime guarantees as visitors won't wait long for your site to load and they won't come back if your site goes offline for even a few seconds due to server failure.
A great user experience (UX design)- meaning your website is both attractive and functional. Pay close attention to this aspect of your website by creating wireframes then testing them with your target market before spending the time and money needed to actually develop a functional online store. You can get a jumpstart on your UX design by buying a template that matches your vision for your website.
Most entrepreneurs use an agency with expertise in website development but these come at a steep cost. An option is to build your own website, which isn't as daunting a task as you might think. I developed an ebook that steps you through the process of developing a website with tons of images that make it easy for a beginner to build a great website. I would avoid using website builders like Wix as they aren't as user-friendly as they promise, the resulting websites look very cookie-cutter, and the SEO on them is terrible. More about SEO next.
3. Dealing with SEO
SEO or search engine optimization is one of the most challenging aspects of managing a successful online store yet it's something you must master if you want to build a successful online store. Without an SEO-optimized website, no one will find you without a huge marketing campaign and, even then, it's hard to succeed without SEO.
Many companies throw huge amounts of energy, time, and money into SEO, only to find themselves failing to meet the goals they set. Unless you have an SEO expert working for you, it's unlikely you can attract enough attention to your online store for success given the millions of online stores already out there. And, SEO is pretty technical, so going it on your own isn't likely to bring enough traffic to your store.
Most companies choose to work with dedicated SEO providers when they want to find success online. This is a great way to ensure you build awareness of your online store, while also ensuring that you don't waste time and money. SEO services cost money, but you really don't have an option if you want to build a successful online store.
4. Marketing
Even with SEO, you need other types of marketing, through other channels to achieve success. There are plenty of other marketing channels out there and most offer a great option for small businesses because they don't incur the huge costs associated with traditional advertising.
An online store needs more than just SEO to be successful, but it's not as simple as buying ads anymore. You don't have to focus on all of the marketing options you have, but you can find some examples below to give you an idea of where you can focus your marketing efforts to achieve great results with your online store.
Social media, although not free, is a reasonably priced option for small businesses. You benefit from targeted advertising to effectively attract your target market to your website and investing in social media influencers provides an incentive for users to choose your brand.
Email marketing is also a great tool for small businesses and offers the highest ROI of all online marketing efforts, as you can see below.
Pay-per-click marketing through search engines offers a shortcut to drive traffic from new users. As the name implies, you pay for this type of advertising only when a user clicks on your link to visit your website. By choosing the right keywords, you attract traffic looking for products to buy.
5. Building a positive brand image
Finally, as the last major area to think about, it's time to consider how to keep your customers happy and build a positive brand image that attracts new customers. This is possibly the most crucial element of running an online store but so many companies fail to achieve the right results.
Satisfied customers come back and recommend you to others. They post positive reviews about you. They mention you on their social media. But, dissatisfied customers do the opposite and, unfortunately, their negative impressions travel faster and farther than positive ones.
Achieving customer satisfaction and a positive brand image doesn't happen overnight but destroying your brand can happen in an instant, despite many positive impressions. Thus, this is a long-term strategy that you must implement consistently over time. Below are some of the factors consumers consider in making a brand choice.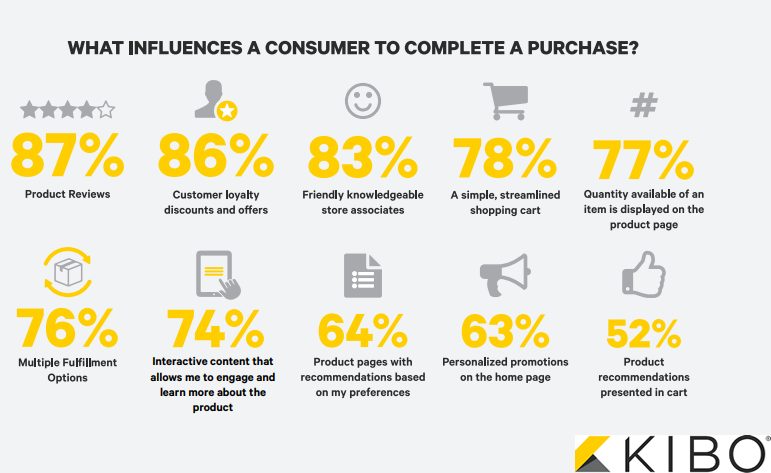 Some elements of creating a positive brand image are:
flawless customer service as judged by your market
fast, free product delivery that's on time every time
social responsibility is important, especially for younger consumers who are willing to pay more for a brand that shares their values
Gaining reviews is an effective tool for transforming customer satisfaction into future sales. Prompting reviews using services like Google Reviews and asking for reviews in your follow-up[ email helps generate these important marketing tools.
Conclusion
Working to build a successful online store is a long process. This doesn't mean that you can't work to speed it up, and there are loads of ways to make sure that your website performs at its best without having to spend a small fortune in the process. Of course, though, it still takes work.
Need marketing help to support business growth?
We welcome the opportunity to show you how we can make your marketing SIZZLE with our data-driven, results-oriented marketing strategies.  Sign up for our FREE newsletter, get our FREE guide to creating an awesome website, or contact us for more information on hiring us.
Hausman and Associates, the publisher of MKT Maven, is a full-service marketing agency operating at the intersection of marketing and digital media. Check out our full range of services.