Competition thrives in today's digital world reflecting heightened global competition so businesses work hard to win more and produce profits. Customer experience plays a key role in the success of any business to help them survive the competition. Supporting this, 57% of consumers consider customer experience when choosing a brand (CCW Digital Research). Creating loyal customers who consistently support your brand through purchases and recommendations requires you to provide a superior customer experience, through digital transformations like:
Providing a superior online customer experience,
Creating a great digital experience,
Offering complete digital self-service,
Maintaining a digital loyalty program, etc.
Today's customers expect superior digital experiences so to improve customer loyalty, businesses must transform them digitally. For instance, businesses must provide innovative live customer services online through a chatbot or customer service on popular social media platforms, such as Twitter and Facebook. AI (Artificial Intelligence) technology provides opportunities to provide customer service at scale for a reasonable price to the organization while reducing reliance on human assets. AI improves customer service by monitoring customers to improve training and support systems. AI also helps to provide the right solutions, for instance connecting callers to the appropriate agent to handle their queries.
Today's post focuses on how these digital transformations support customer loyalty. So, let's dive in by discussing the benefits of improved customer loyalty
Why is it important to focus on increasing loyal customers?
Brand loyalty refers to more than a simple preference for the goods and services produced by a brand. According to Kotler and Keller, brand loyalty reflects the intention to purchase a particular brand rather than its competitors, as well as provide other positive benefits to the brand such as brand advocacy (ie. word of mouth). But more than a preference, brand loyalty includes customer resistance to the pressures imposed by competitors to get customers to switch brands. An old ad from Taryton cigarettes, back when cigarette advertising was legal, embodies the notion of brand loyalty.
Customer loyalty results when a business can meet or exceed customer expectations on a consistent basis, thus going beyond simple satisfaction. Loyalty is all about the preference and willingness of a customer to trust a product and brand. Customers that trust a brand buy it in the future. No matter if some other brand offers the same product at a reduced price.
Loyal customers are likely to recommend the brand name to their family and friends. About 82% of consumers accept that they would recommend a brand they trust. The lifetime value for a new referral customer is 16% higher than non-referrals as they have a positive impression of the brand in their mind.
Gaining customer loyalty
Role of a customer loyalty program and its benefits
Although termed customer loyalty programs, the punch cards we all think about when the term is mentioned bear little resemblance to true loyalty. As more and more businesses offered these loyalty cards, the desired benefit of repeat businesses was muted. Instead, consumers reverted to their old ways of deciding between brands and used the loyalty card for that brand.
That doesn't mean a loyalty card is useless. The true value of these cards resides in the data available when a consumer uses the card, which helps with planning and marketing.
True customer loyalty programs mean you offer the right product, at the right price, in the right place, at the right time. As we'll see below, digital transformations help a business achieve these goals.
Some key benefits of a true customer loyalty program for businesses include:
Increased chances of repeat business:
Loyal customers are more likely to keep coming back to buy from a business they trust. This results in an enhanced retention rate when customers show loyalty.
Another benefit of customer loyalty is increased revenue. Loyal customers spend more money on products and services than first-time customers. We call this customer lifetime value and you can calculate this value as shown below.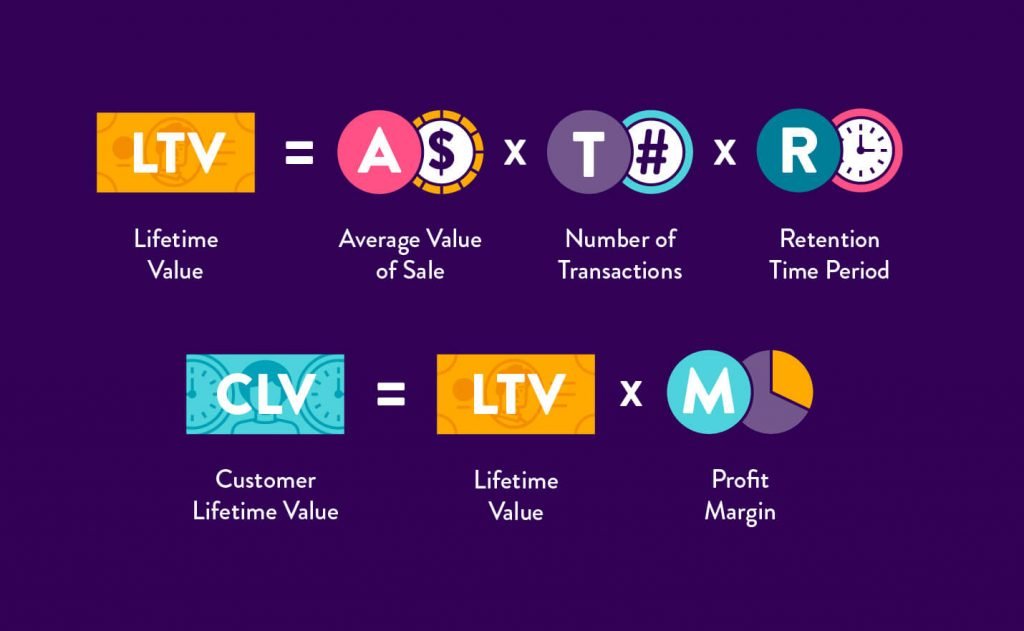 Improved brand awareness:
Loyal customers are likely to spread brand awareness via word-of-mouth marketing. Word-of-mouth is a more powerful brand marketing tool than any other marketing tactic. Satisfied customers are likely to recommend the brand's products and services to their friends and family members. This will ultimately add new customers to the business, thereby increasing profits.
What are digital transformations?
Digital transformation is the process of using digital technologies to create new — or modify existing — business processes, culture, and customer experiences to meet changing business and market requirements. This reimagining of business in the digital age is digital transformation.

It transcends traditional roles like sales, marketing, and customer service. Instead, digital transformation begins and ends with how you think about, and engage with, customers.
Notice that, inherent in this definition of digital transformations is the focus on customers and the integration of various customer-facing tasks under the single umbrella provided by online activities. For instance, McDonald's transformed their stores into powerful, internet-powered providers by launching an app allowing customers to order food online then pick it up in the parking lot without the long lines experienced at the drive-up window. They also installed kiosks in the stores to help visitors avoid lines by ordering and paying for items without an individual involved. Not only do these digital transformations aid the customers, but it also makes the store more efficient to benefit both those using the digital technology and those who prefer the personal touch. A win-win for everyone.
Why do businesses focus on digital transformation?
More than 70% of customers switch to another brand when a brand fails to meet their expectations. Digitalization made it easier to make a switch by bringing a plethora of options to your fingertips on your smartphone. This is why businesses focus on digital transformations like those above. For instance, more than 85% of customer interactions occur through chatbots in the coming years to answer queries in real-time. Other businesses implement self-service technologies to aid customers.



So many products and services are available that customer choice is difficult. Consumers become confused as to what brand best solves their problem and need help making their decision. After choosing an option, customers look for new ways to simplify the buying journey to ease acquisition, such as self-service and notifications to plan for delivery. This is a key reason why businesses focus on digital transformations. Digital transformation of services helps to provide a personalized experience to their customers.
How to build in digital transformations to support customer loyalty
The first step comes from mapping the customer journey to ensure the brand incorporates the right solutions to deliver what today's customers want. Knowledge of customer requirements helps frame a strategy to assist customers with easy access to self-service channels and agents. More than 85% of customers find it more comfortable to use digital support like customer service via social media channels, emails, online chat, IVR, etc. These digital channel engagement programs emerged as an important part of customers' lives. Businesses can use quality assurance, speech analytics, and support self-service options to drive accurate customer behavior patterns.
Conclusion:
By and large, digital transformation can help businesses thrive in a world where customer loyalty is tenuous. Transformations help increase customer engagement, sales conversion, repeat sales, and customer loyalty. Therefore, businesses must build their customer loyalty program considering digital transformations for better outcomes.
Need marketing help to support business growth?
We welcome the opportunity to show you how we can make your marketing SIZZLE with our data-driven, results-oriented marketing strategies.  Sign up for our FREE newsletter, get our FREE guide to creating an awesome website, or contact us for more information on hiring us.
Hausman and Associates, the publisher of MKT Maven, is a full-service marketing agency operating at the intersection of marketing and digital media. Check out our full range of services.



About the Author:
Rakshit Hirapara is a professional content marketer at LoyaltyXpert, a loyalty program software that brings all onboard digitally. He possesses skills in loyalty programs, customer retention, loyalty marketing, digital marketing, and many more. He has been featured in major publications like Hyken, User.com, Martech.zone, and others. Connect with him on Twitter here and connect on LinkedIn