The COVID-19 pandemic forced many businesses to reevaluate the way they operate. For some, this has meant a shift to remote work in an effort to keep everyone safe. If you're considering switching to remote work for your company, this post offers some reasons why this shift to remote work might be the right move and how to accomplish the shift with a minimum of disruption. So, buckle up and read on.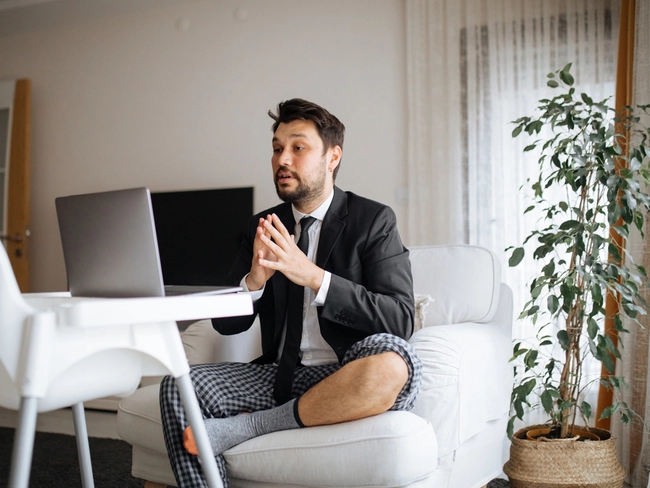 Why a shift to remote work makes sense
Obviously, your decision to shift to remote work depends on the nature of your business, customer preferences, your staff situation, and other factors that are beyond the scope of this post. So, let's focus on the main advantages and disadvantages to the organization and its employees in this arrangement.
Productivity
Recently, Elon Musk sent a missive requiring ALL workers to return to the office after years of working remotely; first at Tesla then at his newly acquired business Twitter. As phrased in his ultimatum, workers "pretend to work somewhere else", equating working from home with not working at all. Yet, the data don't back him up. According to the recent data analyzed by Bloomberg, remote workers are 13% more productive than these same workers were when working in an office. That's why up to 74% of companies expect to offer full or part-time remote work permanently. This is made even more significant given the general downward trend in productivity since early 2000, according to the Bureau of Labor Statistics. There's a bit of debate as to why this productivity gain from working remotely occurred and whether it's permanent, but that's a discussion for another day. 
Lower expenses
With a smaller workforce in your expensive office space, you can downsize to a small footprint. With costs of up to $60/ square foot in some markets, that's a substantial saving for your company. If you bring back workers part-time, you can eliminate assigned office space in favor of shared space with 2 workers occupying the same space on alternate days. This can reduce your space needs by half. For example, IBM reduced the cost of office space by $50 when it allowed workers to work from home at least part-time.
You face lower cleaning costs since, with fewer workers in your now smaller office space, you need fewer hours to clean the space and can negotiate a lower cost for your housekeeping services contractor. You can also save money on perks you offer office staff such as free coffee and food. Musk complains his free lunch costs the company $400 but that's because he provides free lunch despite few workers in the building. If he right-sized the food by estimating the number of staff likely to work in the office on a given day, he could reduce that cost significantly. You also reduce other office-related expenses such as utilities, upkeep, furniture, repair, and other costs that add up pretty quickly to real money.
Employee retention
Hiring the right employees, keeping them in the long run, and motivating them to their highest performance is a major factor in running a successful business. And, offering flexible schedules that include options to work from home at least sometimes, makes a huge difference in achieving these goals.
For employees, working from home means:
less non-productive time spend commuting to work and back
lower stress without the commute and an enhanced ability to balance work and home life
easier childcare arrangements, especially for older children after school
increased focus without the distractions they encounter at work
the ability to live where they want instead of near the office
The downside of remote work
No business decision is perfect and your shift to remote work isn't without its drawbacks. For instance, innovation often occurs serendipitously and through collaboration. That's why Google sets up conversational pods as part of its workplace. These spaces, located near refreshments, encourage casual conversations that might evolve into serious ideas.
For employees, remote work might mean isolation from colleagues. Without a shared office, workers may find themselves distant from colleagues, making lunch meetings and happy hours less feasible. Those who live alone without a strong support system may feel this most acutely. There are also more limited support services available when employees run into problems and less influence from mentors to guide a young employee.
There are ways to overcome these drawbacks. For instance, some companies schedule Zoom lunches as casual get-togethers. The company sends over lunch through a delivery app or sends a credit to the employee to order their own lunch, then everyone sits around for a nice chat. The same works for happy hours. Meetings on Zoom can work effectively if you have the right processes in place and firms can replace meetings with tech for things like project management that also increase productivity.
Manage the shift to remote work
Hopefully, the comments above helped you make the decision of whether making the shift to remote work makes sense for your business. Assuming you decided in favor of remote work, at least part-time, let's talk about how to manage the shift.
Define your goals
The first step in moving to remote working is to define your goals. What do you hope to achieve by making this change? Is it to save on office costs? To allow your employees to have more flexible work hours? To attract and retain top talent?
Once you identified your goals, you can start putting together a plan of action. Involve others in creating this plan as others, including workers, consultants, and other business owners, can help you avoid common pitfalls you might otherwise encounter. Take some time before making the shift, if possible, to develop a well-thought-out plan.
Create a policy
Once you decided that remote work is suitable for your company, it's time to create a policy. This policy should outline how you expect employees to work remotely such as:
Their availability for meetings and how they should communicate with colleagues and customers
Will you require workers to stay in the area for occasional meetings or are they free to move wherever they're comfortable living? If they move, who is responsible for travel expenses if they must come to the office?
Do employees who work remotely get compensation for using their home office? For office furniture? For utilities, such as internet and phone fees? Office supplies?
Who is responsible for maintaining their equipment and is there support for software issues? For instance, the university purchased software allowing a tech to access our devices remotely to install new software or handle computer software issues.
Will you monitor employee activities during certain work hours? Although, there's evidence that this oversight can easily backfire to reduce productivity.
The more details you iron out in creating this policy, the better your transition to remote work will be.
Communication is critical for a successful transition. Two-way communication.
Train your employees
If you want your employees to succeed in their new roles, you must provide them with the training they need. This might include webinars, e-learning courses, or even on-site training (if possible). The goal is to ensure everyone is on the same page and knows what is expected of them.
They also need support. Not just technical support but mentorship and community support. Arrange for social events and informal get-togethers, even if you must do them online. Assign mentors for new employees and private counselors for emotional support.
Invest in technology
For remote working to succeed, you need to invest in the right technology. This includes video conferencing software, project management tools, and cloud-based storage solutions so everyone can readily coordinate and work together seamlessly. Investing in the right technology ensures that your employees have everything they need to do their jobs effectively from anywhere in the world.
Investing in new tech isn't a one-time deal. You must constantly seek new tech solutions to keep everything running without a hitch. Obviously, you also need to train employees on these new tools.
Monitor progress and adjust as needed
As with any business change, you must monitor progress and adjust as needed. This might mean changing your policy if it's not working as well as you'd hoped or investing in additional technology if employees need help with specific tasks. By constantly evaluating and making changes as necessary, you can ensure that remote working is successful for your employees and your business.
Invest in IT services for support
Investing in IT services is a critical component of successfully switching to remote working. After all, your employees need support access if they're working from home. Investing in IT services can ensure that your employees have the help they need when they need it.
If you're looking for help with the transition to remote working, CMIT Solutions can help. They offer various IT services to help your business make the most of its new remote working policy.
Conclusion
Making the switch to remote working can be a big undertaking for any business—but it doesn't have to be daunting! By following these simple steps, you can successfully make the transition and reap all the benefits that come with it (like increased productivity and lower overhead costs). So what are you waiting for? Start planning your move today!
Need marketing help to support business growth?
We welcome the opportunity to show you how we can make your marketing SIZZLE with our data-driven, results-oriented marketing strategies.  Sign up for our FREE newsletter, get our FREE guide to creating an awesome website, or contact us for more information on hiring us.
Hausman and Associates, the publisher of MKT Maven, is a full-service marketing agency operating at the intersection of marketing and digital media. Check out our full range of services.