It is no surprise at this point to discover that every business, more or less, requires a website as more and more consumers expect a real business to have an online presence. Whatever kind of business you run, you need a website for all the marketing you need, but a great website supports your brand in many other ways. In this post, we take a look at how your website helps support your brand in many ways, as well as what you need to build a great website.
How a great website supports your brand
While social media is a strong tool for marketing your brand, nothing replaces the impact of a great website on your brand and its success. Below, we discuss some of the many ways a great website supports your brand. Following that discussion, we'll discuss the elements you need as part of your website design.
If you need some data in support of the role a great website plays in building your brand based on the behavior of consumers [source]:
59% spend 10 or more hours a week online.
34% spend more than 20 hours a week online.
91% use the internet to look for local goods or services.
93% use the internet for research before making a purchase.
64% prefer to buy from businesses they can contact online.
58% said they were more likely to visit a business on Facebook if they could get there by using a custom domain name.
92% prefer to get information from a business' website instead of their social media page.
Despite the data supporting the role of a website in business success, small businesses lag with 28% of small businesses that don't have a website at all. A large number of small businesses also have a website that doesn't do them justice when it comes to representing the brand well. We'll discuss this later.
Providing credibility
This is one of the major results you can expect to get out of a decent website: your business gains some credibility just from having a website that looks professional and presents the information consumers expect from a website.
In a recent study, researchers found that 84% of consumers believe a website is necessary to show you're a credible business. Credibility is important because it helps your potential customers and clients to trust you, and that means you are going to net many more sales as a result, as you can see in the graphic above. So if you want to make sure that your business appears credible, having a good website is a great way to build trust among consumers and customers.
Keeping digital presence up
Along with that, there is also much to be said these days for the matter of digital presence. This simply refers to how visible your business is online, and it's the kind of thing that you can always hope to improve in some way or another. Keeping your digital presence up is so important in a world that is so dominated by the internet, so bear that in mind.
Having a website that is visible in search as well as promoted on social platforms keeps your digital presence up. More about this important topic later.
Building an authoritative voice
One of the benefits of a website that people don't always realize, but which is nonetheless really important, is that you can use it to build an authoritative brand voice for your business. You do this primarily by providing useful information that consumers need and presenting your business as a leader in the industry.
The best approach here is to use some Integrated IT Solutions to find out the right keyphrases (formerly keywords) you need to use to target your market. Using the right keyphrases helps you appear in search when users look for the type of business you represent.
Integrating your keyphrases as an important part of your content marketing strategies, which we'll discuss later, brings the right folks to your website at the right time.
Providing necessary information
Finally, it's really important that you can connect with anyone who might want to do so, and a website is a great way of being able to make sure you provide a variety of forms to connect with customers and prospective buyers. That means offering multiple options, including phone, mail, email, and chat (if feasible), along with customer support hours on social platforms.
When you are able to provide a point of contact to someone in this way, it means that they can get in touch with you a lot easier. That makes customer service considerably simpler, and it means that you will be much more likely to keep them happy.
Creating a website that supports your brand
Choose the right platform
Many small businesses opt for a low-cost website through a website builder such as Wix or Squarespace. This is a huge mistake made by the uninitiated who fail to understand how search engines work, a big topic we'll discuss next. By using one of these website builders, your resulting website only shows up in search if consumers know the business name and include it in their search query. Moreover, the resulting website is often more complicated to develop than promised by the platform. The website also doesn't look very professional.
The alternative to these website builders is building a self-hosted website. This isn't as hard as it seems at first blush. With tools like WordPress (a content management system), templates, and plugins, you can easily and quickly create a website without writing a single line of code. I even wrote an ebook that walks you through the process step-by-step. You can get this ebook (free) from this link.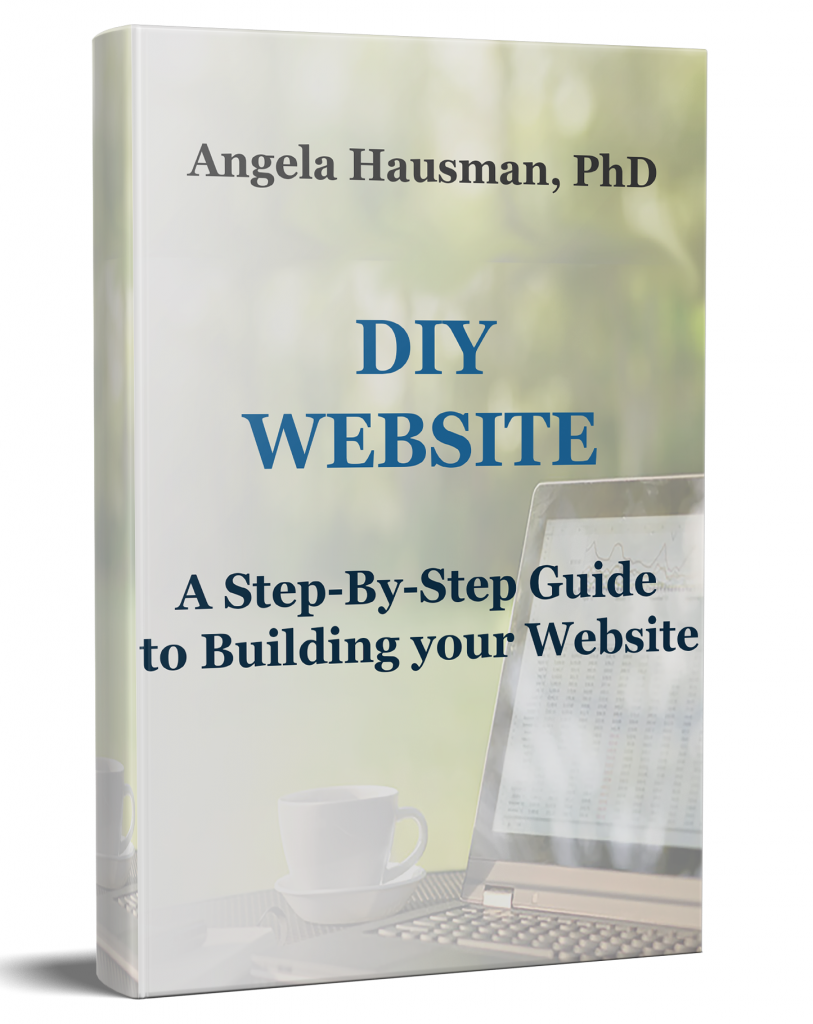 Search rank
Most consumers (87%) begin a product search online. If your website doesn't show up in search, you're missing much of the traffic you need to make your business successful. Your rank in search results is also important, not just showing up. SEO (search engine optimization) is the name given to the tasks necessary to show up high in the search results. Much of this is a function of user intent as reflected in their search query but showing up high in the search results greatly impacts your performance, as you can see below.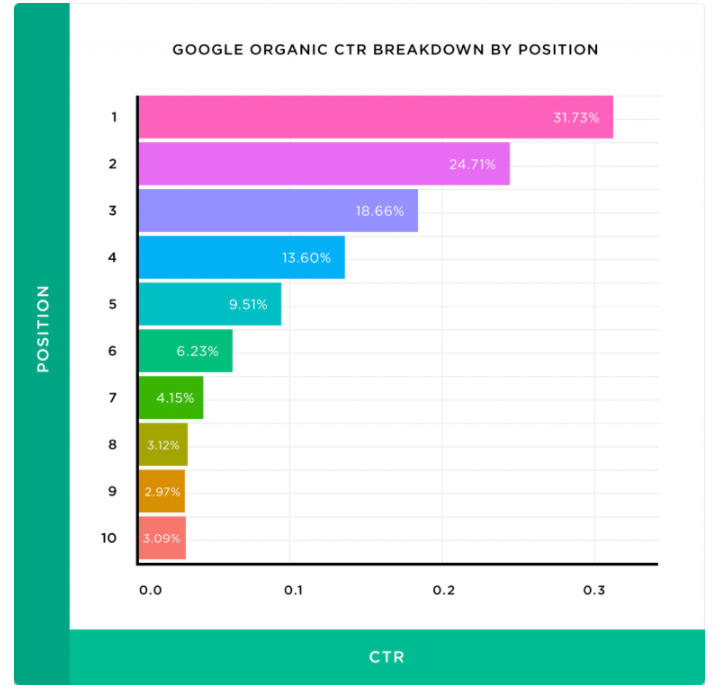 SEO is a function of the Google algorithm that's used to determine rank. The process involves a spider (a small piece of Javascript) that constantly seeks new content. It then pulls information regarding keyphrases related to the content and establishes rank based on the algorithm. When a user enters a search query, the search engine goes through the database to identify content that ranks well to provide results on the first page and then fills subsequent results pages with content of lower rank.
The Google algorithm changes constantly, with major changes that happen periodically. It's not published but major SEO firms conduct experiments to determine which factors have the greatest impact on your rank. Below you'll see these factors.
Mobile-friendliness
Website factors, most importantly, those related to producing high-quality content on a consistent basis
Load speed
Factors demonstrating the quality of your content such as engagement on social media, backlinks from high authority websites, etc.
Security, such as using an HTTPS protocol
A great user experience including things like easy navigation
and many more
Content marketing
Content marketing is more than a tool for SEO. It's necessary to build your brand reputation because you own your website in contrast to a social platform where you're at the mercy of the owner. Platforms such as Facebook made it nearly impossible to gain organic reach in their efforts to optimize their own revenue. Of course, content marketing also involves your social media efforts.
Creating a content marketing calendar ensures you produce content on your desired schedule. Below, you can see the recommended frequency for posting on the most popular social platforms. Meanwhile, websites that post at least 1 blog post (long-form content of at least 900 words) see their conversion rates climb versus those that publish less frequently (79% versus 43%).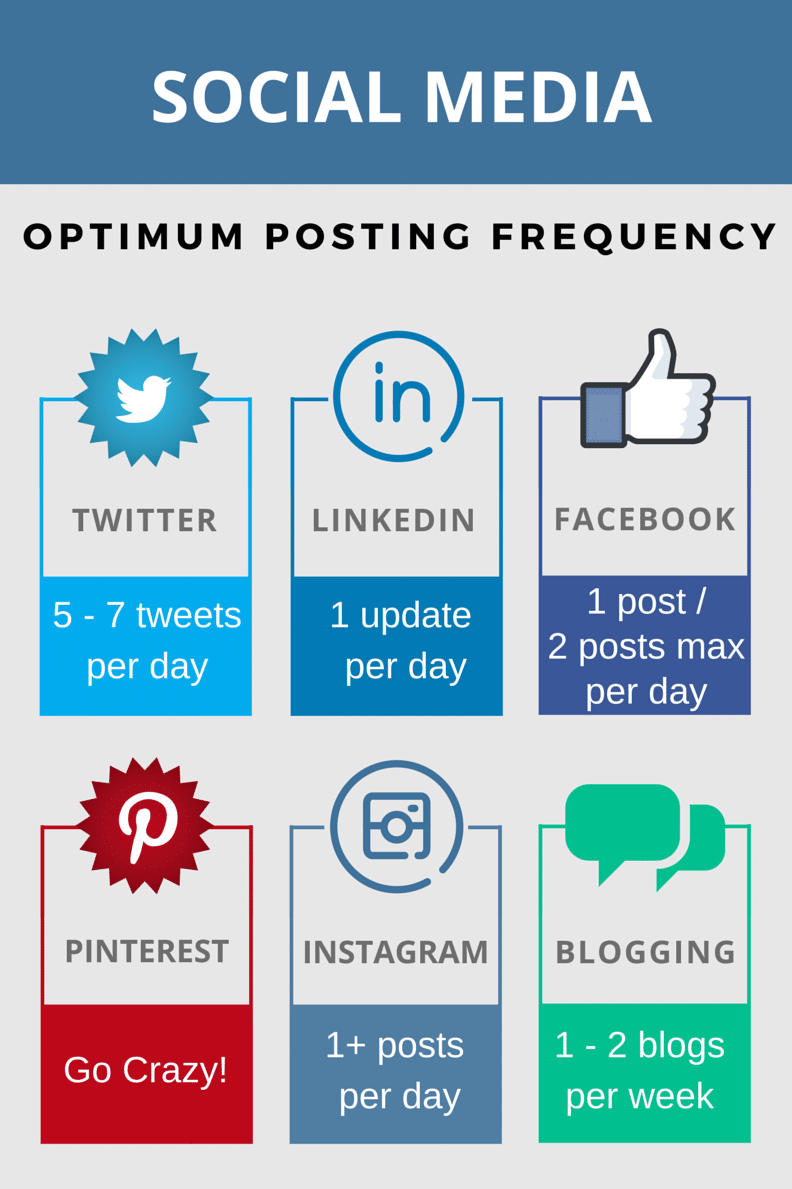 Creating a content marketing calendar reduces the effort needed to create content on a consistent basis by allowing you to schedule multiple posts at once, thus alleviating the need to stop and start projects to post at a specific time. A content calendar also means you never face a blank screen at posting time, which means less difficulty in creating content. A calendar also helps you by suggesting content around major holidays and industry events.
And, I've got you covered with a content marketing calendar template you can easily adapt to your own needs. It has places where you can link assets such as supporting posts and images, as well as topics and even approval signatures for larger firms that want to maintain a certain amount of control over their content.
The role of analytics that ensures your website supports your brand
A website is never really finished, it's always a work in progress because consumer needs change, the environment changes, website design standards change, and even your company needs change. Change is the reality of online marketing. Thus, monitoring your website's performance is critical to ensure you optimize the way your website supports your brand.
Luckily, Google provides a free tool (GA4) to monitor everything that happens on your website. Using Google Analytics, you can assess:
How many visitors visit your website every day and where do they come from to evaluate your marketing efforts across various platforms?
How long do they stay and what pages do they view?
Are there kinks in your website that lead to an overabundance of exits to other pages that might indicate a poor user experience?
What is your conversion rate and do some marketing efforts deliver a higher conversion rate than others?
Which content delivers the best performance across attracting visitors, retaining them, and converting them?
What types of visitors do you attract by age, gender, and location? What type of visitors do you convert? How much do various visitor types spend on your platform?
By setting up a dashboard, you can monitor all these metrics at a glance and even adjust them to drill down for more insights. Check out the dashboard below for an example.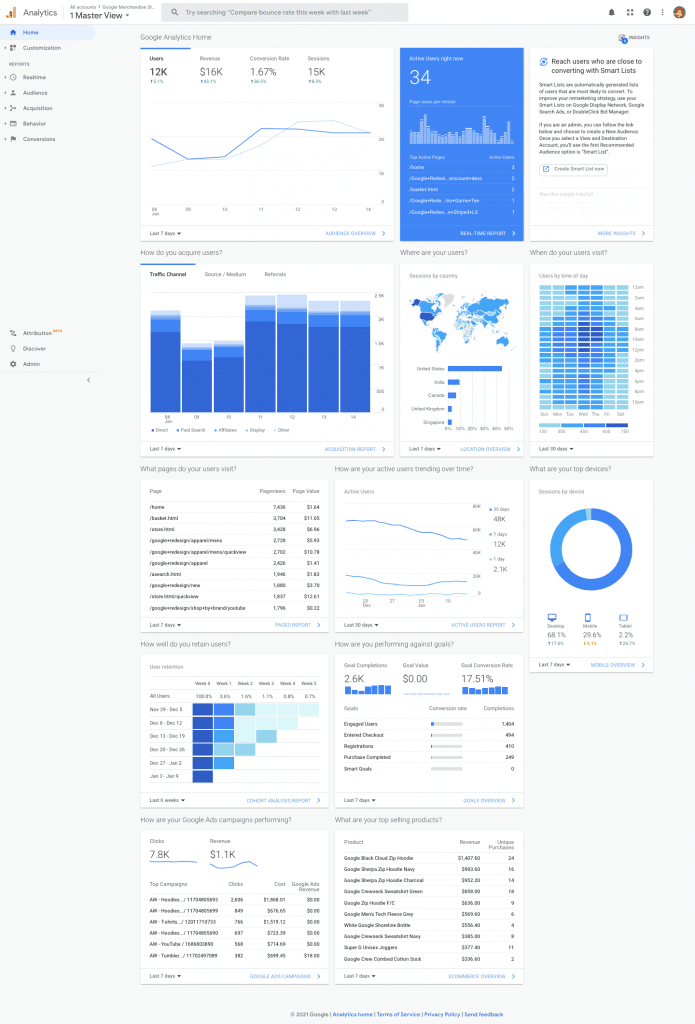 Google makes it easy to create custom dashboards on their GS4 platform, as well as import dashboards created by others. You can customize any dashboard by adding more metrics, changing the visualization used, or deleting unnecessary metrics. You can even create custom dashboards shared with specific people within your organization, such as an e-commerce dashboard for product managers, a social media dashboard for your social media manager, etc.
Adding GA4 to your website is easy. Simply create an account, answer a few questions, then copy the Javascript generated by the platform into the head section of your website which adds this invisible script to each page of your website. There are even plugins that take care of integrating your GA4 profile on your pages. I use the one recommended in my ebook on website design but there are several good alternatives out there.
Conclusion
In this post, you learned why having a website is so important as a great website supports your brand in many ways. You also learned about features you should include on your website if you want to optimize performance.
Need marketing help to support business growth?
We welcome the opportunity to show you how we can make your marketing SIZZLE with our data-driven, results-oriented marketing strategies.  Sign up for our FREE newsletter, get our FREE guide to creating an awesome website, or contact us for more information on hiring us.
Hausman and Associates, the publisher of MKT Maven, is a full-service marketing agency operating at the intersection of marketing and digital media. Check out our full range of services.