We intentionally skipped our Friday session of Analytics in Action because I'd heard about changes to Google Analytics so I held back until I got confirmation and more information about the changes.
So, here goes.
This morning, Google announced a series of updates to its analytics capabilities for both websites and apps.
Audience demographics and interests now available for mobile apps — just like websites
Dynamic remarketing available for all verticals
Benchmarking now available
Let's take a look at these individually.
Changes to Google Analytics: Demographics and interest reports
Websites could access demographics and interest reports for some time. If you've never used these new powerful reports to guide web content development or offline advertising, you're missing the boat.
I wrote good posts showing you how and why to use demographics and interest reports awhile back. If you need to, you can access it in my last changes to Google Analytics update. This update contains a step-by-step guide to Universal Analytics, which is what Google termed its last major analytics change.
Demographics and interest reports provide valuable information about the folks visiting your site. You can even segment the report based on visitor behaviors. Thus, you can view demographics and interests for visitors who converted, who bounced, or who came from various sources.
Take a look at the interest report for my website. In this case, I chose to compare organic versus direct traffic to my site.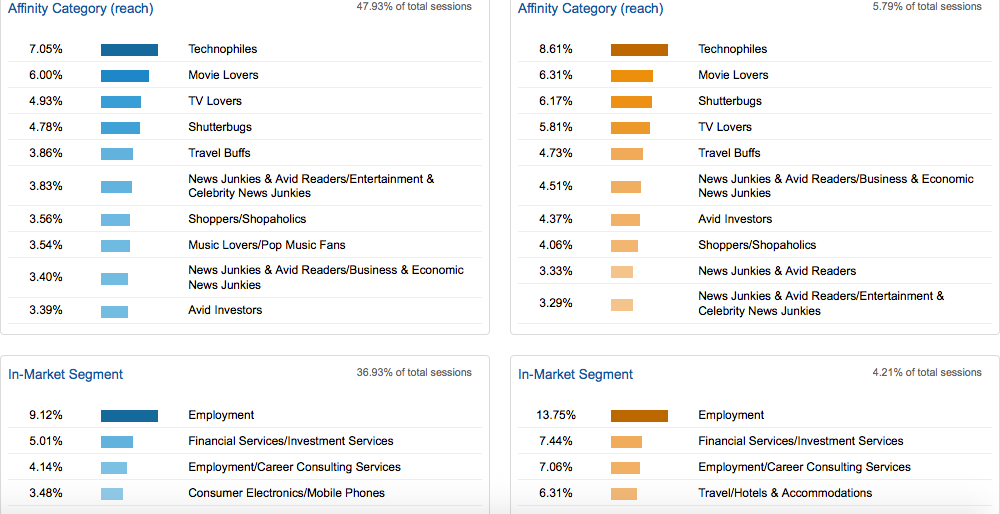 While not dramatically different, notice the left columns (reflecting organic traffic) and right columns (containing direct traffic) show some subtle difference. I might want to use this to drive more direct traffic (which is a key metric in Google's ranking algorithm) by using email marketing that caters to their interests in travel and investing. Or, I might reach out to influencers in these areas with custom content that invites sharing.
One of the changes to Google Analytics is extending this powerful tool for mobile apps. Just like the website version, you'll need to update the JAVAScript tracking code included on every page of your app, but that's pretty simple (Google Analytics provides the new tracking code if you select the universal analytics option). Within 24 hours you'll see the demographics and interest reports appear.
Play around with the data and try different segments to truly understand how to optimize your digital marketing strategy to increase ROI.
Changes to Google Analytics: Dynamic remarketing
Put simply remarketing is an Adwords tool allowing you to reach folks who already visited your website.
First, you must tag your pages. This places a cookie in the browsers when folks visit specific pages on your site. To get help with this, consult Google's step-by-step guide to dynamic remarketing.
So, let's say someone visits my landing page about content marketing. Their action implies they're looking to hire someone to do content marketing for them and place my tag (content marketing services in this case) on their cookie. Now, I can go into my Adwords account and create a new ad (or select an existing one). Whenever that visitor visits a page displaying ads from Google's ad display network, they'll see my ad instead of some other ad. It's important to note that when visitors view a page containing an ad from Google's ad display network, they're going to see an ad. Remarketing just ensures the ad they see is from you versus a competitor.
Remarketing is nothing new, but changes to Google Analytics make it available within any vertical — previously, it was only available in certain, high-traffic verticals.
Positive results of dynamic remarketing
Studies show your ROI is up to 30% higher among prior visitors than folks seeing your ad for the first time. The reasons for this are two-fold. First, prior visitors are already partway down the marketing funnel — meaning they already formed an attitude toward your brand and likely developed a preference for it. Second, we know ad frequency greatly impacts purchase behavior. Dynamic remarketing increases this frequency.
Negative results of dynamic remarketing
The biggest negative of dynamic remarketing is the cost.
Adwords marketing costs are determined by CPC (cost per click) and the number of clicks (which is a function of both # of times an ad appears and the CTR (click-through rate). CPC is determined by your quality score and your ad rank, so the better your ad, the less you pay for each click.
Likely remarketing ads appear more frequently than other types of Adwords advertising and get clicked at a higher rate than ads targeting general users.
It's unclear as to whether the CPC  is higher for remarketing ads than other types of display ads because CPC depends on a number of factors, as highlighted above.
Changes to Google Analytics: Benchmarking
Benchmarking, long an invaluable tool of TQM (Total Quality Management) and business strategy in general, moved out to Google Analytics beginning mid-September. Benchmarking is part of the changes to Google Analytics announced this morning because it rolls out to more industries — 1600 industries in 1200 markets and 7 size buckets.
Benchmarking allows firms to see how their website performance compares with others they compete with and provides actionable insights to guide future efforts that close the gap between your firm and it's competition.
Just like with benchmarking in general, choosing the "right" competition is critical.
Choosing known competitors might not have much impact on strategies and results, especially if your firm is already a leader in the industry (or local market). Choosing competitors who are too dominant might be so daunting that it generates a fatalistic attitude among employees. Head-to-head competition often degenerates into a strategy where everyone is doing the same things and consumers see no distinction between firms to guide purchase decisions. Apple's 1984 commercial showed how inferior the tactic of matching the competition strategy can be.
A benchmarking story
As an example of choosing the right competition, I spoke with a client who competed in the concrete vertical. His customers told him their main complaint was on-time delivery. Instead of benchmarking against other concrete manufacturers (whose on-time performance wasn't much better than his), he benchmarked against Dominos Pizza (at the time, Dominos offered a 30-minute delivery or the pizza was free).
Sure, the concrete manufacturer couldn't deliver concrete within 30-minutes, but they could strive to deliver on time. To make the contest more interesting, the owner created a wager with the local Dominos franchise — whoever posted a higher percentage of on-time deliveries each month bought pizza for the other. After a month or so, the concrete company employees were eating a lot of pizza and customer satisfaction skyrocketed.
Google Analytics benchmarking
Google Analytics provides benchmarking against aggregate industry data for select metrics. Among the metrics included in benchmarking reports are:
data regarding channel (ie. social, direct, organic …)
location of visit
device used (ie. tablet, smartphone, computer)
sessions (visits)
bounce rate
pages/ session
new visitors
session duration
% of new visitors
While you won't get direct information about specific competitors (just as you wouldn't want them to have your information) aggregate information helps optimize performance by showing what others are doing. And, you do know how many competitors comprise the aggregate.
Benchmarking data not only display how your firm compares, but results are color-coded so you can easily see where your performance exceeds (green) or lags (red) competitors.
Selecting elements where your firm seriously lags competitors is the key to making benchmarking reports useful, especially when combined with other data — such as conversion funnel by channel. In an example on their site, Google shows how a firm increased its ROI by using benchmarking reports to guide marketing efforts and spend. By knowing that email marketing results in higher conversion and that their own visits from email marketing seriously lagged competitors, Twiddy improved market performance.
Need marketing help to support business growth?
We welcome the opportunity to show you how we can make your marketing SIZZLE with our data-driven, results-oriented marketing strategies.  Sign up for our FREE newsletter, get our FREE guide to creating an awesome website, or contact us for more information on hiring us.
Hausman and Associates, the publisher of MKT Maven, is a full-service marketing agency operating at the intersection of marketing and digital media. Check out our full range of services.