These days, more and more businesses want to host a business event as a public platform where they can showcase their latest products and developments as well as meet other business needs, such as finding investors. The point when you host a business event is to increase excitement over products, to interest investors, and also to potentially secure new partners who might augment your existing workforce by bringing in their unique talents and other resources. However, many of these benefits are either ignored or overlooked when businesses host events or take part in trade shows, like the Consumer Electronics Show (CES; see below), which is one of the largest and most recognized trade shows dedicated to introducing new technology.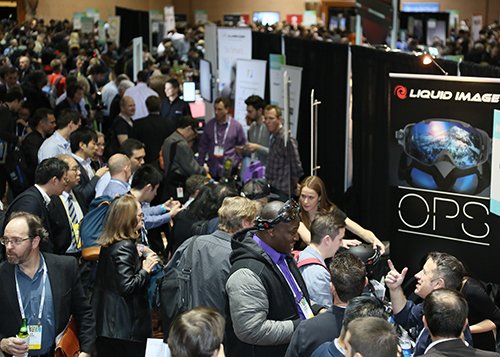 In this post, we'll take a look at some of the important benefits your firm receives when you host a business event and offer suggestions for how to use a business event to move your company forward in reaching its goals.
Host a business event
When you host a business event, you incur expenses for a location, food, speakers, swag, and other related costs to ensure attendees have a good time. These features of events attract more attendees, but if you're not careful, you end up hosting folks who don't represent any value to your firm. Living in DC before the pandemic, I could attend events every night without ever having to prepare dinner. Of course, that meant eating a lot of pizza and drinking a lot of beer, but it was free.
Attending a trade show like CES, rather than hosting your own business event, is appealing as it drives more attendees but gaining traction among other companies at the trade show puts more emphasis on creativity to stand out from the crowd. For instance, I attended a recent trade show where IBM sent a robot through the crowd to attract attendees to their booth. Trade shows also involve expenses to display at the show, as well as support costs such as banners, staff, shipping products and swag, electricity for the booth (which isn't often part of the cost involved in purchasing a display space), and other costs.
The pandemic drove many more events online and both attendees and companies got used to events using Zoom or another digital conferencing technology. While these online events are much cheaper, they lack the fun factor needed to attract attendees, how high no-show rates for those who RSVPed, don't do a great job of demonstrating your products, lack immediacy, and feature attendees who are likely multitasking, thus your presentation faces challenges grabbing and retaining attention.
Outcomes when you host a business event
When planning a business event, have a clear outcome or outcomes in mind, as well as metrics to measure the success of your event in meeting your outcome goals. Below, find some key outcomes you might receive when you host a business event.
Using business events to secure new investors
Hosting a business event or taking part in a trade show dedicated to attracting investors helps solve your financial problems by raising startup money. You need to prepare a couple of important materials in order to make your business or product a lot more enticing. For instance, you should absolutely have some kind of brochure designed for investors looking to support your business, and keep this separate from brochures and other materials you give to regular customers as financial projects should figure prominently in materials designed for investors. You can also look at seed funding pitch deck examples to give you inspiration for investment.
Finding investors is one of the major goals you might set for yourself when you invest in corporate event planning. By securing new investors, you can grow your business and do things that you never thought possible with your current financing. Events are arguably one of the most helpful tools to grow your company and one of the few ways to consistently gain new investors is to start attending business events to show off your products, services, and business ideals.
Of course, you're not going to suddenly get an injection of cash in your bank after the business event concludes, but it does open you up to some serious networking opportunities. While it might take weeks or months to reach a decision to invest in your company, investors who can see the excitement around your product at an event are more likely to make a positive investment decision. Finding events to demonstrate your product is easy in most areas of the country as investors like to support or even organize these events to help them find innovations and new companies for their investment.
Using business events to recruit new talent
More and more talented individuals scour business events, not for the sake of buying products but to find a company that represents their next career step. A career fair sponsored by a local university or chamber of commerce is a brilliant way for people to find new jobs and for companies to find new talent. By setting up a booth at a trade fair, you go beyond the resume to learn more about the person and the soft skills they possess, such as communication.
Other business events seek to match founders with the talent they need to flesh out their team. I got my position as CMO (chief marketing officer) for a startup at such an event organized like speed dating, where founders spent a few minutes with folks who might help them build an executive team, such as marketers, developers, and financial talent.
And, of course, host a business event to sell more products
A business event mainly focuses on selling more products or getting your business's name out there. It's about incorporating your marketing strategy to help drum up more interest, but you should also focus on how you can start conversations that end up on a sale. Demonstrating a product at an event not only creates excitement and uses the power of social proof to encourage more sales, but it also helps would-be customers visualize how the product helps by solving a problem they face. This is especially important when products are unique or complex as the benefits aren't always obvious in messaging.
In the startup I joined, for instance, our product was very unique and hard for potential users to visualize. At the product launch party, we set up computers to allow attendees to use the software and offered suggestions of problems they could solve with the software to get them started. Not only did we gain a number of new users, as attendees signed up to play with the software, but it created quite a buzz as folks who'd already used the product talked to others who hadn't had a chance to give it a whirl. Soon, we faced long lines at each computer as more attendees wanted to try the software.
Analytics
While you don't necessarily need sales skills to achieve success, you do need to track your metrics to see just how effective your business event was. Measure KPIs (key performance indicators) such as the number of attendees, the percentage of RSVPs who attended, number of sales or trials, and number of inquiries. Also, collect email addresses from everyone who attended or RSVPed for the event to include in your email marketing programs.
Collecting and analyzing metrics helps you discover tangible changes to make in order to increase your sales and help your brand reach more people at future events.
Need marketing help to support business growth?
We welcome the opportunity to show you how we can make your marketing SIZZLE with our data-driven, results-oriented marketing strategies.  Sign up for our FREE newsletter, get our FREE guide to creating an awesome website, or contact us for more information on hiring us.
Hausman and Associates, the publisher of MKT Maven, is a full-service marketing agency operating at the intersection of marketing and digital media. Check out our full range of services.