According to Statista, the active global social media population worldwide stands at 4.2 billion users. Facebook alone accounted for 2.9 billion monthly active users by the end of 2021. These burgeoning statistics are a testament to the growing popularity of social media in today's digital age. Social media also impacts revenue and how consumers view your brand, even in the B2B market where many fail to consider social media as a viable strategy, as you can see below. If your company doesn't leverage the power of social media to propel its business forward and expand its customer base worldwide, it's bound to lose out on a LOT! To utilize social media effectively, hiring a seasoned social media marketing manager is well worth the cost of salary and benefits, whether you hire a freelancer from Upwork or contact a local social media marketing agency to support your business goals, you NEED social media as part of your marketing plans.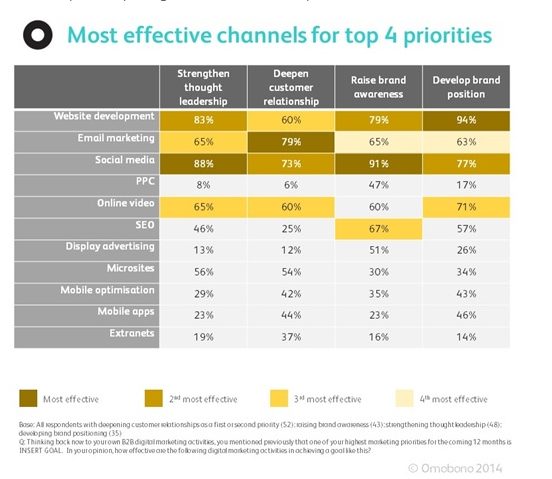 The case for hiring a social media marketing manager
Supporting this, 27% of internet users find a new product through a social platform. For example, Disney started a campaign based on user-generated content that resulted in a 554% increase in engagement. Each engagement translates to improved product awareness and the potential to make a sale. Although social media impacts awareness of your brand, the first step toward conversion, advances on some social platforms now allow users to purchase directly through the platform, such as Facebook Marketplace. And, while social media only represents about 4% of your website traffic, its impact on purchase decisions is greater as social influence greatly impacts purchase decisions. Younger consumers are more likely to use social media to impact consumption decisions, with 72% of millennials and 66% of Gen Z reporting purchases based on social media.
Can you afford to forgo the profit potential from social media marketing?
But, can you achieve these results without a social media marketing manager?
Here's how a social media marketing manager greatly impacts your organization's business. 
Boost website traffic
Organic traffic from search is likely the biggest source of traffic to your website and, as you see below, a huge source of conversion.
SEO (search engine optimization) involves a series of on-page and off-page activities that demonstrate the value of your content to search engines to help your links rank higher in search results and generate more clicks to your website. Among other factors with the greatest impact on this ranking is social media engagement. Hence, social media not only sends direct traffic to your website but also impacts your search rank to send more organic traffic to your website.
Experienced social media marketing managers know how to use social media right to achieve high engagement. They understand in detail how social media platforms serve as both a traffic generator and help build a following for a company that supports the firm's marketing goals. They know how to use the various social media marketing tools to draw attention to an organization's pages and brand, as well as how to achieve engagement and use the platforms to build a positive image of the brand. Publishing content optimized for an individual platform and its users, as well as publishing on a schedule that reaches your target market when they're online makes a huge difference in market performance.
Incorporating all these elements of social media into a bespoke strategy that works best for a specific business comes easy to these managers after years of experience and expertise with a variety of clients.
Grow your market
Lead generation is one of the biggest benefits companies enjoy through their social media presence. In a recent study, 51% of respondents stated that social media ads influenced their purchasing decisions. Further, 29% of individuals stated they would purchase an item the same day after seeing a post on social media.
However, while social media advertising offers benefits through enhanced targeting and low cost, they require expertise and experience to yield optimal results. A social media manager brings fresh ideas to the table that ensures a brand sets up social ads to achieve its marketing goals.
A trained manager also understands how to effectively incorporate other social tactics into the overall marketing plan. They can look into the organization's competitors, influencers, and industry experts to understand what works best for the company and what doesn't. This knowledge comes in handy to grow a business strategically and enhance its credibility, too.
Also read: Tips on social media management and growing your online presence
Consistency
Creating a consistent message requires experience with branding and other marketing tasks. Creating fresh content on social media that consistently supports the brand requires planning, automation, and organization to ensure your brand posts on a schedule optimized for each platform, such as the one below.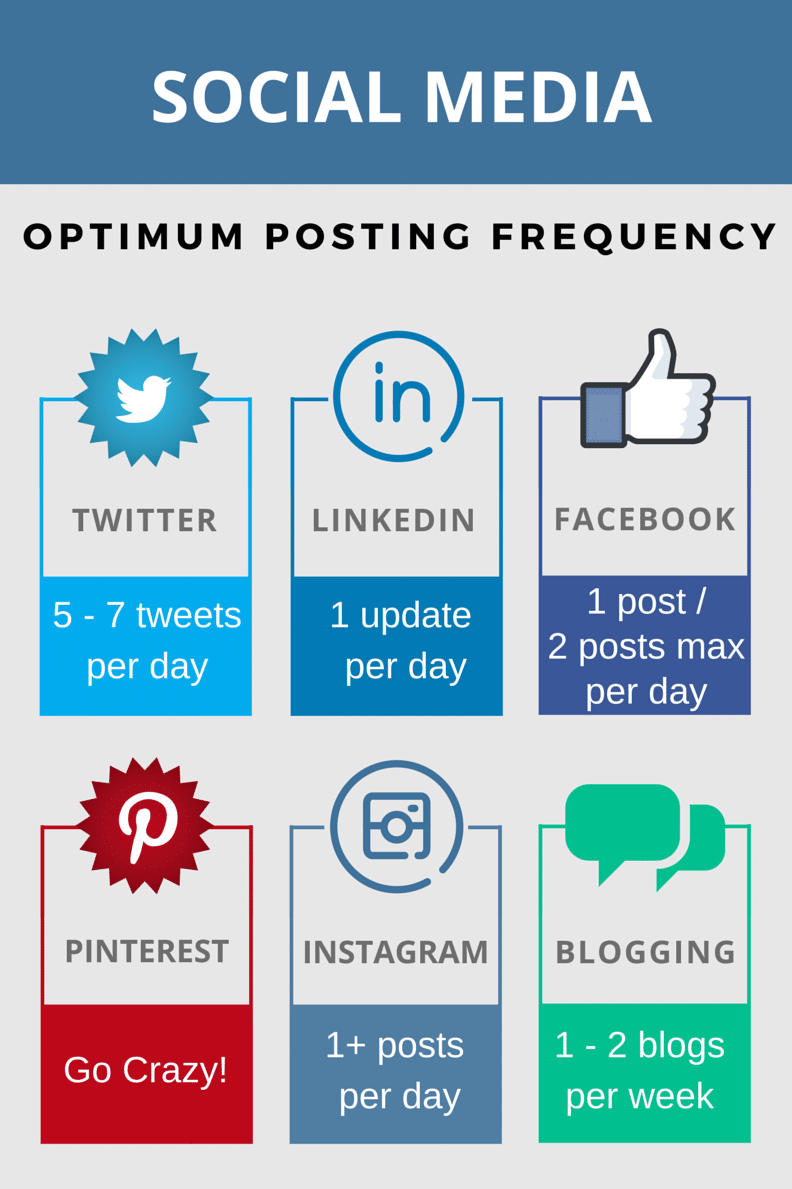 Even if your brand only uses a few of these platforms (or several others not listed in this graphic like TikTok), that's a lot of content. One of the biggest setbacks for a company's brand image is when a potential customer searches for them on social media and finds the brand's last post was 6 months ago (or longer). It says the brand isn't a player and doesn't really care about sharing information with customers and prospects. This sends out a message that social media is not their priority and can quickly become the reason they lose customers.
A social media manager makes it their topmost priority to post consistently and at the right time so the company can remain fresh in users' minds. From blog posts and exclusive offers to video content, these managers know the right content format to match with the right channel to produce unmatched results. They also know how to use tools like automation to make the job more efficient and easier. With tools like Buffer, a manager can schedule an entire week's worth of posts in an afternoon and ensure they have enough content to share.
Respond to messages
Unlike traditional advertising, social media involves a two-way conversation. If a company simply uploads posts on its various social networks and isn't listening to what the customers say, their efforts are a waste of time and send the wrong message to users. Customers need to know a company cares about them as much as they care about the company. Engaging with them, making them feel heard, resolving grievances, if any, and acting upon user feedback are some ways to show the brand cares.
Using social media to humanize a brand is what social media managers do best. They lessen the likelihood of poor customer service by valuing each client and making them feel valued. They also avoid the stilted conversations in traditional media such as PR by being a "real person" on the platform and developing trust.
Stay on top of current trends
The landscape of social media changes constantly. There are new algorithms to comprehend and new changes within platforms to incorporate into your social media strategies. A social media manager stays ahead of the curve by constantly scouring the internet for the latest updates that affect a brand's social media campaign success. They spend the time to research the latest trends in the industry to create engaging, relevant, and informative content. On top of finding what to post when they can even track the competitor's social media tactics to stand out from the rest.
 Analyze results
Without data, there are no effective means to access performance and learn how to improve that performance to achieve optimal results. Often, companies argue that likes and engagement on their posts are a good measure of their social media campaign's success. However, what they fail to understand is without using reporting tools and monitoring the performance of their campaigns, they aren't seeing the full picture.
Monthly post analysis can go a long way towards ensuring the firm's social media strategy is working optimally or whether it requires further tweaking. But, you must go beyond analyzing social media performance in isolation. A business's ultimate goal is to make money. Hence, understanding the impact of social media on conversion is a key metric needed to effectively analyze social media performance. Tracing posts and social ads to the website, then tracking them through the conversion funnel, such as the one below from Google Analytics, to learn the actual amount of money a firm earns is critical for continued success. Note, although not shown, you can create a more nuanced version of this funnel that includes the source of each visit to determine the impact of social media.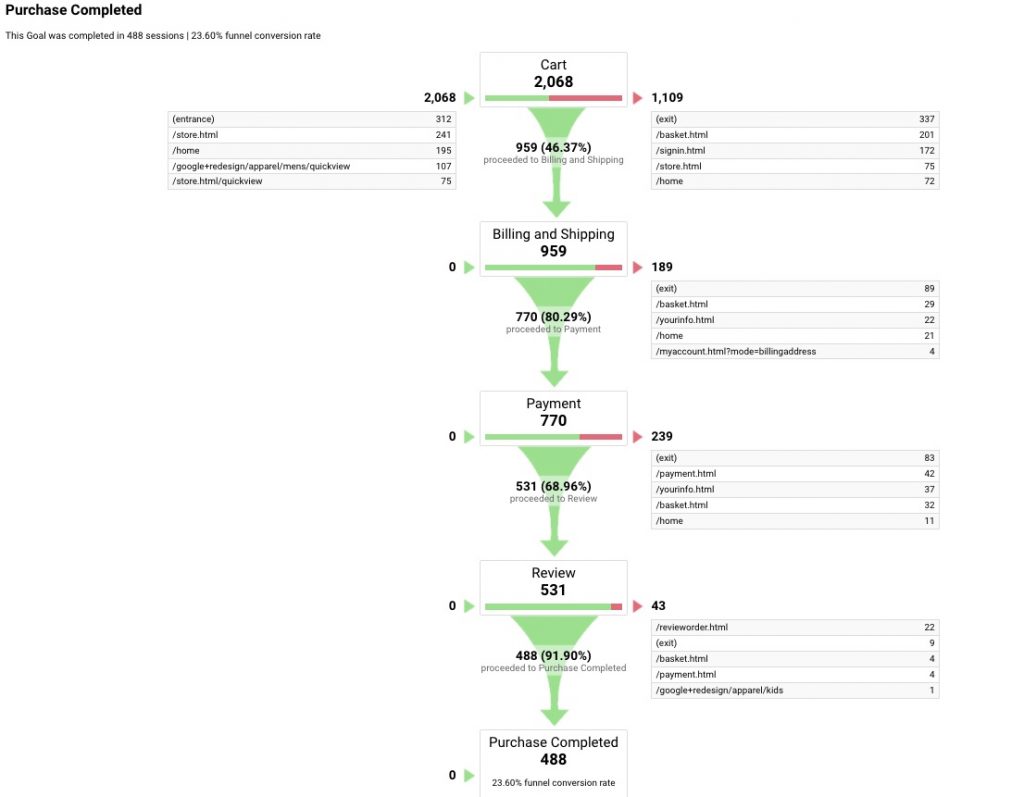 A good social media manager can look at campaigns over time and gauge their success rate using different metrics and indicators. They can build reports, tailor the content as needed to suit a target audience, and meet the brand's marketing goals. This is technical and requires specialized training. For instance, using pixels and tag management allows a manager to trace a sale back to the origin. The manager understands how to ANALYZE the data, not just access the metrics to form insights and create a plan to improve performance.
Leverage PR opportunities
Business owners are often great at running their business, but perhaps they may not have a creative eye. But a social media manager is capable of identifying a good PR opportunity when they see one. They are capable of representing a company and growing its reach even further. They can easily identify influencers for a brand who can use their voice to amplify a brand's message. A social media manager can also harness the power of social platforms to get the brand featured in the media. The benefits of letting an expert handle a company's social media management are endless.
Wrapping Up
When it's done well, social media plays a critical role in elevating a company's business to the next level. Often, organizations want to opt for a frugal approach by asking their in-house marketing teams to run their social network and channels. However, this can result in poor performance and even damage the brand. For instance, Asus used an intern to manage their social media. He posted the following Tweet, which women viewed as sexist and resulted in damage to the brand. Just because you use a millennial who grew up using social media doesn't mean they know HOW to use social media to benefit your brand.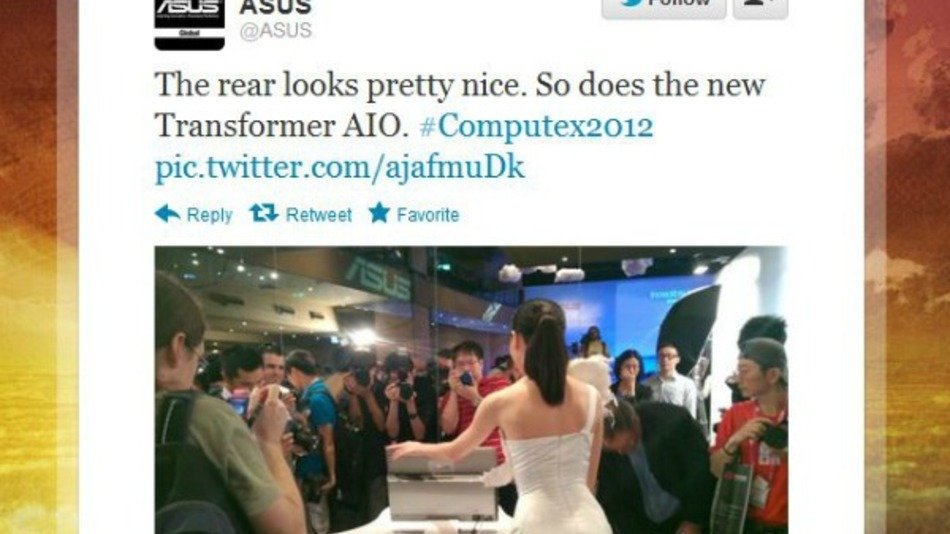 Burdening their in-house marketing teams with more responsibilities can mean their other marketing efforts may take a backseat.
The need of the hour is a professional social media manager who can contribute 100% to a company's strategy and business goals. They possess a comprehensive experience and grasp of social media management that allows them to seamlessly strategize social media campaigns that align with the rest of the marketing efforts.
Need marketing help to support business growth?
We welcome the opportunity to show you how we can make your marketing SIZZLE with our data-driven, results-oriented marketing strategies.  Sign up for our FREE newsletter, get our FREE guide to creating an awesome website, or contact us for more information on hiring us.
Hausman and Associates, the publisher of MKT Maven, is a full-service marketing agency operating at the intersection of marketing and digital media. Check out our full range of services.