Most businesses go through tough times at some point and as the pandemic seems here for the long term, tough times abound. Tough times are often due to external factors over which you have little or no control (such as the pandemic) or something a bit closer to home (such as a scandal or product failure). Whatever is affecting your business, getting through a difficult period is tricky but you can't just throw up your hands and pretend that there's nothing you can do but weather the storm. In fact, dealing with adversity in your business starts long before the tough times hit. High customer satisfaction delivers profits far into the future, regardless of external conditions by both encouraging repeat purchases from existing customers and through referrals to prospective customers who learn about and develop positive attitudes toward your brand from those satisfied customers. Below, you can see which factors contribute to high customer satisfaction and increased sales for an e-commerce business but similar factors impact all types of businesses striving for high customer satisfaction.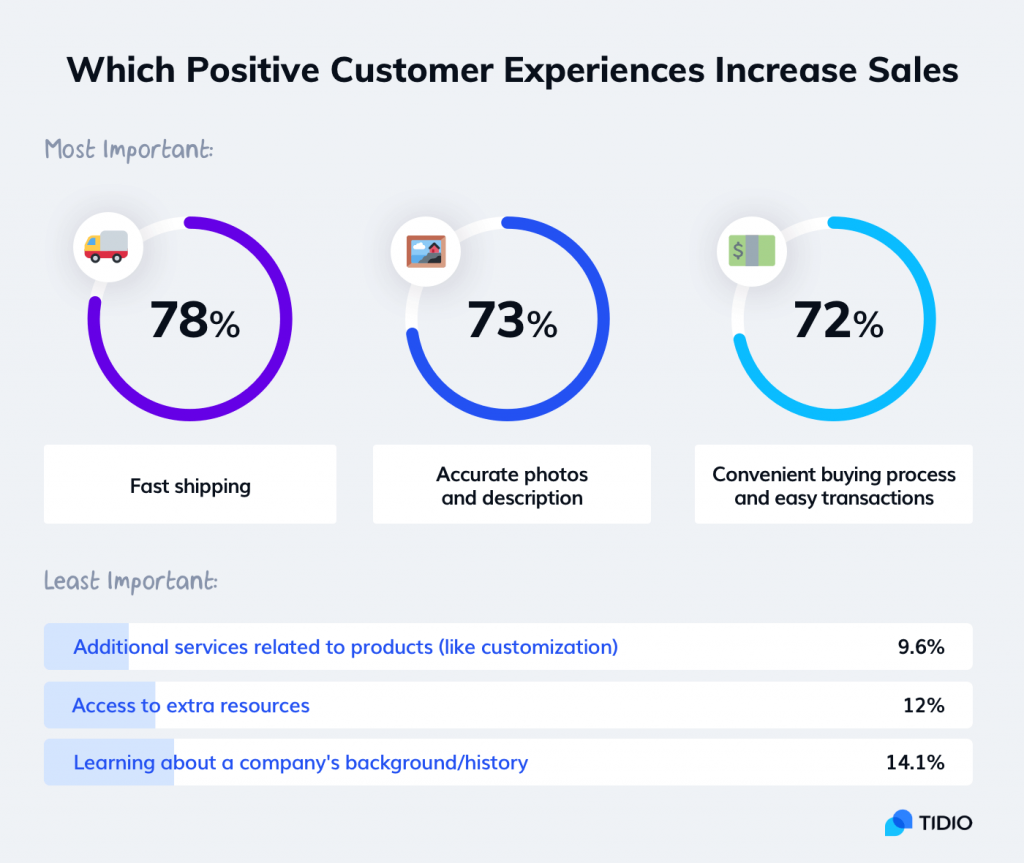 Marketing and customer satisfaction
High customer satisfaction comes from implementing a marketing strategy where customers come first. And, because marketing is so much more than sales or promotion, you must pay careful attention to all 4 Ps that comprise the marketing mix, although some argue for an augmented list of elements comprising the marketing mix. Below is just one example of such a concept. Namely:
Product
Price
Promotion
Place (distribution)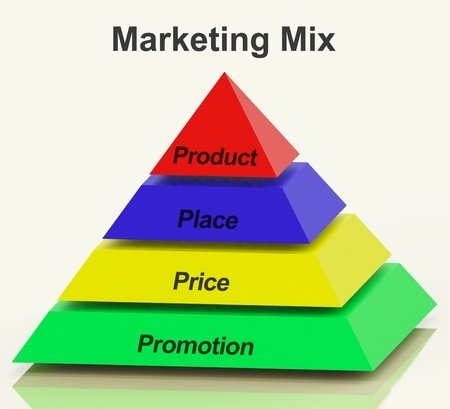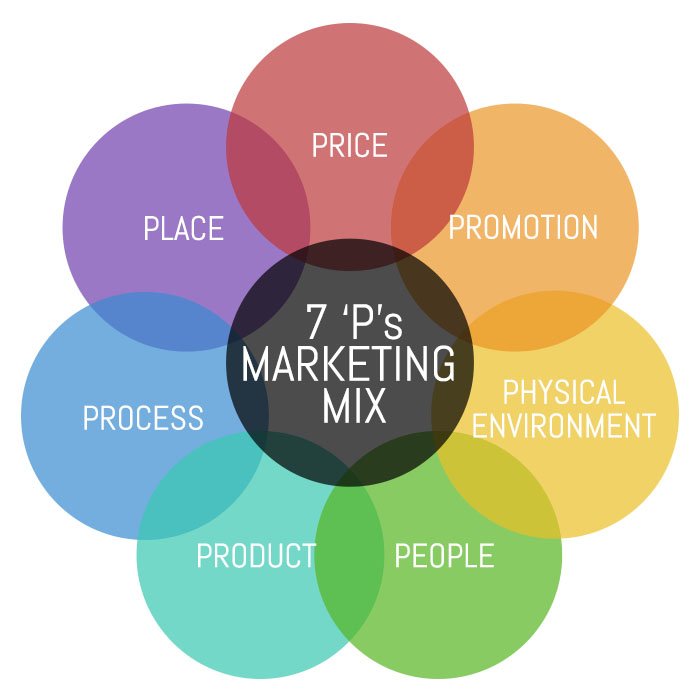 Let's take a brief look at how you can use each of these marketing aspects to generate high customer satisfaction.
Product
The product element of the marketing mix comprises all aspects of your product (both goods and services). This includes intangible elements of your product such as attitudes, design, brand image, performance, quality, and more.
Increasingly, consumers care about the values displayed by the company's whose products they buy and some consumers are even willing to pay more for products that fit their values. In fact, 30+ percent of younger consumers (Gen Y and Gen Z) are willing to pay 20% more for brands that share their values. For instance, responsibly sourced products including organics, vegan, and fair trade, command premium prices.
Brand image is also impacted by the values displayed by the manufacturer, the retailer, and others in the supply chain. But, brand image is a complex construct comprising quality, reviews and other consumer attitudes shared about the brand, promotions by the firm and its competition, prior experiences with the brand, other products making up the brand (in the case of family branding such as Apple iMac, iPhone, iPad, etc).
Price
As with product, price is a complex construct and, in contrast to economic theory, consumers don't always look for the cheapest price. Instead, we talk about value or the excess of benefits over costs. Consumers want to purchase the highest value product available which means they look at price, quality (durability), the cost of acquiring, using, and maintaining the product, performance, and a host of other product factors including intangibles such as the WOW factor or how the product makes them look to peers. For instance, shoes costing hundreds of dollars are necessary for professional athletes but regular consumers fork over these high prices because they aspire to become athletes or to look cool to their friends.
We talk about a fully-loaded price that includes the cost to ship the product, yearly maintenance such as oil changes for your car, and other costs to acquire the product including intangible costs involved in searching for alternatives. Thus, impulse buying makes rational sense when it reduces your need to search extensively to find a cheaper product. If you earn $20 an hour, spending that time on a search costs you an extra $20. You have to save $20 by finding a cheaper product to compensate for the time you spent searching.
Place
Place refers to the distribution of the product and is fankensteined to fit the 4 Ps construction. Think about place as where the product is available and the costs associated with acquiring the product, such as shipping and travel costs. Thus, place interacts with price to impact revenue.
For an organization, distribution represents a significant cost and poor distribution costs them revenue as consumers might find waiting for a product unacceptable. The current supply chain problem reflects both these factors and interferes when companies want high customer satisfaction.
Promotion
Promotion both impacts pricing and attitudes toward the product, especially when you include aspects of promotion available in digital such as influencer marketing and user-generated content.
Achieving high customer satisfaction
Adapt to survive
It's often necessary to make some changes when you face tough times. For instance, during the pandemic, many businesses were shuttered so they developed alternative business models such as implementing curbside pickup or shifting to high-demand products like hand sanitizer. The impact of rapid inflation on small businesses is also one of the hardest things to deal with, and you might find that you have to consider raising your prices. For instance, supply chain issues raised the price of raw materials and finished goods that might mean businesses must raise their prices to remain solvent.
However, before you consider a price increase, it's important to think about how this could affect your customers. If your products or services become too expensive, you could lose existing customers and find it harder to bring on new ones. You may have no choice but to absorb the extra cost or consider amending your product to remain profitable given the increased costs you incur. For instance, candy bars shrunk in size to compensate for the increased cost of sugar. It's essential to choose carefully when making adjustments to get through hard times.
Collect customer feedback (and act on It)
Asking your customers what they think is always a smart way to make improvements to your business. They can give you great insights into what's working and what changes you can make to keep them happy.
You can collect customer feedback in multiple ways, from giving them incentives to fill out surveys to asking them on social media to give their opinions. Even social media listening and monitoring customer support lines, when done effectively, provides valuable insights. After collecting feedback, it's essential to make sure you act on it. Of course, you don't have to respond to every comment that you get from a customer. Some changes are worth making but others may not.
Provide excellent support
Giving your customers the right support makes all the difference when your business is having a hard time. This is especially true if your customers might also struggle due to the same things that affect your business. Even if you have to make some changes to your business, being able to deliver a consistently good level of support can make up for the ways in which you can't deliver on expectations due to factors beyond your control. One way to improve your customer support is to offer support on multiple channels so that people can contact you in the way they prefer.
Reassure and thank your customers
It can sometimes worry your customers if your business faces difficulties as it increases uncertainty. They might be inclined to go elsewhere if they think you can't meet their needs. By reassuring them and letting them know what's happening, you can encourage them to stick around. Open, honest, transparent communication helps both employees and customers feel better prepared for the future by removing uncertainty.
It's also a good idea to thank them for staying with you and let them know that you appreciate their business. Once things get better, for instance, you might host a celebration or offer something extra for customers who hung around during the tough times.
Conclusion
Maintaining high customer satisfaction through the rough patches any business faces is key to enjoying a long future. I hope these suggestion help when you need a little boost in tough times.
Need marketing help to support business growth?
We welcome the opportunity to show you how we can make your marketing SIZZLE with our data-driven, results-oriented marketing strategies.  Sign up for our FREE newsletter, get our FREE guide to creating an awesome website, or contact us for more information on hiring us.
Hausman and Associates, the publisher of MKT Maven, is a full-service marketing agency operating at the intersection of marketing and digital media. Check out our full range of services.