Social media continues to grow more pervasive in our world; expanding into new platforms (like TikTok), new demographics (such as different countries and age groups), and more hours devoted to social media year after year. According to 2021 data, the average user spends a whopping 145 minutes per day scrolling a social platform, a 21% increase in less than 10 years. While some experts suggest this growth is slowing down and organic reach on social platforms declines with each algorithm change, you're still wise to grow your social media presence.
More and more businesses turn to social media to promote their products, raise brand awareness, and grow their online presence as a marketing strategy based on this pervasiveness. However, efforts to grow your social media presence can take a lot of time and perseverance. If you don't build your presence the right way, you can waste a lot of time and money; even damage your reputation if you really mess up your social media strategy. But the payoff potential is huge if you grow your social media presence the right way. So whether you are a start-up, freelancer, or just looking for a new hobby, here are some ways you can grow your social media presence.
Grow your social media presence
Today, we'll share some of our top tips for growing your social media presence in 2022, with all the challenges presented as social media marketing becomes more common and competition increases. So, read on to learn our top tips, then work to implement them in a way that supports your overall marketing strategy.
Recognize that social media isn't a panacea to solve all your marketing problems. Most traffic to your website, for instance, comes through other strategies, especially search engine optimization (SEO). Social media isn't a stand-alone marketing tool but one you must fit into your other marketing strategies if you want to improve performance. Plus, you, as a brand, don't control the message on social platforms, which limits your ability to build a brand on these platforms and opens you up to users and their negative attitudes (justified or unjustified) about your brand. Hence, social media is as much a listening game as it is a promotional channel.
Each social platform has its own intricacies, norms, and best practices. That means your social media strategy is, in fact, a series of social media strategies, each optimized for a particular platform. And, that's our first tip to grow your social media presence.
Get your platform right
When looking at social media from a business point of view, you need to think carefully about where your audience is, what platform(s) they use. Each platform boasts a certain demographic, as you can see below, and most users check multiple platforms daily. Geography plays a part in your choice of the right social platforms, with international preferences, such as WeChat in Asia, and the ability to use a platform, such as banning Facebook in China, impacting the use of the platform. Hence, you must use the social platforms where you will find your target market and show some consistency (although not uniformity) across your marketing channels.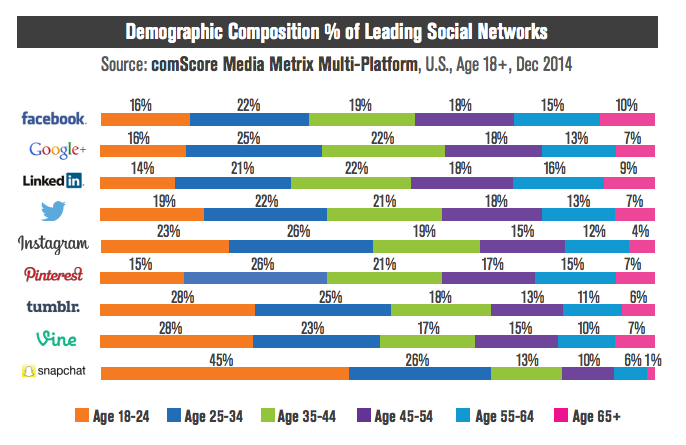 In addition to choosing social platforms where your target market hangs out, consider the vast differences between platforms. Facebook, for instance, relies on a combination of visual and text posts containing links that drive conversion, while its partner, Instagram, is much more focused on images (and short videos in its Reels format), without much text and limits on links (you can't include links in your posts until you reach a minimum number of followers). Instagram and Twitter rely heavily on hashtags for search, while they look out of place on Facebook. Pinterest is solely based on images and, through successive repins, users quickly lose the ability to trace back to the original link, making it hard to use as a conversion strategy. TikTok allows only short videos that are typically high-energy, while YouTube allows much longer videos that then toward more professional quality. Posting frequency also differs across platforms, as does the likelihood of various outcomes, ie some are better for creating awareness while others are better for conversion. Below, you can see some guidance on both posting stragegies and likely outcomes for various platforms.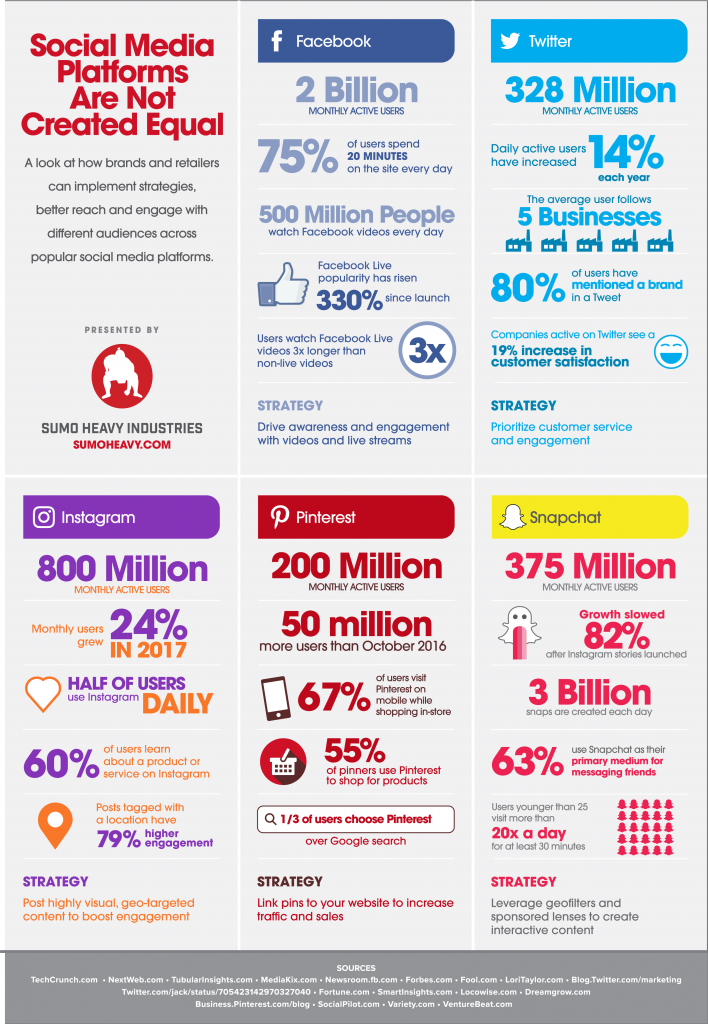 You can't spread yourself across all of the channels available without massive resources. Hence, you must work toward growing your social presence on a few that you believe are most likely to deliver results. The first step is to work out characteristics reflective of your market. Start by creating a detailed persona for them, their age, employment, likes, dislikes, socio-economic group, use of social media, and so on. This helps you identify whether your target market is on Linked In or Youtube? Facebook or Tik Tok. Choose the best two or three platforms and stick with them until you have the resources to add more platforms. It's better to do a great job on a few platforms than to do a mediocre job on them all.
Set up your profiles
Once you identified your best options for platforms, you need to set up your profiles. Your profile is a reflection of your business, its personality, its key managers, what its products stand for, your values, and must more. Fill out your profile completely and don't be afraid to let your personality show. Use high-quality images and ensure your website links and links to your other social platforms work. Use a consistent color palette, fonts, and images across all marketing channels, including across social platforms to ensure your marketing efforts support each other. This helps customers identify with your brand, build a relationship with it, trust it, and ensure your brand remains professional.
Various platforms require different images both in your profile and in posts. Ensure your images comply with size specification so they look their best without being pixelated or cut awkardly.
You content
Once you have profiles set up on the appropriate social platforms, you need to start planning and producing content. Since consistency is key to the success of your strategy, you need a lot of content to meet minimum standards and that's challenging. A content calendar helps keep you on track and makes it easier to produce content since you have something to start with. You can find a number of content calendars online and there are tools to help you with this task, but here's an example of what you're looking for. Notice how the calendar helps you keep your posts topical, which increases engagement with them.
Your content also needs to add value to your followers' lives, it needs engage their interest and encourage interaction with your brand. Whether you are offering promotions such as this DTE furnace rebate or sharing recipes and style tips, you need content that creates value for your target market. Content that's overly promotion or reads like a press release, soon turns off followers and reduces the effectiveness of your social media marketing strategy. Take time to engage with followers, respond to comments, as well as commenting or reacting to their posts. Ultimately you need to build a relationship with your followers if you want to see organic growth from your social media accounts.
Your ability to engage followers on social platforms not only helps build a trusting relationship with them, it also supports your efforts to rank well in search, as engagement is an SEO ranking factor.
Assessment
Assessing your social media strategy is critical for its success. Use metrics provided by the social platforms as well as tracking clicks from social through your website to assess the impact of posts on conversion. Armed with this information, you're now in a position to optimize your social media strategy.
Conclusion
Social media marketing doesn't deliver results overnight, so expect to spend 6-9 months consistently implementing your strategy before you consider any major changes. But, given time, you'll see great results from growing your social media presence.
Need marketing help to support business growth?
We welcome the opportunity to show you how we can make your marketing SIZZLE with our data-driven, results-oriented marketing strategies.  Sign up for our FREE newsletter, get our FREE guide to creating an awesome website, or contact us for more information on hiring us.
Hausman and Associates, the publisher of MKT Maven, is a full-service marketing agency operating at the intersection of marketing and digital media. Check out our full range of services.