Marketing changed a lot over the last 20 years. Previous advertising campaigns like those on TV, billboards, and in print, such as local papers and magazines are no longer as effective as they used to be. Plus, the cost of these marketing tools puts them out of reach of many small and midsized businesses (SMEs). The most efficient, affordable, and successful strategy now is to grow your business online, and here are a few simple ways you can help your business grow through increased brand awareness, lead nurturing, and conversion.
Digital presence is no longer something that's nice to have but is a necessity because consumers want efficiency and real-time responsiveness from businesses. If you want to grow beyond a small shop struggling to make payroll, then you need to build a marketing strategy to get you where you want to go. Digital marketing is not a monolith. Instead, digital marketing involves everything from your website to social media to analytics to email marketing.
These different digital platforms help your business reach different audiences in different ways; helping you expand your reach and increase the frequency your target market views your messages. Carefully crafted, a digital strategy uses different platforms, including your own website, to not only improve awareness but motivate your target market to buy; something that takes multiple touches (exposure to your advertising messages).
Grow your business online
When starting out with a new business and trying to grow it, especially online, you may find yourself overwhelmed by technology and choices that you don't understand. With careful consideration, spending time learning new ways of marketing your business, and even employing some outside help, you'll have a great digital marketing strategy in no time.
1. Build a website
Likely, your first task involves creating your own website, or if you find you lack the skills and knowledge to do this task yourself, you can outsource to someone who specializes in website design. Building a website isn't that hard now that there are tons of tools out there to help. In fact, you can build a great website without ever writing a single line of code.
You'll need things like a domain name, hosting, a CMS like WordPress, a few plugins, and a day or so to get started. Don't be fooled by site builders like Wix and Squarespace. Sure, they make it look easy to build a great-looking website. Once you get started, however, you find that it's harder than it looks to build a great website with these site builders. A bigger failure is that website builders fail to drive traffic to your website as they score low in search engine optimization (SEO). That means your website doesn't show up on the first page of results when users search for terms related to your product.
Web designers and developers help build your website or redesign your existing website based on current best practices. They help make your website easy to use, load quicker, and provide accessibility for all people regardless of ability. For instance, you might want larger text if your audience has poor eyesight or offer translations for visitors from outside your home country.
2. Create content
Content is king when it comes to SEO, so you need fresh content on a consistent basis if you want to build awareness online. Blogs help users find your website as they're a great way to create valuable content that supports your target market. This not only brings traffic to your site but sets you up as an expert in your area, offers suggestions for using your product, solves problems customers might encounter trying to get the most from their purchase, and work toward building a relationship with your target market. Thus, a blog helps your website improve search rank on search engines like Google. One of the rankings factors used is DA score (domain authority). The score helps determine how high up you are on the results page when someone searches for something relevant to your website. This is a critical factor because users commonly don't go past the 1st results page in searching for the answer to their query. In fact, most users select a link in the top three positions on the results page (see below).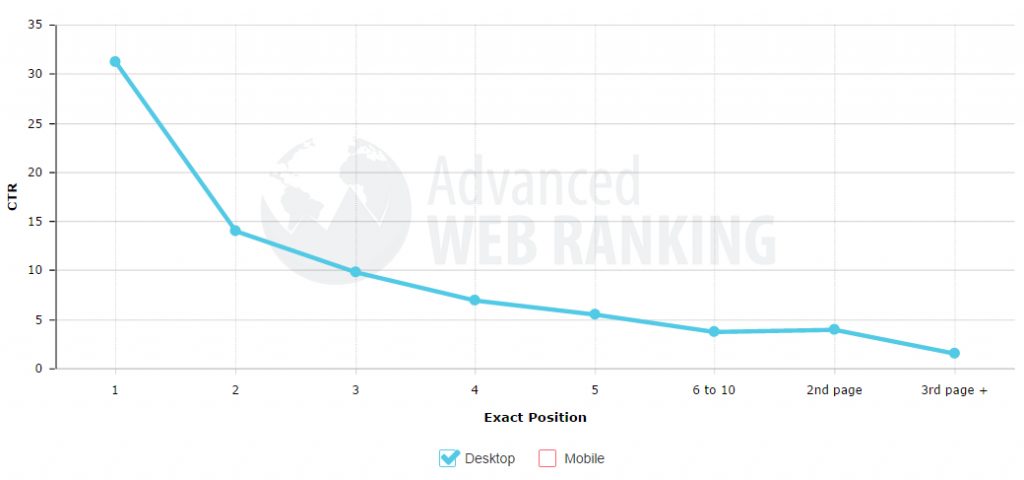 By having a blog on there that covers all different areas within your industry, it can help attract more people to your website by giving them information, a how-to guide, and behind-the-scenes information on how your business works to make them feel a human connection to your brand.
3. Social media
Another way you can help grow your business online is through social media channels. The average social media user is on one or more platforms for a total of two hours and 24 minutes each day. That's a lot of time. Users often check their social media platforms first thing in the morning and continue checking throughout the day with a final check of social media as they're getting ready for bed. That means people consume content throughout the day through Facebook, Instagram, Twitter, and other social platforms.
Doing social media means more than simply creating a profile on several social media platforms. It means creating content designed for your target market on the platforms that they use most frequently and posting that content on a schedule that matches when your target market is on the platform. A sound social media strategy means engaging with your target audience. This involves active listening as well as responding when users make comments on your social posts.
Instagram and other platforms have features called stories where you can share images, and videos throughout your day and add in different elements like polls and questions to learn more about your market as they learn more about you. These insights are invaluable as they provide opportunities to meet or exceed customers' needs. Listening and asking questions are especially important in finding unmet needs.
4. Customer service
Customer service is an expensive but necessary heart of any business whether we were trying to grow your business online or off. Without great customer service that responds quickly and thoroughly to customer queries and complaints, your business will never survive. To facilitate excellent customer service, many businesses use chatbots on their website or host customer service hours on their social platforms. Both options allow customer service availability when customers need it and result in higher levels of customer satisfaction at a lower cost.
5. Influencers
Influencer marketing involves soliciting help in marketing your brand from users with significant numbers of engaged followers. Influencer marketing starts by reaching out to users with popular blogs or large social media platforms comprised of individuals making up your target market. Commonly, influencers promote your product to their audience in exchange for free products or cash.
Influencers provide a new way to engage your target market through a trusted real-life person, who offers their experience, their knowledge, and their positive attitudes to their audience. For their part, consumers trust influencers they follow more than the brand itself, resulting in higher returns.
Most companies have a budget set aside now for influencers as they are very beneficial when trying to grow your business online. If you own a local business, you can use local influencers to boost this campaign. Local influencers normally will have a smaller following than some of the bigger ones, but most of the following are often located in the local area, so these influencers offer a lot more benefit for you. It is often better to hire a micro-influencer who has 5,000 to 10,000 followers and get your message out to more people locally than pay a lot more money for a big influencer with over 100,000 followers, but only 1% of them are in your target market.
6. Managing your online strategies
Digital marketing and social media management are big jobs that require specific skills and time. A lot of small business owners end up wearing too many hats when starting out and trying to do everything themselves, sometimes resulting in failure. When starting out, it is very important to know what you're doing in these areas, so outsourcing is a great option if you're not confident you have the time and knowledge to grow your business online.
Using a company like an Internet marketing firm benefits your business as they specialize in managing online marketing programs and spread the cost of expensive software tools across several clients. They are also experts in helping you develop and manage digital marketing campaigns that make a difference as you try to grow your business online.
You also want some support staff who are comfortable online and able to manage the website and the social media accounts. Your new hires work on elements requiring daily activity, such as replying to customers' online queries, posting social content, and writing informative articles to post on your blog.
Conclusion
If you haven't already, investigate different elements of digital marketing paying careful attention to help others in your industry use digital marketing effectively. By looking at what your competitors do you're in a better position to stand out from the crowd by offering something new and exciting. There are so many different elements to digital marketing, some that might work for you and some won't, depending on your industry and market.
Need marketing help to support business growth?
We welcome the opportunity to show you how we can make your marketing SIZZLE with our data-driven, results-oriented marketing strategies.  Sign up for our FREE newsletter, get our FREE guide to creating an awesome website, or contact us for more information on hiring us.
Hausman and Associates, the publisher of MKT Maven, is a full-service marketing agency operating at the intersection of marketing and digital media. Check out our full range of services.