When you first start your own business, you look for new ways to grow your business and its customer base, since that's the name of the game in business. Otherwise, there's no money to pay suppliers, employees, or other expenses. Sometimes it seems like an incredibly daunting task, especially in the beginning but, with some hard work and the right strategies, you'll soon begin reaping the rewards from your efforts and watching your business grow.
How to grow your business
Create your own website
Creating an awesome website Is a critical first step in building your business and today's increasingly digital world. Thus, one of the first things you must do when you're trying to grow your business is put your stake in the digital space with a well-crafted website.
A website is an easy way to widen your business' reach, whether you're an online business or own a physical shop. People increasingly start their search online. Thus, if you don't have an SEO-optimized website folks will never find your business and it won't grow. In addition to a digital presence, a website provides information about your products and services, as well as offering recommendations and solutions for using your product. These are things you can't get with just a social media platform. Besides, a website is something you own and control, while social media platforms change all the time based on the needs of the platform owners. Sometimes those changes negatively impact your ability to market on the platform.
If you don't have a website or feel yours needs an upgrade, I wrote an ebook that steps you through the process of developing a website, along with recommendations to make the website really pop. The book is free and eliminates the need to learn to code. Using the book, you can create a great looking website for as little as $150.
Many potential customers take the time to investigate your business' website before making a purchase to ensure you're trustworthy, reputable, and professional. So, it's important to spend some time, money, and effort to create a decent website that draws potential customers. Don't skimp on your website when it comes to building something that accurately and professionally represents your business as not many customers will purchase an item or a service from a business that has spelling errors or poor-quality images on its website page. A great website also increases your business' credibility and convinces new customers that you can be trusted when you offer a great customer experience and secure purchasing portal.
You continue to boost your online presence by linking your website to your business's social media platforms, such as Facebook and LinkedIn (for B2B businesses). This helps you reach out to younger customers who might engage with your brand thus amplifying your messaging. Using your social media platform as a means of two-way communication with customers and prospects makes them feel like valued members and encourages purchase.
Increasingly, businesses use social platforms as an extension of their customer service by listening for complaints and answering queries in real-time. In fact, some businesses even offer customer service hours on social platforms allowing customers to interact on that platform rather than just by phone.
Know when to hand tasks over to the experts
Whether you run a retail clothing company or luxury spa, you probably consider yourself something of an expert when it comes to that market niche. However, this doesn't mean you know everything there is to know about running a business, especially when it comes to complex topics, such as marketing, where industry insight often makes the difference between a successful campaign and failure. In these cases, it's best to know when it's time to hand over certain duties and tasks to the experts, in order to guarantee their success. Handing specialized marketing tasks to the experts can even cost less than doing it yourself (and possibly failing) as you can see in the graphic below.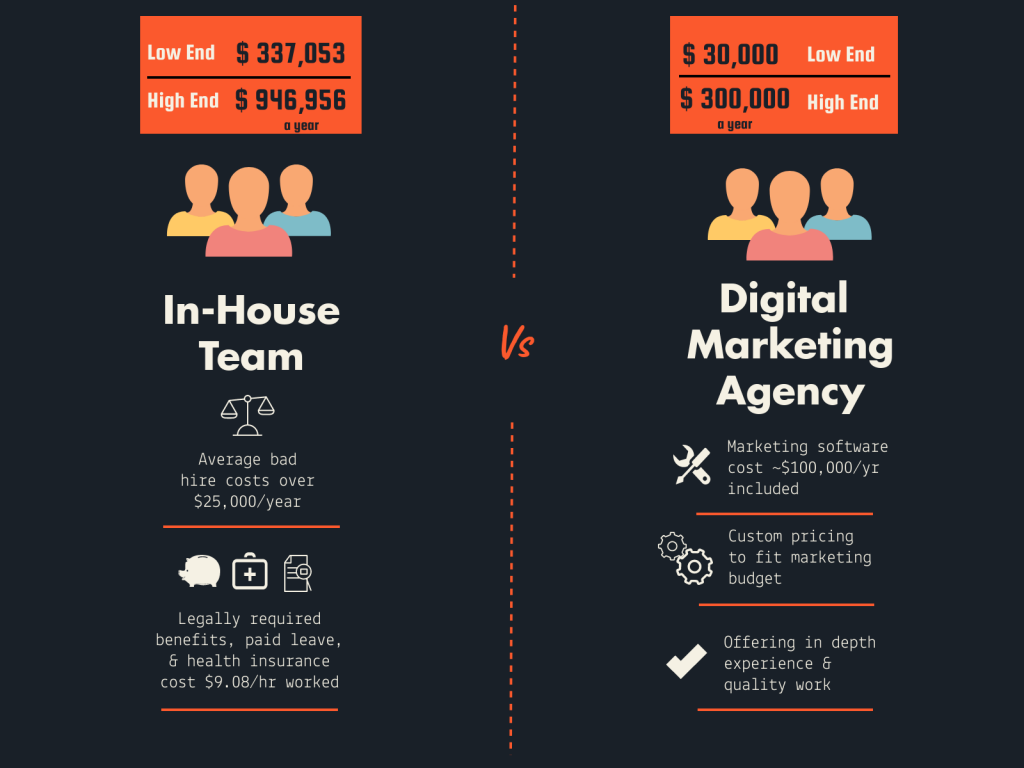 For example, if you plan to launch a marketing campaign involving advertising on social media platforms such as Facebook, then a Facebook ads agency can save you time and money. Together, you can curate ads for your brand that not only look great but are incredibly effective at driving traffic to your website and, by targeting ads to your market niche, you can increase sales. Your understanding of your target market, coupled with their data-driven insight and access to necessary software at a reasonable price, means your ads hit their mark. Furthermore, you also gain access to social media analytics to determine which ads perform better than others, thus informing your decisions moving forward to make your advertising more effective.
Hire support staff
If you have a business based in the retail or hospitality industry, then you should consider hiring summer staff to help your business. Hiring summer staff allows your business to Capitalize on the juxtaposition between increased demands for your services and idle capacity and the form of students home for the summer or relieved of their schoolwork. However, many businesses struggle to find seasonal staff as many school and university students now want part-time jobs that last all year round to help them rather than full-time summer employment. Similarly, many students now go to year-round school programs in high school and college as a means to complete their education more quickly and efficiently. To help you with this issue, you should consider consulting professionals about HR solutions for seasonal workers, which helps you manage your staff and speed up the hiring process needed to find summer staff so that you can focus on your business while someone else plans in advance for the summer season.
Speaking of students, don't forget that many colleges have students who want internships. These students offer a win-win situation for companies who want inexpensive employees with cutting-edge skills while students want the practical experience to enhance their resumes. A number of colleges now either require an internship as part of a student's program of study or help facilitate internships with local companies.
If your company works remotely, it would be even better to work with students. According to educationcenteronline.org 57% of students said they felt more positive about online work and learning nowadays.
Get to know your customers
Developing and deep understanding of your customers is an essential part of growing your business. If you have a physical location get to know every single customer who walks through your door. If possible, greet them by name as this simple act can brighten your customer's day and acknowledge new customers as they walk in the door.
Of course, that's just the first step of developing a deep understanding of your customers. There are many advantages to knowing more about your customers whether online or off. By getting to know them better, you start developing a connection with the customer, leaving them feeling cared for and appreciated. A customer who feels valued and appreciated is sure to say nice things about your business to friends and family, so going the extra mile with customers can really pay off.
Not only do you want to make customers feel appreciated, but you also want to understand their likes and dislikes, the products they prefer, solutions they need, where they like to get their news and information, and much more. The more you get to know about your customers, The better position you are in to recommend items for them, develop new products to meet their needs, or reach them with promotional offers.
Join community pages
Community pages are a great way to network with customers in your local community and build collaborations with other small businesses. Community pages can increase your business' exposure and are a good way to get to know your community members, which helps you broaden your customer base while getting to know your customers at the same time! These pages also help you capitalize on opportunities, such as events that are going on in the community where your business can participate. This makes community pages on social platforms, or apps such as NextDoor,  a great place to grow your business whether you are just building your business or have been a business owner for years!
You can find community pages by search on Facebook, but many communities are also branching out into Instagram pages, as well. These Instagram pages sometimes host takeovers for local businesses on their pages, Taking advantage of a takeover helps you grow your business.
Need marketing help to support business growth?
We welcome the opportunity to show you how we can make your marketing SIZZLE with our data-driven, results-oriented marketing strategies.  Sign up for our FREE newsletter, get our FREE guide to creating an awesome website, or contact us for more information on hiring us.
Hausman and Associates, the publisher of MKT Maven, is a full-service marketing agency operating at the intersection of marketing and digital media. Check out our full range of services.