In the last few years, digital marketing became an essential part of any business's success, not only due to low cost but because digital marketing strategies are highly targeted at your customers and prospects. That explains why digital marketing is fast replacing traditional marketing in overall spending, as you can see in the graphic below. In fact, consumers don't trust brands lacking a digital marketing presence, including a website. This means that companies need a solid online presence if they want their business to thrive in this new landscape. In this blog post, we'll cover some great digital marketing tactics you can use to take your company's success even further to support your survival and growth!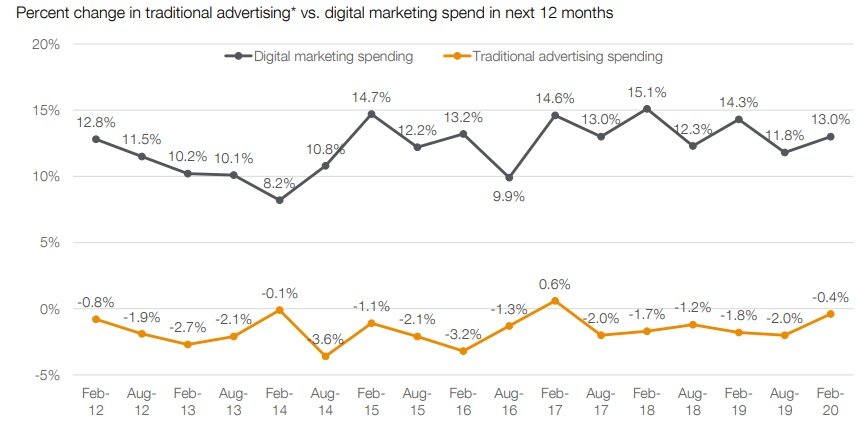 Great digital marketing strategies
There's no such thing as the "right" digital marketing strategy. Instead, your chosen strategy and tactics must fit your market, your resources, the environment, and allow you to compete against other brands. The correct way to build a great digital marketing strategy is to build a digital marketing plan based on a complete, detailed analysis of your market and your internal capabilities, your goals, and those of the competition. You must also build a deep understanding of your customers and prospects. Only then can you effectively put together a combination of digital marketing tactics designed to generate revenue and create success.
As you build your strategy, consider the value and commitment involved in each of the possible digital tactics below to determine the best combination for your specific context.
Google ads
This is an excellent strategy for targeting potential customers, as well as existing customers when they're looking for solutions (consumers buy solutions, not products). Since Google Ads for Search appear before organic links (see SEO section below), these attract more attention (and clicks) than other links. Shopping Ads, a specific type of search ad, really work for products sold through online stores because of the images, rating, and pricing that make up the ad (see an example below).
A key to success in Google Ads is using target keywords related to user intent as reflected in their query, meaning people are more likely to click on them and visit your website or store! The other key element of Google Ads is quality score since this factor determines both the price you pay per click (PPC) and where you're ad shows up in the search results. Ads reflecting higher quality scores show above organic links on the first page of results while lower quality scores relegate your ad to below organic links or even on subsequent result pages.
Another type of Google ad is available through the display network. Unlike search ads, these ads show on websites owned by companies who agree to host ads (the Google Ad Network) in exchange for a revenue share. Again, this is based on keywords and quality score but the ads themselves are visual, rather than text and can include phone numbers as the CTA (call to action) in addition to website links. Your ads might appear on news sites, YouTube, or other places.
SEO
SEO stands for Search Engine Optimization. It's a strategy that allows you to rank higher in search engine results pages so that more people can find your website, potentially turning into paying customers! Showing up in the first position (or at least the first page) of search results determines how much traffic comes to your site, as you can see below.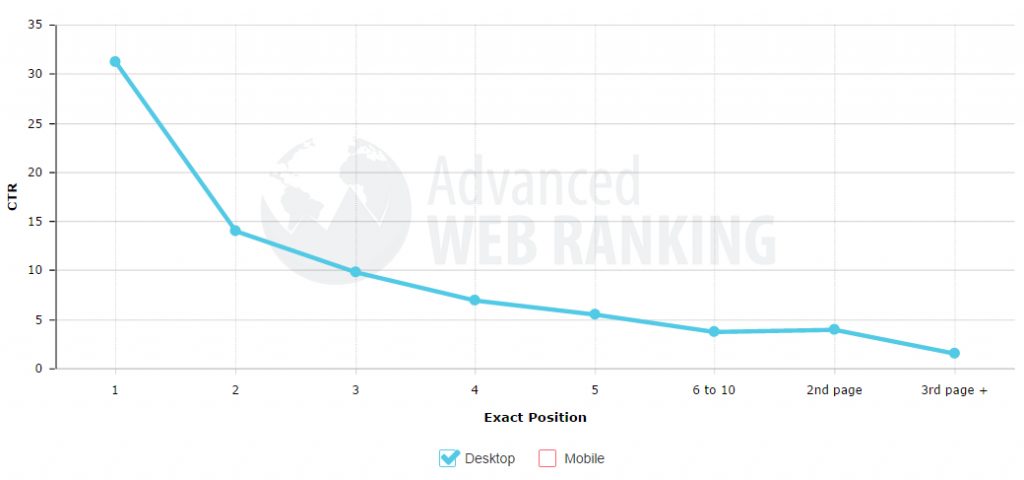 Improving your rank relies on matching your content and off-page elements to match the ranking algorithm used by a specific search engine. Algorithms are complex, containing both factors and weights such that it requires a great deal of effort to optimize performance. Plus, the algorithms aren't public knowledge, although SEO agencies offer suggestions regarding the most important ranking factors. These include:
producing valuable content on a consistent basis
social proof such as backlinks from authoritative sites, repeat visits, low bounce rate, visits from social, etc.
domain age and authority
site speed and other user experience factors
keywords matching user intent and using those keywords appropriately in your content
website security (ie. HTTPS protocols)
mobile-friendliness
When applying SEO strategies to your website, you can just sit back on your blue office chairs and watch all the leads streaming in!
Paid social media advertising
Social media for a business consists of 3 components.
Paid advertising
Earned media – the attention your gain when others engage with your brand on the platform
Owned media – your pages, profiles, etc on specific social media platforms
Combining these 3 components optimizes your social media marketing (SMM). Today, let's simplify the opportunity by limiting our discussion to paid social media advertising. Most social platforms offer some type of advertising option. The advantage of using social media advertising rests on the selective nature of advertising on these platforms. You can generally, depending on the platform, choose those who see your ads based on geography, demographic variable, or more substantive factors such as lifestyles and preferences.
A specific type of social media advertising selectively shows your ad to those who previously visited your website (called remarketing) or those who already follow or engage with you on the platform. Google also offers remarketing ads, as well.
Email marketing
Email marketing works on the same principle as direct mail. You collect addresses for likely buyers to add them to your subscriber list. Unlike direct mail, you can't purchase lists but must build them organically with the permission of subscribers (in most developed nations). You can then send messages to your subscribers without the cost of postage, envelopes, and staff time in the hope that subscribers might visit your website or store and make a purchase. This is an excellent strategy because it's targeted at people who already show an interest in what you offer! Email marketing also allows you to send promotional codes or vouchers to drive purchases.
Segmenting your list allows you to send more targeted emails to groups of subscribers based on their status (ie. customer or prospect), their product of interest, their location, or any other variable you choose from what you collect from subscribers. These targeted emails are much more effective than mass emails.
Content marketing
Content marketing is a great digital marketing strategy used by most companies. Not only does content marketing drive SEO, but it also contributes greatly to conversion once you bring visitors to your website or gain them as followers on your social platforms. The right content answers questions, motivates visitors toward specific actions such as submitting reviews or making a purchase, demonstrates the proper use of your products, helps visitors determine the right product to them, and performs any number of other functions necessary to drive success.
To ensure content marketing works to support your business, create a content marketing calendar that lays out an entire week or month's worth of posts to your website and social platforms. This avoids inconsistent posting and mental blocks caused when you stare at a blank screen trying to find something to write about. Most content, especially on social platforms, should contain value to readers rather than promotions.
Video marketing
Video marketing is a specific content marketing strategy to help mix up your content and produce specific types of content more valuable than simple text. It's also an easy way to get in touch with the younger generation (many of whom prefer watching content online on platforms such as TikTok and YouTube rather than reading it).
Conclusion
By utilizing any of the above digital marketing strategies, you'll see a significant spike in your sales and also drive your business' exposure through the roof!
Need marketing help to support business growth?
We welcome the opportunity to show you how we can make your marketing SIZZLE with our data-driven, results-oriented marketing strategies.  Sign up for our FREE newsletter, get our FREE guide to creating an awesome website, or contact us for more information on hiring us.
Hausman and Associates, the publisher of MKT Maven, is a full-service marketing agency operating at the intersection of marketing and digital media. Check out our full range of services.