Understanding your website traffic is the first step in driving more traffic to your website. And analytics are the name of the game in digital marketing. Gone are the days when digital marketing success can just happen without not only viewing data produced to assess your marketing campaigns but developing insights from your metrics that guide decision-making. With the pending sunset on Universal Analytics from Google Analytics in favor of GA4, now's the perfect time to review your analytics strategy to ensure you can develop insights from your metrics. Below is a screenshot of the Google Analytics homepage using GA4 and demo data provided as a learning tool. You can get a copy of this demo data to play with here.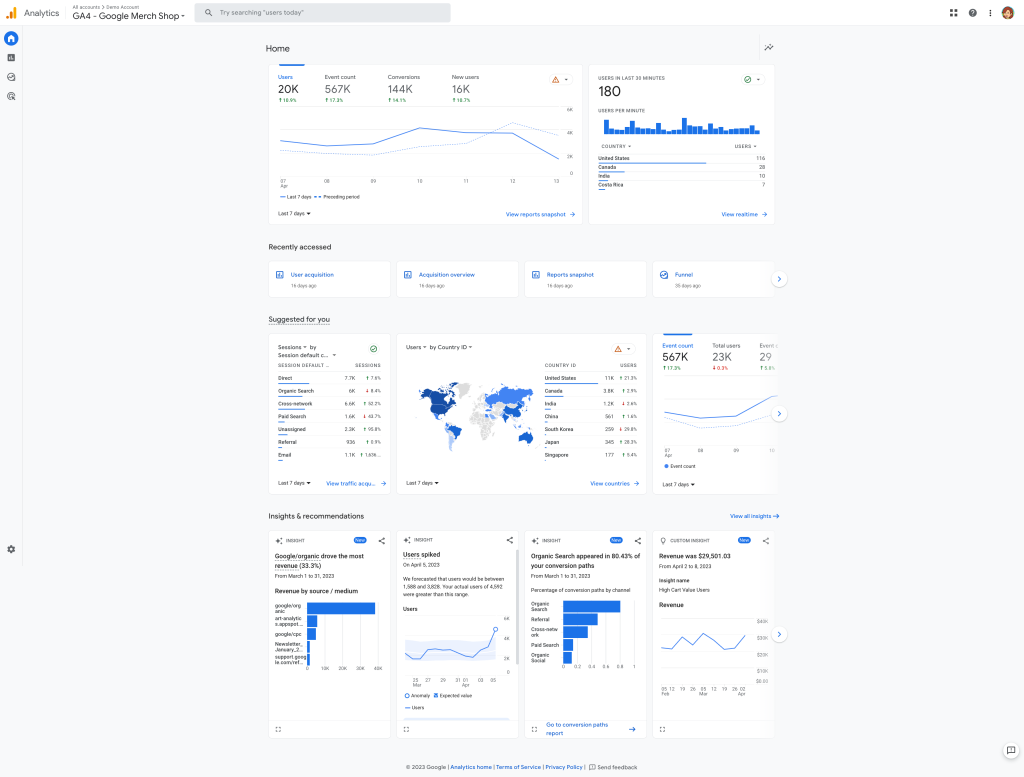 I use Google Analytics, as it's free and produces a variety of metrics related to visitors to your site, what drove them to the site, pages they visited, and whether they converted or not. Interpreting metrics from Google Analytics takes a little finesse, so let's see what some of the numbers mean.
Finding insights from your metrics
The first step in deriving insights from your metrics is determining which metrics to collect in the first place. There are just too many numbers available on this platform to make sense of everything. Plus, many metrics are available from multiple places and some metrics require a light massage before you can derive insights. Here are some suggested metrics to consider: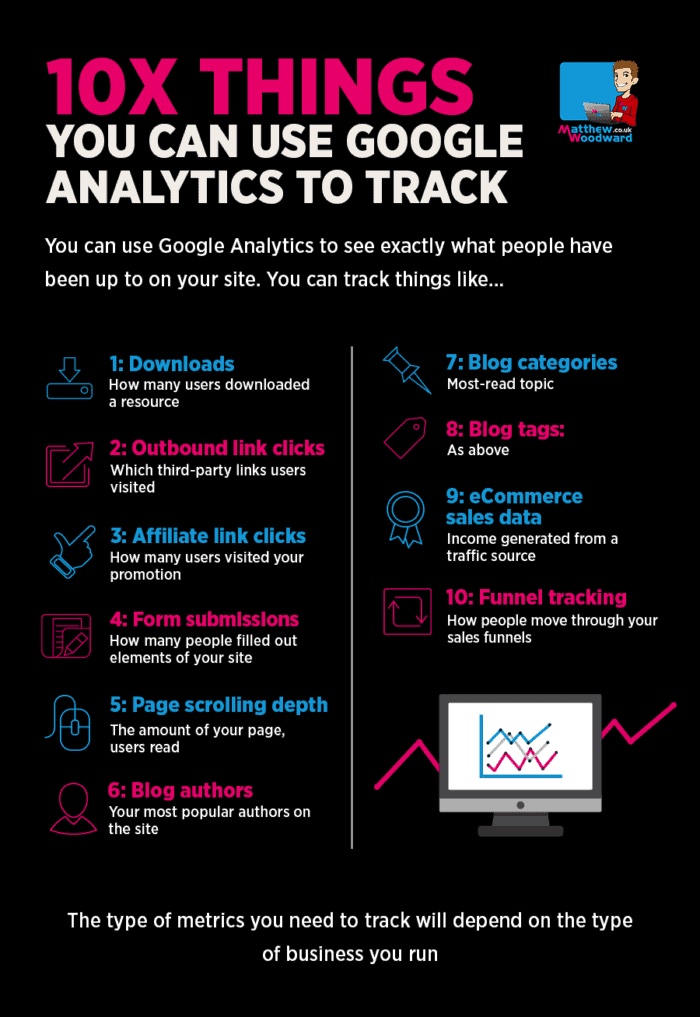 Some of these metrics are available natively on GA4 while others require either setting up event tracking (from the Google Analytics admin page) or using tags like UTM to track incoming clicks to the originating marketing campaign. Not all of these metrics are meaningful for every business and many businesses need additional metrics. Hence, the first step in developing insights from your metrics is to identify KPIs – key performance indicators.
When considering KPIs, be sure you gather metrics from the top of the funnel, middle of the funnel, and bottom-of-funnel activities. If you only assess performance based on bottom-of-the-funnel actions, such as conversion, you won't see optimal results because optimizing conversion relies on optimizing each stage along the journey toward conversion, starting with visiting the website.
Here are some great KPIs to consider in developing your analytics plan:
Top of funnel

unique visitors – this gives you some information about your visitors, such as what country they're from, what language they speak, and technical aspects such as what browser they're using, whether they have flash, etc. While not as valuable as market research might be at giving you insights into your visitors, there's useful information in these metrics. For instance, if visitors are coming from overseas, you might want to install a translator plug-in to help them get more from your site, although increasingly, internet users are facile in English. Data in terms of visitor loyalty, frequency, and recency of visits is also available to help you determine whether visitors are finding valuable content. The reports menu allows you to do cross-tabulations of visitors which really helps you understand your visitors better. More on this in the next section.
% of new visitors tells you how you're doing in terms of creating a community.  Some sites may be more interested in gaining a large number of unique visitors, I'm more interested in building a community, see why here. The percentage of new visitors can help you. If most of the traffic is from repeat visitors it's a good sign you're building a community.
time on site
bounce rate (negative)
Pageviews, especially the average pageviews tells you whether visitors are finding the content they want on your site. If they don't see something they like within a few seconds, they won't stay.  If they find some interesting content, they're likely to stay and read a few different posts.
The average time on site is another indicator that visitors are finding the kinds of things they want.  Dramatic changes in these numbers are a sign that your content is no longer seen as valuable or more valuable to readers.
sessions
keyword performance
traffic sources – these metrics tell you where visitors come from.  This allows you to focus your promotional efforts on sources likely to bring you the most traffic.  Metrics also show you keywords that brought visitors to your site.  You want to focus on those keywords that are working for you.
pages visited – this metric tells you what visitors are reading.  It helps you evaluate what content is popular with visitors, it also helps you determine if your promotional efforts are driving visitors to portions of the website where you're offering products or have other elements focused on conversion. Below, you can see the funnel showing how visitors moved through your website (in this case my website).

Middle of funnel

repeat visits
time on page
number of pages per session
top landing pages
session duration
shares and comments

Bottom of funnel

conversion rate
goal completions, especially subscriptions and creating accounts
leads
cost per click in advertising

Image courtesy of Crazy Egg
In addition, you need to assess KPIs related to SEO – search engine optimization, which brings more organic traffic to your website. Some of these metircs, such as time on site and bounce rate, are available on GA4 but some of these metrics aren't available but you can find them on the Google Search Consol. KPIs related to SEO include:
page and domain authority (page rank is now much less valuable)
rank for keywords
load speed
bounce rate
backlinks and backlink quality
organic traffic
average CTR (click through rate on search)
social media engagement
website structure
user experience
Now, to further complicate your analytics job but gain more insights from your metrics, you need to view your metrics by segment. For instance, in the image below, I look at pageviews based on age and gender. I can see that those aged 45-54 view more pages of my website than other age groups while the pageviews by gender are similar. I can use this insight from my metrics to either create more pages that appeal to the age group I already do best with or focus on other age groups to get them to view more pages. The correct choice is based on which age group converts at a higher rate.
do users 18-25 convert at the same rate as users 35-50?
which content drives conversion the most?
does traffic from a particular social media platform convert at a higher rate?
do mobile users convert at a lower rate than those using a computer?
Next, let's move on to other issues needed to derive insights from your metrics.
Google Analytics Dashboard
I use the new version of Google Analytics (GA4), so this discussion is geared toward that version. The homepage shown above can be customized by changing the data range as well as adding or deleting metrics shown on the page. GA4 also learns from the metrics you view most frequently and adds them to the homepage automatically. Notice, even on this homepage that there's a lot of data and it's easy to get confused when faced with so much information. This analysis paralysis is normal so you need a plan to develop insights from your metrics that help make decisions that allow you to improve performance. We discussed setting up KPIs in the earlier section. In this section we'll discuss other ways to derive insights from your metrics.
Look at the general pattern of the graph when you plot metrics over time. Ultimately, the graph should have a general upward slope:
The graph tells you whether your site is attracting more traffic or less. Likely you'll find the daily plot is a little jagged — because visits are influenced by a variety of events and a little cyclical. For instance, as a business site, I don't draw as much traffic on weekends (including Friday) and Mondays are usually a little heavier as folks try to catch up on the things they missed. Wednesday seems to be my most active day for website visitors. The point is trying to separate natural fluctuations from fluctuations based on your actions. That way you learn what actions will grow your traffic.
Lessons from graphic elements

By displaying metrics in a graphical format versus as long tables, garnering insights from your metrics is much more likely. Choosing the right type of graphic can make it easier or obscure your insights.
The graph often spikes when I add new content that resonates with my target audience. This tells me I should focus on this type of content.
The graph often spikes on days I post comments to certain blogs as a guest post. I can confirm this by going to the report on traffic sources, which lists where visitors were immediately before coming to my site.  Looking at this report, I can see what social networking sites are working for me, guiding me toward more productive sites or suggesting I need to do something to engage folks on networking sites that aren't performing well.
When I get a RT or comment from someone with a large following, such as Google Analytics, my traffic really explodes and is easy to track back to that traffic source.
Need marketing help to support business growth?
We welcome the opportunity to show you how we can make your marketing SIZZLE with our data-driven, results-oriented marketing strategies.  Sign up for our FREE newsletter, get our FREE guide to creating an awesome website, or contact us for more information on hiring us.
Hausman and Associates, the publisher of MKT Maven, is a full-service marketing agency operating at the intersection of marketing and digital media. Check out our full range of services.