Google Analytics is an amazing, free platform that's been around since 2005 and is still the world's leading analytics platform for understanding a website's performance. In today's marketing and web software market, it is that rare combination of high-performing metrics for free. Today I share my Google Analytics basics to get you started on the road to improving your market performance.
First, here's what it looks like when you view your website data on Google Analytics.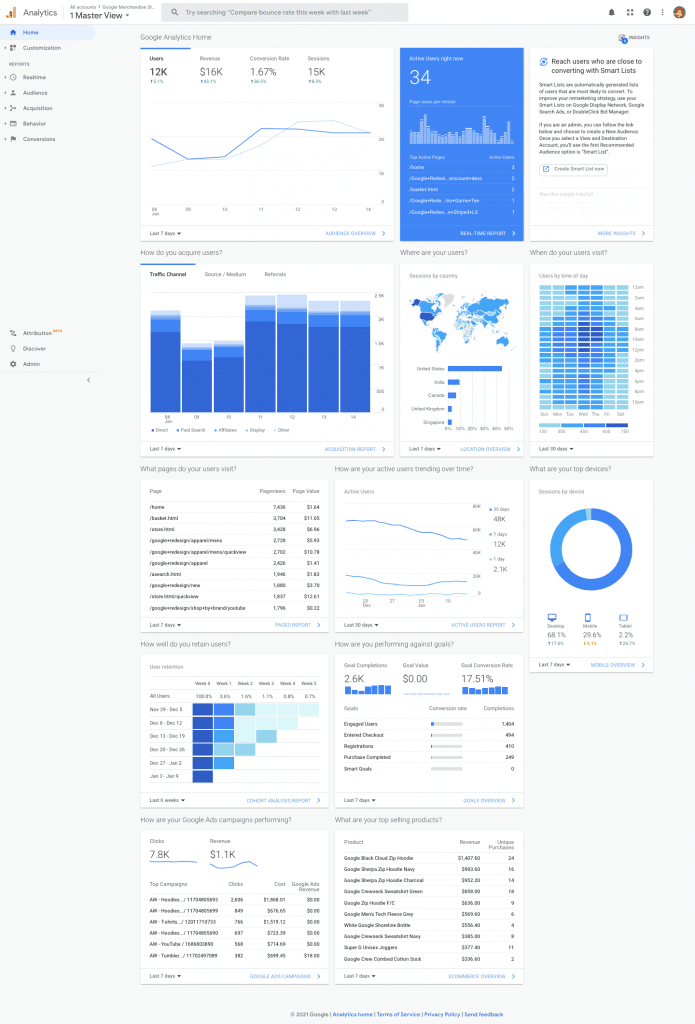 Google Analytics basics
There are currently over 50 million websites using Google Analytics to track their website stats online. Because the analytics programs are so packed with functionality, newbies find it a bit daunting to get started. Just look at the image above to see how complex the platform looks.
New users don't know how to connect their website and get easily confused with the vast amount of data available. That's where Google Analytics basics come in handy. I recommend you bookmark this post and come back for a refresher over time as you become more proficient.
It's easy to get overwhelmed by all of the different features and reports, and people either respond to this by tracking too many unimportant stats, or by avoiding it together. Vanity metrics such as users have little meaning as that number doesn't translate into conversions. Now, transform that into user growth over time and conversion rate and now you have some meaningful metrics.
Knowing how to use Google Analytics and which report tracking tools to use is very important for website owners. It helps track the traffic to your website, the source of this traffic, and the behaviors when they are on the site; providing insights for optimizing performance.
Analytics can produce this information for you in a number of ways or you can use a pdf report generated by third-party software. Either way, it is important that you have an overall view of how your site is performing.
Why use analytics?
Having an online footprint for your business or organization is vital in today's economy. Google Analytics provides a clear picture of how your site is performing as a marketing tool, what content is working on your site and what isn't.
Here are the basic metrics you should measure for your website:
Traffic volume
First and foremost, use your analytics to track the number of visitors you get to your website OVER TIME, as a single point value has little meaning. You can see your traffic levels for the day, week, month, or any time period you choose.
In general terms, if you're doing something right, your traffic levels will increase steadily over time.
Users
Using cookies, Google can distinguish between new visitors to your site and returning visitors. Again, analyzing these metrics over time has meaning, while individual values for a day don't. Also, the ratio of new to returning visitors is important, and Google nicely displays this as a pie chart. New regulations involving data protection make this job more difficult for Google as users can now opt out of cookies and use incognito windows to browse.
Pages per session
How many pages someone visits when they are on your site is a good way to evaluate your content and site strategy. The more pages visited per session, the more your visitors are engaged with your content.
Traffic channels and source/medium
This report tells you exactly where your traffic came from. You can see if someone found your site via a search engine, social media, online advertising, or another website. Backlinks from other websites are particularly important as Google uses them to signal good content, which supports your SEO.
The medium refers to the general category of generated traffic such as organic, PPC (Google Ads), etc.
This report not only demonstrates where your traffic comes from but can also let you know how your content marketing campaigns are doing and where you could improve.
Devices
Google recently adopted a mobile-first algorithm, meaning that it ranks websites that work better on mobile screens higher than those that don't. The devices report tells you which devices your visitors used when they visited your site, although gaining more traffic from a laptop is normal for some website niches. It is usually split between mobile, tablet, or desktop.
Pageviews/unique pageviews
In Google, pageviews lets you know the number of views on each page of your website. Unique pageviews show you how many times a visitor views a page, meaning that if they visited that page multiple times in a session, it is only counted as one view.
Understanding which pages perform well and which don't is a key to improving your website performance. Pay close attention to pages comprising the conversion funnel to see which pages account for drop-off in the conversion process as such abandonment costs you sales. Below is a report available on Google Analytics to help with this analysis.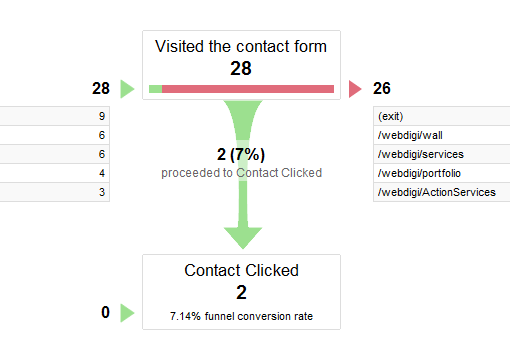 Average time-on-site
When someone visits your site, how long do they stay there? The longer they remain on your site the more engaged visitors are with your content. Certain types of content often have longer visit times such as blogs. Google uses this as a strong signal of value and improves ranking for websites with longer time-on-site stats.
Bounce rate
When someone only visits a single page on your site, they have 'bounced'. Your bounce rate is measured as a percentage of all sessions that bounced. The lower the bounce rate on your site, the better. If you're over 70%, you might need efforts directed at lowering bounce rates, although news and blog sites naturally have higher bounce rates. As with some other stats, this is a signal of quality for Google and improves your SEO.
Landing pages
Not all visitors enter your site on the same page and it's important to know which pages they land on and how they got there. Again, this is especially true with landing pages that are objects of your PPC advertising campaigns and those related to conversion.
Exit pages
Which page do visitors leave your site through? If you find that people leave on a particular page, then you can target that page to make updates to entice people to stay longer or visit other areas of the site. If exit pages are part of your conversion funnel, try to determine what motivated someone to leave, such as requesting too much information or not offering free shipping.
Discovering the rest of Google Analytics
Once you're comfortable using the main platform to track your most important metrics, you can start to look at other potentially useful metrics on the platform.
One of the best ways to do this is to start investigating the platform yourself until you're more confident navigating around it. Google has excellent training materials online which you should investigate. Google also offers free certification in Google Analytics.
If you're running an eCommerce site, you can also set e-commerce goals on the platform from the Admin panel and work out ways to maximize visitor conversion based on this report. If you feel overwhelmed at any point, just step back from the data to find some training materials.
Using the data
Tracking all of your website data is great, but only if you use it to make meaningful changes to your site and your web strategy. Using insights in this way helps you improve your site design, content, and navigation in order to get the very best from your site.
Installing Google Analytics
In order to start tracking your web traffic, you need to install Google Analytics on your website. The way to do this depends on the platform used to build your website and the availability of plugins for your CMS (content management system). The major web platforms such as Wix, WordPress (wordpress.com, which is hosting), and Squarespace offer detailed guides to help you install Google Analytics on your site which requires you to add a piece of JavaScript to the <HEAD> section of your website. WordPress (wordpress.org which is the free CMS), Drupal, and other CMS platforms offer a plugin that does much of the heavy lifting for you in terms of installing Google Analytics.
For a self-hosted website, you start by setting up an account for Google Analytics using your Gmail account. Enter a little information about your website, including your domain (ie. https://hausmanmarketingletter.com for this website), and Analytics provides a tiny piece of Javascript. Simply copy and paste this Javascript into the <head> section.
If this sounds like more than you can handle (and putting anything into the code for your website is dangerous if you aren't completely sure how to do this properly), you might try a plugin that does the heavy lifting for you. I use MonsterInsights on some client sites where I want to provide them the ability to make changes without having to touch the code. Using this plugin, you connect to your Google Analytics account and choose the correct property from the list of all properties contained in your account.
Final thoughts
If you have a website, these Google Analytics basics help you get the most from your website based on data about your traffic. With Google Analytics, it's incredibly easy to glean insights that allow you to optimize your website performance.
Don't let all the data available on Google Analytics paralyze you into discarding this amazing tool. You don't need to find insights from every piece of data available, so consult these Google Analytics basics to help you get started in terms of choosing metrics that are important to you and stick to these reports.
Need marketing help to support business growth?
We welcome the opportunity to show you how we can make your marketing SIZZLE with our data-driven, results-oriented marketing strategies.  Sign up for our FREE newsletter, get our FREE guide to creating an awesome website, or contact us for more information on hiring us.
Hausman and Associates, the publisher of MKT Maven, is a full-service marketing agency operating at the intersection of marketing and digital media. Check out our full range of services.