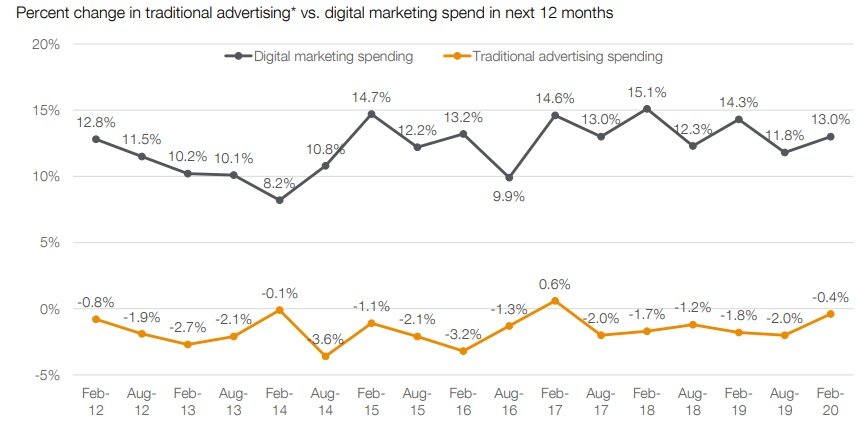 The days of total reliance on traditional marketing strategies are gone — long gone. If you even glance at the graphic above, you can see the growth of digital marketing spending in the double digital growth range, while spending on traditional marketing strategies declined every year since at least 2012. In other words, a decade-long decline in spending on traditional marketing strategies transitioned to digital spending. If your business isn't focused on getting your business online and growing your digital marketing efforts, you're falling farther behind every year.
Getting your business online
Getting your business online is one of the best ways to accelerate the growth of your company. Consumers spend a lot of time online, and a lot of that time is spent investigating alternatives for products that solve consumer problems. Although somewhat dated, the most recent research I found online (a 2018 study by Salesforce), shows 87% of all product purchases begin online, up from 71% the previous year, with 71% of shoppers using a mobile device in a physical store. That number grows to 83% for shoppers between 18 and 44. If your business doesn't have an optimized online presence, you face a huge opportunity cost and can't really compete with other brands for a future that's increasingly digital.
So, let's take a look at the minimum requirements for an effective online presence for your firm.
A website
Social media
Email marketing
Google My Business if you have a physical location
Online advertising/ affiliate marketing
Influencer marketing
SEO
1. A website
If you don't have a website, your competitors do, which means your prospective customers will go to one of your competitors rather than investigate your product options. Thus, even though most shoppers still prefer to make a purchase in a physical store, your lack of an effective website means you're out of the running from the get-go. A website tailored to your small company, complete with its own domain email address, helps build consumer trust (56% of users won't trust a brand without a website) and enhance your brand awareness. While there are costs connected with developing and running a company website, as little as $150/ year is feasible if you can follow directions as website tools eliminate coding and allow plug and play functionality. I even offer a free DIY website building ebook with clear directions and lots of screengrabs that will get you on the fast track to your own website.
If you want to build your website and don't want to spend the effort to learn how there are lots of companies out there who can get your website up pretty quickly without a huge cost. So, how do you know which website developer to choose? Well, one of the best ways is to look for experts in your niche. For instance, if you want a website for your small church then you could look at Christian web designers. Selecting a developer working in your niche means they have more insight into what works on your website and what doesn't, as well as making it user-friendly and perfect for your target market.
2. Social media
Another strategy that's perfect for getting your business online is social media. Social media is a great tool for business growth, especially for generating awareness, and engaging with your target market through sharing content your market finds valuable. There are a number of social platforms available, including Facebook, Twitter, Instagram, LinkedIn. Not all of them are suited to your business due to differences in the user base of each platform or the mechanics associated with the platform. So, just find the social platforms that work for your company. Check out the infographic below for some insights as to which social media platforms you should choose.
With social media post consistency is key, you want to ensure you post regularly and make sure whatever you post provides value and encourages engagement. Informing users about what you do, how your products can help them, as well as posting engaging content to entertain or educate users generates rewards for your brand.
If you find you are struggling to run the day-to-day business and work out and manage social media and all things online, there are a sea of freelancers and businesses out there at your disposal to help you stay on track. You'll also find tools like automation that help ease the burden of publishing fresh content on schedule.
3. Email marketing
Email marketing represents the highest ROI (return on investment) of any digital marketing strategy. Effective email marketing nurtures leads generated through other marketing efforts and works toward converting them.
Email marketing actually represents a series of strategies since you must first encourage folks to subscribe, then send email messages designed to encourage action. Segmenting your list and building email messages designed for each segment generates the best return.
4. Google My Business
Google My Business is a free tool offered by Google to owners of a physical location. The advantage of optimizing your Google My Business is you show up prominently in the results when users search for the types of products you sell. See below for an example of a Google My Business search result for physicians. Google automatically delivers results, including mapping them, providing access to the company website, and displaying ratings, for businesses in the local region closest to the user.
5. Online advertising/ affiliate marketing
Organic reach, the response you gain without spending any money, is harder to come by, which is why many brands choose to supplement other marketing efforts with online advertising, such as Google Ads or ads on social platforms, like Instagram. Compared with traditional advertising, these ads are very inexpensive, sometimes as low as pennies per click (you only pay when you generate action, not for simply displaying your ad). Another advantage of online advertising is the ability to selectively reach your target market, which means you waste much less of your advertising budget on reaching users who aren't interested in your products.
Affiliate marketing and tools like Google Adsense allow other websites (and online marketing efforts like email marketing) to help support your marketing efforts. By placing an ad on my YouTube video or hosting your ad on my website, I help spread your advertising message in exchange for a part of your advertising budget. Generally, you pay per click for Adsense while you only pay when you make a sale under the affiliate marketing strategy.
6. Influencer marketing
Influencer marketing is a strategy for getting your business online by encouraging others to share positive impressions about your brand. The notion supporting influencer marketing is that, rather than build your own following on social media, you take advantage of the following already in place from an influencer. Not only does the influencer extend your reach, but their recommendations (even mentions) carry more weight with their followers than your content.
The trick to make influencer marketing work is finding influencers with engaged followings that represent your target market. Commonly, influencers are compensated for their efforts by offering products or money through advertising or affiliate marketing dollars.
7. SEO
Search engine optimization (SEO) is a strategy for helping your content rank higher in a search. As you can see below, you gain great opportunities when your content outranks that of the competition.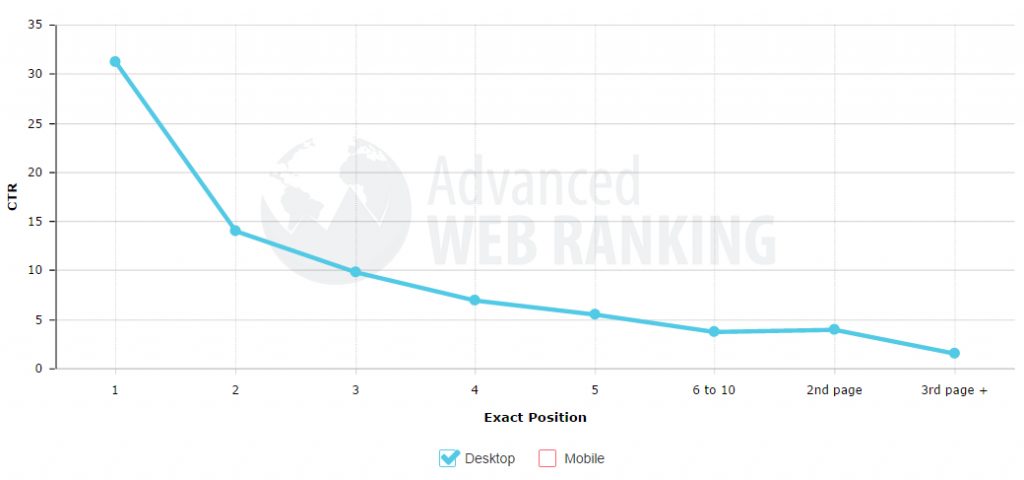 A number of factors impact your rank, including:
competition for your keywords and using your keywords effectively. Your chosen keywords must match a user's intent as reflected by the words used in their query.
quality of your content as reflected by engagement with the content, backlinks from other websites to your content, links to authoritative websites showing well-researched content, and more
load speed
mobile-friendliness
security
a great user experience as shown by time on site, bounce rate, and other metrics
indicators of legitimacy such as domain age, contact information, respect for users such as a notice about privacy and cookies
Conclusion
Getting your business online effectively means you dramatically increase your chances of success. Best of all, the costs associated with getting your business online make it the perfect strategy for small businesses. Follow these recommendations and you're on your way to success.
Need marketing help to support business growth?
We welcome the opportunity to show you how we can make your marketing SIZZLE with our data-driven, results-oriented marketing strategies.  Sign up for our FREE newsletter, get our FREE guide to creating an awesome website, or contact us for more information on hiring us.
Hausman and Associates, the publisher of MKT Maven, is a full-service marketing agency operating at the intersection of marketing and digital media. Check out our full range of services.